Oct. 7 Clint Hurdle postgame interview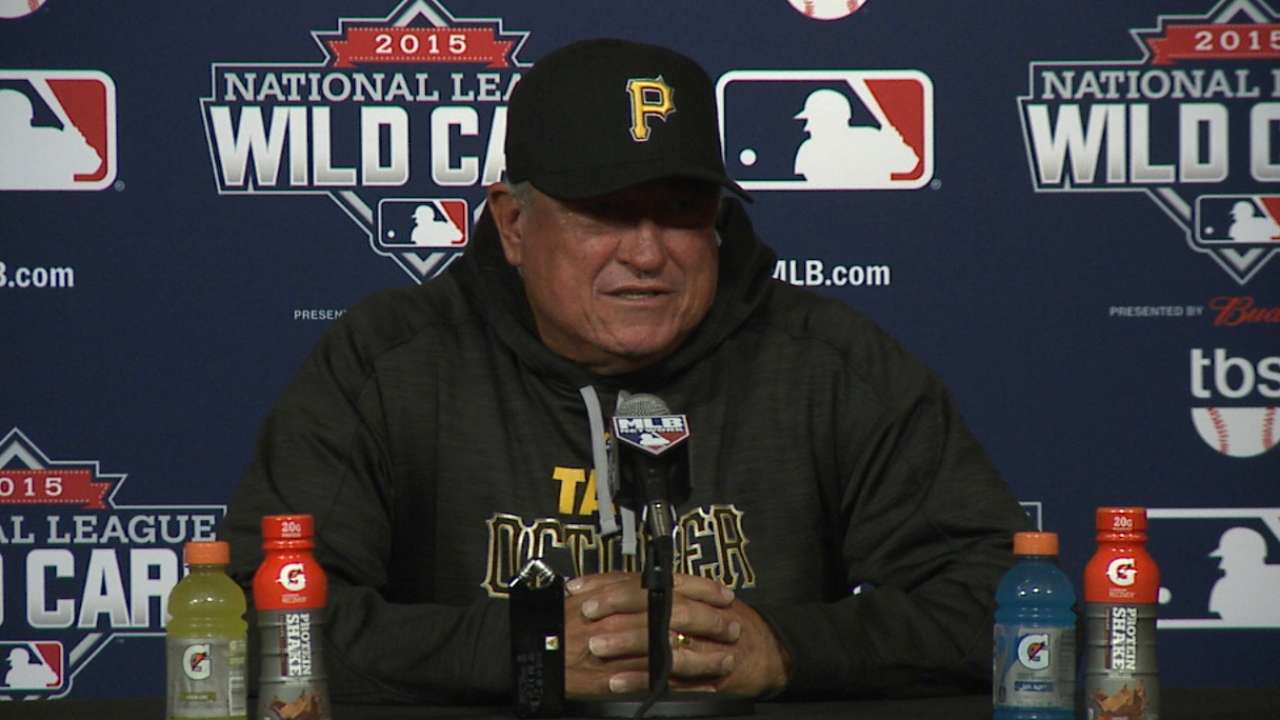 Q. Clint, how do you react to this happening second year in a row? A good starter comes in and just pitches like he pitches?
CLINT HURDLE: Well, our friend Tracy Ringolsby, we talk about bull riding and sometimes you draw a tough bull. Two years in a row we've drawn a tough bull. We've pushed a couple times late, squared a couple balls up and they've turned them into double plays. Arrieta was ahead of almost every count through five. The ball-to-strike sequencing didn't give us a chance to get many offensive counts. We were able to push -- he made a push when the ball got on the ground, they turned double plays doing things.

Q. Did you guys judge intent on either of the two hit by pitches? Did that play into what Tony did at all?
CLINT HURDLE: Well, you've got a pitcher that's dotting everything up, throwing four pitches for strikes and Cervelli gets pitched hot up top, so I don't think anybody was a fan of that. Josh got hit with a breaking ball. That's probably just a pitch that got away.

Q. Cole did well against a went flying up and got into trouble with Fowler and with Schwarber. What was going wrong for him with those two batters?
CLINT HURDLE: The first at-bat, just an elevated ball that Schwarber was able to get the barrel to and work down the left field line. And the other pitch was a slider that was supposed to be at the back foot and just spun almost like a BP fastball that stayed in the path.

Fowler had good looks. He didn't get the ball where he wanted to there either. Those two guys took advantage of missed locations.

Q. Did you think Arrieta was going to crack there late?
CLINT HURDLE: Don't know if he was going to crack, but we wanted to push him. You want to push him and make something happen. Last game here, he kind of helped with an overthrow at first and we put ourselves in position to do something, and he was able to get a ground ball over Polanco to get into the inning that way.

So you try different things to get things accomplished, and at the end of the day, everything we tried eventually got shut down or pushed back. We weren't able to score. Kept us off the plate.

Q. When you were talking to the guys after the game, were you able to reconcile at all 98 wins in the season that you had with a second consecutive ending like this?
CLINT HURDLE: Well, sports is hard. Life's not fair. You go out and play. You get beat, you move on. I thanked the guys for the incredible ride they took the coaching staff, the support staff, everybody in that clubhouse on this year. We went to some new places, we did some new things.

We're continuing to grow and work hard to get better. We've got an opportunity in front of us to get better, still getting better.

Then we honored Ramirez and Burnett. So on the down side of it, you need to take time out and honor two grown men that have given so much to the game. Ramirez added so much here in a short time. He helped us learn things. A.J.'s helped us learn things since he's been here and we wanted to honor them and thank them. They're not going to union up anymore. That's got to be hard. As hard as it is to lose this game and move on and walk out, that's got to be more challenging on their side of it to be headed home and headed to the house.

Q. The umpire tonight was calling a lot of strikes on balls that were borderline around the edges of the strike zone. What kind of feedback were you getting from hitters coming back after seeing the calls?
CLINT HURDLE: You get feedback where there's times they think balls are off the plate that are strikes, and then you make calls and try and find out. Somebody else is looking at them. I don't have time to watch the game. All in all, it didn't seem to be like there was anything to the game that was out of context as far as calls were getting made one-sided or anything like that, at least from the questioning I did. When you pitch around the plate, you've got good stuff, more often than not you're going to get more calls when you're throwing strikes and delivering the ball to the edges and moving it up and down in the strike zone.

Q. Having been in a bunch of these Wild Card games here in a row, would you and Nick, oddly having the second best record in baseball, you and the Cubs, would you propose a one game change especially with teams as good as you two are?
CLINT HURDLE: There's been discussion that's already been had. My general manager Neal Huntington has shared with me. The hardest part of this is to push back and punish division winners by making them wait to play longer. If you make them play a three-day playoff, you're pushing it back two more days, maybe more than that if there's a day off.

I think there will be conversation about it. We all know the rules going in. This is an outlier season for sure where you have three teams with the best records in one division. There were two teams in the Wild Card in '13. So it's a challenge of the game, it's a challenge of the sport. I think there will be more conversation over the winter. I don't have any fixes for it right now.

Q. Two years now you guys haven't been able to have sort of a traditional number four guy in the lineup for a game like this. How much of a factor is that not having that bat in that position in a game like this where one swing can do something?
CLINT HURDLE: It's a good point. Then you've got to look at the pitchers you're facing. Is a traditional number four hitter going to make a difference? The guy we saw last year, and the guy we saw this year, gets fours out. I think we're trying to continue to grow our own. We look outside, and you want to get a four hitter on the market. I don't know how cost effective that is in the position we're in right now.

I think we'll analyze a lot of things in the off-season to see where we can improve and get better. Everybody would like to have an anchor in the middle of the lineup in these type of games. I agree with you there. We do the best we can with where we are.