Oct. 7 Kyle Schwarber, Jake Arrieta postgame interview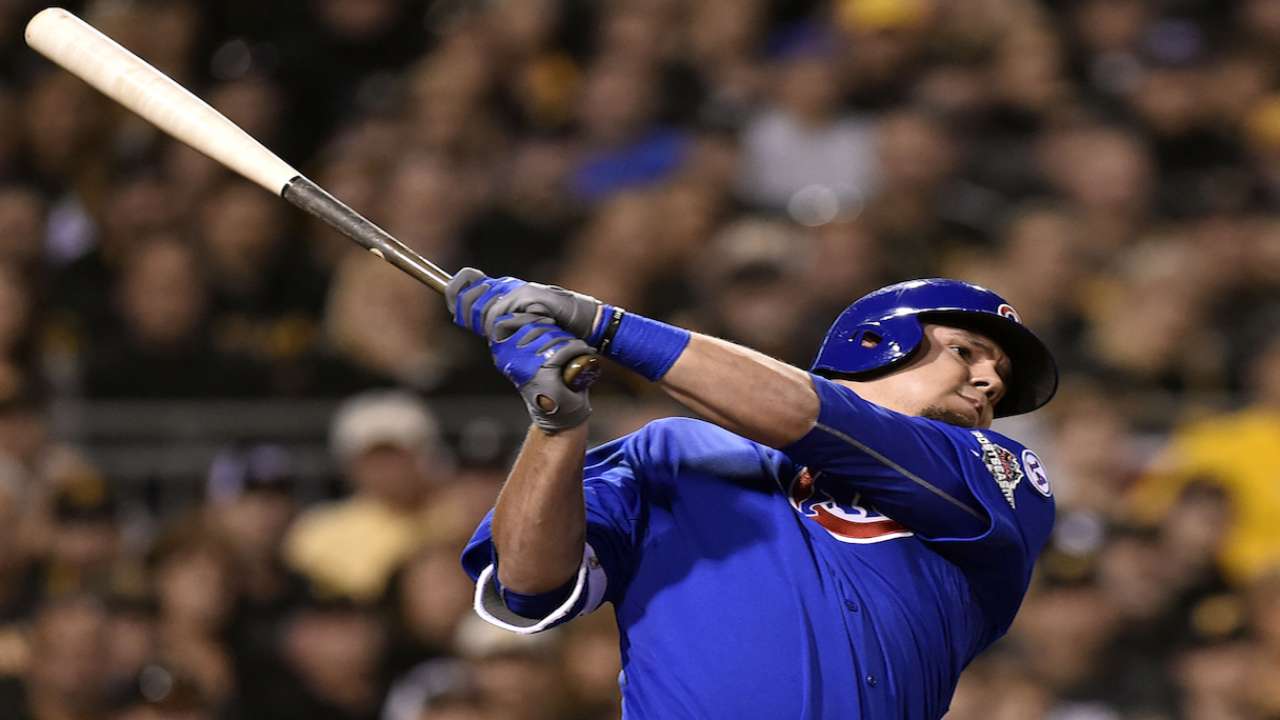 Q. What was the plan today against Cole? You guys wanted to lay off the inside stuff and try to attack them the other way?

KYLE SCHWARBER: Yeah. We executed the game plan to a tee today. Dex got on base pretty much every time except once. Just trying to hit the ball hard and layoff inside. Don't chase. Try to make solid contact.

Q. You had a little bit of struggle in September. What changed for you tonight to have the success that you did?
KYLE SCHWARBER: I know the struggles are going to happen. It's baseball. It's a crazy game that goes up and down. You've just got to try to find a way to be even keel throughout it all.

Just the atmosphere today, it was live. It's a playoff game, and you're going to be locked in. So just a great opportunity today.

Q. You and the rest of the younger guys on the team have never really faltered in the big moment. You've always rose to the occasion this season. How were your nerves coming into this game and just delivering with that big, huge home run?
KYLE SCHWARBER: The nerves really hit last night when I was watching the American League Wild Card game because I realized that was going to be us, and in less than 24 hours. Then coming out to the ballpark there are butterflies, and listening to the national anthem and listening to the crowd roar, there is going to be butterflies.

But once that first pitch happens, it's game time. It's time to go. Everything starts to slow down from then. You feel so sped up when you're spectating, and then once you step on to the field, you slow it down.

Q. When you hit that home run, that's like getting all of it sort of. For those of us who never hit a ball like that, never will, never have, what's it feel like?
KYLE SCHWARBER: It really doesn't feel like anything when you hit it. There's times when you see people try to shake out their hands because they got jammed or, you know, bat breaks. You feel that stuff. But once you bear a ball, you really don't feel it come off the bat. You just see the trajectory and see how it flies.

Q. Jake, when you came up to the plate, did you have any thought in your head that you might get hit in that situation? And if not, how surprised were you?
JAKE ARRIETA: I anticipated that. It's just one of those situations where you expect Tony to protect his guys.

The two, two-hit batters were unintentional. In those situations, there's no way I'm trying to put guys on base with hit batters. The balls were pretty slick tonight. A couple got away from me. It kind of ran up and in on me. One was a slider, so just kind of spun.

But it's two teams battling, grinding it out, supporting their own guys, and sometimes those things happen. But we moved past it, and after that point it was just baseball as usual.

Q. Jake, on that situation you move past it, but what inside it triggered it to make it from just a few guys talking there to all of a sudden 50 guys around there?
JAKE ARRIETA: The playoffs. There's a lot at stake. Tempers are running hot, and it is what it is. It's just the environment. It breeds that kind of intensity, and sometimes those things happen.

At the end of the day, I have a tremendous amount of respect for those guys regardless of what happened in that game. 98 wins, tremendous season.

Unfortunately one of us had to go, and we were able to come out early and get that run in the first, a big knock by Schwarber, a huge leadoff hit by Dexter, Dexter had a huge night. Later in the game with the home run from Schwarber, just continued to add runs and a cushion for us, and I was able to just continue to make pitches and not let the atmosphere get to me too often. But a tremendous experience.

Q. With the amount of youngsters on this team, a lot of guys just getting into the Major Leagues, playing their first playoff games, you seem to be that calming influence for some of them. Did you play that role? Do you think that you going out there and pitching the way that you did helped everybody else on the team kind of gain a little extra confidence along the way?
JAKE ARRIETA: Well, it definitely helped. I knew my team would be confident with me out there. But with our lineup, the young players we have -- you know, Rizzo, as a veteran in our lineup, even at such a young age, 26 years old, it's incredible. You don't think that these guys are 21, 23 years old, because they don't play like it. They have elevated their play to a level that's beyond their years, and it's one of the big reasons we're here. So it's a testament to their work ethic, to their mental capacity, their ability to not let the situation dictate their mindset, and just play the game hard and see where we stack up at the end of the day. But our core group of young players have just been exceptional from the get-go for us this year.

Q. The final line was obviously dominant, but your stuff may not have been as crisp as we've seen it the past few months. How would you categorize how you pitched tonight, and how everything went for you?
JAKE ARRIETA: Well, I'm not sure what game you were watching, but there was an inning, maybe five outs, four or five outs that I wasn't crisp, but that was about it. Had a couple sliders that just kind of spun in the zone, couple pitches I didn't finish, pulled a couple fastballs, but that was in the span of about 25 pitches over the course of five or so outs. But other than that, it was more than good.

Q. This late in the season, Jake, to go nine innings, was that your mindset from the get-go, to give me the ball and I'll take it from there?
JAKE ARRIETA: Yeah, I didn't want to see anybody in the bullpen. I wanted to finish what I started and be the guy to get the last out. That was the mindset. Sometimes that doesn't work out, but with an aggressive mindset and the ability to make pitches in big situations, get a couple big double play balls, have a nice four-run cushion, all those things help. But, yeah, especially in an environment like this, you want to have the ball in your hand when the last out is made.