MLB.com Columnist
Mike Petriello
Hitters adjust to Lackey's first-pitch strike plan
Batters come up hacking against veteran right-hander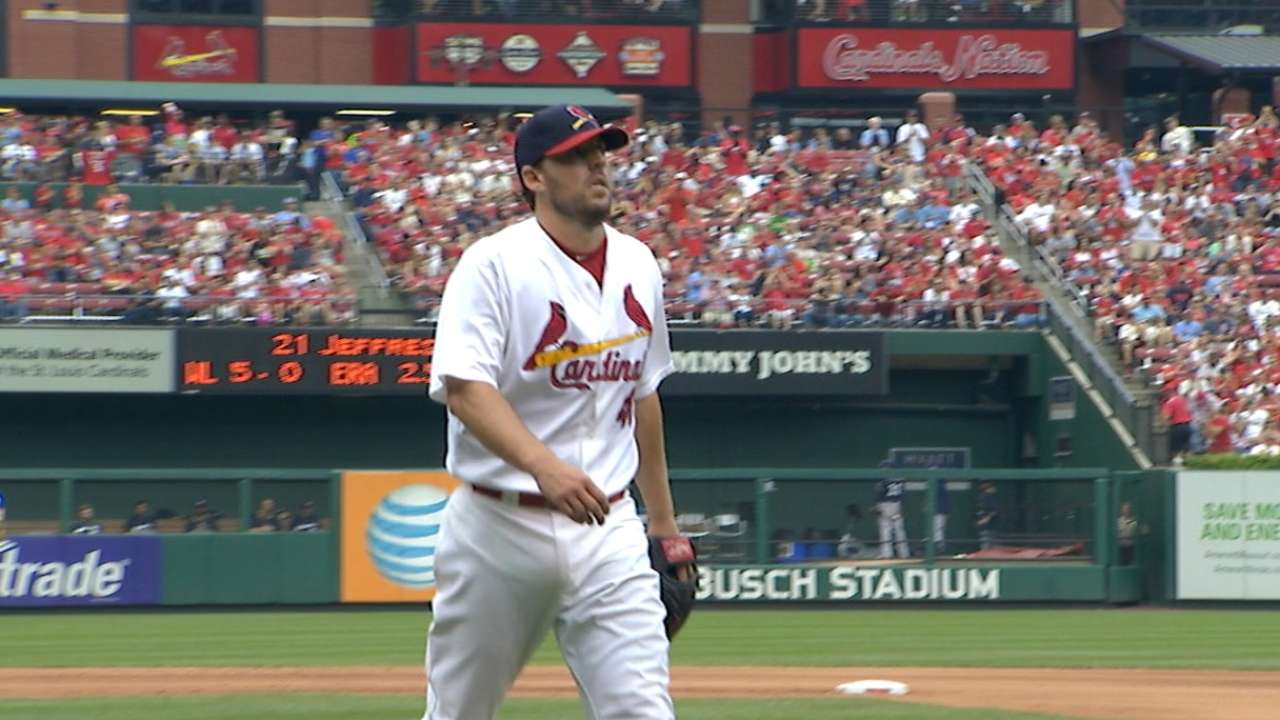 You might not have noticed it over the past few years, but John Lackey has been adjusting.
Since 2011, Lackey has thrown more first-pitch strikes each year. With the Red Sox that season, Lackey threw his first pitch for a strike 61 percent of the time, slightly higher than the MLB average of 59.4 percent. In the three seasons since -- he missed 2012 with an elbow injury -- Lackey's first-pitch strike percentage has jumped from 61 to 64.3 to 67.8 to 70.8, far higher than the mere 1.5 percent jump baseball as a whole has made in that time.
• Shop for Cardinals postseason gear
This year, only Max Scherzer had a higher percentage of first-pitch strikes, but the incredible star power that surrounds Lackey on that list ought to tell you something about what a good strategy it is:
Highest percentage of first-pitch strikes, 2015
1. Scherzer, 71.2 percent
2. Lackey, 70.8 percent
3. Matt Harvey, 68.0 percent
4. Clayton Kershaw, 67.8 percent
5. Jacob deGrom, 67.6 percent
Also appearing within the top 15 are names like Jordan Zimmermann, Johnny Cueto, Stephen Strasburg, Noah Syndergaard, Madison Bumgarner and Zack Greinke, and that's no coincidence. Hitters in 2015 had an .806 OPS when falling behind 0-1, the lowest in any non-two-strike count. While every pitcher knows that, not every pitcher has the stuff or the confidence to pump in those first-pitch strikes. Those who do reap the benefits.
Lackey allowed a .852 OPS when he was behind in the count and a .556 mark when he was ahead this year, numbers that certainly help back up, in a positive way, his changing first-pitch strategy. But for Lackey, who will start for the Cardinals in Game 1 of the National League Division Series against the Cubs on Friday at 6:30 p.m. ET on TBS, he's got to deal with something else: Hitters have adjusted to him, too.
For most of the past two decades, the first-pitch strike made more and more sense as hitters became less and less likely to swing at it in service of the idea of tiring out the pitcher. In 1988, for example, pitchers threw first-pitch strikes 57.1 percent of the time, and hitters offered at the first pitch 32.6 percent of the time. Last year, pitchers were throwing more first-pitch strikes (60.4 percent), and hitters were swinging at far fewer of those first pitches (27.5 percent).
It's a trend that's been slightly reversed this year, as hitters are up to 28.9 swings on the first pitch, but particularly so for Lackey. Looking at 0-0 pitches within the PITCHf/x zone (so not all of his pitches, just those that likely would have been strikes), Lackey had been seeing an approximately 13 percent swing rate each year on record since 2009. But this year, that suddenly jumped up to 16.5 percent, the highest of any pitcher with at least 1,000 pitches. No longer content to let the first pitch go by, hitters increasingly jumped on the higher-than-average number of hittable first pitches he provided, and they found success doing it, with a .329/.340/.455 slash line.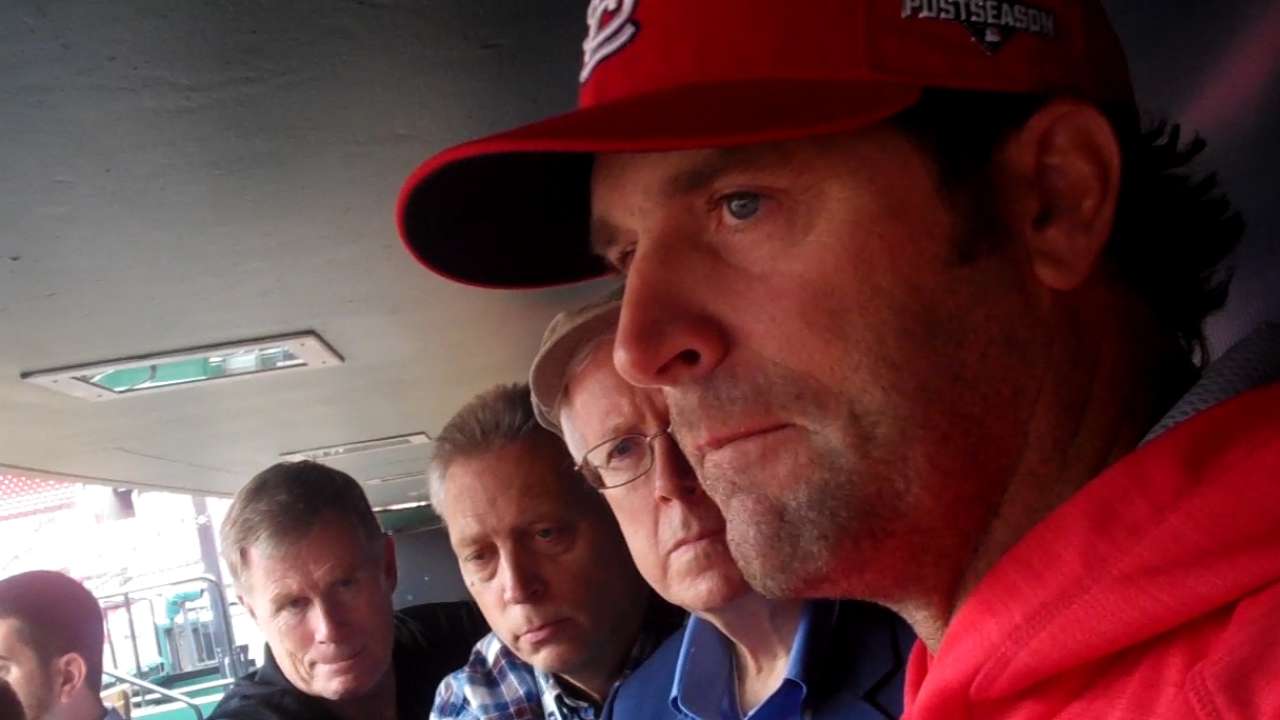 We can use Statcast™ exit velocity to show how important getting ahead of the hitter is for Lackey. For example, the overall MLB average when hitting a 1-0 pitch was 89.9 mph. For Lackey, that was 93.1 mph, a sizable difference. When he was down 2-1, his 91.7 mph was higher than the MLB average of 90.3. He is so much better off not getting down in the count, hence the increasing number of first-pitch strikes.
What Lackey faces in the Cubs is a team that has learned the value of jumping on a good first pitch, increasing that first-pitch swing rate from 27.6 percent last year to 31.4 in Joe Maddon's first season as manager. Like most teams, the Cubs do well when swinging on the first pitch, with a particularly strong 1.060 OPS, as opposed to just .719 overall.
So what you have here is a pitcher who has been steadily throwing more first pitches, cognizant of the value that can bring him. You have a league that has been steadily swinging at more of those first pitches, understanding that they need to balance the scales in their favor. And you specifically have a team in the Cubs which has crushed first pitches -- perhaps none moreso than Kris Bryant, who has a team-leading 39.1 percent swing rate against first pitches (of all stripes, not just strikes), and put up an absurd .500/.493/.972 (1.466 OPS) line when he did so.
Baseball is always a game of adjustments, or so they say. On Friday, the 36-year-old Lackey, a veteran of 13 seasons and two World Series titles, faces one of baseball's youngest offenses. They've both made adjustments to get to this point. They'll both make even more to try to overmatch the other. It's the endless chess game that never stops making moves and counter-moves, except this one has century-old rivals meeting in October for the first time. Lackey gets the first move. You're up, Cubs.
Mike Petriello is an analyst for MLB.com. Follow him on Twitter @mike_petriello. This story was not subject to the approval of Major League Baseball or its clubs.