Amid celebration, Cubs exuding confidence
Lester says rookies ready for challenge against Cards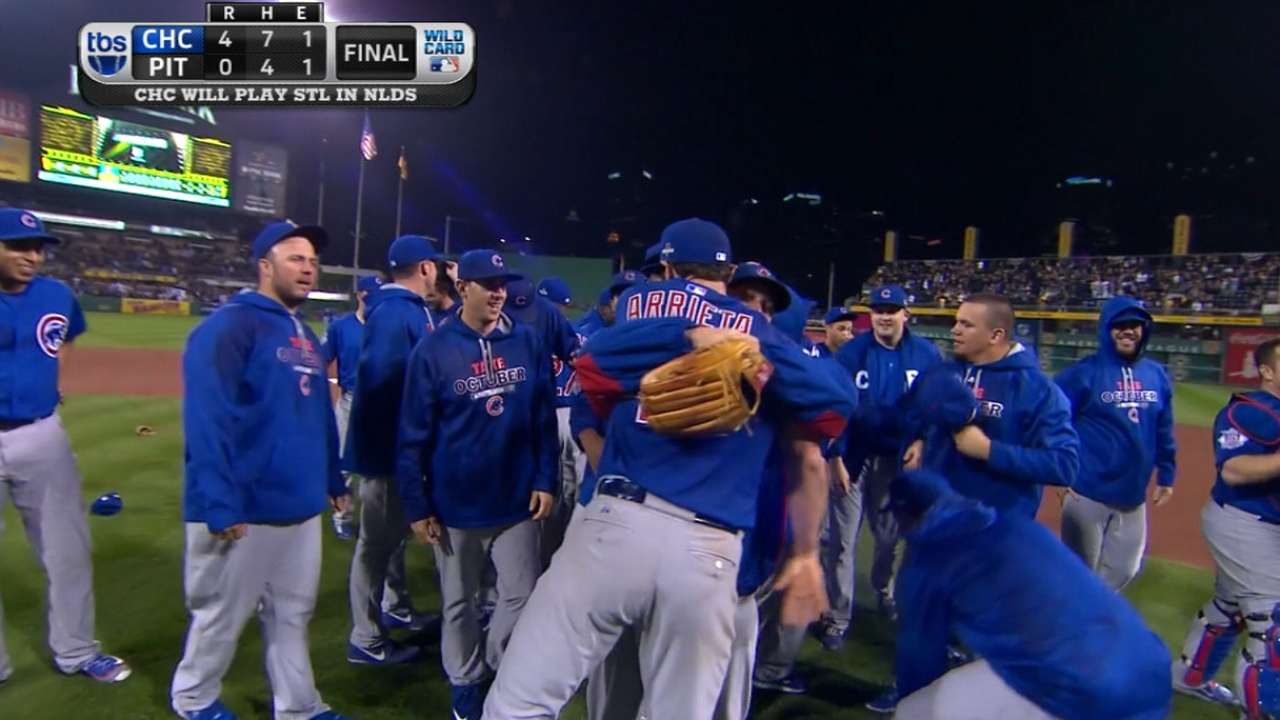 PITTSBURGH -- Jon Lester stood off to the side, discussing the daunting road ahead for the Cubs as his teammates celebrated all around him Wednesday night. With a decade in the Majors and a pair of World Series rings to his credit, the lefty is a grizzled veteran compared to Chicago's kids.
In the wake of their 4-0 Wild Card win over the Pirates, the Cubs now have a series that's been more than a century in the making. Next up are the 100-win Cardinals in the National League Division Series (Game 1 Friday at 5:30 p.m. CT on TBS), a team that has never faced the Cubs on the postseason stage despite more than 2,000 games between the teams in their long, storied history.
Lester firmly believes the Cubs' young, untested, yet talented roster is ready for the task at hand.
"I keep going back to it, these guys, nothing fazes them," Lester said. "They play above where they're at, as far as age and stature in this game."
In the Wild Card Game presented by Budweiser, rookie Kyle Schwarber certainly rose to the challenge, launching a home run and knocking in three to power Chicago's offense. The early work of the Cubs' lineup took the buzz out of Pittsburgh's crowd early. Chicago will look to do the same when Cardinal Nation welcomes the Cubs into a sea of red at Busch Stadium come Friday.
The pairing of the longtime division rivals will feature Lester taking on his friend and former teammate, Cardinals righty John Lackey in Game 1. The best-of-five series will present the chance to square off with the Dodgers or Mets for the right to go to the World Series, which has featured St. Louis four times in the past 11 years and has not had the Cubs involved since 1945.
It'll be the Cardinal Way vs. the Hazleton Way.
"I'm really excited about it," said Cubs manager Joe Maddon, who hails from Hazleton, Pa. "I'm already excited about it. Everybody knows I grew up a Cardinal fan and I get this opportunity as a manager to work versus them in a Division Series in 2015. It's pretty awesome, man. And beyond that, I don't want to make it personal.
"It's about the players getting this opportunity to experience playoff baseball their first year out of the chute. That, down the road, is invaluable."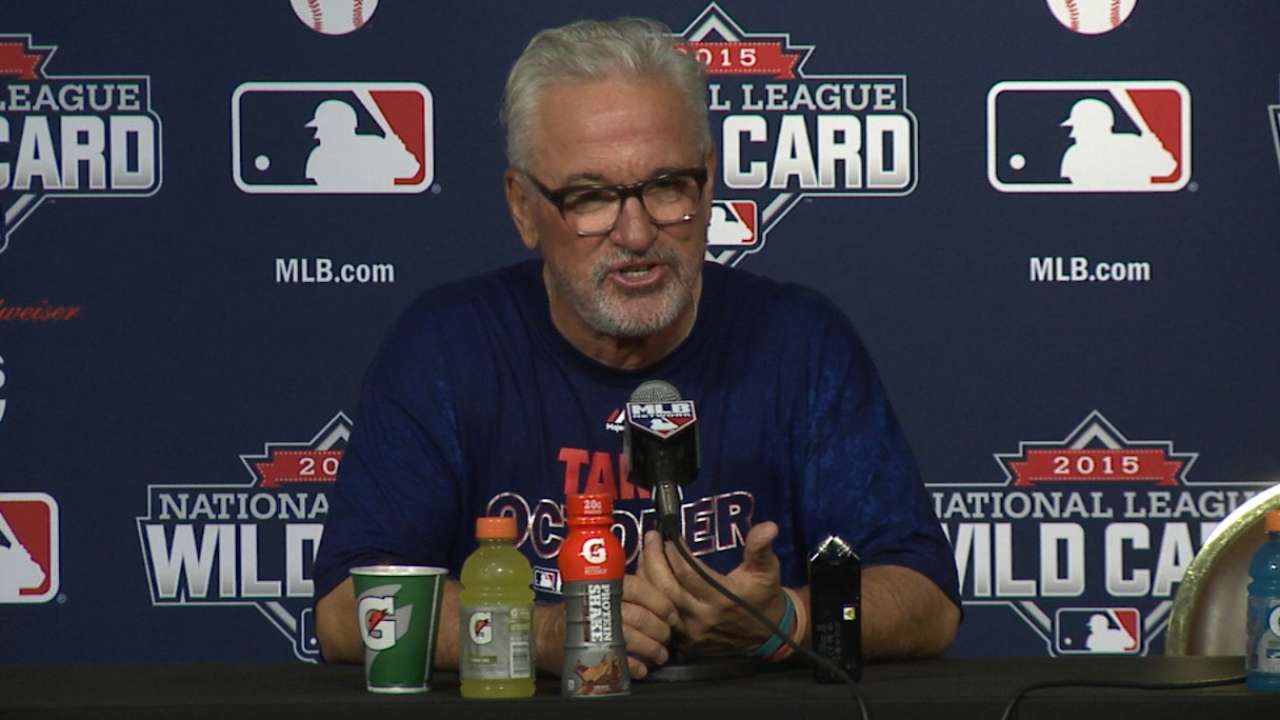 This year, the Cardinals came out on top in the season series against the Cubs, 11-8. That included a 7-3 record in St. Louis. That said, Chicago's second-half surge included improved play against their biggest rival, as the Cubs posted a 6-4 record against the Cardinals in their last three series.
"Another division rival," Cubs outfielder Dexter Fowler said. "That's the champs in our division, so we're trying to get to them and take this momentum down there."
Lackey went 2-0 with a 1.25 ERA in three starts against the Cubs this season. Lester -- a teammate of Lackey's with the Red Sox from 2010-14 -- posted a 1-3 record against St. Louis, but had a 2.59 ERA in five outings. In two of his losses, Lester encountered some tough luck, allowing only two earned runs in a combined 14 innings.
"Obviously, I know Lack," Lester said. "He's one of my better friends in baseball, better friends in life. I love his family, I love him, but come Friday we're not friends any more. And he'll say the same thing."
As Lester noted, Chicago's kids are undoubtedly confident.
"I feel like this group can go all the way," Schwarber said.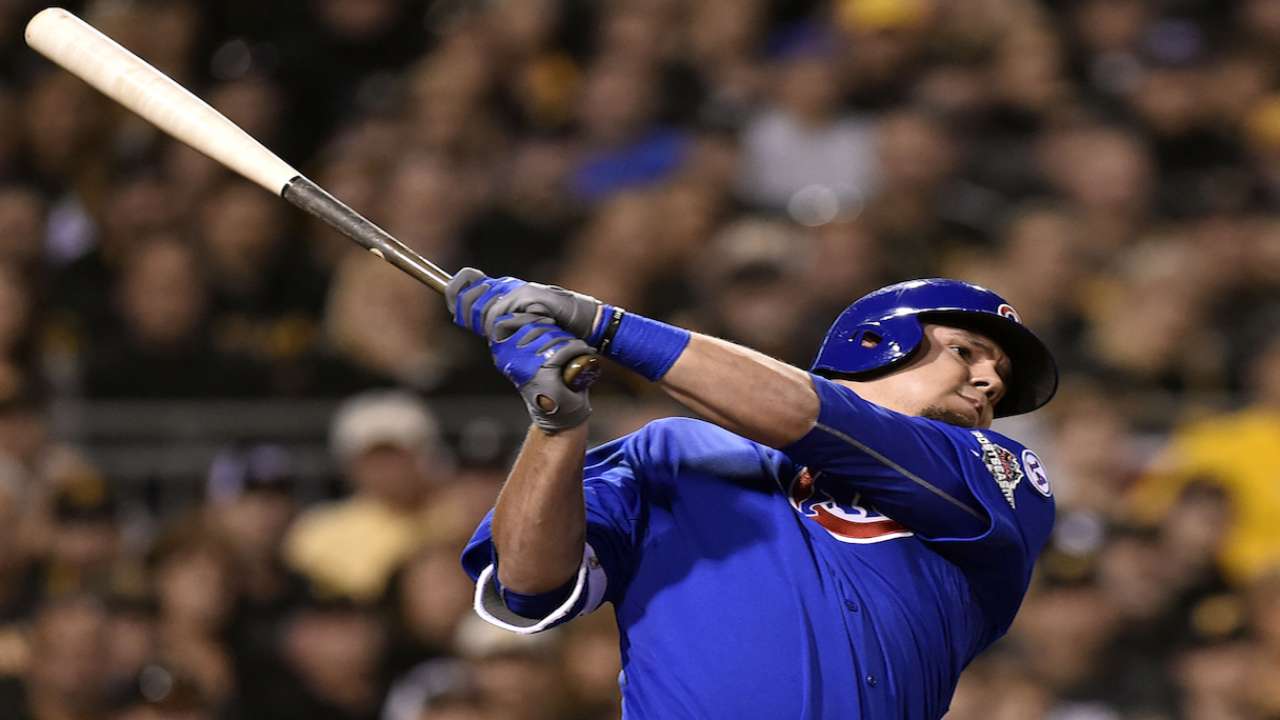 Schwarber was already imagining the scene in Wrigley Field for Game 3.
"We can't wait to see them," he said of Chicago's fans. "It's got to be loud. It's got to be loud."
Maddon is looking forward to that scene, too.
"I'm really excited," Maddon said. "I know our guys are about the opportunity to play in St. Louis and then bring it back to Wrigley. How about that? We get a chance to bring it back to Wrigley. That's pretty solid."
Jordan Bastian is a reporter for MLB.com. Read his blog, Major League Bastian, follow him on Twitter @MLBastian and listen to his podcast. This story was not subject to the approval of Major League Baseball or its clubs.