MLB.com Columnist
Bernie Pleskoff
Scouting Report: Brandon Drury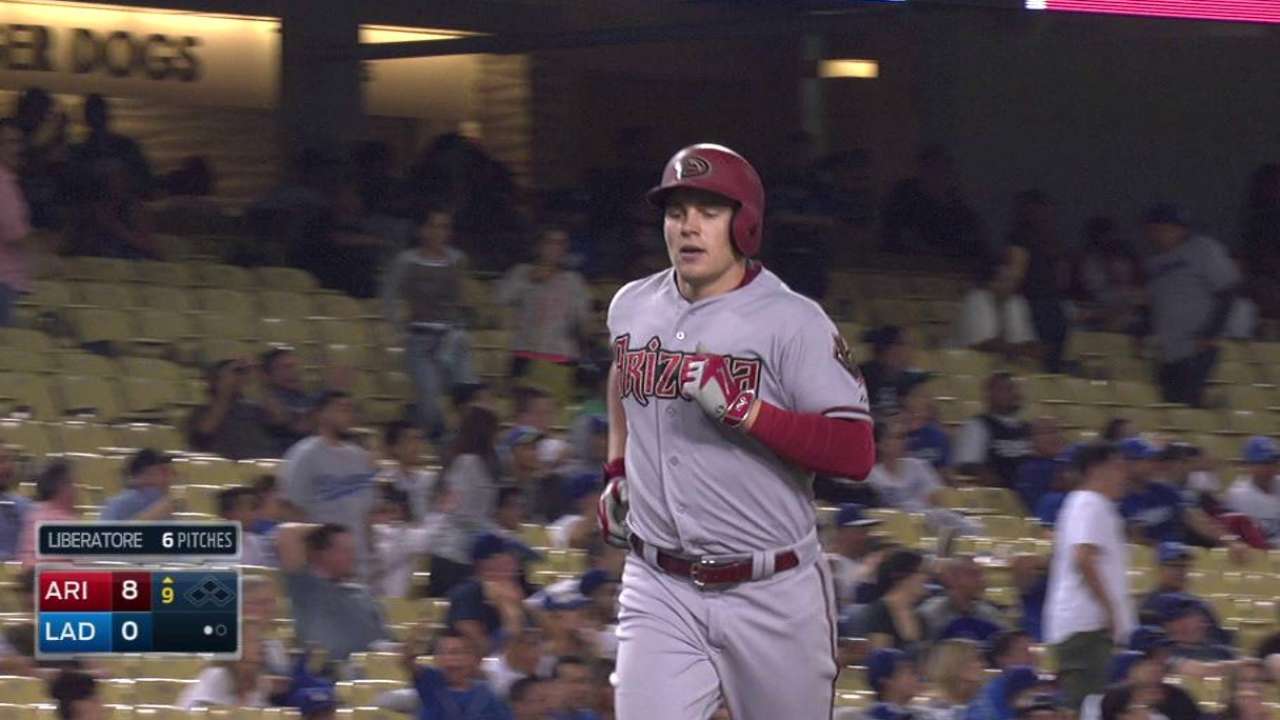 Background
It may have seemed that his was just another name at the time, but the deal the Arizona Diamondbacks made with the Atlanta Braves in January 2013 included infielder Brandon Drury. Drury was sent to Arizona along with infielder Nick Ahmed, pitcher Randall Delgado, infielder-outfielder Martin Prado and pitcher Zeke Spruill for outfielder Justin Upton and infielder Chris Johnson.
Drury could be on the cusp of a big league job.
The right-handed hitting, versatile infielder has made a very favorable impression on scouts. At 6-foot-1, 215 pounds, Drury packs some punch behind his solid, well-conditioned frame.
Selected out of Grants Pass (Oregon) High School by the Braves in the 13th round of the 2010 Draft, Drury has made a steady climb through the Braves and D-backs organizations.
Prior to being called up by Arizona this September, Drury spent the 2015 season at Double-A Mobile and Triple-A Reno. He had a combined .303 batting average in the Minors that included 40 doubles. He struck out only 76 times in 567 Minor League plate appearances.
Hitting
Scouts rave about Drury. I got my first extended look at him in the 2014 Arizona Fall League. Playing for Salt River, he hit only .219, but showed a very good feel for the game with solid hitting mechanics. He is a much better hitter than he showed last autumn.
No. 7 on the D-backs Top 30 Prospects list, Drury makes hard, consistent contact with a short swing. He doesn't try to pull every pitch, and while his bat isn't the quickest, he takes pitches he can reach to the opposite field.
Drury gets his entire body in his swing. He has average bat speed, but the effort and strength in his approach help him drive the ball. While he handles right-handed pitching very well, this season he thrived against left-handers, hitting .302 at Double-A and .365 at Triple-A against southpaws.
More a gap hitter than a home run threat at this point, Drury's power should emerge as he continues to refine his game.
Defense
Drury is a capable third baseman, but he has also spent time at both second base and shortstop. I don't think he has quite the first-step quickness and range to play shortstop on a regular basis. Third and second seem to be his most comfortable positions that maximize his defensive skills.
Drury has good hands and projects to be an average defender.
Strengths
Drury is a gritty player with improving pitch selection and patience at the plate. His pitch recognition is much better than in previous years as he looks for more pitches he can drive.
Drury should continue to hit for a solid big league average. His on-base percentage will benefit as he continues to see more pitches.
Weaknesses
Not fleet afoot, Drury's speed won't generate many stolen bases. He might not clog the bases, but he could struggle a bit to take the extra base with ease.
His bat is not overly quick through the ball, making plate coverage a bit of an issue. He will feast on pitches down the heart of the plate, but the corners and edges could pose problems with high quality pitching. Due to his bat speed, Drury is often forced to get his entire body into his swing.
I find this interesting
Drury began his career hitting .198 for the Braves Rookie League team in the Gulf Coast League. The following season, he improved to .347 at Class A Advanced Danville. Then he scuffled at Class A Rome in 2013, regressing and hitting only .229. Then he was traded to Arizona. He has hit well since.
The future for Drury
The Diamondbacks have a wealth of solid infield prospects. Drury could end up in a platoon situation with Jake Lamb at third base, or he could be considered for a position as a second baseman or utility infielder. In any scenario, he appears on the team's radar and could sparkle as a versatile infield resource.
Drury in a word
Solid
Bernie Pleskoff has served as a professional scout for the Houston Astros and Seattle Mariners. Follow @BerniePleskoff on Twitter. This story was not subject to the approval of Major League Baseball or its clubs.