MLB.com Columnist
Tracy Ringolsby
From Day 1, Astros always believed
Players showed determination since Spring Training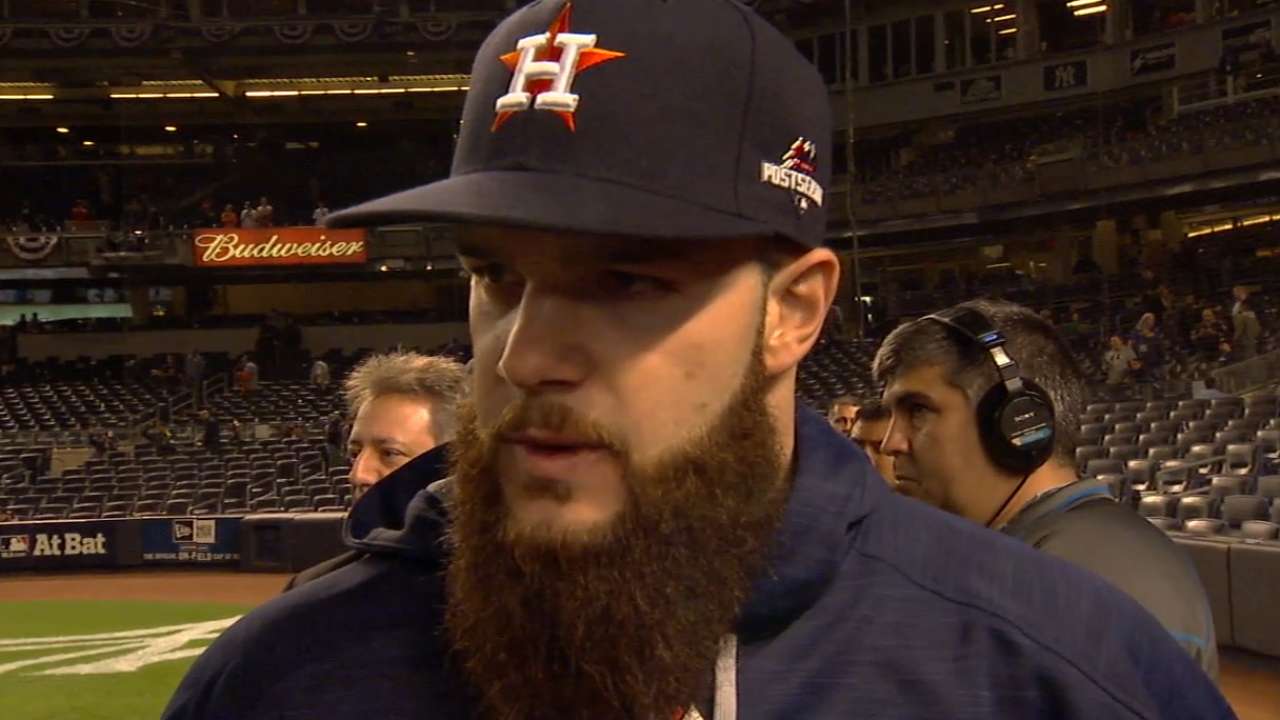 KANSAS CITY -- Amid the champagne celebrations of recent days, Dallas Keuchel, the ace of the Astros' rotation and a strong American League Cy Young Award candidate, admits there were haunting memories of the past.
The Astros -- who lost 107 games in 2012, 111 in '13 and 92 last season -- will open the AL Division Series against the Royals at Kauffman Stadium tonight at 6:30 CT on FOX Sports 1.
• Shop for Astros postseason gear
Not even the Astros' rise to claim an AL Wild Card spot against the Yankees and then a strong-armed effort by Keuchel on short rest to beat the Yanks to advance to the AL Division Series against the Royals has erased those thoughts entirely.
"I think about it every day," said Keuchel, who just put together the 10th 20-win season in Astros history, the first since Roy Oswalt in 2005. "I mean, my first year in 2012 and 2013, 100 (plus) losses. So that's something I don't forget and that's something you'll never forget just how bad it was and how quickly we've turned things around.
"I never want to go back there, so I'm always thankful every day I get to put this uniform on with the Astros on the front and enjoying winning."
Keuchel should enjoy it, just like all his teammates, and everybody else associated with the Astros' organization. This isn't just an underdog-made-good story. This is mission impossible made possible.
The Astros showed up in Spring Training having lost a combined 416 games the previous four seasons, starting with the 106 losses of 2011, the year before Keuchel made his big league debut.
Now look at them.
Out of the 144 teams to have recorded a 100-loss season since the advent of the World Series in 1903, only seven have managed to advance to the postseason within two seasons of losing at least 100 games. That list includes this year's Astros.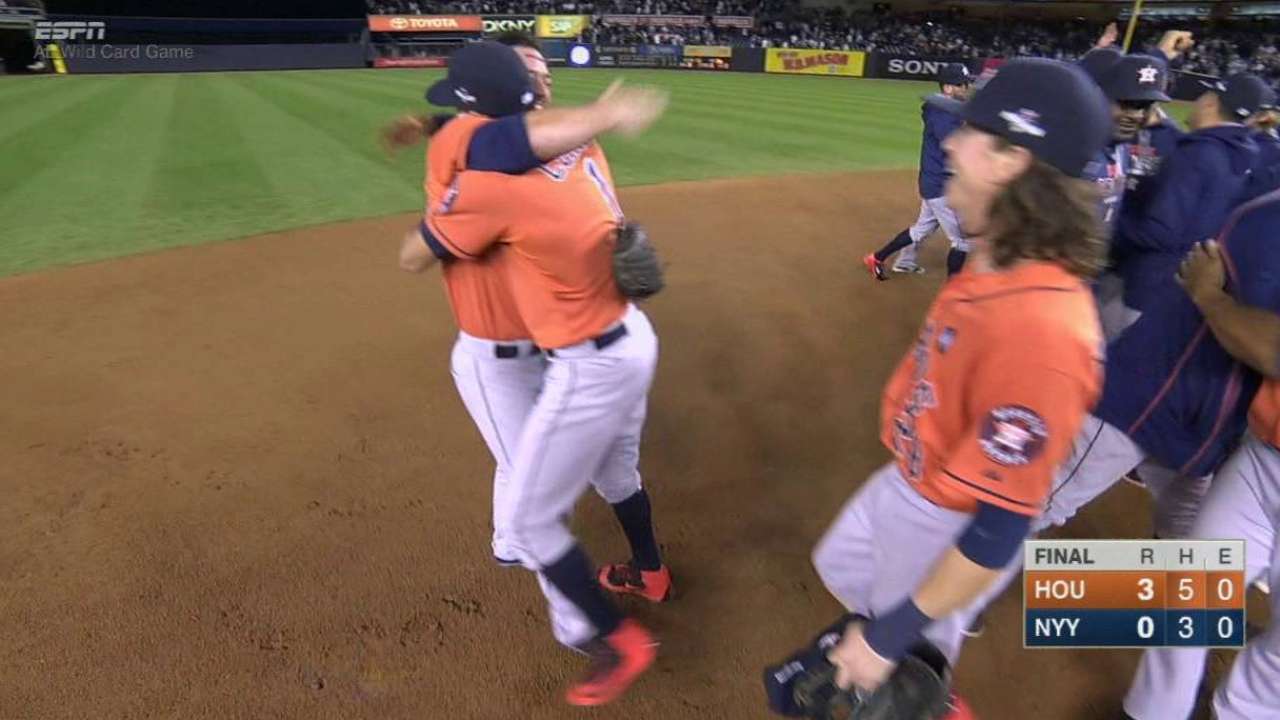 Yes, divisional play has made it more probable because of the expanded numbers of teams that advance to the postseason. Only twice did it happen prior to 1969 -- the 1914 Boston Braves and the '67 Boston Red Sox.
But it only has happened five times since 1969: The 1969 Miracle Mets, '81 A's, '87 Giants, 2008 Rays and now the Astros.
Those 1914 Braves, and '69 Mets won World Series championships. The '67 Red Sox and 2008 Rays lost in the World Series. The 1987 Giants and '81 A's both lost in the League Championship Series.
And the Astros will now find out just how far they can carry their season that included a 3-0 victory over the Yankees in Yankee Stadium in Tuesday's AL Wild Card Game presented by Budweiser.
This isn't an Astros team that did a major offseason makeover, bringing in free agents or unloading packages of prospects for proven veterans. No, this is an Astros team that took the core of that team that had lost so many games and primarily supplemented the lineup and rotation with home-grown prospects like shortstop Carlos Correa, right-handed starter Lance McCullers, George Springer and Preston Tucker, who assumed more regular roles this year.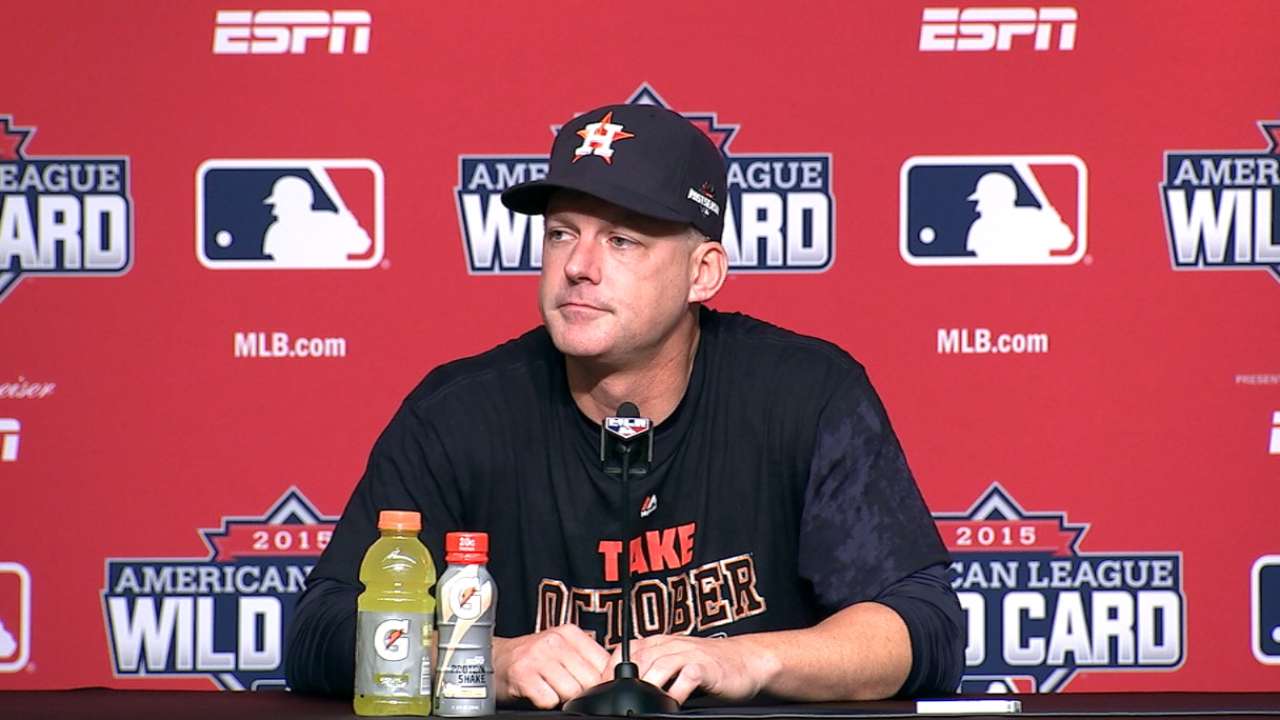 Oh, bring in A.J. Hinch, a member of the Padres' front office, to manage the team, a second chance for Hinch after a less-than-memorable managerial debut with the D-backs (89-123 during parts of the 2009 and '10 seasons).
Hinch didn't carry any of the baggage of those years of growing pains. He brought in a fresh evaluation of the Astros' players and an eagerness to show he had learned from those days in Arizona.
"One of the things in the spring I noticed about our guys, especially the guys who have been here, [and] experienced some of the lower seasons, they were tired of losing," said Hinch. "I think the one thing that was important to me in the spring was to get their mindset right to where our best was good enough on a daily basis.
"You can't ever be comfortable with losing at this level. It will beat you down. And certainly, during a rebuilding process, I didn't have to suffer through it like some of the people around here, but the mentality was -- there was a great hunger at the beginning of the season. I think we needed to add some belief."
Tracy Ringolsby is a columnist for MLB.com. Read his blog, Write 'em Cowboy. This story was not subject to the approval of Major League Baseball or its clubs.