Fielder far removed from last postseason foray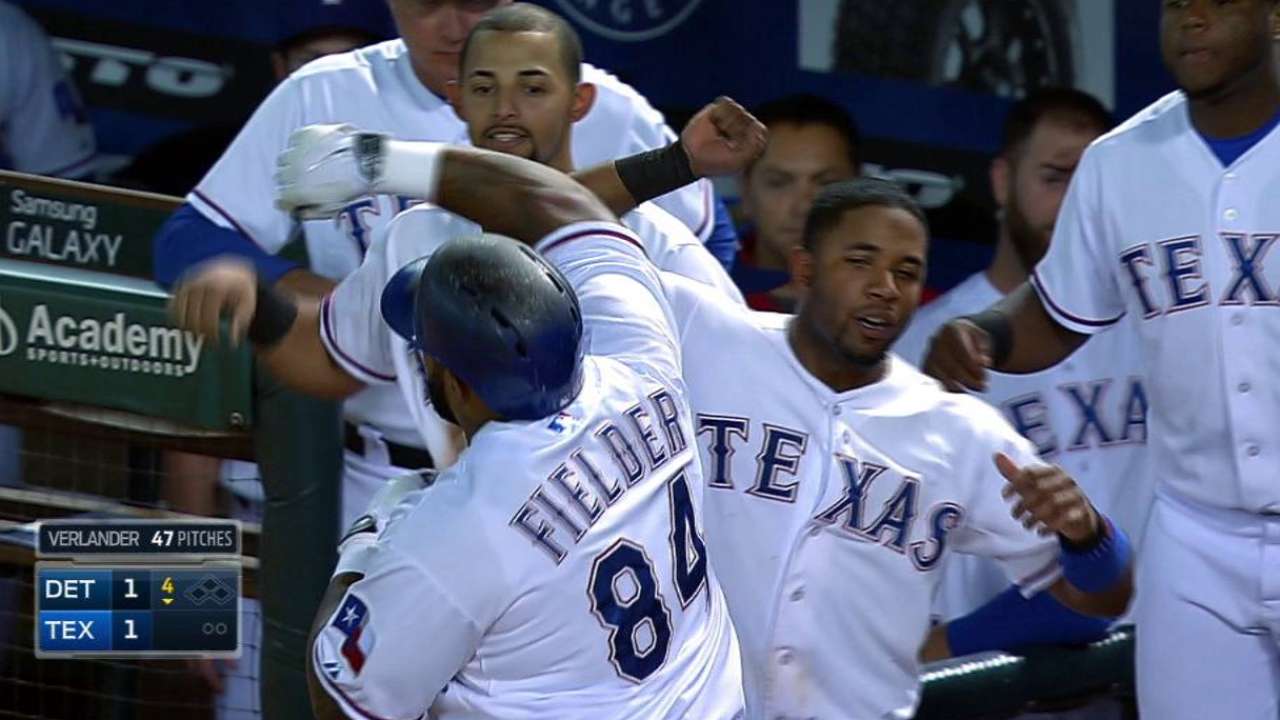 TORONTO -- The last time Prince Fielder was in the postseason, he was sitting in the visiting clubhouse at Fenway Park, asked about the pain of the Tigers' 2013 American League Championship loss to the Red Sox on a go-ahead grand slam in Game 6.
"I have kids," Fielder said at the time. "If I'm sitting around pouting about it, how am I going to tell them to keep their chins or keep their heads up when something doesn't go their way? It's over."
It didn't go over well in Detroit, more so for the timing than the message after Fielder didn't drive in a run in the postseason, and it lingered until his trade to Texas for second baseman Ian Kinsler a month later. It was a baseball decision for the Tigers, who had first basemen/designated hitters Miguel Cabrera and Victor Martinez on the roster, and the Rangers, who had young infielders on the way and Kinsler under a long-term contract.
Two years later, Fielder is back in the postseason, readying for the Rangers' AL Division Series opener against the Blue Jays (today, 2:30 p.m. CT, FOX Sports 1). His kids are a little older now. His team is a little younger. He's a mentor for both.
His point sounds similar, but better received: Play good, hard baseball, and own the results.
"We're just trying to make sure we play our game," Fielder said. "We figure if we do what we do, whether we win or not, it's going to be a good series. That's all you want to do. You want to play good baseball, and at the end, you can't control what happens, but at least we can control our effort and our type of play."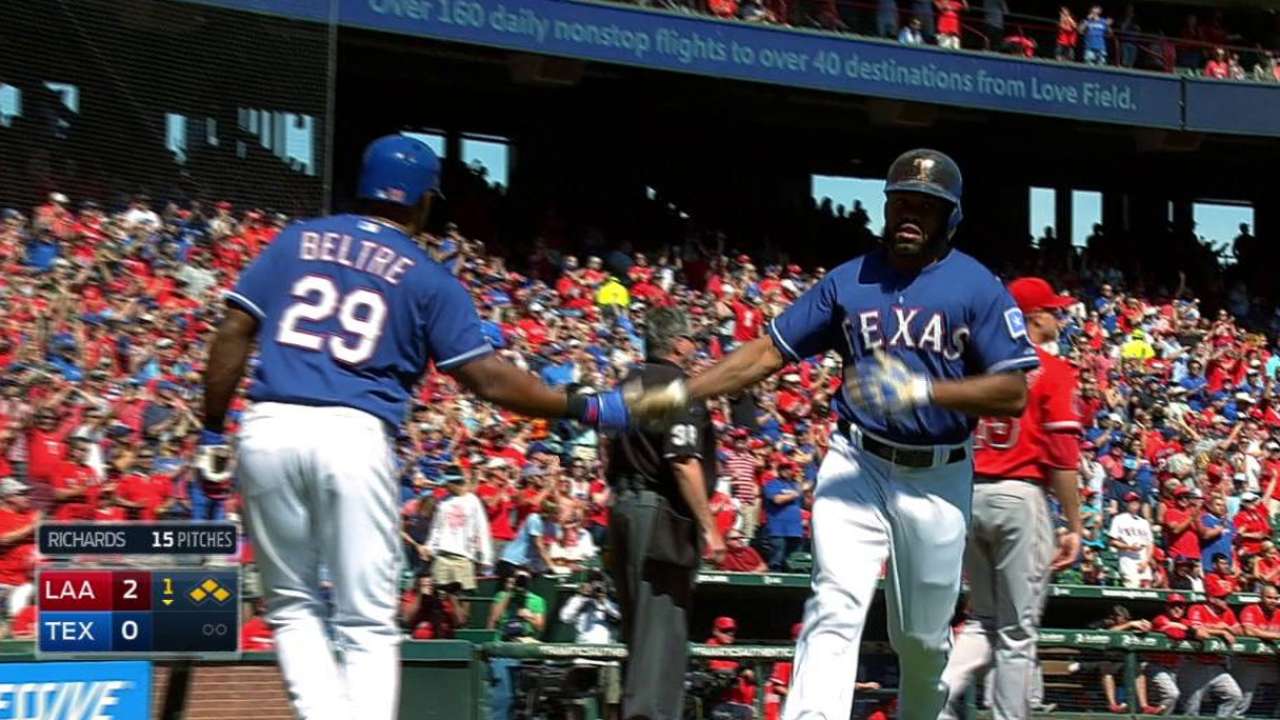 The Rangers have seven players remaining from their 2011 squad that came within an out of a World Series title: Elvis Andrus, Adrian Beltre, Mitch Moreland, Josh Hamilton, Mike Napoli, Colby Lewis and Derek Holland. None have played in as many postseason games as Fielder, who will experience his 40th when he steps to the plate this afternoon. They wouldn't be here without him, not just for what he's meant at the plate -- a .305 average, 23 homers and 98 RBIs -- but what he's meant in the clubhouse.
The Rangers felt like he could make that impact when they got him, looking at the player rather than the reaction.
Recalling the deal, Rangers general manager Jon Daniels said, "We did a lot of homework, as we would for any acquisition -- not so much about the one comment, but into the man, the competitor, the teammate. And got pretty much universally positive thoughts from teammates, staff that had worked with him. [Pitching coach] Mike Maddux knew him well from Milwaukee."
The immediate impact of the trade was incomplete. While Kinsler helped the Tigers to a fourth straight AL Central title last year, Fielder had a disc injury in his neck that required surgery, ending his 2014 season after just 42 games.
Fielder came healthy this year, and Daniels believes he came back with a presence. He took young players under his wing in Spring Training, according to Daniels. He came to Rougned Odor's defense as benches cleared in Houston in July. He approached manager Jeff Banister about moving to designated hitter for the better for the team, something he had never done in his career.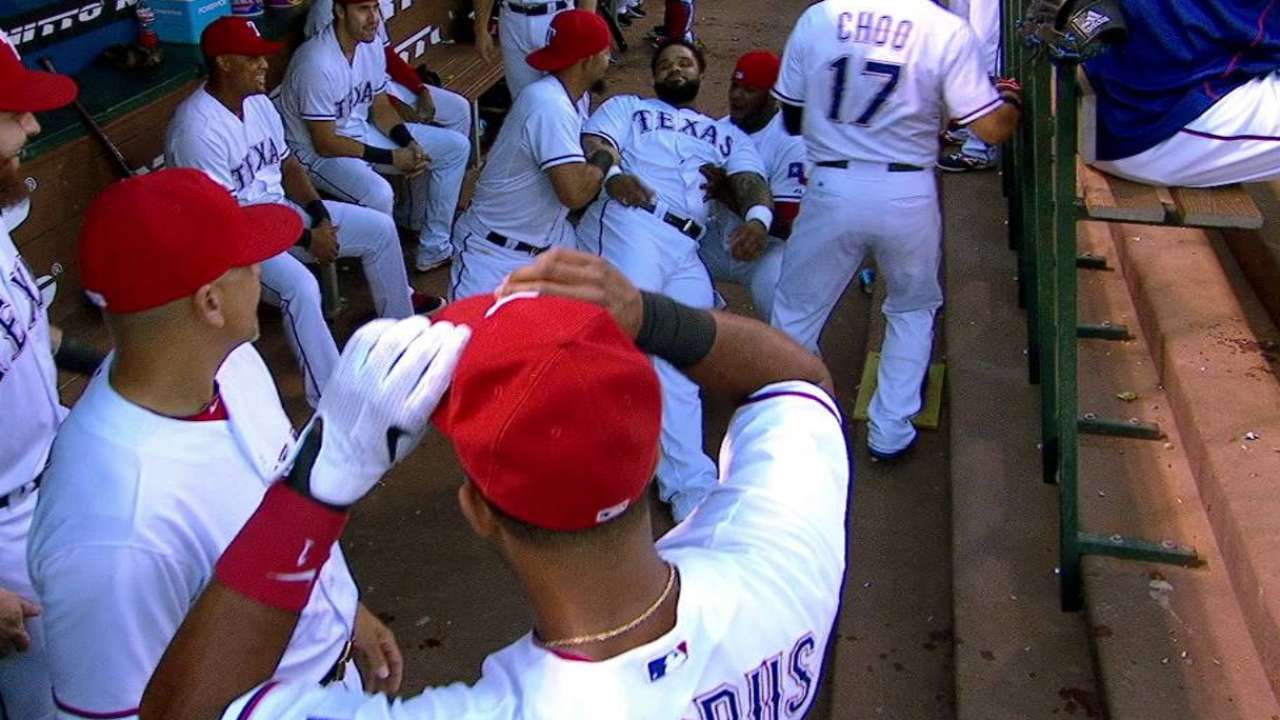 "Here's one of your best players saying team-first," Daniels said. "Great message. I personally think the surgery, the scare he had last year, had a pretty big impact on him. It's not hard to see why. I think it would have a similar effect on all of us. Here's a guy who's been in a big league clubhouse since he was 7 or 8 years old, and for the first time in his life, had it taken away from him. For me, I saw a guy with a love for the game, love for his teammates, renewed, refreshed. I saw a guy smiling, having fun."
That rubbed off on teammates. Now, back in the postseason, he's still enjoying it.
"It's going to be a tough series, obviously. We know that," Fielder said. "We're just going to try to play hard and see what happens."
Jason Beck is a reporter for MLB.com. Read Beck's Blog, follow him on Twitter @beckjason and listen to his podcast. This story was not subject to the approval of Major League Baseball or its clubs.