Blue Jays, Rangers offer bountiful GIF baskets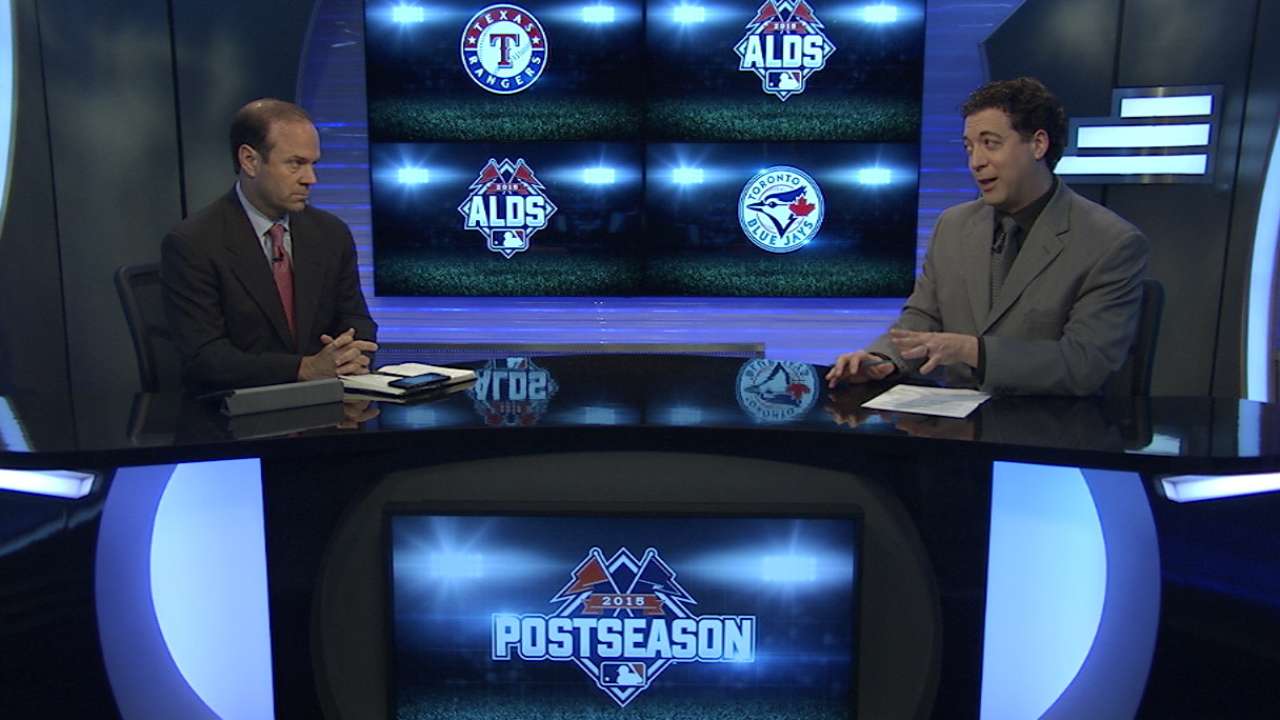 The Rangers and Blue Jays meet in the American League Division Series that begins today in Toronto (3:30 p.m. ET on FS1 and Sportsnet). As we prepare for the series, here's a look at some of the top GIFs from each team's season, courtesy of @MLBGIFs.
Rangers
1. Power Rangers
Texas knows how to hit home runs. Prince Fielder and Adrian Beltre show their long ball skills by belting back-to-back home runs.
2. Elusive Andrus
Realizing he will be tagged out if he slides feet first into home plate, Elvis Andrus slides head first right before the tag is applied.
3. Mascot's slick dance moves
The Rangers' mascot, Captain, isn't afraid to shake his groove thing, which makes a young fan jump for joy.
4. Choo's high flying act
Shin-Soo Choo shows he's got plenty of hops when he leaps up against the wall and robs Logan Morrison of a home run.
5. Mascot catches fan off guard
Enjoy practical jokes? None were better than a prank against a female Rangers fan. The Rangers' mascot, Captain, attaches a spider to a fishing pole and moves it near her seat. The girl's face tells the rest.
Blue Jays
1. Edwin's Jams
Edwin Encarnacion put on quite a show in a game against the Tigers, belting three home runs. The fans show their appreciation of the hat trick by throwing their caps onto the field.
2. Pillar's spectacular grab
It's a bird ... It's a plane ... It's Kevin Pillar! The Blue Jays' center fielder channels Superman on this spectacular diving catch.
3. Donaldson's dive pays off
Blue Jays third baseman Josh Donaldson channels Derek Jeter as he dives head-first into the stands to make a backhanded grab.
4. Bautista's cannon
While Jose Bautista may be known for his bat, the Blue Jays' right fielder shows off his cannon of an arm, gunning down Yankees right fielder Chris Young on the fly at home plate.
Quinn Roberts is a reporter for MLB.com. This story was not subject to the approval of Major League Baseball or its clubs.