MLB.com Columnist
Hal Bodley
After exhale, Gibbons confident in 'resilient' club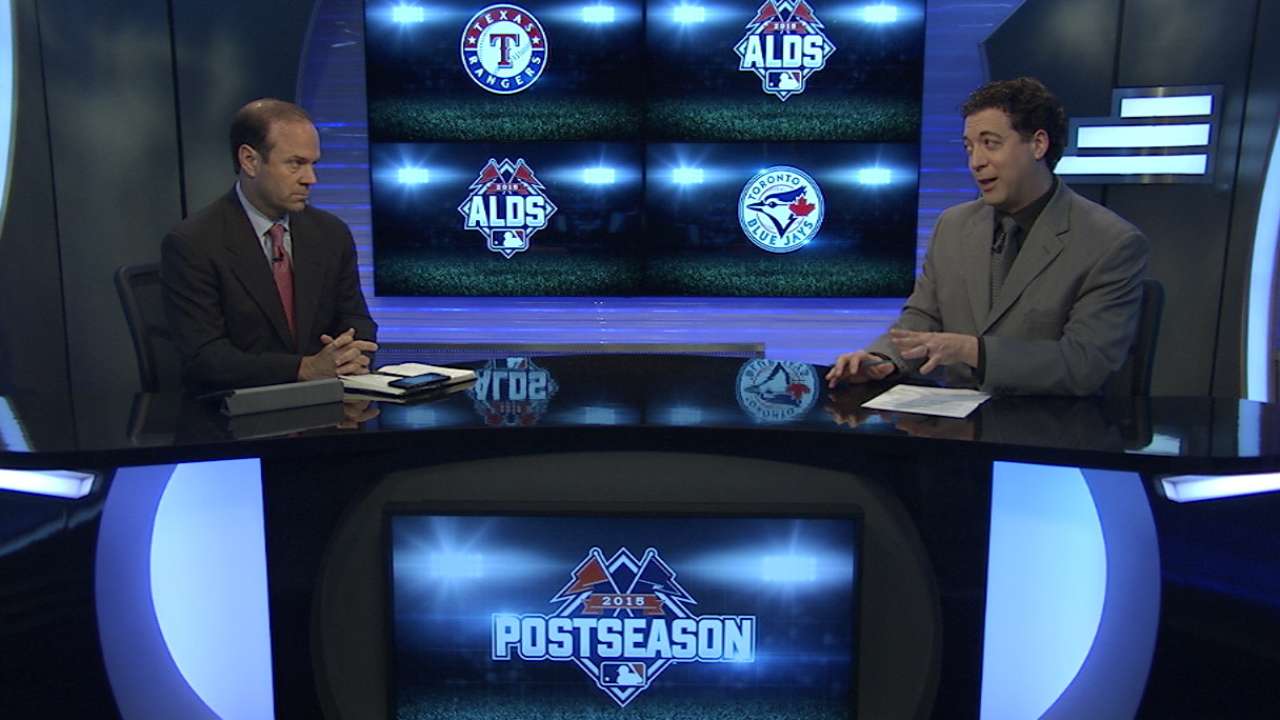 When the Blue Jays roll out their heavy artillery, opponents are shelled with a blinding firestorm of hits and runs. As the curtain went down on their AL East championship Sunday, they'd outscored opponents 891 to 670.
"They don't let a pitching staff or a pitcher up for air," says Rays manager Kevin Cash. "Their power is off the charts. There's not one light spot in their lineup. They're so dangerous."
Despite all that power, all the hits and runs the Blue Jays have accumulated during their marvelous season, they have a glaring weakness.
In close games, when an opposing pitcher stymies their bats, they struggle.
As they stampeded opponents en route to their first postseason appearance since 1993, they were vulnerable to superb pitching.
Fact: the Blue Jays were 15-28 in one-run games.
This Toronto team is about as complete as any to go deep in the postseason.
Yet as they prepare to face the Texas Rangers in today's best-of-five AL Division Series opener, there's one haunting concern for manager John Gibbons.
"Yes, our offense has been the key all year, but we struggle a lot in close games, one-run games," he said during an interview with MLB.com. "For a team that has played so well, we struggle in those games."
Pausing, with concern all over his face, he said: "And when you go into the playoffs you're facing all the top dogs on the mound and generally the games are low scoring."
Gibbons and his Jays will find out in a hurry if this pattern continues.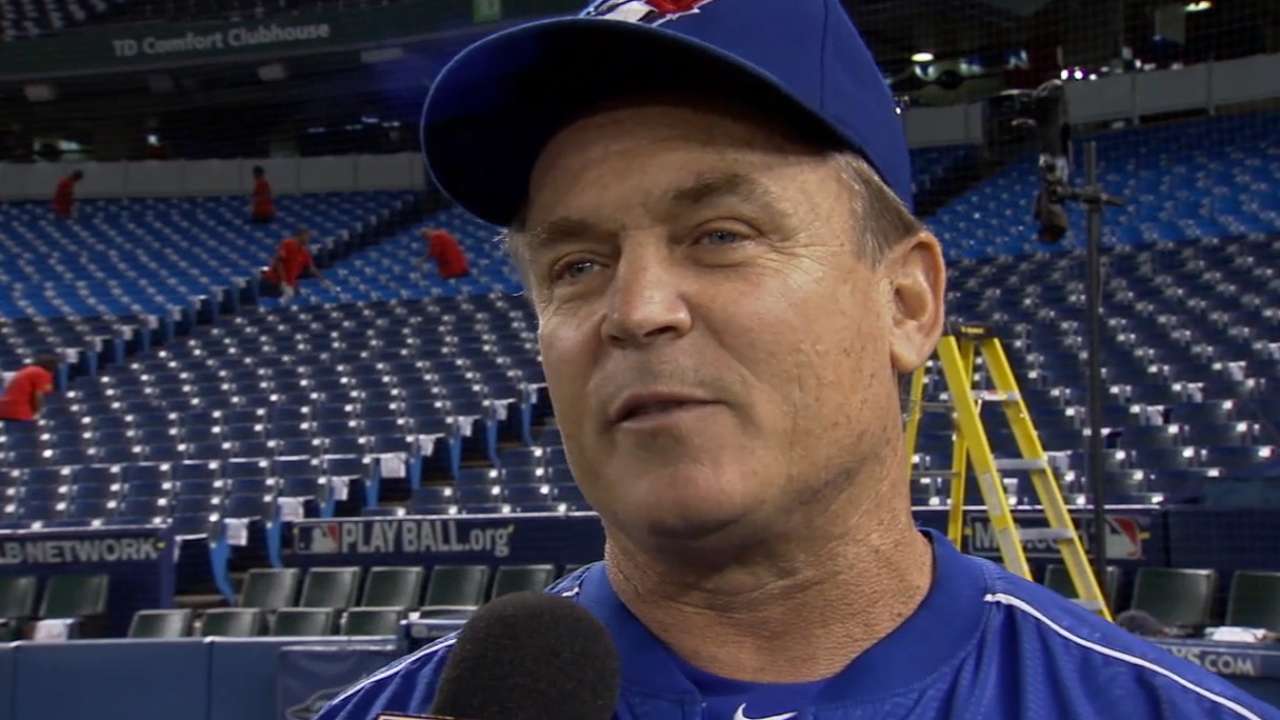 The Rangers are sending right-hander Yovani Gallardo to the mound in Game 1 at Rogers Centre. The right-hander is 2-0 in two scoreless starts against Toronto this year.
Gibbons, however, is quick to say "with David Price, Marcus Stroman and Marco Estrada we can match up with anybody on the mound."
Lefty Price, a strong candidate for the AL Cy Young Award, is 9-1 with a 2.30 ERA since becoming one of several important acquisitions for Toronto at the July 31 non-waiver Trade Deadline.
The affable Gibbons, 53, was coaching and teaching in the Instructional League for the New York Mets at Port St. Lucie, Fla., when Joe Carter blasted his dramatic, historic walk-off homer against the Phillies to win the 1993 World Series.
"I watched it on TV," said Gibbons. "I never dreamed that it would be 22 years before Toronto would return to the postseason and that I would be the manager."
It's been a long drought not only for the Blue Jays, but also for the baseball-lifer Gibbons.
There are a lot of folks in baseball pulling for Gibbons. He's one of those congenial persons who makes even a stranger feel like he's a best friend.
Gibby, as he's called, has more than paid his dues. He's in his second tour with the Blue Jays and has never taken a team to the postseason.
"I've been able to exhale a little bit," he said. "There's a lot of satisfaction right now, never had so much fun. The first go-round here [2004-08], we just weren't good enough. It was the Yankees and Red Sox every year. They'd pull away from everybody.
"And then the second go-round, the expectations that first year [2013], we were crowned champs before the first game and finished last. A year ago we improved, but went in the tank the second half."
Sitting back in his chair and putting hands behind his head, he added, "Fact you win the division and get that under your belt, you can exhale a little bit. It's been so long for me to get there. I've always wanted to say I won something as a manager. But I think there's more in us then just that [AL East title]. We'll find out."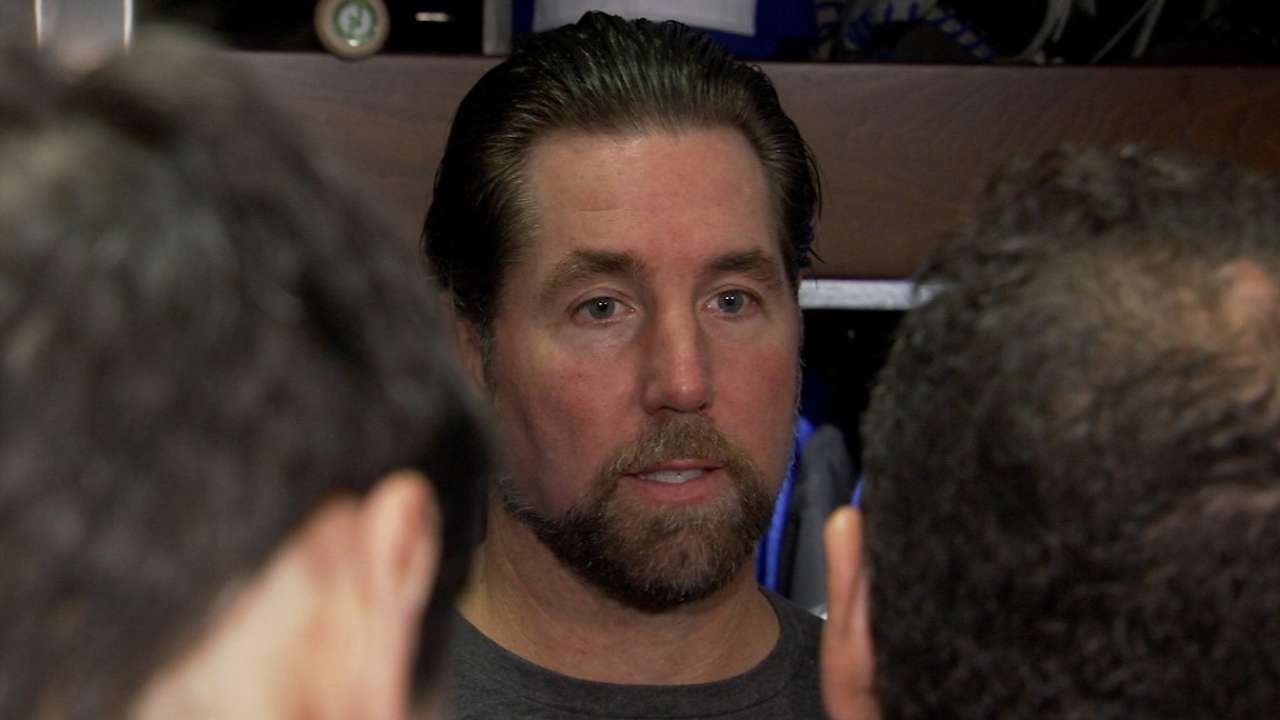 The 2015 Blue Jays story has been told many times.
At the Trade Deadline they were 53-51, tied for second place, six games behind the first-place Yankees.
That's when GM Alex Anthopoulos shocked the baseball world, not to mention Gibbons, by landing Price, Troy Tulowitzki, LaTroy Hawkins, Ben Revere and Mark Lowe.
"Everybody thought we were going to make a couple of moves at the Deadline, but we had no idea they were going to be marquee players like Price and Tulowitzki and all," said Gibbons. "The talent was one thing, but what those additions did to the clubhouse was so great for the psyche. It gave everybody a lift."
All-Stars Josh Donaldson, a leading candidate for AL MVP, and Russell Martin were added during the offseason.
"In Spring Training with the addition of Donaldson and Martin we could see this was a special group," said Gibbons. "They were two of the top players in baseball. They added some toughness to us, and some grind. Once the game starts they push, they push. There's never any backing down for any of them. They really took over. Others followed their lead."
But Gibbons says his team was having trouble gaining traction.
"We were just treading water," he said. "The acquisitions revitalized everybody. We'd been slugging all year, but were basically a .500 team, just couldn't get over that hump."
Beginning on Aug. 2, the Jays reeled off 11 consecutive victories and took over first place from the Yankees after Aug. 13 by a half-game. They dropped back to second for nine days, but moved back to the top spot on Aug. 22 and stayed there. They ended the season 93-69, second-best record in the league.
"We're dangerous offensively, we're dangerous on the mound," said Martin. "We play awesome defense. So, I mean, if somebody's going to beat us, they're going to have to play tremendously."
Gibbons: "We have everything we need. I just hope we play good baseball at the right time. It's a resilient team. A tough loss or two doesn't affect them. Where that takes us, we'll find out. ... But there's something different about this group."
The biggest difference is it's going to the postseason.
Hal Bodley, dean of American baseball writers, is the senior correspondent for MLB.com. Follow him @halbodley on Twitter. This story was not subject to the approval of Major League Baseball or its clubs.