Blue Jays will rely on Cecil to thwart lefties
Veteran southpaw reliever has been dominant since June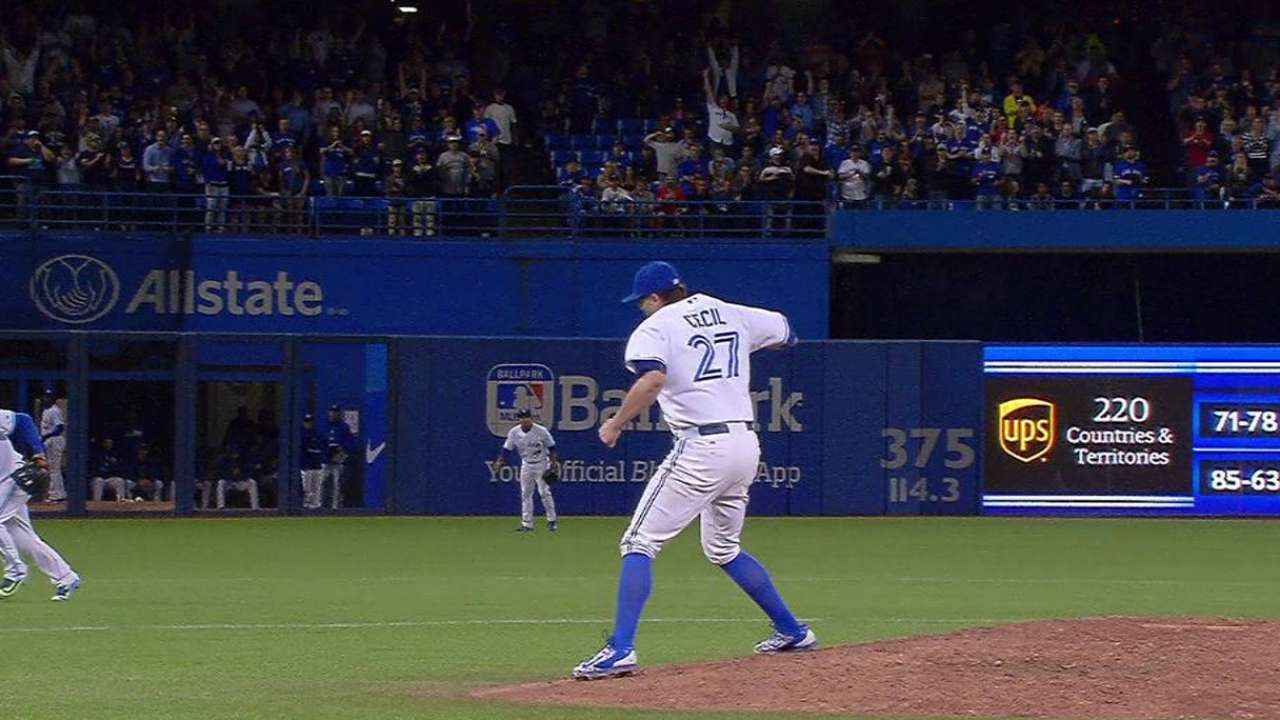 TORONTO -- The Blue Jays have no shortage of stars on the roster, but one of the keys to their American League Division Series against the Rangers very well could be left-handed reliever Brett Cecil.
Cecil might not be a household name across North America like David Price, Jose Bautista and Josh Donaldson, but when it comes to attacking a potent Texas lineup, he holds a lot of the cards. The Rangers are a predominantly left-handed-hitting ballclub, and Cecil's presence is more important than ever before as the clubs prepare today for Game 1 (3:30 p.m. ET on FS1 and Sportsnet).
The timing couldn't be better for Cecil, who put a tough first two months behind him and completely turned his year around. Dating back to the middle of June, he has been one of the most dominant relievers in baseball. and the Blue Jays will need that success to continue if they want to advance to the AL Championship Series.
"For me, honestly it's the adrenaline that comes with the chance of playing in the postseason," said Cecil, who limited lefties to a .539 OPS this year. "We had a month to left to go in the season and knew we had a good chance to be in the playoffs and just the adrenaline from that and obviously the fans filling the seats up, getting louder and louder every game. That just fuels the fire."
Cecil made the All-Star team in 2013, but he's arguably on the best run of his career. He hasn't allowed an earned run since June 21, a span that includes 44 strikeouts compared to four walks and 17 hits over 31 2/3 dominating innings.
That performance will to have to continue against a team that features lefty hitters Shin-Soo Choo, Prince Fielder, Josh Hamilton, Mitch Moreland and Rougned Odor. There's no question Cecil is going to be a factor and the most difficult thing for Toronto manager John Gibbons will be figuring the right time to unleash him.
Gibbons joked earlier this week that if everything goes well for the Blue Jays, Cecil will be the most overworked pitcher in the postseason. He's the the type of luxury every team wants, but earlier this year, it almost seemed like Cecil was on the verge of becoming a liability.
Cecil, who battled injuries in Spring Training, began the year as Toronto's closer, but his stint lasted all of one outing. He couldn't locate his fastball, teams sat on his curveball and the problems continued for awhile with an ERA of 5.94 on June 21. Since then, it's 0.00.
"Given the start of my season, very gratifying," Cecil said of his turnaround. "I know it probably didn't seem like it at the beginning of the season, but I knew it was just a matter of time before I got back in a groove.
"I didn't know how long it was going to take, I didn't know how long it was going to last once I got into it, but I knew it was going to be there at some point during the season and thankfully it's been there a little more than half the season now. It's surprising I know, but I knew it was in there."
Gregor Chisholm is a reporter for MLB.com. Read his blog, North of the Border, follow him on Twitter @gregorMLB and Facebook, and listen to his podcast. This story was not subject to the approval of Major League Baseball or its clubs.