A look at items from past Mets World Series runs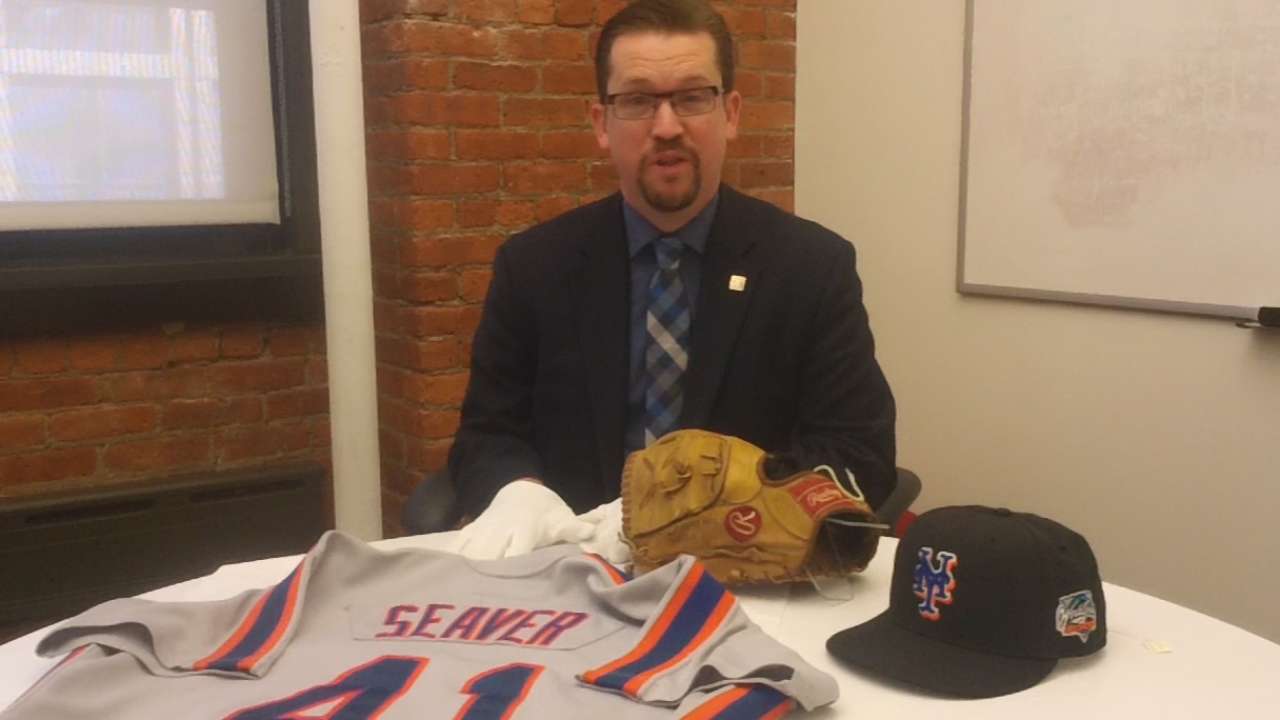 NEW YORK -- The Mets are back in the postseason for the first time in nearly a decade. Some items from past glory days made their way downstate from Cooperstown on Wednesday.
While the Mets were cross-country preparing for Game 1 of their National League Division Series against the Dodgers, Brad Horn, vice president of communications and education at the National Baseball Hall of Fame and Museum, was at the MLB.com offices in Manhattan with artifacts, including Jerry Koosman's Rawlings glove from the 1969 World Series, a black cap worn by closer John Franco in the 2000 World Series, and a 1983 Tom Seaver jersey to represent a parallel to this 2015 Mets club.
"Postseason baseball gives us a chance to look back at some of the most memorable moments in October," Horn said. "We've got a few items that really relate to the New York Mets' success over the years. For us to be able to show these items and connect with some of the storylines that fans may see in the 2015 postseason, this is something we really draw back to history. And this is something we do at Cooperstown each day."
Watch the video to see the actual items and hear more about their meaning. Here are a few highlights, described by Horn:
Franco's cap
"John wore this cap during the 2000 World Series, and you can see the World Series emblem from 2000," Horn said. "He recorded the only victory of the series for the Mets. John picked up the win in Game 3 in relief, and gave Mets fans hope.
"He was such an integral part of that team in 2000 -- such a great closer throughout his career -- and caps are just one of the ways we document history. They do provide a direct connection to an achievement on the field. John's great, legendary career in Cooperstown preserved through this hat, his most notable career memories."
Koosman's glove
"Also from the Mets, and you look back to what a great amazing run they had in 1969, when they won the World Series, there are a lot of parallels between the 2015 club and the '69 club," Horn said. "Jerry Koosman was the veteran pitcher at all of 25 years old in 1969 when he wore this glove, and Koosman wore this ... throughout the postseason and the World Series.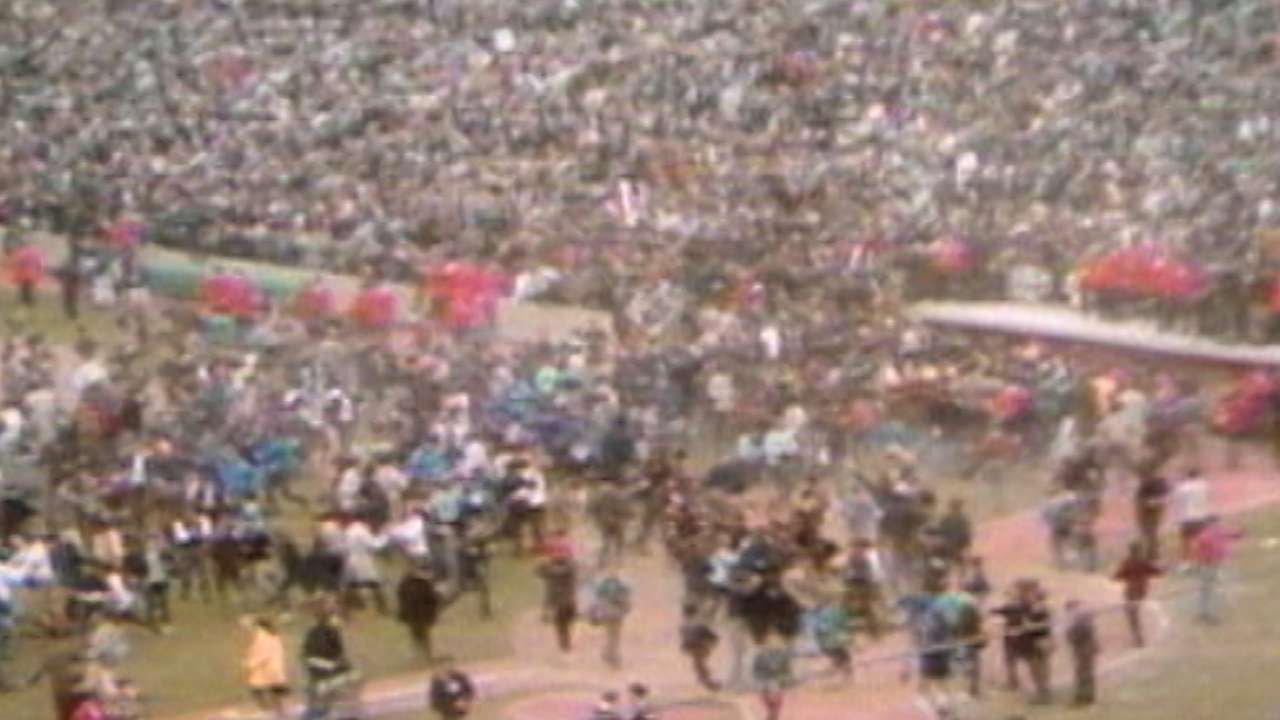 "That rotation was fairly formidable. The current Mets rotation has a lot of parallels with young flamethrowers like Jacob deGrom, Matt Harvey, Noah Syndergaard ... and others that may draw parallels to that '69 rotation.
"So in '69, Koosman was really the leader of the rotation, which actually was a pitching staff that featured 22-year-old rookie Nolan Ryan, who worked 10 starts and a lot of games out of the bullpen that season."
Seaver's jersey
"Koosman also was joined in that rotation by a guy who was just in his third year in the big leagues, Tom Seaver. This is a jersey from Tom's second foray playing for the Mets," Horn said. "He wore this in 1983, when he went back to the Mets at age 38, and interestingly enough, was 10th in the league in innings pitched, threw five complete games, threw over 220 innings.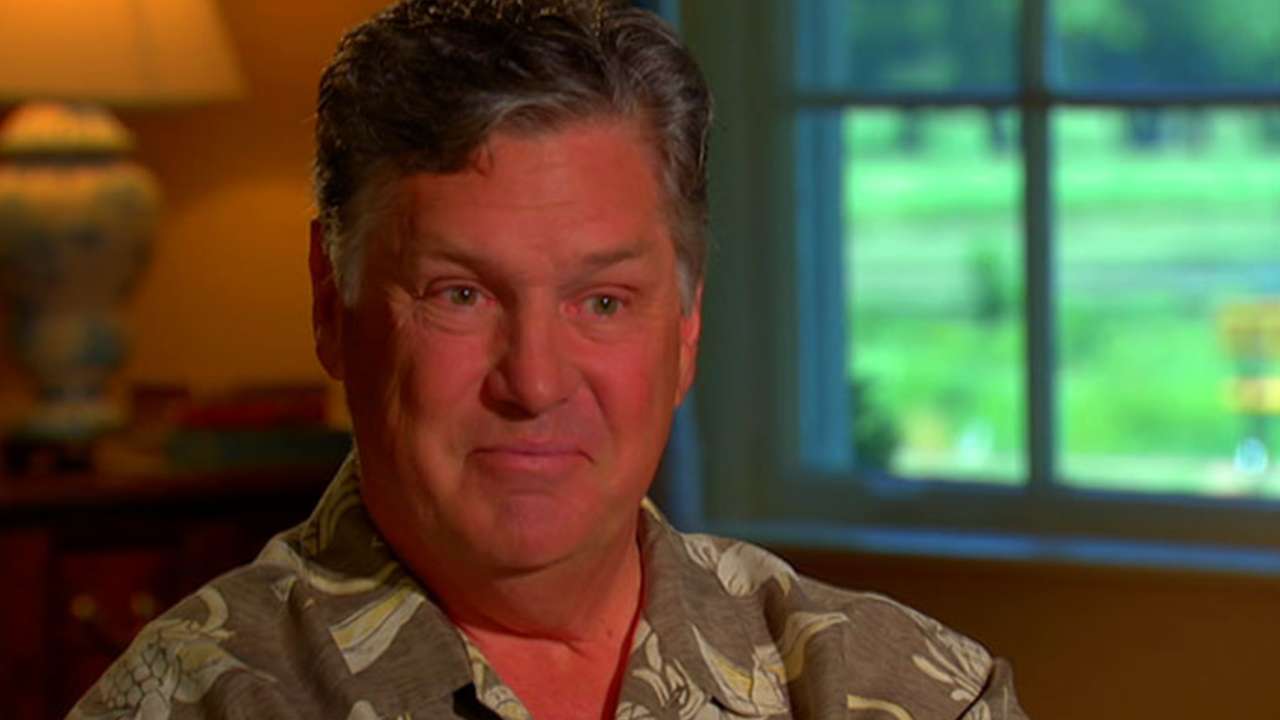 "That '69 team, with Seaver, Koosman, Ryan coming out of the bullpen, really that rotation helped provide the foundation for a stunning World Series upset of the Baltimore Orioles, and it helped put the '69 Mets on the map that we remember forever."
As for obvious items from the Mets' last world championship team in 1986, Horn said they were not included because they are currently being added back in Cooperstown to the museum's newest exhibit, "Whole New Ballgame," which will open Nov. 7, as announced by the Hall on Wednesday.
That exhibit will feature more than 300 artifacts and library items, including a Ray Knight helmet and Gary Carter's jersey from the '86 World Series that featured game-altering rules changes like the designated hitter, and labor challenges that redefined the fiscal boundaries of the sport.
The only question is whether new artifacts will be curated from Terry Collins' 2015 club. The road to the 111th World Series begins on Friday in the best-of-five series. Game 3 will be on Monday at Citi Field, marking the first postseason game played there. Game 4 is there the next day, if necessary.
"Our role at the Baseball Hall of Fame and Museum is to document history as it happens," Horn said. "We have an entire room on the postseason called Armed Glory, which documents some of the game's most impactful October moments, and each year we dedicate a case to the World Series champions.
"This year we had a case that represents the Giants' third World Series title in five years. That will be coming down at the end of this postseason, and a new World Series champion will be crowned. We'll have several items from this year's World Series along with other compelling storylines from the postseason to document in Cooperstown the entire year."
Mark Newman is enterprise editor of MLB.com. Read and join other baseball fans on his MLB.com community blog. This story was not subject to the approval of Major League Baseball or its clubs.