Cards optimistic about Molina's NLDS status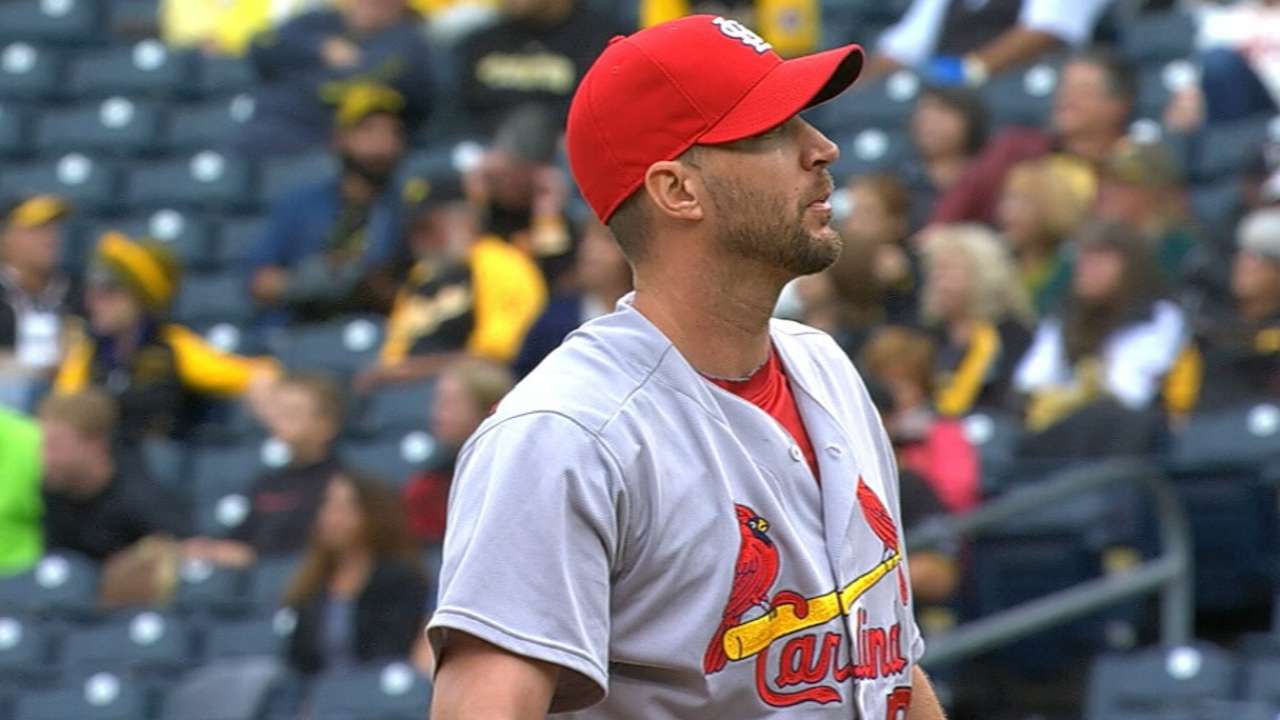 ST. LOUIS -- The Cardinals have hoped for weeks that they'd be at their healthiest come the start of the postseason. And given the developments over the past week, they seem poised to hit that mark ahead of Friday's National League Division Series Game 1 (5:30 p.m. CT, TBS).
Yadier Molina, wearing a specially made plastic splint molded to protect his left thumb from further ligament damage, took the field on Wednesday to participate in a slew of baseball activities. It was the second straight day of work for Molina, who resumed hitting, catching, throwing and blocking pitches on Tuesday after having taken a little more than two weeks off since sustaining the thumb injury while making a swipe tag on Sept. 20.
While the Cardinals don't have to decide until Friday whether Molina is ready for an NLDS roster spot, they remain encouraged by his progress.
"[I'm] much more optimistic today than I was, say, when we were in Atlanta," manager Mike Matheny said of Molina's postseason playing chances. "With what he was able to do [Tuesday] and some of the things he's been able to do with the medical team to stabilize the thumb, he came in yesterday and had a good workout. All those things are pointing in the direction that it's possible."
Molina, who has appeared in more postseason games (86) than anyone else on the Cardinals' roster, will wear some sort of protection when he hits, as well.
Also on the mend is outfielder Randal Grichuk, whose August shutdown with right elbow inflammation has compromised his ability to throw. Grichuk was back on the outfield grass Wednesday throwing from a distance of about 120 feet. Matheny said Grichuk has shown he can let it go from about 200 feet away, but that the Cardinals are still inclined to keep him out of center field. The Cardinals can do that by shifting Jason Heyward to center in games Grichuk starts.
"We're in October and still talking about them reaching hurdles," Matheny said. "Randal is still in that conversation to make sure his body responds well after we push him a little bit further."
Others working their way back from injury have cleared all their necessary hurdles. Matt Holliday and Matt Adams, both of whom missed extensive time while recovering from quad injuries, played full games on the last road trip. Mobility does not appear to be a concern for either.
Stephen Piscotty, who suffered a mild concussion after a Sept. 28 collision, returned to the field on Sunday and has had no medical setbacks since.
"I put it behind me and am moving on," Piscotty said after Wednesday's workout. "Every day is better. I'm getting to the point where all days are starting to feel the same. I got in that game in Atlanta, and it was good to get some timing."
And then there's Adam Wainwright, who showed the Cardinals enough in three relief appearances on the team's last road trip to warrant a spot in the Cardinals' bullpen. He declined the chance to throw a simulated inning against hitters on Wednesday and instead fine-tuned his mechanics during a short side session in the bullpen.
General manager John Mozeliak said the Cardinals are comfortable using Wainwright on back-to-back days or in a multiple-inning appearance. They also won't hesitate to use Wainwright in critical late-inning spots.
"I think he's a dynamic pitcher," Mozeliak said, "and using him in high-leverage situations is something that he's available for."
Jenifer Langosch is a reporter for MLB.com. Read her blog, By Gosh, It's Langosch, follow her on Twitter @LangoschMLB and like her Facebook page Jenifer Langosch for Cardinals.com. This story was not subject to the approval of Major League Baseball or its clubs.