MLB.com Columnist
Mike Bauman
Greater expectations: KC back in hunt
Underdogs no more, Yost's crew bringing same approach from 2014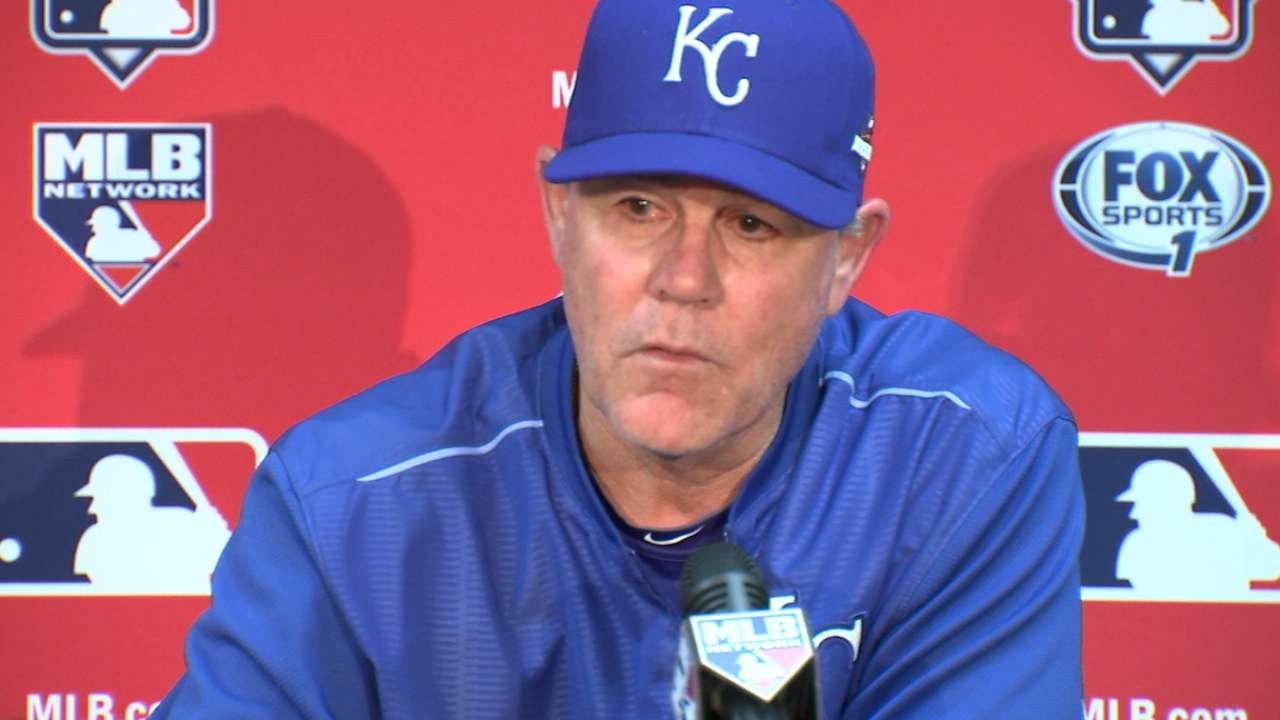 KANSAS CITY -- What is the difference between a team that last year reached the postseason for the first time since 1985 and this year had the best record in the American League?
The Kansas City Royals, who will open an AL Division Series at home tonight (7:30 ET/6:30 CT on FS1) against the Houston Astros, are both of the aforementioned teams. They will tell you that the difference between 2014 and 2015 hasn't been all that much.
They're a better team; there is that. They were 89-73 last year and reached the postseason as a Wild Card. They were 95-67 this year, winning the AL Central by 12 games and compiling the best record in the AL.
Expectations were higher this year, but that was simply a function of the Royals being a team that had accomplished something very significant, reaching the World Series in 2014. But that didn't fundamentally change who the Royals were and are.
"Same exact team, same exact thought process," third baseman Mike Moustakas said Wednesday after the Royals worked out at Kauffman Stadium. "We're just a little bit older and a little bit more experienced."
Yes, the expectations have risen dramatically. But the game hasn't changed, nor has the Royals' approach to it.
• Dress like the Royals this postseason
"There's no difference," Royals manager Ned Yost said. "We're out to play the game. From Day One, our expectations were elevated greatly over any other year I've managed here. So we've been dealing with those expectations since the first day of Spring Training.
"We've set goals as a group where we wanted to win the division. We wanted to have home-field advantage, which meant that we were the best team in the American League. Kind of personally, I wanted to make sure we secured home-field advantage for whatever American League team played in the World Series (by winning the All-Star Game).
"They went out and they accomplished all of those things. There wasn't anything that they set their mind to this season that they didn't accomplish. I think that we're all very comfortable with the expectations. We've set lofty goals for ourselves and we're going to go out and try to achieve them. ... Our ultimate goal is to win the World Series."
The Royals have entrusted Yordano Ventura, 24-year-old flamethrower, with the start in Game 1 of their ALDS. Ventura doesn't seem to be likely to wilt under the pressure. Asked about the difference between last year's postseason work and being the lead postseason starter, Ventura replied through an interpreter:
"Nothing really changes as far as my preparation. Last year, the difference was, we went in as a Wild Card, and this year, since we knew we were in, I had more time to prepare and I had more time to go through my routine.
"I have a responsibility as the No. 1, to the team and to the [coaching] staff, especially to the staff that gave me the opportunity as the No. 1 starter. But again, nothing is going to change as far as my preparation, physically and mentally. I just have to go out and execute."
That's some extremely matter-of-fact stuff, but the evidence suggests that the postseason pressure won't break any of the Royals, whether they are considered underdogs or favorites.
"Pressure is what you make out of it, all right?" Yost said. "Pressure is kind of like the imaginary friend you had when you were 4 years old. If you think it's there, it's there; if you don't, you don't."
Yost got a big laugh from his reportorial audience after that remark. He said he did not have an imaginary friend. That was OK. When you are managing the team with the best record in the AL, your friends aren't imaginary.
"I don't feel any pressure at all," Yost said. "I love playing here at this ballpark, because of our fans, and it's exciting to go to an opposing ballpark, because of their fans. Go out, have fun and do your best."
Those are postseason words of wisdom. There has been a noticeable change for the 2015 Royals. They have heightened expectations, but it's all right, because the highest expectations of all are their own.
Mike Bauman is a national columnist for MLB.com. This story was not subject to the approval of Major League Baseball or its clubs.