No one-hit wonder: Toronto more than just power
Texas tasked with stopping prolific offense that also features patient, speedy, opportunistic hitters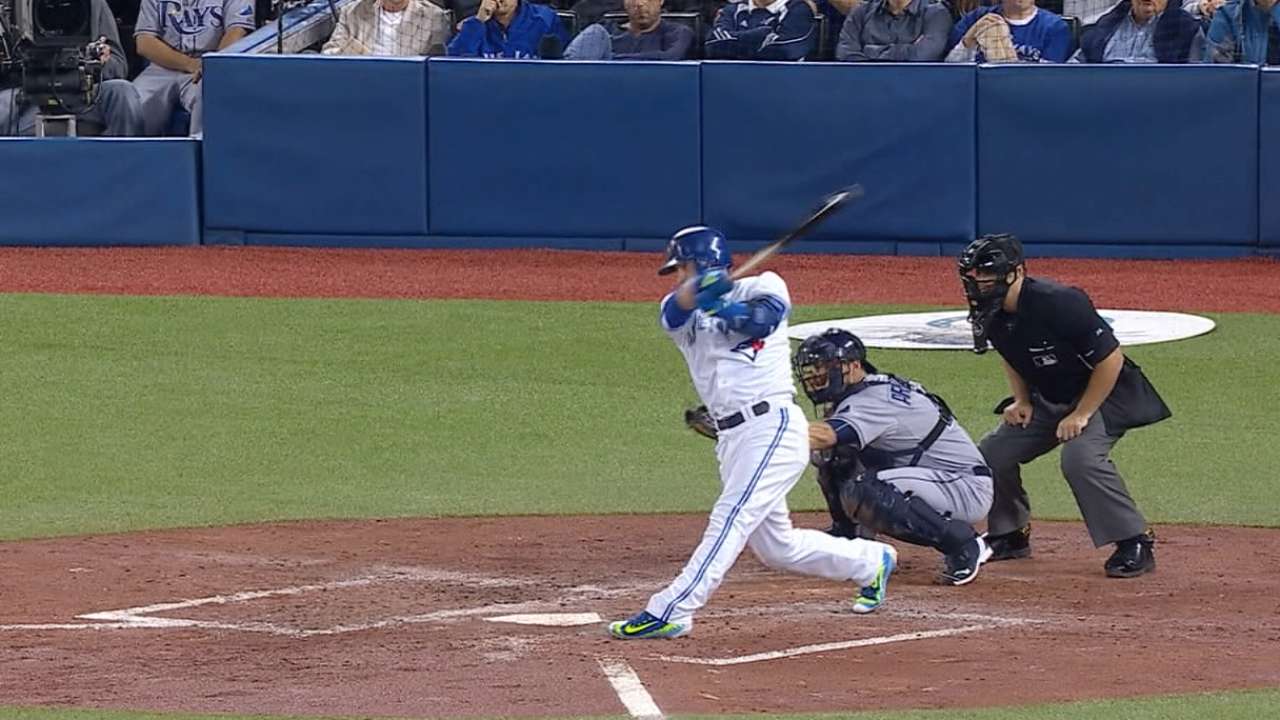 TORONTO -- Josh Donaldson was standing still, surrounded by TV cameras and reporters holding voice recorders. There wasn't a whole lot of room to move before his team's Wednesday afternoon workout at Rogers Centre the day before Game 1 of the American League Division Series (3:30 p.m. ET/2:30 CT, FS1/Sportsnet) between Donaldson's Blue Jays and the Texas Rangers.
But when a reporter asked the third baseman and AL MVP candidate if Toronto's prodigious offense would be able to perform in October the way it has while doing ugly, unfair things to much of the rest of the Major Leagues throughout the regular season, he just had to spin his body around and look the guy in the eyes.
"Have you looked at our lineup?" Donaldson asked. "That's why I'm confident. Our lineup is legit. ... They have a good lineup over there as well, but I just feel like our lineup is the best in baseball."
It's tough to argue that one.
Toronto led the Major Leagues with 891 runs scored -- 127 more than the next-highest team (the Yankees with 764) -- and averaged 5.5 runs per game. The Blue Jays scored 10 or more runs in a club-record 26 games, the most by any team in a season since St. Louis and Atlanta in 2003. They also finished with the best run differential in the Majors at plus-221, which was 99 more than runner-up St. Louis at plus-122.
Individually, Donaldson (41), Jose Bautista (40) and Edwin Encarnacion (39) combined for 120 home runs, the most by any trio in club history -- beating the mark of 119 set by Jose Canseco, Carlos Delgado and Shawn Green in 1998 -- and they each hit 20 or more homers after the All-Star break.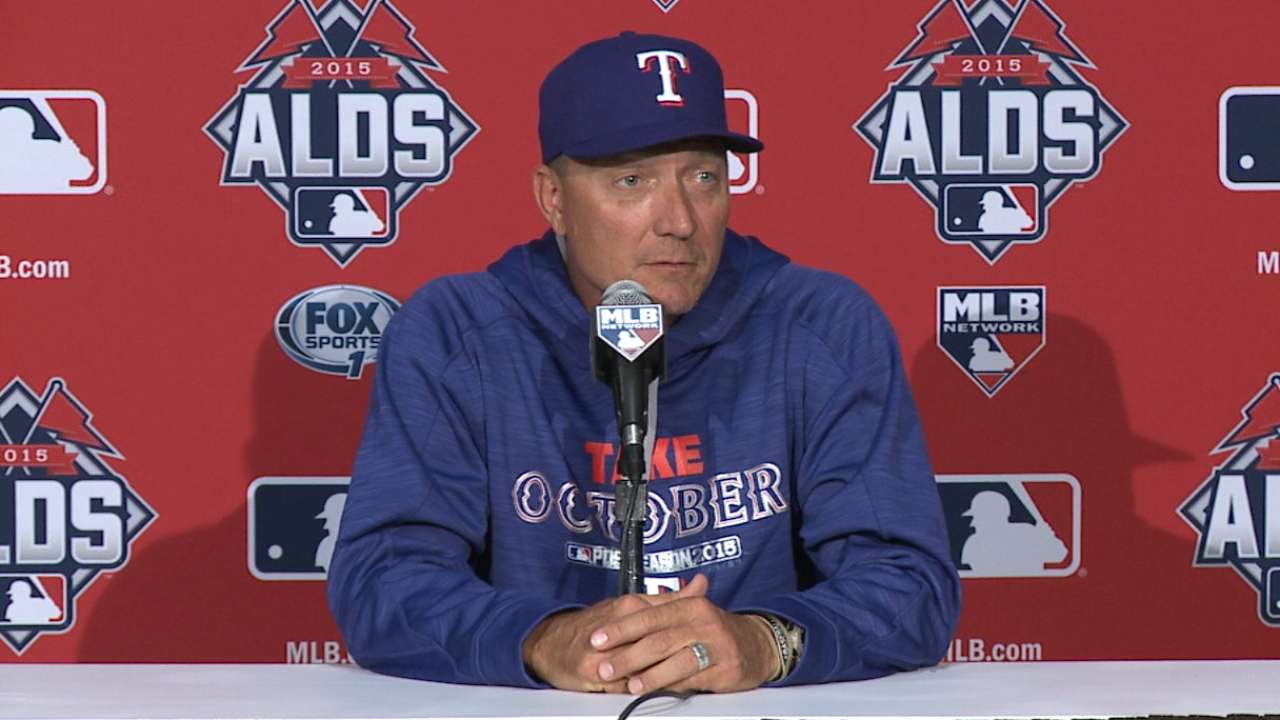 But Toronto's not just about home runs. The lineup is balanced with speed on top in the form of Trade Deadline acquisition Ben Revere and baserunning opportunists on the bottom in outfielder Kevin Pillar and second baseman Ryan Goins. And the numbers bear that out, too.
The Jays led the Majors in on-base percentage (.340), ranked fourth in the AL in stolen bases (88), tied for second in the Majors in walk percentage (9.1) and were fifth-lowest in the Majors with a strikeout percentage of 18.5.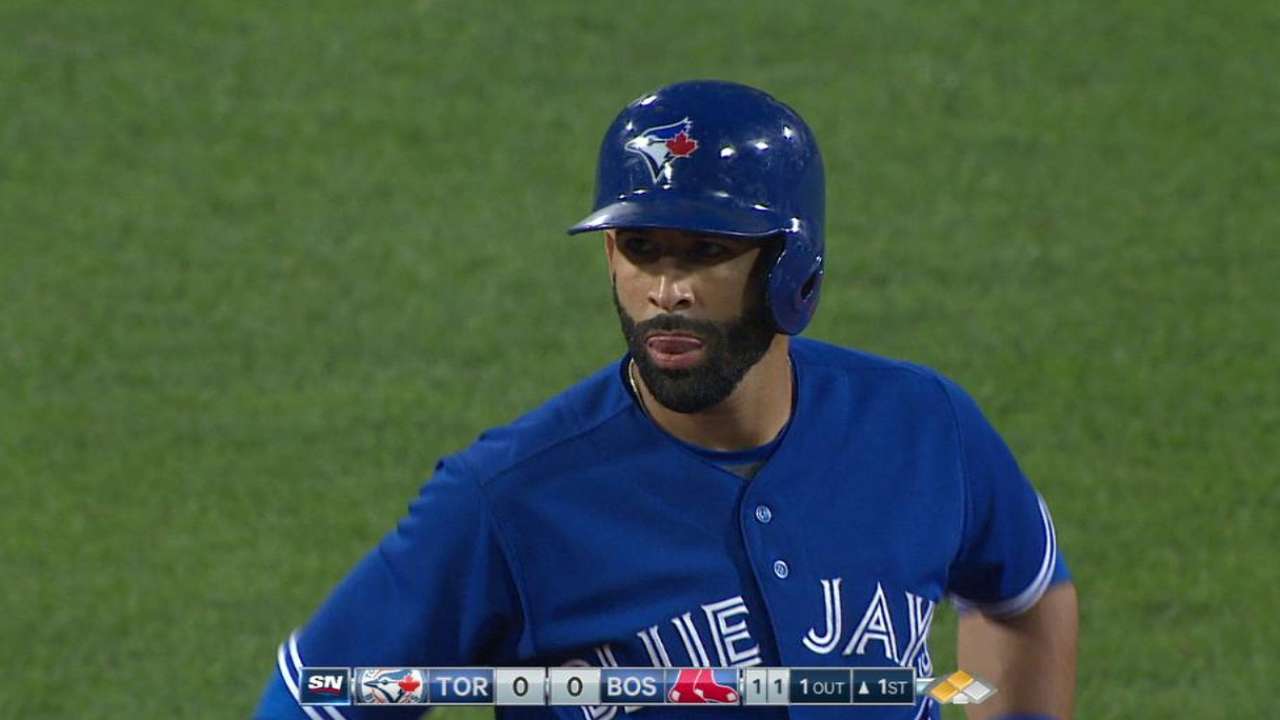 "That gets overlooked a bit in the fact that we hit a billion homers," said Jays first baseman Chris Colabello, who slashed .321/.367/.520 with 15 homers and 54 RBIs for Toronto this year ... and isn't even an everyday player.
"I think the at-bats where guys grind away, draw their walks, fight stuff off and shoot singles through the right side, those get overlooked a lot just because of our ability to hit the three-run homer."
That leaves the Rangers with a formidable task, and while they wouldn't get into any specifics of how they plan to attack this multi-headed beast from the Great White North, the general theme of the strategy wasn't hard to decipher:
"You really have to just go with your pitchers' strengths," Texas catcher Chris Gimenez said. "If pitchers' strengths and the hitters' strengths match up, so be it.
"They can beat you with small ball, too. They move runners, they have a lot of guys who know how to hit in those situations in the game, and that is difficult. But if you're going to get beat, you're going to get beat with your best stuff. Hopefully it works out in our favor. And our pitching staff is a force to be reckoned with as well. They say good pitching beats good hitting. Let's hope so."
Texas reliever Jake Diekman, who put up a 2.08 ERA in 26 appearances for the Rangers after coming over from Philadelphia in the trade that brought Game 2 starter Cole Hamels to Texas, said the plan is pretty simple, no matter how prolific the opponent.
"You've just got to pitch," Diekman said. "You've got to move the ball around. Good pitches are still going to get people out. It's the same against every team."
Doug Miller is a reporter for MLB.com. Follow him on Twitter @DougMillerMLB. This story was not subject to the approval of Major League Baseball or its clubs.