Head-turners: Statcast previews Rangers-Jays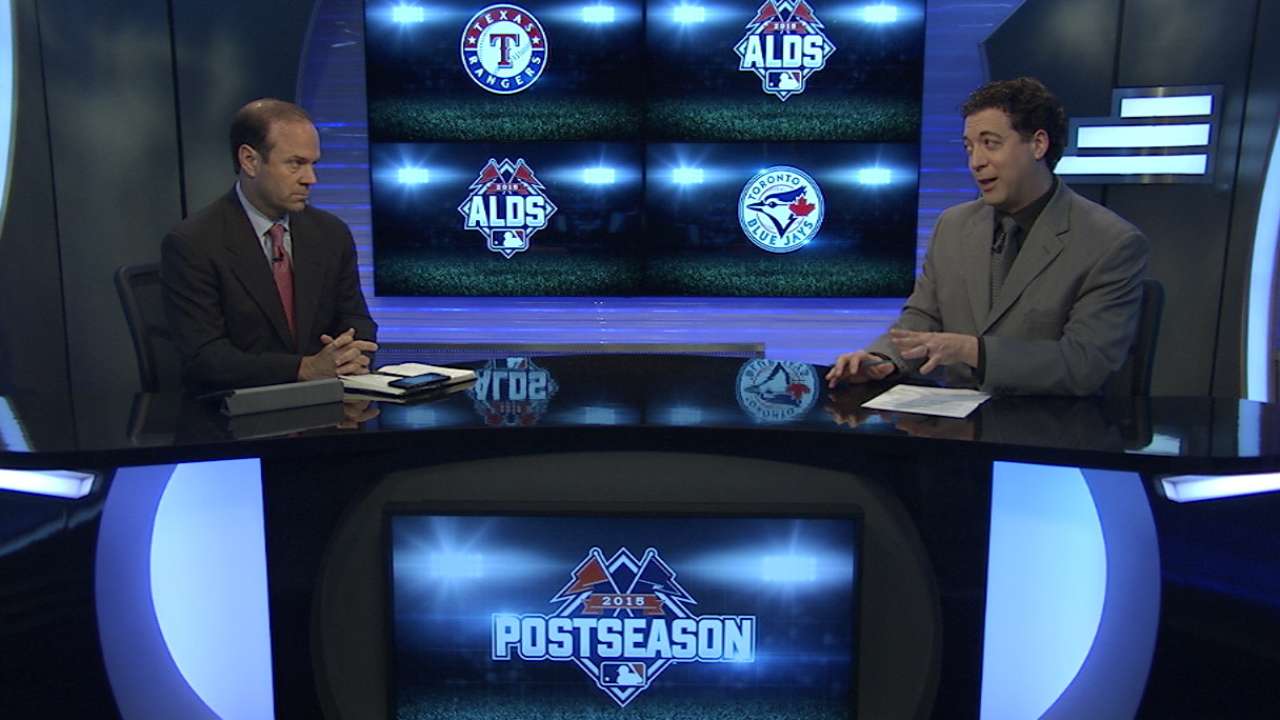 Few teams, if any, provided as much material for Statcast™ down the stretch as the Blue Jays.
From hitting towering home runs on a seemingly nightly basis to employing a human highlight reel in the outfield to boasting one of the game's most unhittable pitchers, Toronto certainly kept the player-tracking technology busy. That said, their American League Division Series opponents provided their share of highlights as well, as the Rangers used a balanced attack to capture the AL West crown.
Here's a closer look at some key players and metrics, courtesy of Statcast™, to keep an eye on during their ALDS matchup, which begins today at 3:30 p.m. ET on FS1 and SNET.
BLUE JAYS
Josh Donaldson: Power
Not many players can stake a claim to providing as many moonshot homers this season for Statcast™'s perusal than Donaldson. The AL MVP candidate tormented opposing pitchers to the tune of 41 home runs, a handful of which were projected to have traveled at least 440 feet. His longest of the season came all the way back on April 23 when he crushed a projected 481-foot homer off of Baltimore starter Chris Tillman. That shot held up as the fifth-longest hit in the Majors this season.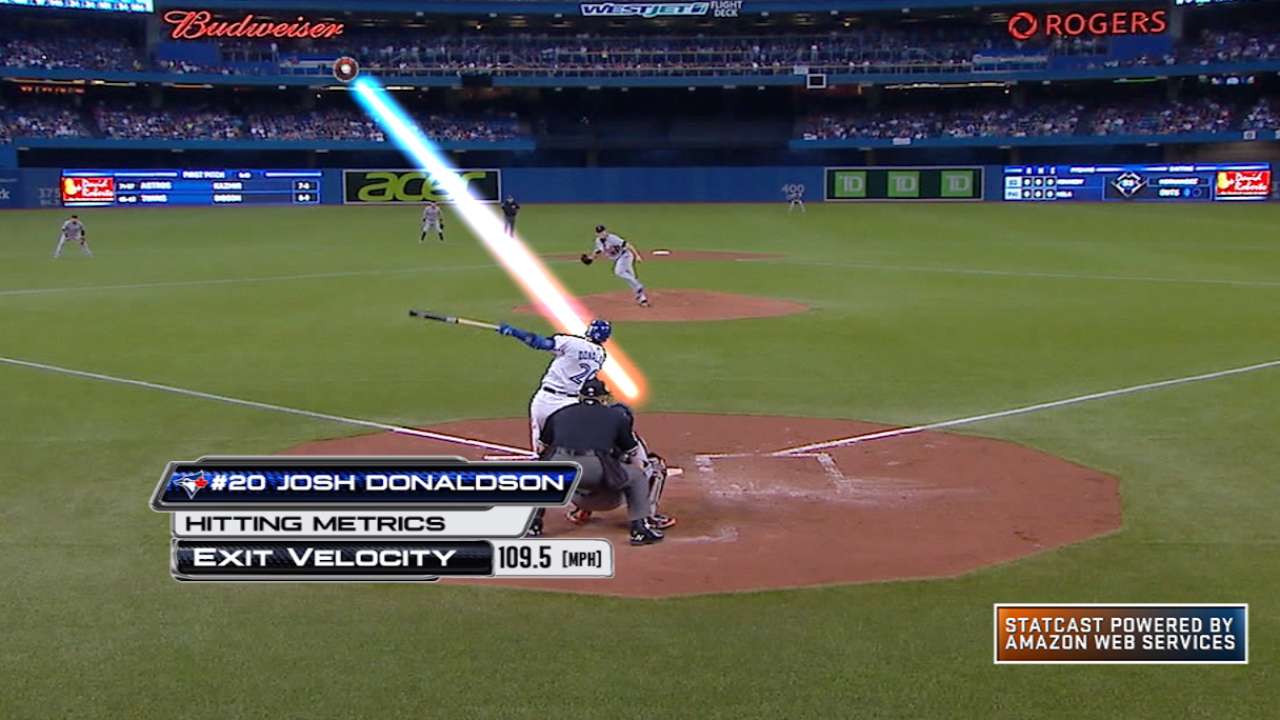 More recently, Donaldson teed off for a laser shot on Aug. 28 against the Tigers that Statcast™ projected would have traveled 454 feet -- that is, had the ball's path not been interrupted when it hit the facing of the fifth deck at Rogers Centre. The no-doubter left Donaldson's bat at 109.5 mph and ended up being his second-longest home run of the year.
Jose Bautista: Exit velocity
Only one everyday player in the Majors hit the ball harder on average this year than Bautista. The veteran slugger more than held his own hitting in the middle of Toronto's formidable offensive attack, averaging an exit velocity of 94.3 mph. That mark was the second-best in the Majors among players to put at least 200 balls in play, trailing only Miguel Cabrera's 95-mph average exit velocity.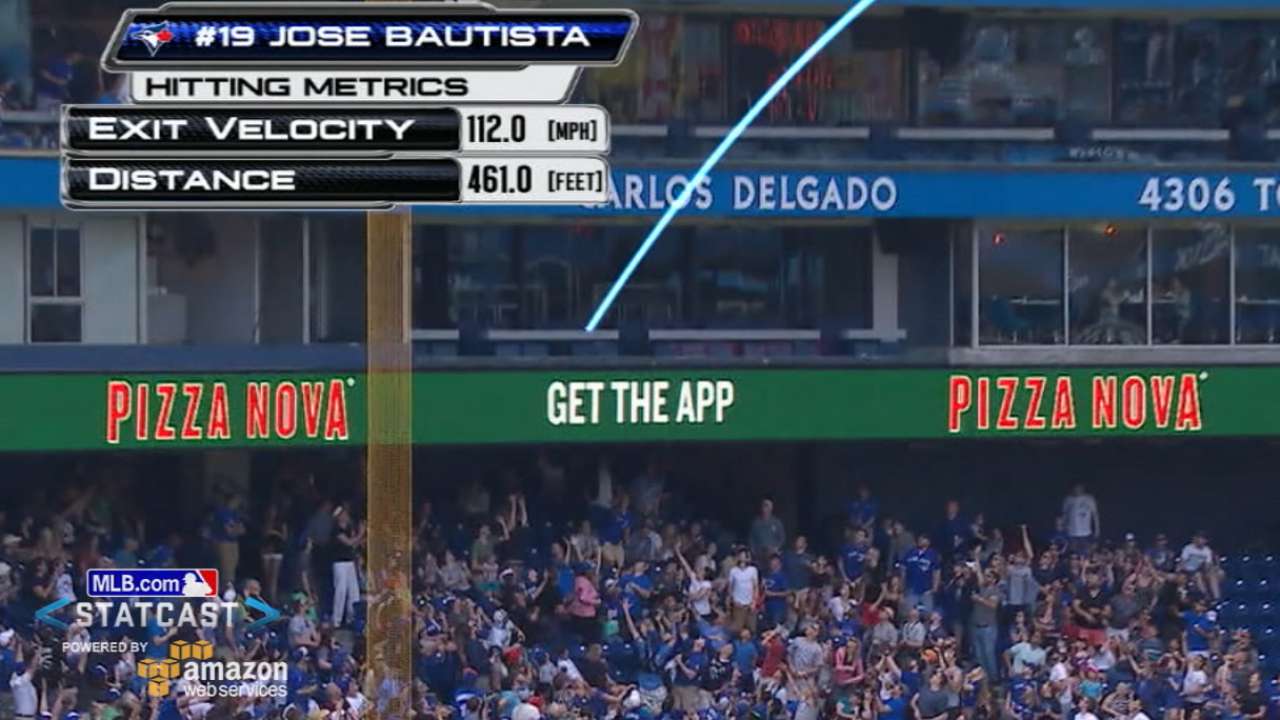 Bautista's power was on full display on a May 18 home run against Angels reliever Cesar Ramos that ricocheted off the Rogers Centre suites above the second deck in left field. On that particular blast, the ball left Bautista's bat at a scorching 112 mph, which ultimately held up as his hardest-struck home run of the season. The shot traveled a projected 461 feet, also a season high for Bautista.
Kevin Pillar: Fielding
Pillar seemingly served as a human highlight reel while patrolling the outfield for the Blue Jays this season. Along with finishing second in the AL with 22 Defensive Runs Saved, Pillar finished the year with a Major League-best 64 catches on which he logged a route efficiency of at least 97 percent. No other player had more than 57 such grabs over the course of the season.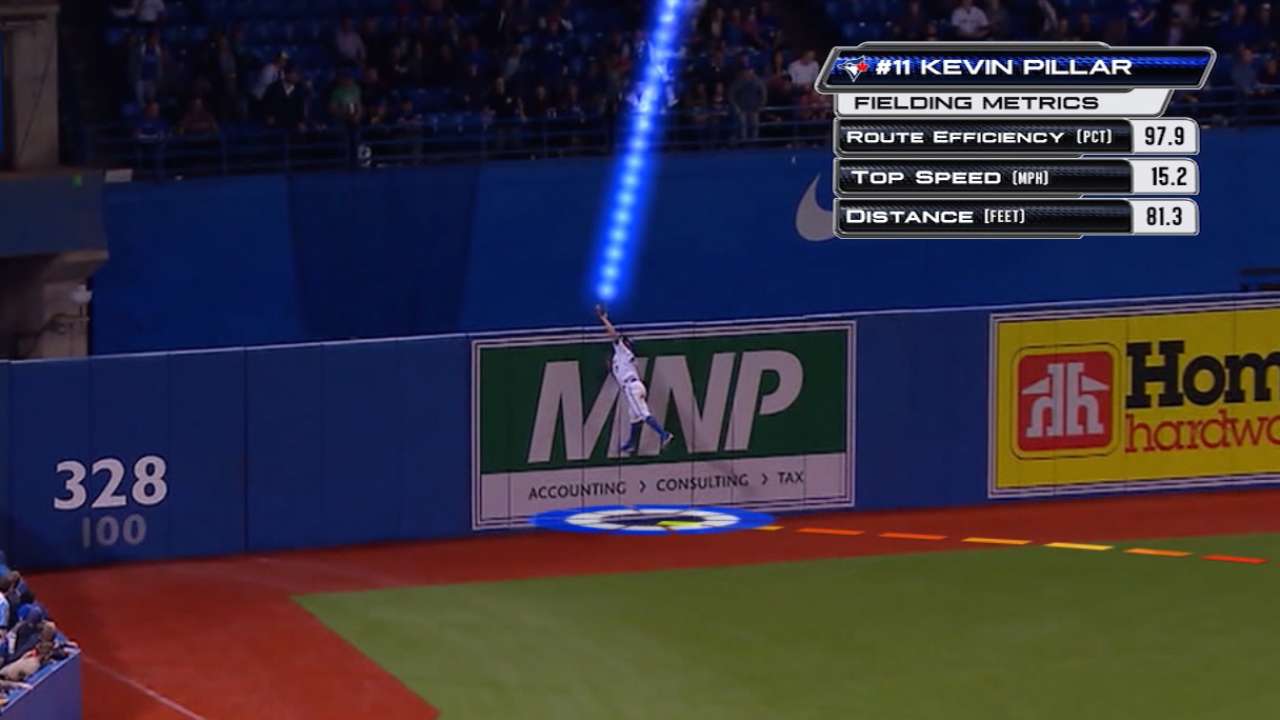 The most impressive of those catches came all the way back on April 15 when he climbed the left-field wall at Rogers Centre to take a home run away from Tampa Bay's Tim Beckham. Pillar logged a route efficiency of 97.9 percent while covering a total distance of 81 feet on his way to making the leaping, jaw-dropping catch.
David Price: Cutter improvement
Though Price was off to a strong start with the Tigers this season, he raised his game to another level after being acquired by the Blue Jays at the Trade Deadline. After racking up a 2.53 ERA over 21 starts with Detroit, Price notched a 2.30 ERA in his 11 starts with the Jays. But even more telling is the fact that he lowered his hits-per-nine-innings rate from 8.2 to 6.9 while raising his strikeouts per nine innings tally from 8.5 to 10.5.
To find the reason for Price's increased dominance in Toronto, look no further than the improvement he made on his cutter. The southpaw's cutter averaged 87.8 mph and a spin rate of 2,028.4 revolutions per minute (RPM) during his time with the Tigers. Since joining the Blue Jays, however, Price is averaging 90.6 mph on his cutter, while throwing it with an average spin rate of 2,146 RPM. It's no surprise then that opponents went from hitting .288 against the pitch during his time in a Tigers uniform to only .180 since. Price has also tallied 20 strikeouts with his cutter in just 74 1/3 innings with Toronto, surpassing the 17 whiffs he registered in nearly twice as many innings (146) with the Tigers.
RANGERS
Delino DeShields Jr.: Speed
DeShields wreaked havoc on the basepaths this year, from frequently taking the extra base to swiping 25 bases. The Rangers' rookie averaged a max speed of 16.97 mph on his 612 baserunning plays that were measured by Statcast™. Of all players with at least 500 measured baserunning plays, only Billy Hamilton (17.05 mph) and A.J. Pollock (16.98) averaged a higher max speed.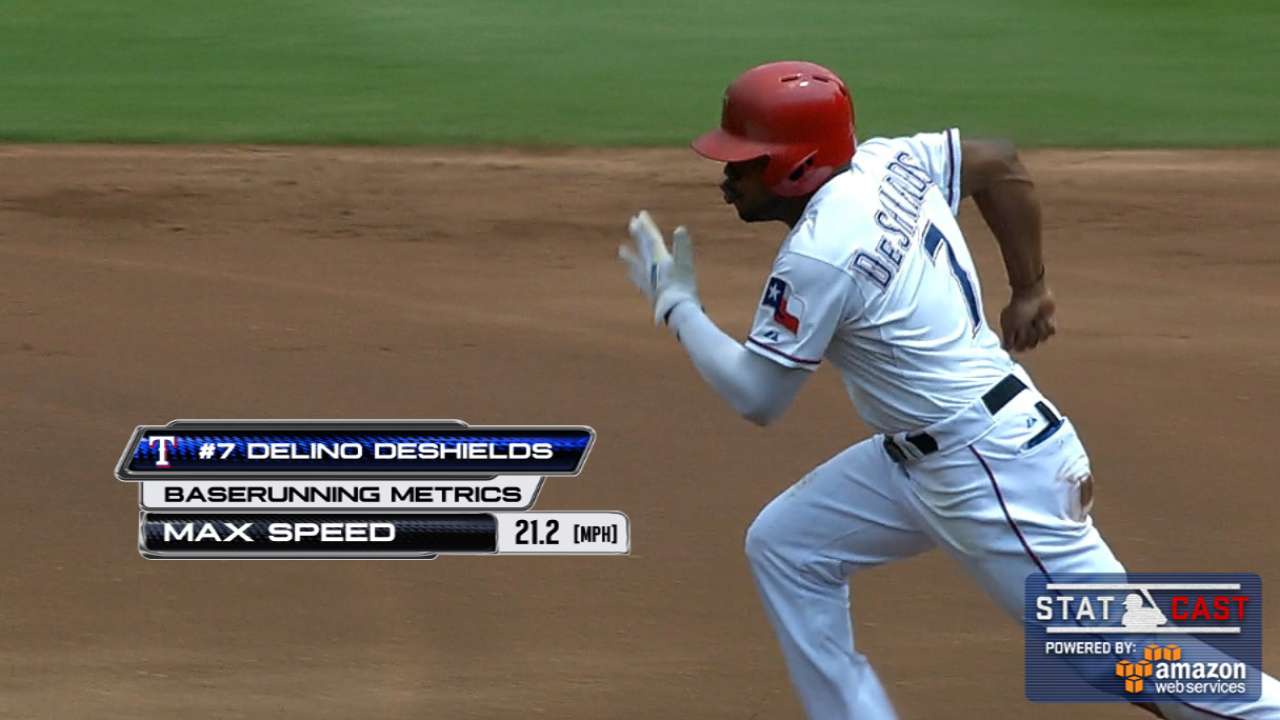 That tally includes max speeds registered on all baserunning plays, ranging anywhere from stolen bases to dashing down the first-base line after a hit to scoring from second on a teammate's base hit. As for that last category, DeShields' average time from second base to home was just 7.7 seconds. That average time was the seventh-fastest among the 117 players who went from second to home at least 15 times this year. DeShields' ability to produce runs was on full display on Aug. 16 against the Rays when he reached a max speed of 21 mph as he stole second base before kicking it into another gear to reach 21.2 mph as he scored from second on a base hit by Shin-Soo Choo.
Choo: Fielding
Speaking of Choo, he proved that he's still capable of using his all-around talents to make highlight-caliber plays in the outfield. Look no further than the final weekend of the regular season when Choo made a long, running snag to rob Mike Trout of extra bases in Texas' crucial matchup against the Angels. On that play, Choo took his first step just 0.05 seconds after the ball left Trout's bat then reached a max speed of 19.1 mph as he raced into the corner to make the lunging catch. Choo ultimately covered a total distance of 83 feet on the play, all while registering a route efficiency of 97.6 percent.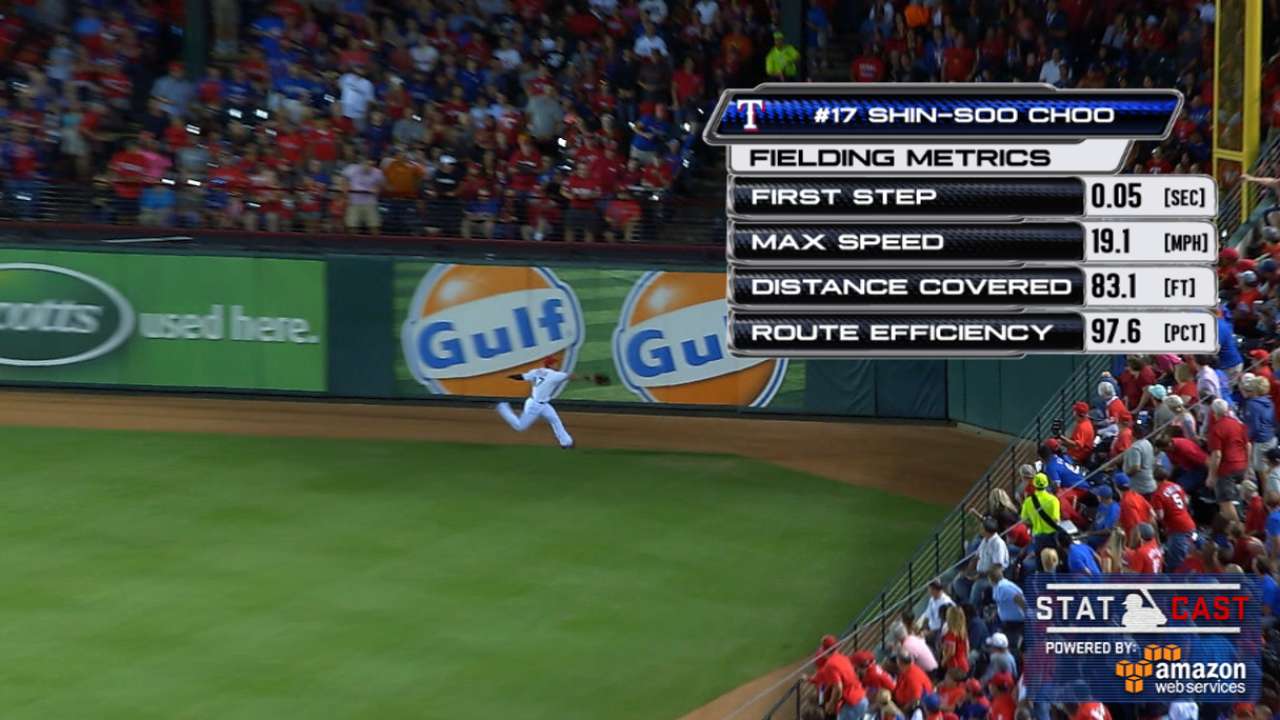 It doesn't end there, however, as Choo showcased that he can also still throw out baserunners from time to time. Seattle's Logan Morrison learned that the hard way back in August when Choo made a running catch -- at a route efficiency of 99.51 percent, no less -- then gathered himself to fire an 89.1-mph strike to home plate to cut down the potential go-ahead run.
Prince Fielder: Power
Though Fielder hit just 23 home runs this year -- his fewest in any non-injury-shortened season -- he still served up an occasional reminder of his mammoth power. Just ask the Indians, who had a front-row seat to his longest blast of the season back in May.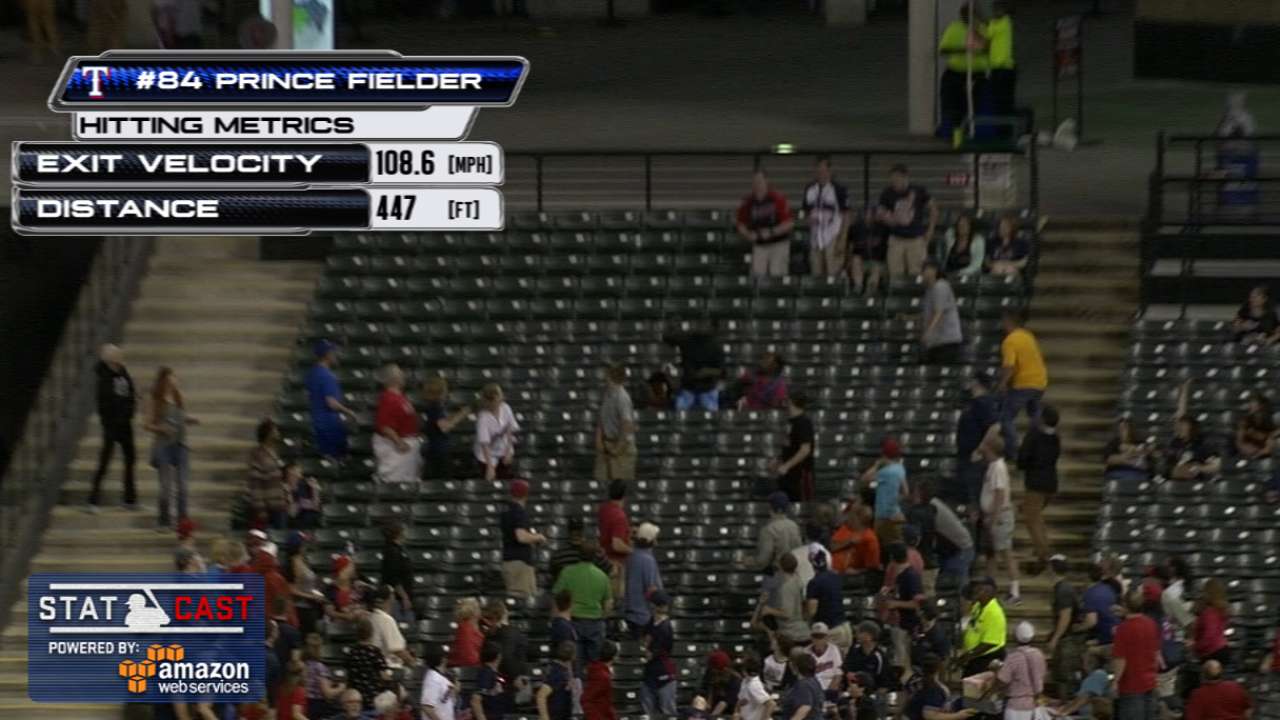 On that night, Fielder jumped all over an offspeed pitch from Cleveland starter Danny Salazar, turning it around with an exit velocity of 108.6 mph. The Indians' outfielders didn't even pursue the ball, instead just simply turning and watching the game-tying three-run shot travel a projected 447 feet into the right-center-field seats at Progressive Field.
Paul Casella is a reporter for MLB.com. This story was not subject to the approval of Major League Baseball or its clubs.