McHugh ready for opening battle with Royals
KANSAS CITY -- Collin McHugh's continual ability to navigate his way through adversity very much reflects what the Astros have done all year, fighting through the ups and downs and defying expectations.
Houston is back in the postseason, and McHugh's presence looms large. The right-hander, who exited his June 13 start with a 5.08 ERA and lowered it to 3.89 by season's end, will be on the mound against the Royals in Game 1 of the American League Division Series tonight at 6:30 CT on FOX Sports 1, when the Astros resume postseason play in a Division Series for the first time since 2005.
McHugh was just 18 years old at the time, three years away from joining the Mets as an 18th-round Draft pick. He began his career 0-8, and it wasn't until he put on an Astros uniform did his emergence as one of the top performers in the game take shape.
Promoted in April of last year, McHugh went 11-9 with a 2.73 ERA in 154 2/3 innings. Like ace Dallas Keuchel, much was expected of McHugh this season, and the 28-year-old responded with 19 wins across 32 starts -- second in the AL to Keuchel's 20 -- despite enduring an extended rough patch along the way.
The Astros were 21-11 on days McHugh took the bump.
"I was talking to Dallas joking with him the other day," McHugh said on Wednesday. "I said, you win 20 games with a 2.50 [ERA], you're a good pitcher. You win 19 with almost a 4 and you've got a really good team behind you."
McHugh ranked fourth in the AL in run support, getting an average of 5.79 runs per start. Keuchel got even more, barely: 5.82.
Just two years ago, no one knew their names.
"I like Collin just because he's had to fight for everything he's achieved. Kind of like myself," Keuchel said. "We've had to make a lot of adjustments throughout the course of our careers, and he's one of the better pitchers that I've seen in a very long time.
"He's done everything we've asked of him and more. And I think he expects a lot out of himself just like I do, and it's a good combination."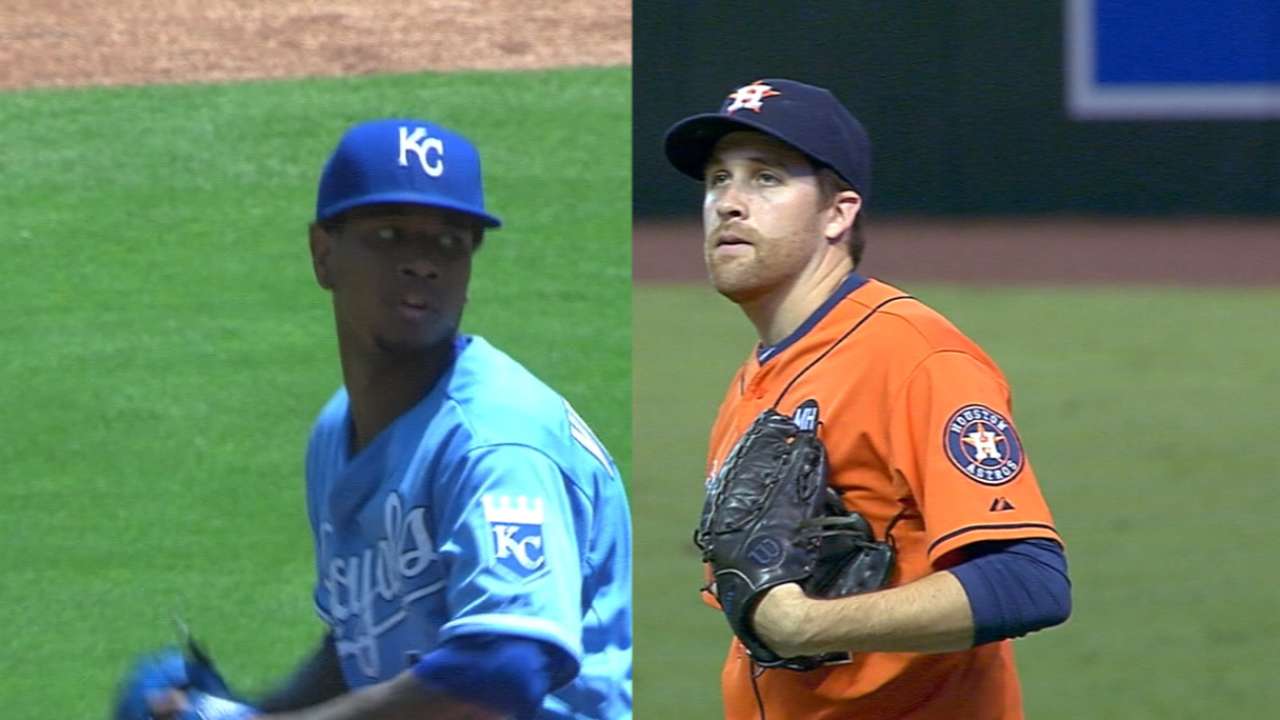 McHugh will be up against a Royals club he's seen just once in his career, on May 27, 2014, when he fired seven scoreless innings with just five hits allowed -- all singles, to Alex Gordon, Salvador Perez, Omar Infante, Lorenzo Cain and Jimmy Paredes -- with nine strikeouts and no walks.
McHugh's strikeout numbers have decreased since last season, when he averaged 9.1 strikeouts per nine innings, but his 7.56 mark of 2015 still ranked 19th in the league, making way for an intriguing matchup with a Royals club that struck out the fewest times (973) among all teams this season.
"I think it's important for me to execute the game plan we have going in," said McHugh, a very cerebral type pitcher. "Stay aggressive, throw a lot of strikes. You can't give a lot of free passes on this team, because they'll tend to make you pay for it.
"Stay within yourself, make good pitches and let our defense, bullpen and offense take the rest of the game."
Jane Lee is a reporter for MLB.com. This story was not subject to the approval of Major League Baseball or its clubs.