MLB.com Columnist
Richard Justice
Jays, Rangers enjoyed in-season roster makeovers
Common theme for ALDS clubs is transformations that led to postseason push
TORONTO -- The Blue Jays of October aren't the Blue Jays of April. They were remade on the fly, strengthened up and down the roster. In that way, they're a lot like the team they'll play in the American League Division Series beginning today (3:30 p.m. ET/2:30 CT, FS1/Sportsnet).
The Rangers were also transformed over the last few months. In the end, a season when they were tested again and again has had a satisfying ending.
Sometimes, the road is smooth, the plan nearly perfect. Other times, blueprints have to be rewritten. These two teams are a tribute to a pair of persistent general managers, to managers who held things together in tough times and a group of players who never lost confidence in their ability to do something special.
So on the eve of a postseason series that's special for both franchises, let's look at how the Blue Jays and Rangers got from there to here:
1. General managers who refused to wave the white flag.
There were times when Blue Jays general manager Alex Anthopoulos and his Rangers counterpart, Jon Daniels, weren't the most popular men in their cities. That's putting it mildly. They reacted the same way. They did not fire anyone. They both worked relentlessly to make their clubs better.
The Blue Jays were seven games out of first place in the American League East when Anthopoulos acquired shortstop Troy Tulowitzki in late July. They'd cut that margin to six games two days later when the GM traded for left-hander David Price, center fielder Ben Revere and relievers LaTroy Hawkins and Mark Lowe.
Anthopoulos, in effect, pushed his cards onto the table and declared the Blue Jays all in for 2015. They're 40-18 since. They climbed atop the AL East for good on August 23, and won it by six games.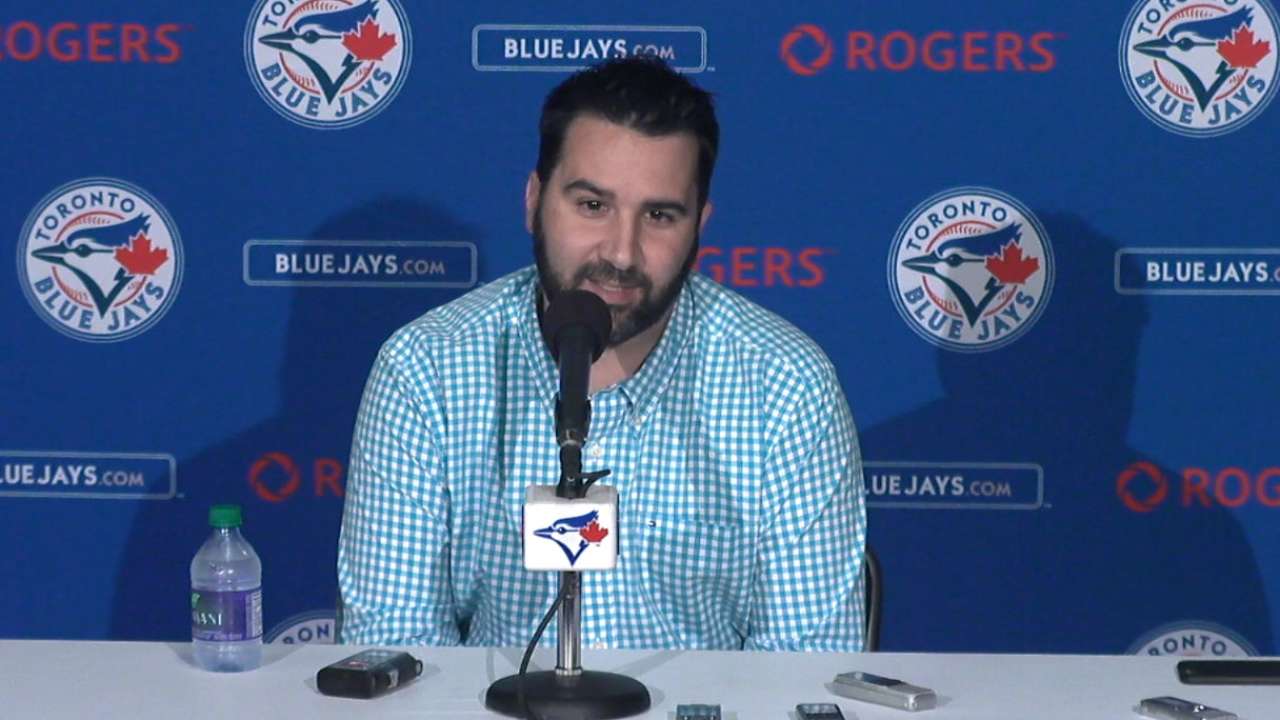 The Rangers were eight games out of first place when Daniels traded for left-hander Cole Hamels, utility man Mike Napoli and relievers Sam Dyson and Jake Diekman. Like the Blue Jays, the Rangers took off. They were 50-52 before the moves, 38-22 after. They spent their first day atop the AL West on Sept. 15 and held off the Astros down the stretch.
2. The managers.
John Gibbons was a surprising hire by Anthopoulos three years ago. He'd managed the Blue Jays for five seasons between 2004-08. He'd twice finished above .500, but didn't make the playoffs.
So why a second act?
Anthopoulos wasn't the guy who hired or fired him the first time around. But he knew him well. He also liked him and trusted him. He knew he had a great relationship with his players. He believed Gibbons just needed better players. When Toronto was seven games under .500 this season, rumors swirled that Gibbons was about to be fired again. Anthopoulos phoned him and said, "You're our manager."
Sometimes, staying the course is the right thing to do. Anthopoulos hired the right guy.
Rangers manager Jeff Banister was also a surprising choice by Daniels last winter. Pirates manager Clint Hurdle recommended Banister highly from having him as his bench coach. Banister's interview with Daniels was impressive.
"Sometimes you just know," Daniels said.
Banister held things together when the Rangers were eight games under .500 in April and eight games out in August. He has the right touch with players, has managed his bullpen smartly and has guided the Rangers back to the playoffs.
3. The closers.
The Rangers turned to Shawn Tolleson in late May, and he gave a shaky bullpen stability. He's 35-for-37 in save chances. Roberto Osuna, 20, got his first save for the Blue Jays on June 22. He settled their most problematic area. He has the poise of a veteran and one of the great fastballs in the game. He has converted 20-of-22 save chances since.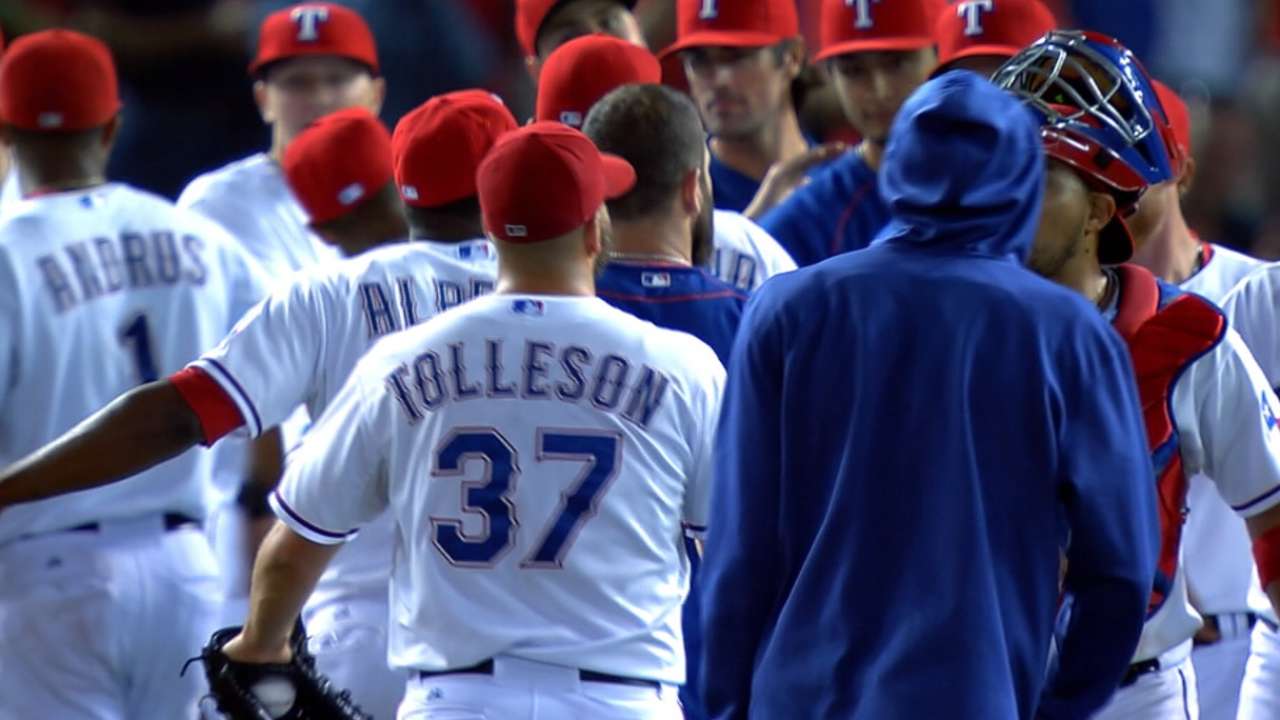 4. Marcus Stroman was done for the year.
That was the conventional wisdom after Stroman tore the ACL in his left knee during a spring drill. He would have been Toronto's Opening Day starter. And then his season was over. And then it wasn't.
Stroman was back in the Majors on Sept. 12 for the first of four starts. In his last three, he allowed two earned runs in 22 innings and has been slotted in behind Price in Toronto's postseason rotation.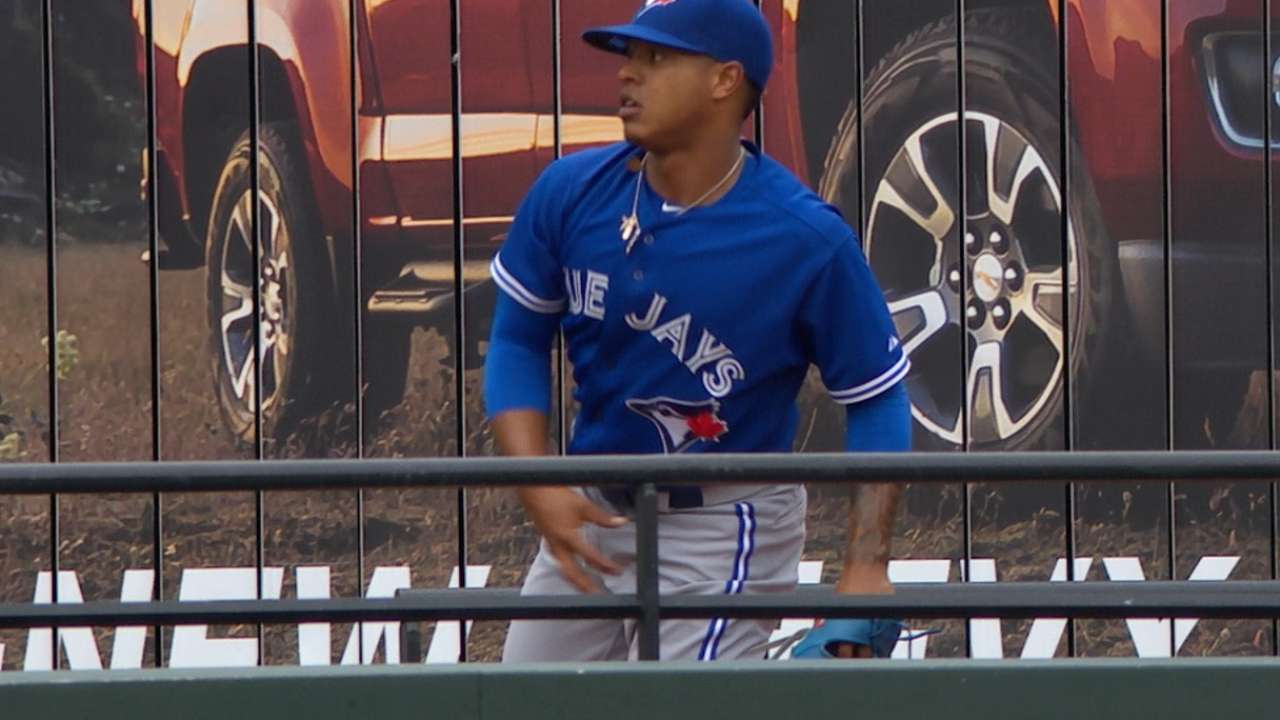 5. Delino DeShields Jr.
The Rangers took a chance on him when the Astros left him unprotected in the Rule 5 Draft. They weren't sure what they had, but they loved his skills and thought he had a chance to play in the big leagues.
Banister turned to him as his everyday center fielder in early May and got immediate production at the top of the lineup. The Rangers are 62-36 with DeShields in the starting lineup, and the combination of Shin-Soo Choo and DeShields in front of Prince Fielder and Adrian Beltre created an offense that led the Majors in runs after Sept. 1.
6. Kevin Pillar.
The Blue Jays always liked him. He'd produced in the Minor Leagues. He had skills through the roof. The thing is, there was always some prospect in front of him, someone else getting a chance. This season he got his first real chance to play and produced in a huge way. He had a .713 OPS and has been one of the top five defensive center fielders in baseball.
7. Rougned Odor.
He was sent back to the Minor Leagues with a .144 batting average in early May, and the Rangers probably thought they'd thrown too much, too fast at the 21-year-old. When he returned to the lineup at second base on June 15, he promptly got three hits.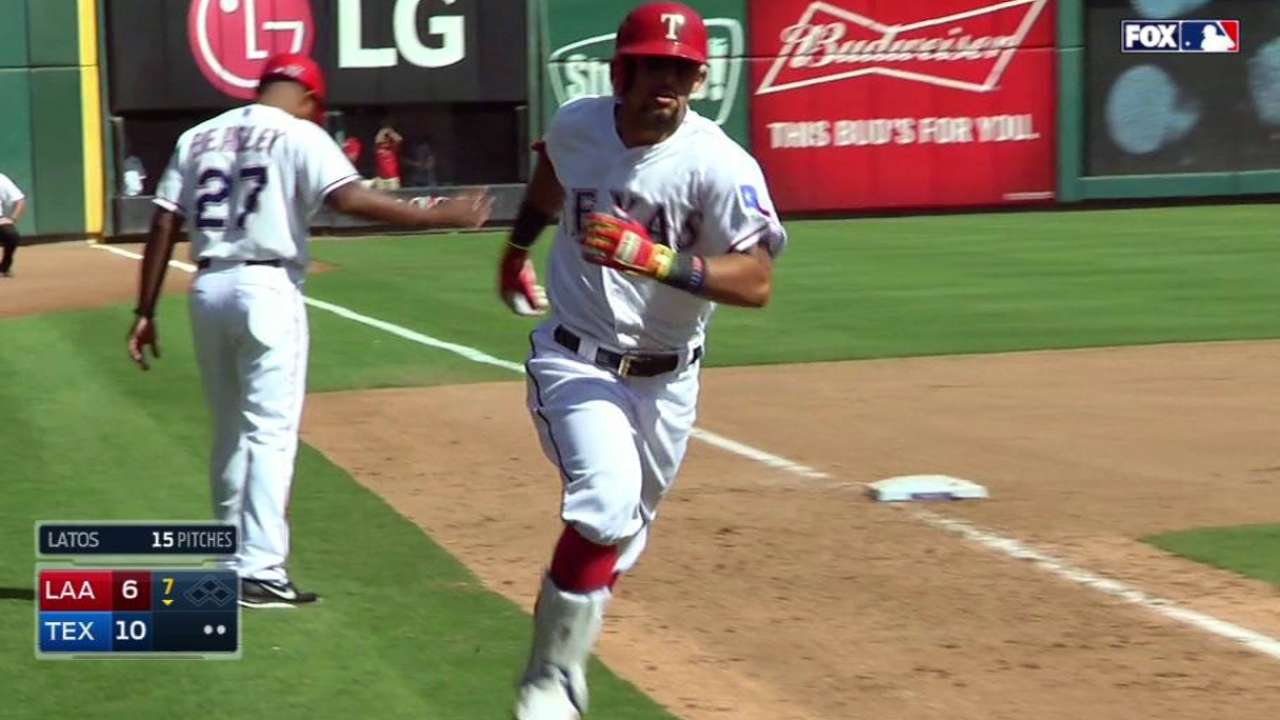 It's not just that he has an .861 OPS since his return. It's also his fire and aggressive play that helps drive the club. He slumped in September, but he's part of what has lifted the Rangers into the postseason.
8. Chris Colabello.
He began the season in the Minor Leagues. At 31, after years in the Minors and bouncing around independent leagues, he was simply hoping for another crack at the big leagues. When he got his chance in early May, he was ready. He started hitting and kept hitting. He had 24 hits in his first 17 games. He has hit ever since. His 19 doubles and 15 homers have deepened an already deep lineup.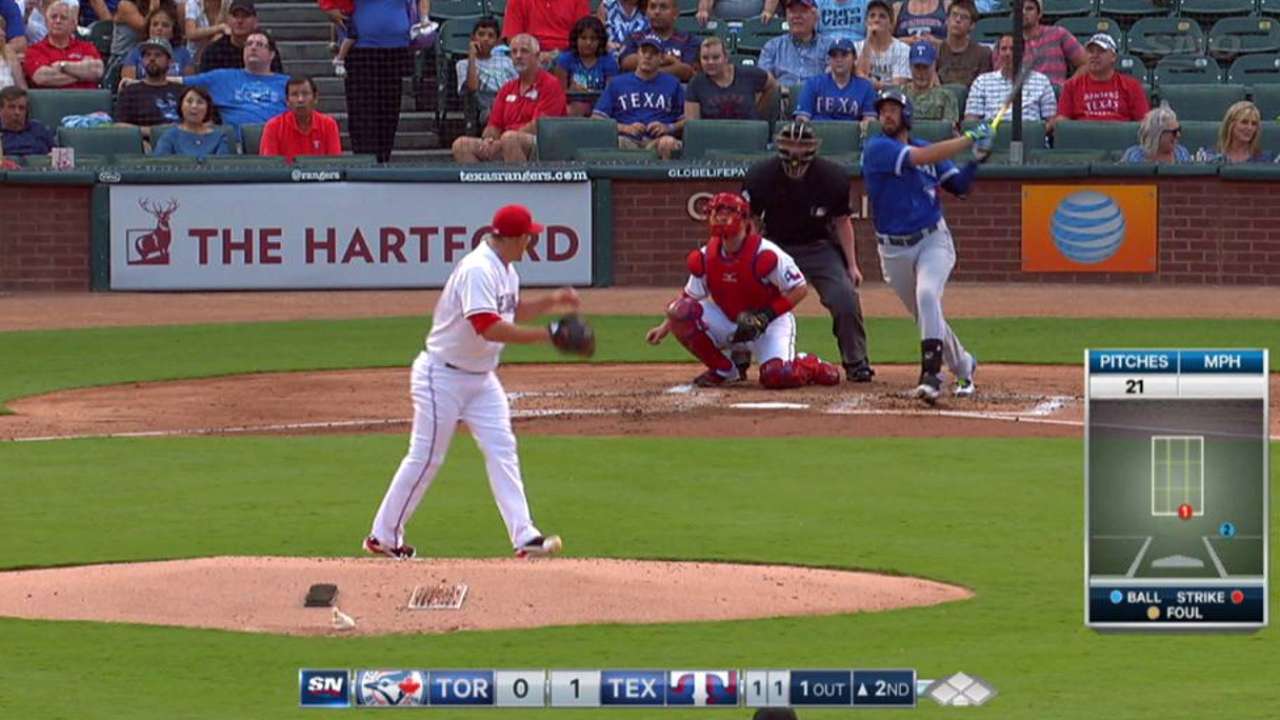 9. Shin-Soo Choo.
Sometimes, there's no explaining these things. Choo struggled mightily in his first season and a half after signing a $130 million contract with the Rangers. And then something clicked. Choo says it was a confidence-building conversation with his wife that did it. Choo's on-base percentage after Aug. 1 was .458, tops in the AL. Not coincidentally, that's when the Rangers sprinted back into contention.
10. Rogers Centre.
The Blue Jays will be playing their first postseason game in 22 years. Back in 1993, Skydome had a magical feel. The Blue Jays drew more than 4 million fans that season, and every game was a big event. That's how it is these days at Rogers Centre, with Toronto selling out 20 of its final 21 home games and drawing almost 2.8 million this year, the club's highest attendance figure since 1995.
Richard Justice is a columnist for MLB.com. Read his blog, Justice4U. This story was not subject to the approval of Major League Baseball or its clubs.