MLB.com Columnist
Barry M. Bloom
Yankees enter offseason with work to do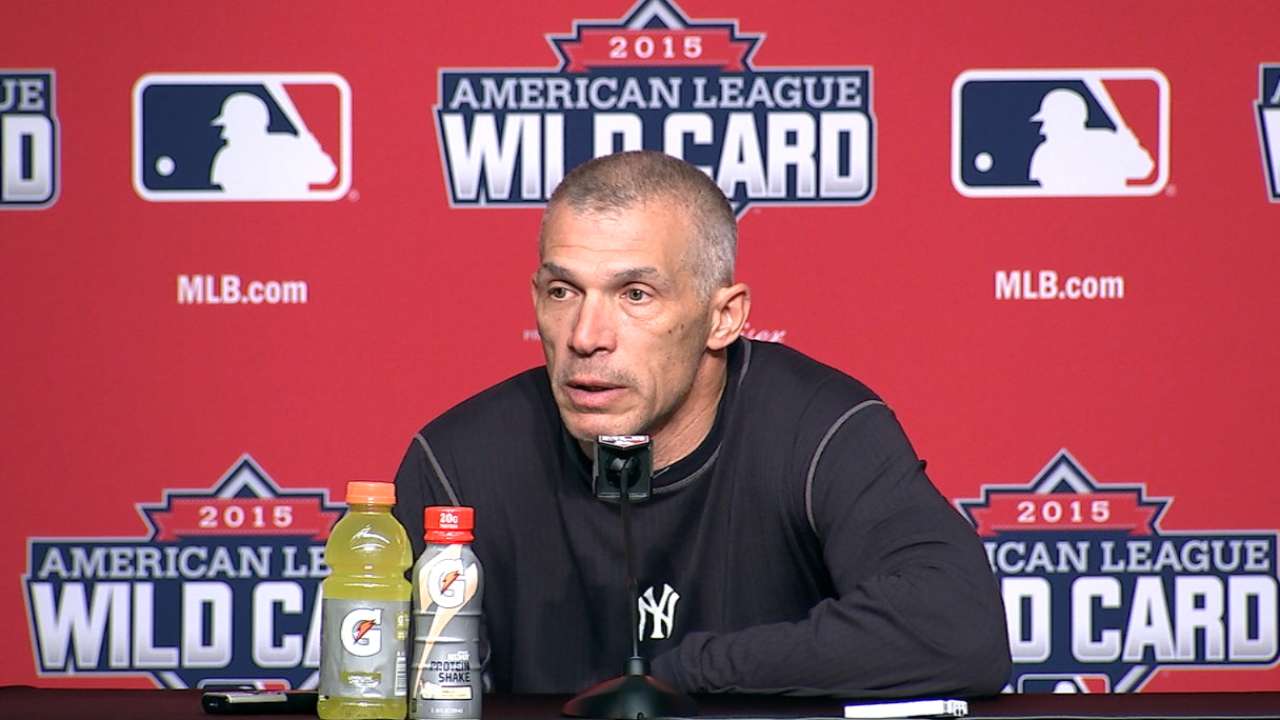 NEW YORK -- A day after the Yankees were eliminated from the playoffs faster than any time in the club's decorated 112-year history, the task of improving the one-and-done club for 2016 and beyond began in earnest.
"We have no choice now but to look through that now that the season's over," general manager Brian Cashman said after Tuesday night's 3-0 loss to the Astros in the American League Wild Card Game presented by Budweiser. "It's always easy to say, 'Pitching, pitching, pitching.' But I'm sure there will be more to deal with and dissect, so we'll see."
The good news is that youngsters Luis Severino, Didi Gregorius, Greg Bird and Rob Refsnyder gained incalculable experience this season in the team's run to the Wild Card Game at Yankee Stadium.
The bad news? The Yankees already have $179.7 million tied into 10 mostly older players next season, some of them dealing with injuries and personal problems. Heading into the final year of the current Basic Agreement, that's barely below the $189 million luxury tax threshold and higher than the total payroll this season of 27 of the 30 teams. The Yanks' total payroll was close to $220 million, a distant second behind the Dodgers.
It doesn't leave much wiggle room to pursue prospective high-end pitchers like David Price or Zack Greinke, if he chooses to invoke an opt-out clause in his Dodgers' contract.
If anything, the Yankees need a top-of-the-rotation starter to aid the current group, which has been beset by injuries and other problems for two seasons. Here's the litany: Masahiro Tanaka (elbow and forearm), Michael Pineda (shoulder and forearm), Ivan Nova (Tommy John surgery), CC Sabathia (right knee and now treatment for alcoholism), Nathan Eovaldi (elbow).
They also could use a power right-handed bat in the lineup. Among the prospective free agents, Justin Upton, who hit 26 homers with 81 RBIs for the Padres and plays a decent enough left field, might make a nice fit. So would Yoenis Cespedes, who has been tearing it up this season for both the Tigers and Mets.
For all the talk of the downturn in the Yankees' offense the last few weeks, they still finished second in the Majors behind Toronto with 764 runs scored and 737 RBIs. They batted .251 as a team -- duplicating that figure against both left-handed and right-handed pitching. That put them right in the middle of the pack.
The loss of first baseman Mark Teixeira in August after he cracked a bone in his right shin didn't help, but it allowed Bird to come up and play the position in the Majors. The left-handed hitter batted .261 with 11 homers and 31 RBIs in 46 late-season games and had one of the three hits on Tuesday night against Houston southpaw Dallas Keuchel.
Take note, that Teixeira (31 homers and 79 RBIs) and Bird combined for 42 homers and 110 RBIs this season at first base. That was not the problem.
Alex Rodriguez, at age 40 and after missing most of two seasons because of hip surgery and a year-long suspension, exceeded all expectations. He had 33 homers and 83 RBIs and played in 153 games as the Yanks finished fourth in the Majors with 212 homers. A-Rod has two years at $20 million per to go on his contract and said on Tuesday night he will be back. Teixeira is certainly expected back, which leaves no room at the Major League level for Bird.
"If Tex is healthy and A-Rod is healthy, right now I don't foresee [Bird] playing another position," Cashman said. "So that would create a problem."
Since Teixeira, 35, hasn't played a full season since 2011, and with A-Rod turning 41 next July 27, it's one of those good problems to have.
Here was the big problem with the Yankees as they ultimately lost 13 games in the standings to the rebuilt and surging Blue Jays from July 28 -- when they had a seven-game lead -- ultimately finishing six games back: All of their veteran hitters slumped during September and into October.
A-Rod: .224 with seven homers and 15 RBIs, one homer after Sept. 15.
Jacoby Ellsbury: .202 with three homers and six RBIs.
Brett Gardner: .181 with four homers and 11 RBIs.
Brian McCann: .174 with three homers and 12 RBIs.
Chase Headley: .179 with one homer and four RBIs.
Carlos Beltran: .256 with six homers and 19 RBIs.
Whether this is a function of older age for an athlete, injuries, general wear and tear or just facing better pitching down the stretch is open to question. The Yankees, with their savvy view of analytics, will surely be poring over the numbers this offseason to discern some answers.
Combine all that with a starting staff whose 4.25 ERA ranked 19th in the Majors and didn't have Eovaldi and his 14-3 record in the rotation for the final month, it's no wonder the Yankees won only 17 of their final 32 games and lost seven of their final eight, including the Wild Card Game.
"You have to look at an entire year, and the way they finished is not necessarily how they are," Cashman said. "The team we finished with I don't think was reflective of what our capabilities were. At the same time, do I recognize that we have to move forward and add more weapons for [manager] Joe [Girardi] and his coaching staff to rely on? The answer to that is, 'Yes.'"
The Yanks have a lot of work to do. Let the offseason begin.
Barry M. Bloom is a national reporter for MLB.com and writes an MLBlog, Boomskie on Baseball. Follow @boomskie on Twitter. This story was not subject to the approval of Major League Baseball or its clubs.