Rios savors first postseason taste with Royals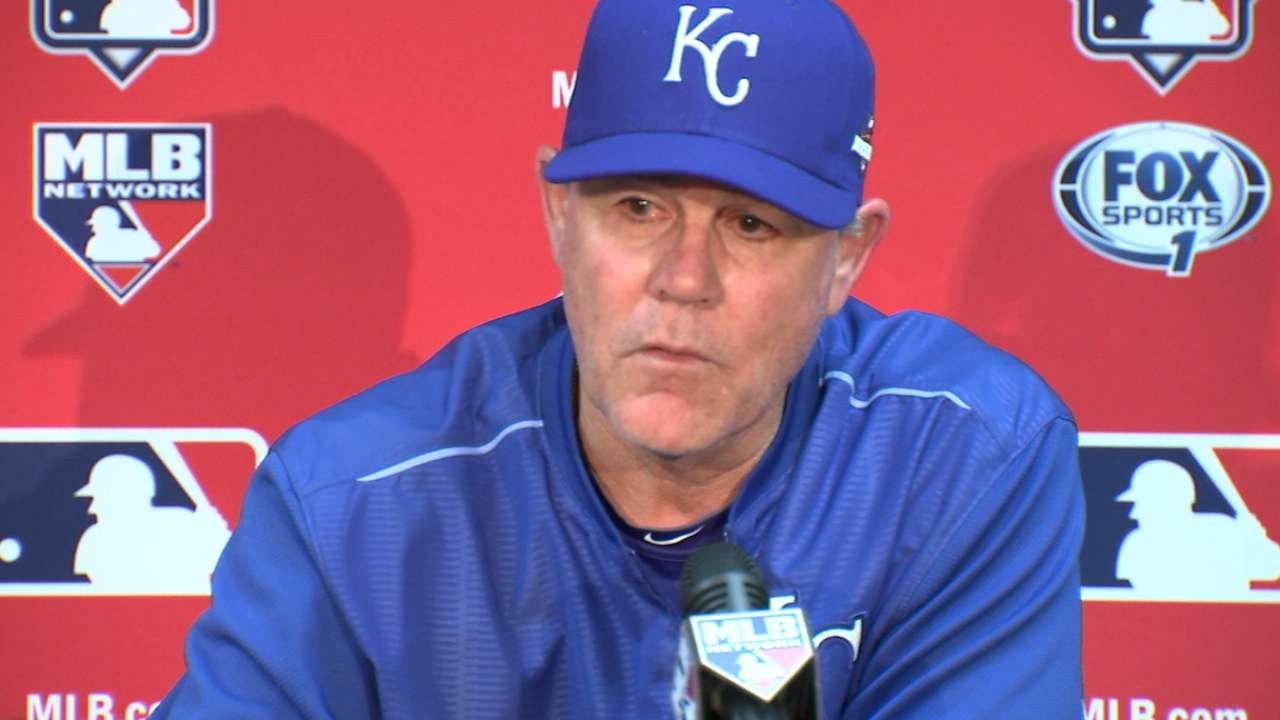 KANSAS CITY -- As a free agent following the 2014 season, veteran right fielder Alex Rios' top priority was to sign with a contending team.
After all, despite a long and productive career, Rios had never made the postseason. Rios opted to sign with the Royals on a one-year deal worth $11 million with a mutual option for 2016, and the decision paid off, as he'll play in the postseason for the first time in his career tonight against the Astros in the American League Division Series at 6:37 p.m. CT on FOX Sports 1 at Kauffman Stadium.
"It's fun," Rios said. "It's been a blast the whole season. Finally after a long wait, we made it. And I'm glad to be a part of it."
Rios, a 12-year veteran, played with the division-rival White Sox from 2009-13 before being traded to the Rangers, where he played from 2013-14. Rios started his career with the Blue Jays, and was an All-Star in 2006 and '07. He reached double digits in homers and stolen bases in every season from 2005-13, topping out at 24 homers in '07 and 42 stolen bases in '13. Rios also finished 15th in the balloting for the Most Valuable Player Award in '12 while with the White Sox.
Rios, a career .277/.321/.434 hitter in 1,691 games, saw a lot of the Royals during his time in Chicago, and watched their run to the World Series last year, and thought Kansas City would be the best fit for him.
"I've seen this team in the good and the bad, and I've seen them evolve over the years," Rios said. "They've made some good moves to go forward and I thought it would be a good fit for me. I thought we had a good chance to make the playoffs and I think it was the right choice."
Not everything went to plan for Rios, though, as he missed a month and a half after breaking his left hand when struck by a fastball from Twins rookie J.R. Graham on April 13. Rios struggled offensively upon his return, but heated up late in the season as his hand got stronger. Rios also missed time in early September after a bout with chickenpox, but he finished the year strong, hitting .307/.325/.474 over his final 31 games.
"I have mixed feelings," Rios said. "I was looking to have a very good season. I don't feel like I wasn't part of the team at that time [when I was hurt], but I wanted to have a good season and be a part of the whole thing. But it didn't matter because they kept winning and achieved what we wanted to do, and that's the most important thing to me."
The fact that Rios is playing in the postseason for the first time in his career isn't lost on his teammates, as they were all universally happy for the veteran.
"We're very excited," first baseman Eric Hosmer said. "We all know how special it is to play on a stage like this so for a guy like Alex, who has been productive for a long time, I know it's going to be a special moment for him. We're hoping to extend his postseason career a lot longer than expected."
Rhett Bollinger is a reporter for MLB.com. Read his blog, Bollinger Beat, follow him on Twitter @RhettBollinger and listen to his podcast. This story was not subject to the approval of Major League Baseball or its clubs.