deGrom's ascent now includes Game 1 start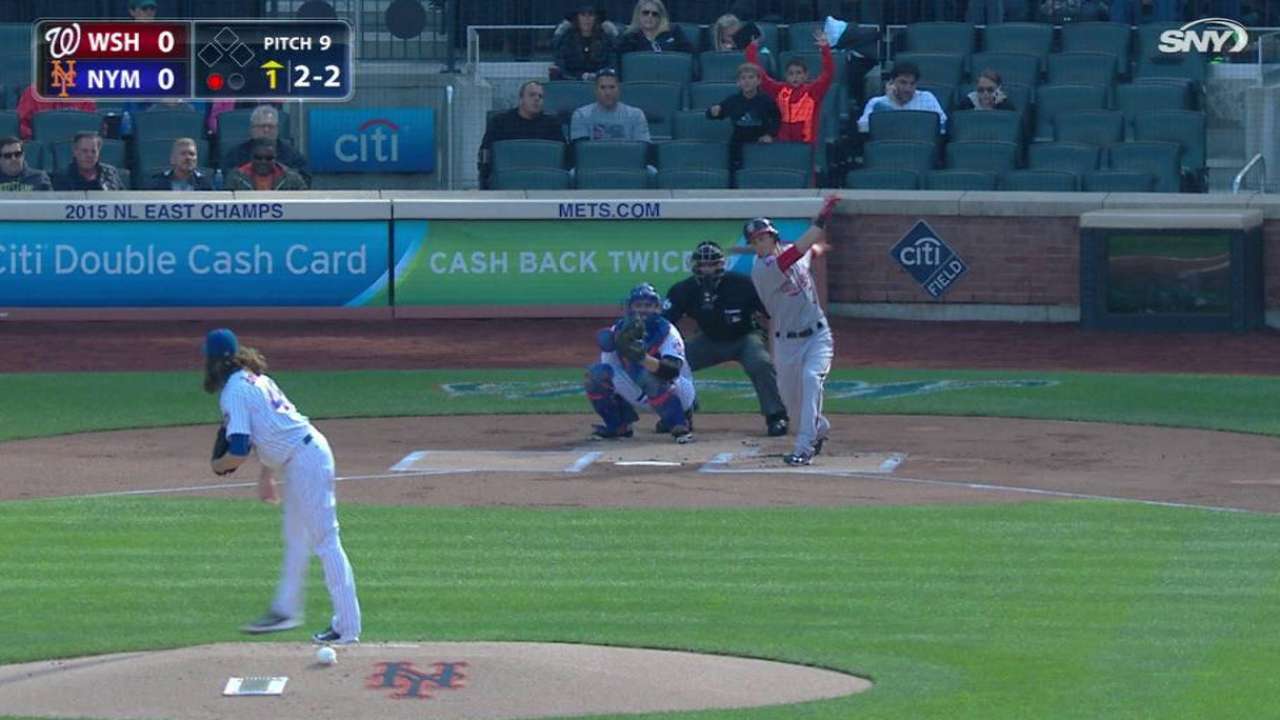 LOS ANGELES -- It was not until late in the summer of 2012 that Jacob deGrom made what baseball development professionals consider one of a prospect's most significant leaps, the move from Class A to Class A Advanced. The last of a sizeable group of future Mets to reach that level, deGrom was a ninth-round pick with an improving fastball and a telltale scar on his right elbow, resting perpetually near the fringes of prospect radar screens.
The following spring, Mets Minor League pitching coordinator Ron Romanick caught up to St. Lucie pitching coach Phil Regan, whose team was stacked with at least a half-dozen potential Major League pitchers.
"Who's your big leaguer?" Romanick recalls asking, as the two sat through staff meetings at the start of camp. Both he and Regan wrote down a name on a piece of paper, and exchanged the slips. Then they laughed as they read each other's entries and realized both had written: "deGrom."
• Shop for Mets postseason gear
"You just look at a guy and say, 'That's a big league guy,'" Romanick remembers thinking. "He's going to figure out what he has to do to make it."
With deGrom set to climb atop the Dodger Stadium mound for National League Division Series Game 1 (tonight, 9:30 p.m. ET, TBS) opposite defending NL Cy Young Award winner and MVP Clayton Kershaw, it's clear he managed to discover that path from light-hitting college shortstop to All-Star big league pitcher. Buried eighth or ninth on the Mets' starting-pitching depth chart as recently as 18 months ago, deGrom is now the franchise's ace leading into its most significant game in nine years.
How he managed to remain anonymous for so much of that journey is what makes his tale so remarkable, particularly compared to most of the game's other brightest young stars -- a perpetual string of teenage sensations and college All-Americans.
Pete Dunn, deGrom's coach at Stetson and the man who played the largest role in convincing him to become a full-time pitcher, recalls overseeing a watered-down version of what the Mets have today. A shortstop who moonlighted as a closer with excellent control and pedestrian velocity, deGrom drew few scouts to Stetson beyond the normal gaggle. Though Dunn thought there was a chance deGrom could play shortstop professionally, the Majors seemed unlikely.
"Nobody really got excited about him, because he wasn't primarily a pitcher," Dunn said, noting that deGrom required a leap of faith to commit to full-time mound work, believing his best chance for a big league career was at shortstop. "Then, it wasn't like we put him on the mound and he was striking out 15 guys a game. He was successful and he won for us, but he wasn't setting the world on fire, where word got out and people were rushing here."
One of the scouts who did drop by was Steve Nichols, who ultimately signed deGrom as a ninth-round pick.
"He wasn't this guy that had three projectable plus pitches and all that stuff," Nichols recalled. "He was a guy that was athletic, a guy that would throw a lot of strikes when he took the mound. And you hopefully project that he gets a whole heck of a lot stronger and bigger."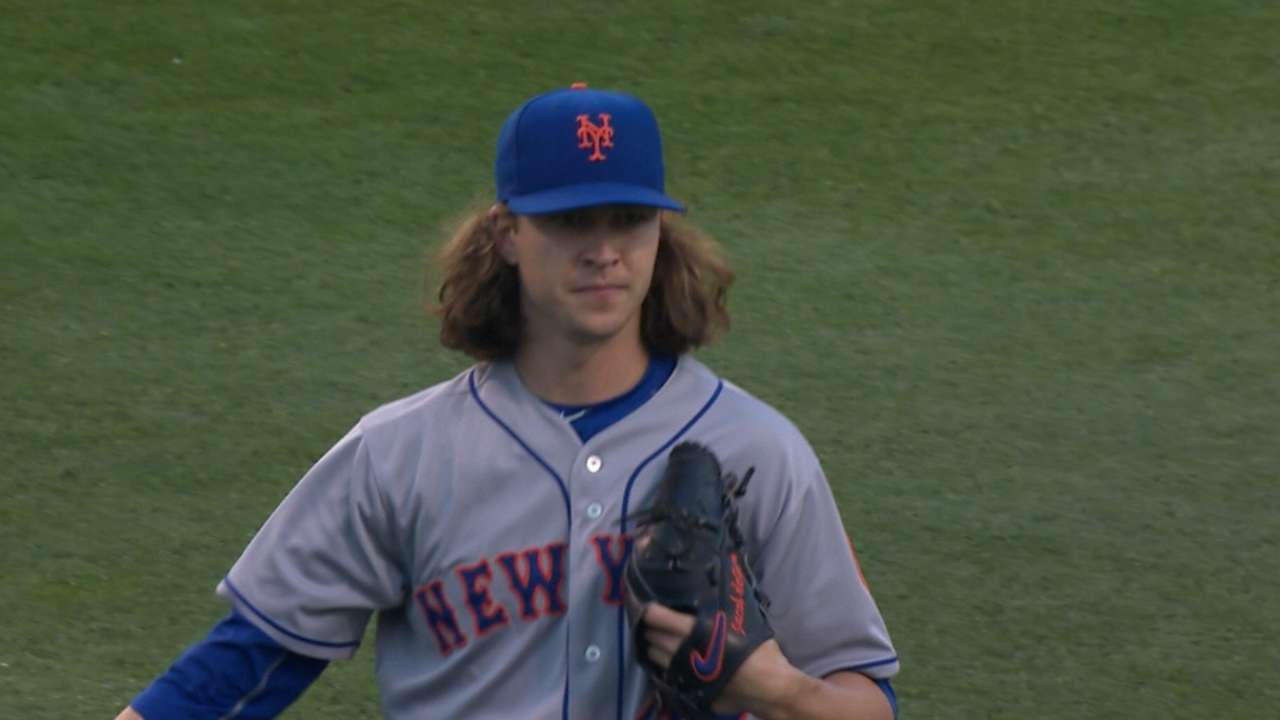 If deGrom was on the brink of becoming better-known in prospect circles, Tommy John surgery late in his first professional season scuttled his chance. A limited workload in 2012 kept deGrom confined to the shadows, as did some growing pains at the upper levels of the Minors in '13. So when deGrom finally cracked the Majors last May, joining the Mets' rotation out of necessity and never looking back, he was about as unknown as anyone with a mid-90s fastball and plus command can be.
Yet those who knew him well -- the Romanicks and Regans of the world, slipping notes to each other in Spring Training meetings -- were not terribly surprised by an ascent that included an NL Rookie of the Year Award last November, an All-Star selection this July and, now, an NLDS Game 1 start at Dodger Stadium. The tools, they say, were already in place; deGrom just needed enough mound reps to refine his mechanics and become more consistent with his offspeed pitches, gaining velocity naturally along the way. It's no different for most young starters, but deGrom took to the challenge as well as any Mets prospect in recent memory.
"Probably my biggest obstacle was making it up here," he said, reflecting on his big league debut against the Yankees. "I was supposed to be in the bullpen and was fortunate enough to get that spot start. That day, I just wanted to go out and prove that I could pitch at this level, and it all worked out for the best."
deGrom's mentors say he's relatively unchanged, aside from the hair and oversized pickup truck that make him auspicious around his central Florida hometown. Dunn jokes that deGrom is "just a good-old boy from De Leon Springs, just an old country boy that's in the biggest spotlight there can be."
That last part, at least, is becoming truer by the day. Now armed with some of the best weapons in baseball, from his upper-90s fastball to the changeup he learned from Johan Santana, deGrom continually finds himself standing on increasingly bigger stages. Yet those from his past say he's always more or less been this pitcher -- all he needed was time.
"There's really not a lot to say -- it's a very simple story, what he's done for himself," Nichols said, laughing. "Was I going to project him to be a No. 1 and an All-Star and a Rookie of the Year? No, I couldn't have told you that. The Mets did a great job of developing him, and he did a great job himself of learning. It's a pleasure to watch him pitch."
Anthony DiComo is a reporter for MLB.com. Follow him on Twitter @AnthonyDiComo and Facebook, and listen to his podcast. This story was not subject to the approval of Major League Baseball or its clubs.