Russell on creating 'The Show'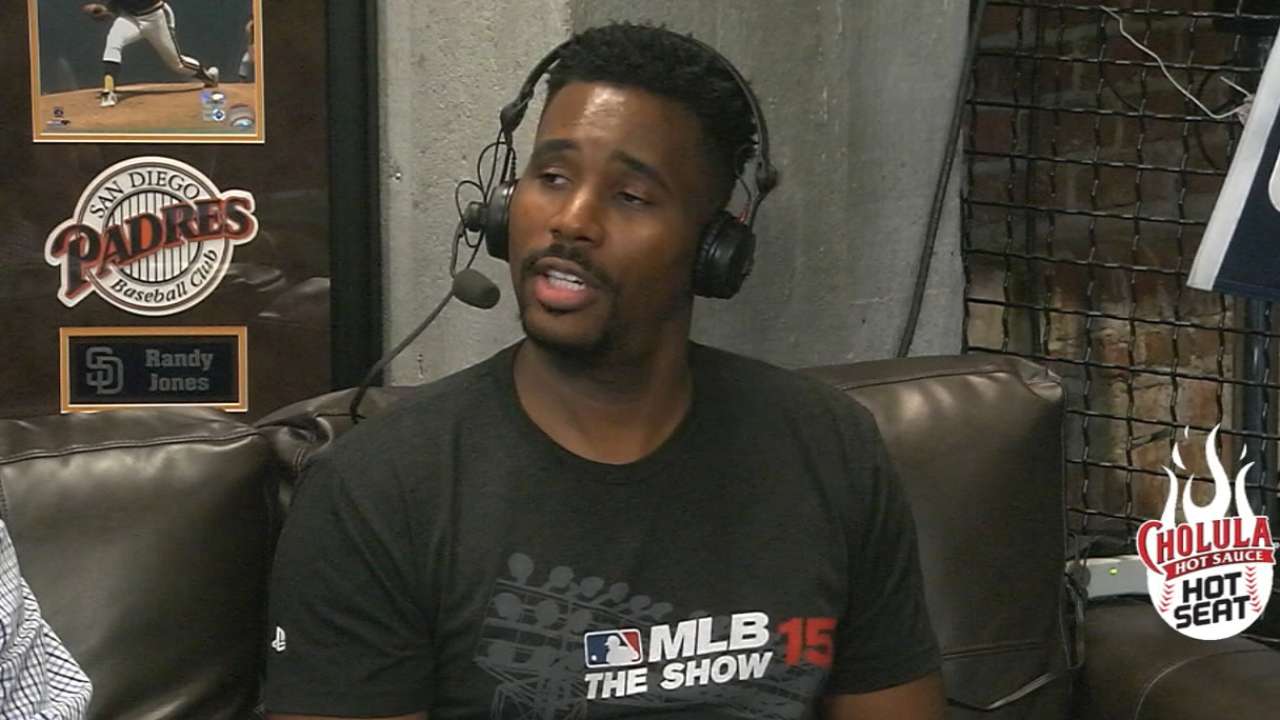 Designer and senior community specialist Ramone Russell stopped by Padres Social Hour on Tuesday to discuss Sony's MLB: The Show and what went into designing the game. Russell joined Padres Social Hour during the Padres' #PlayTheShowWithAPro tournament and sparked a lot of interest in how to get involved in the world of video gaming.
"There are many, many paths [to becoming a game designer]," said Russell. "A lot of guys started out in [quality assurance], and many of our guys started out as interns, all with different backgrounds. Their degrees have nothing to do with video games: marketing, social studies, English. … There's a plethora of different ways to get involved in the video game industry."
The video game tournament, which was held on site during the taping of Padres Social Hour, pitted fans against each other in rounds of MLB: The Show for a chance to play outfielder Wil Myers one-on-one using the SDinHD board for a "final round" of The Show. Russell has been one of the lead designers behind the making of The Show, and was happy to discuss the process and timeline of making such a popular game.
"It's weird. During the end of the baseball season in October, when the year is coming to an end, that's when we get ramped up and really are getting started," said Russell. "Our cycle of putting sports games together takes about nine months. … We look at a lot of the other sports games, too. We always want to make sure we're one of the top sports games out there."
The most recent edition of MLB: The Show actually features the brand new SDinHD video board that was installed in left field only a few months ago. Putting together such finer details of the game, of course, takes time, according to Russell.
"We have a small team of about 10 'stadium artists.' It takes about four months to put each stadium together. … Putting all of these details together with a small team of just 75 people certainly takes a lot of work."
To find out more about what goes into making Sony's MLB: The Show and how Russell helps bring the power of Major Leaguers into your hands at home, watch the entire interview in the video above. And for more interviews, highlights and Padres content, check out padres.com/socialhour.