Mets ready to pen new script vs. Kershaw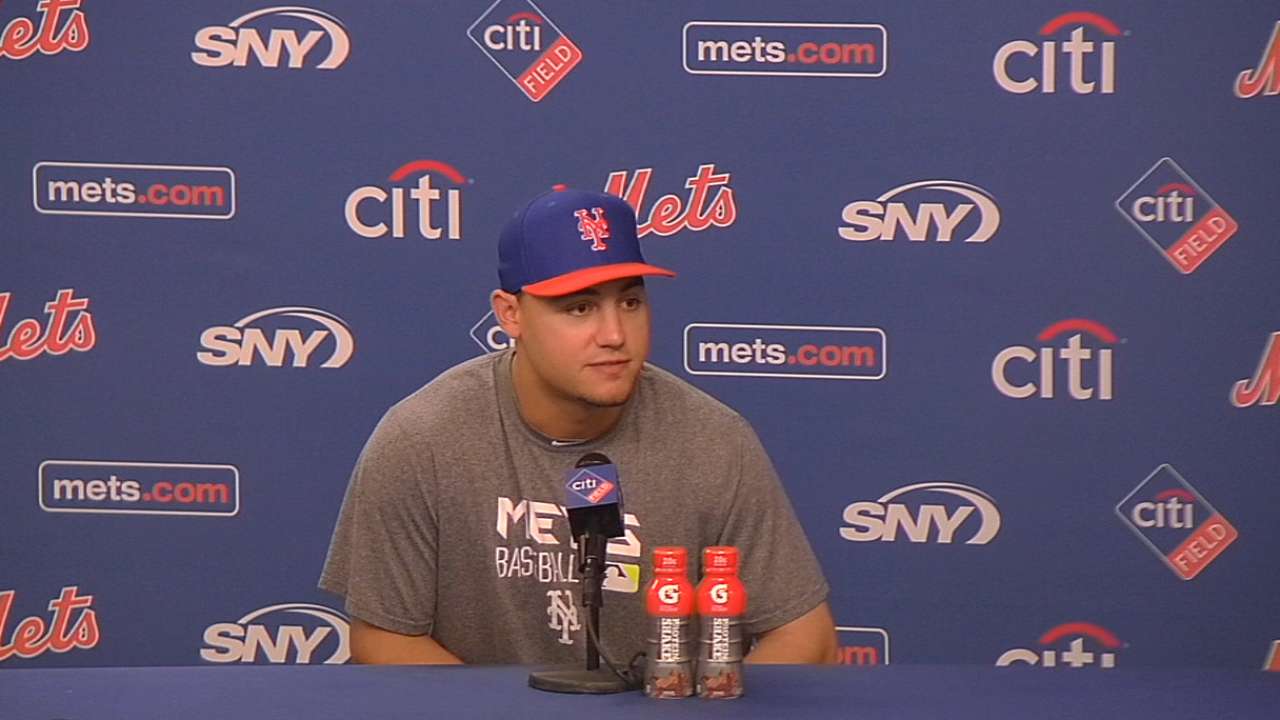 NEW YORK -- Stripped of context, Clayton Kershaw's first two outings against New York this season don't forecast much optimism for the Mets in their first postseason game since 2006. Opposite Jacob deGrom in Game 1 of the National League Division Series on Friday, Kershaw carries in a 0.56 ERA over 16 innings, eight hits allowed, two walks and 18 strikeouts. Call it sunny, with a chance of dominance.
But that's always the case when Kershaw takes the hill -- and Game 2 starter Zack Greinke as well, for that matter. The Mets know that. They also know their lineup is vastly transformed from the one they trotted out against Kershaw earlier in the season.
Take July 23, when Kershaw threw a three-hit shutout at Citi Field. He struck out 11 and didn't allow a hit until the seventh inning. Yoenis Cespedes collected two that night -- for the Tigers. Neither David Wright, Michael Cuddyer nor Travis d'Arnaud were cleared to swing yet, all on the disabled list nursing injuries. Kelly Johnson was on the Braves and Michael Conforto in the Minor Leagues.
"While I know that this team has faced these pitchers [this season], I personally haven't," said Cespedes, who is 0-for-3 lifetime against Kershaw and 1-for-5 vs. Greinke.
Neither Johnson nor Conforto is projected to start against the lefty Kershaw on Friday. But the point remains: many of those Mets are not these Mets.
New York's lineup July 23 featured Wilmer Flores batting third, John Mayberry Jr. fourth and Eric Campbell fifth. Mayberry also hit fourth July 3, when the Mets prevailed, 2-1, despite Kershaw's seven innings of one-run ball. In total, New York gave 20 at bats to Mayberry, Campbell, Juan Lagares, Kevin Plawecki and Anthony Recker against Kershaw this season. They combined to go 1-for-20.
Only Plawecki and Lagares are on the NLDS roster and neither is expected to start. Ruben Tejada is expected to start, in split parts because of his superior defense and his excellent numbers against Kershaw. The typically light-hitting Tejada is 5-for-14 (.357) against the reigning NL MVP, while the rest of New York's roster is 15-for-95 (.158).
The Mets' projected lineup for Game 2 has combined to hit Greinke at a .216 (22-for-102) clip.
"The more times you face a guy, the more comfortable you feel against him," said Cuddyer, who will get the nod in left field in Game 1. "They know the arm angles, they know what the pitches look like, they know the shapes of the pitches.
"That all helps."
Joe Trezza is an associate reporter for MLB.com. This story was not subject to the approval of Major League Baseball or its clubs.