Collins: Harvey, Mets focused on task ahead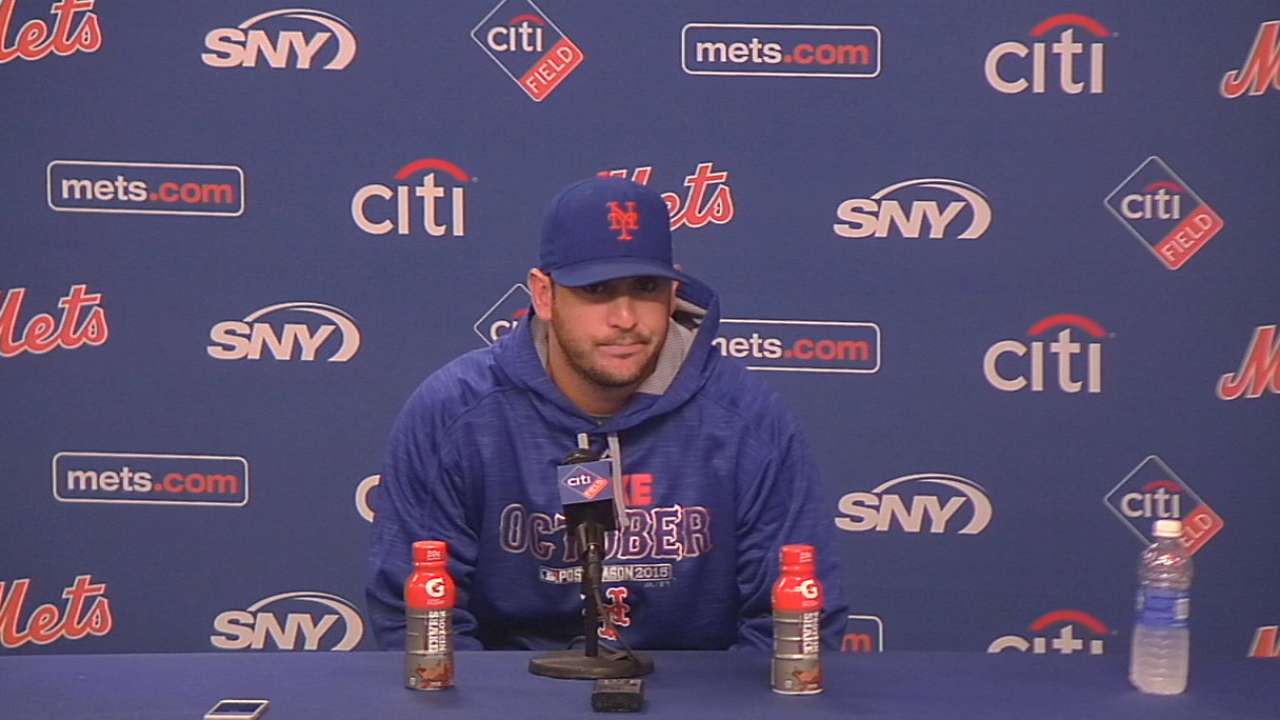 NEW YORK -- At 10 a.m. ET on the dot Wednesday, Matt Harvey emerged from the Mets' clubhouse at Citi Field, hopped up a few steps to the field and began working out with his teammates. Punctual as can be, Harvey arrived at the park early enough to reiterate his apology to manager Terry Collins, who was displeased when the star pitcher arrived over an hour late to Tuesday's mandatory workout.
Now, Collins said, it's a dead issue.
"We had a little setback, a little bit of a problem, a little bit of a distraction," Collins said. "On an off-day, who really cares? We're going to make sure Matt gets to the plane today and gets on board. He'll be with us [Thursday] at the workout. I think."
Cracking several jokes in a similar vein, Collins noted that Bartolo Colon found himself stuck in traffic on Thursday morning, but used his four-wheel drive vehicle to navigate it the creative way. Outside of that, Collins did his best to de-emphasize what he considered a minor transgression.
"It's not big to us," Collins said. "It's not major news to us. We handle that kind of stuff in-house. I know you guys have never done anything wrong, ever. You've never been late to anything. It just happens once in a while. Why he wasn't here? I don't care. The only thing I care about is he wasn't here, so that I've got to worry about and that I've got to take care of. And I have.
"He and I always have this little game we play: You go pitch good. I'll take care of the rest of it."
Harvey is scheduled to pitch Game 3 of the National League Division Series vs. the Dodgers on Monday at Citi Field, with no abnormal innings restrictions or pitch counts. The Mets fully expect him to be on time for that.
"It's going to happen," teammate Curtis Granderson said of Harvey's lateness. "Someone is going to sleep through an alarm, someone is going to misread a time, especially since we rely so much on technology. You ask yourself the question: 'Have you ever been late?' If the answer is no, then it's a different story."
Anthony DiComo is a reporter for MLB.com. Follow him on Twitter @AnthonyDiComo and Facebook, and listen to his podcast. This story was not subject to the approval of Major League Baseball or its clubs.