Hardworking Kershaw not your average ace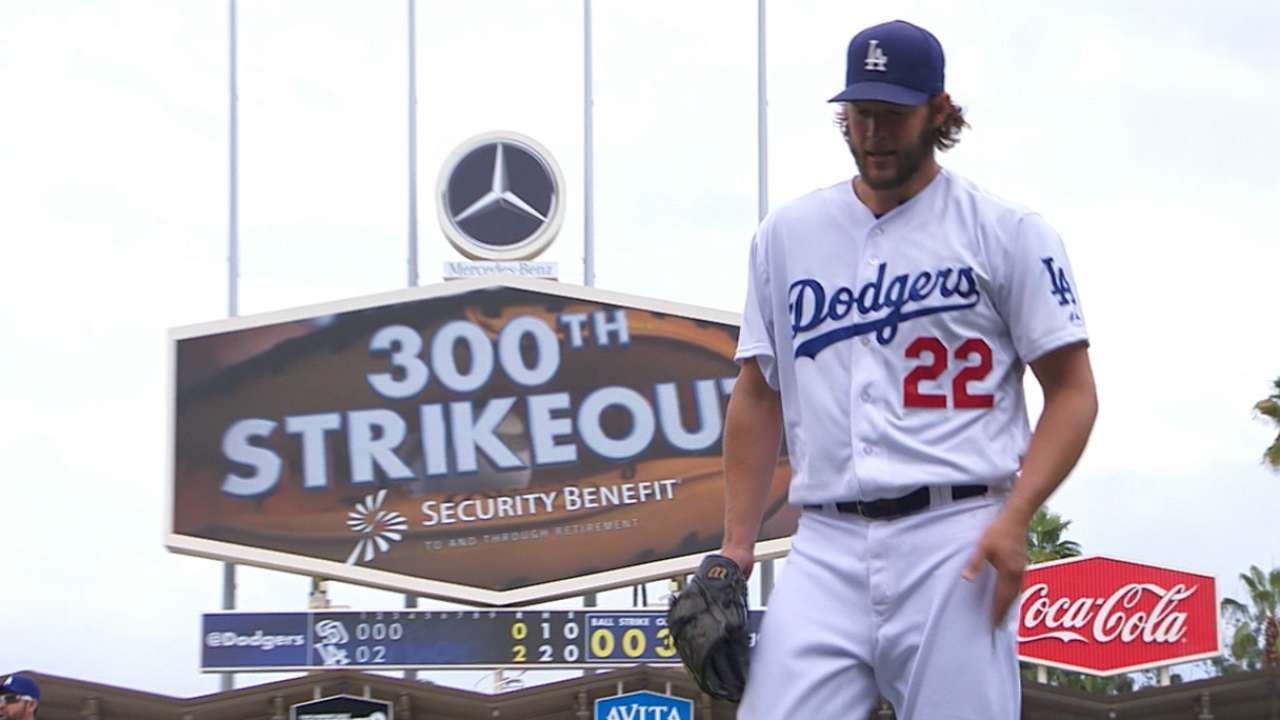 LOS ANGELES -- Clayton Kershaw's failures against the Cardinals in the past two postseasons are an indirect reason why Dodgers pitching coach Rick Honeycutt is more impressed by Kershaw now than ever.
"He went through the adversity of having to answer all the questions with the Cardinals thing, and then went through the first few weeks of this season, which were not quite at his level of game, even though it was still good," said Honeycutt. "Yet he was still able to show the work ethic and the mental grind that you have to have to overcome anything.
"I think he just continues to get better. Some people become satisfied or complacent. The game is about adjustments and he continues to get better at it. His strikeouts, as efficiently as he's done it, to me that's an amazing feat."
Amazing feats for others are commonplace for Kershaw, who starts Game 1 of the National League Division Series against the Mets on Friday on TBS at 6:30 p.m. PT. Although he was overshadowed this year by the consistency of teammate Zack Greinke, who snapped Kershaw's streak of four league ERA titles with a 1.66 mark, Kershaw's 2.13 ERA still would have won an NL title every year from 2006-12.
"He's well on his way to being in the highest echelon of pitchers," said Dodgers CEO Stan Kasten, who ran the Braves when their rotation had future Hall of Famers Greg Maddux, Tom Glavine and John Smoltz. "Clayton focuses on mental preparation as much or more than those three."
No doubt, Kershaw gets some of his focus from his working mom. The Dallas native was raised by his mother, who moved with her only child to assure he would attend highly regarded Highland Park High School.
• Dodgers tab Kershaw for Game 1 start
"We didn't have a lot of money," said Kershaw, who during football season was the center snapping to a quarterback who became Matthew Stafford of the Detroit Lions. "I don't know how she did it. I know those years of travel ball, it wasn't cheap. But keeping me in that school district, that was huge."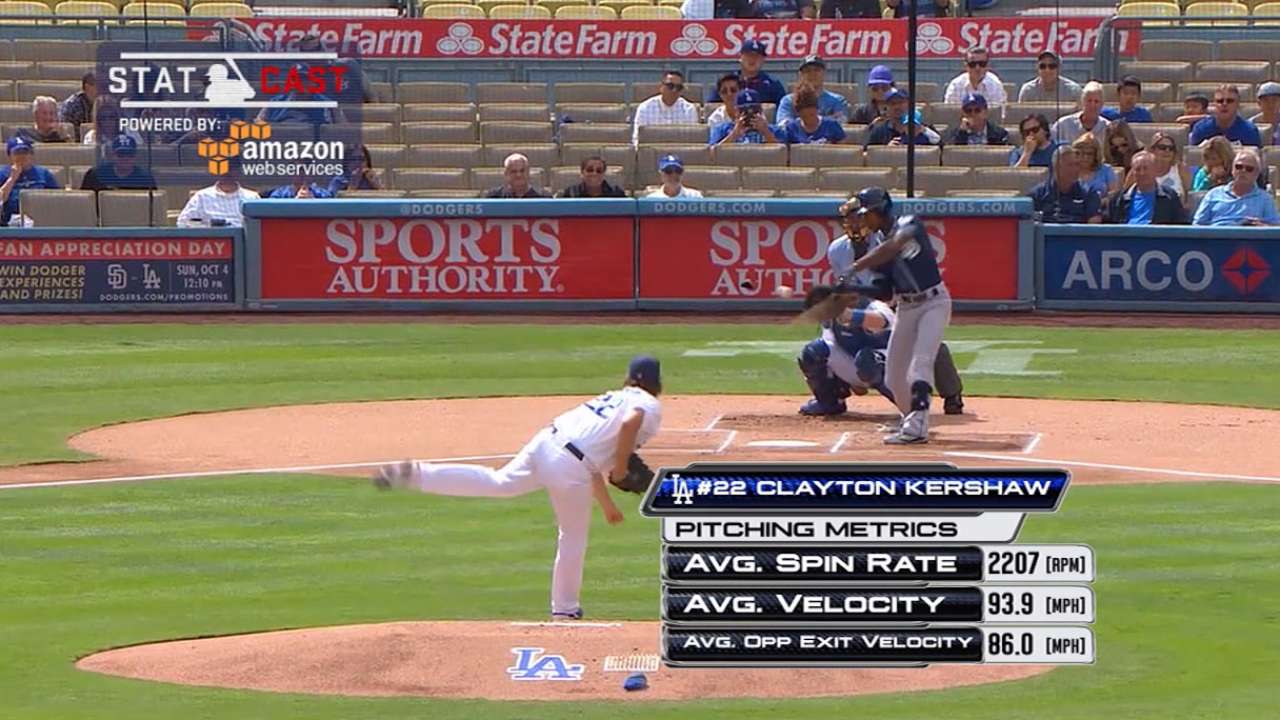 Kershaw entered his senior year ranked 34th nationally among pitchers, but he was the first high school pitcher taken in the 2006 MLB Draft. How?
"Talk to Skip Johnson," Kershaw said.
Johnson, now associate head coach at the University of Texas, was a private coach when longtime advisor/agent J.D. Smart sent Kershaw to him for sessions every Tuesday for almost three months in the winter of 2005-06.
• Is Kershaw #AwardWorthy? Vote now for Best Starting Pitcher
"All I did was give him a structured plan to work on his mechanics," said Johnson. "Suddenly, he was throwing 94-96 [mph]. His aptitude and athleticism make him what he is. He has the ability to repeat his delivery, and he makes adjustments fast."
Explained Kershaw: "Skip changed me from low three-quarters delivery to over the top," he said. "That helped me keep my weight back. That was actually the first real pitching lesson I ever had."
Smart said Kershaw's improvement was dramatic.
"He used to drift down the mound before his hands broke [separating the ball from the glove]," said Smart. "He hadn't been using his lower half. So his arm was playing catch-up with the body. He was all arm. I knew that if he had the aptitude and was willing to work, he could be something special. Did I dream we'd see what we're seeing today? No.
"But after about six weeks, I got a call from Skip and he told me, 'You need to come to Dallas and see this.' What I saw was basically what you see now. Clayton picked up five miles an hour. He took the instruction and it clicked."
With numerous acquisitions in recent years, Kershaw is now surrounded by teammates who were opponents.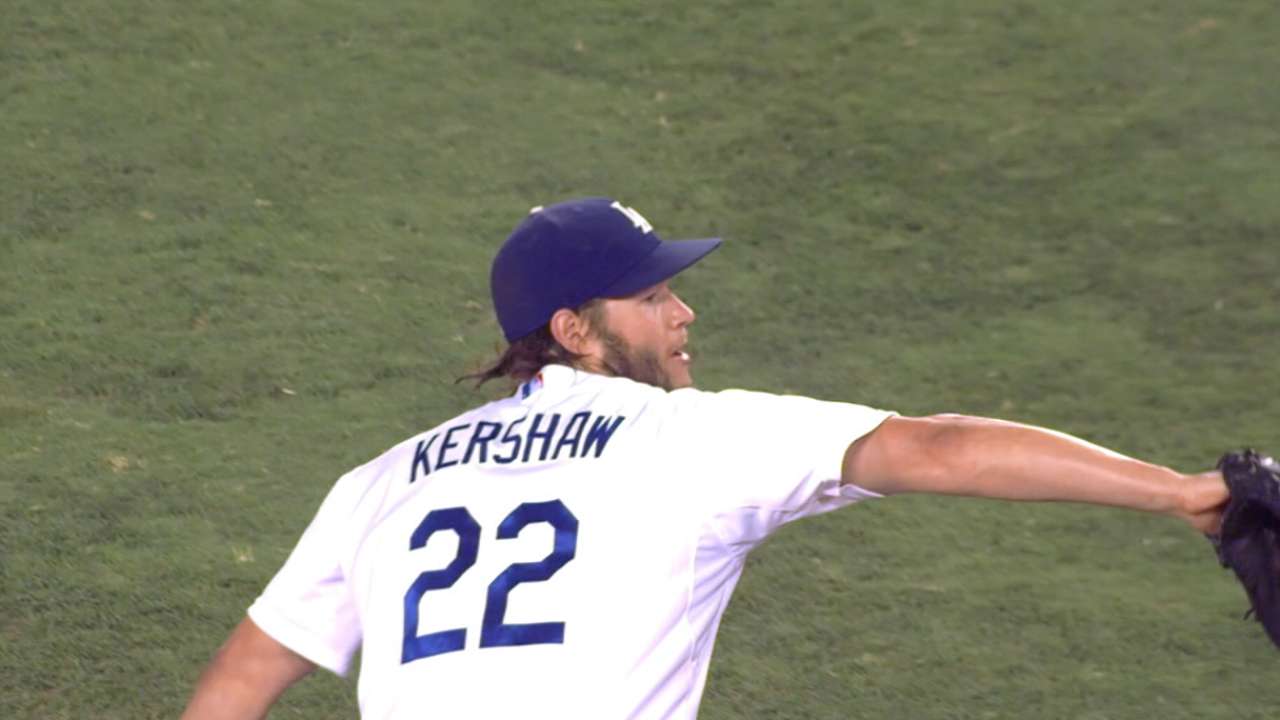 "When you're going to face him, you know you have your work cut out," said Jimmy Rollins. "But playing with him, I didn't know he was such a clown. On days he's not pitching, he's all over the place. Screaming in crazy voices, yelling at the umpires.
"You always want to know what guys are like. Playing against them, you only see the game face. You don't know what's going on on the other side. That's as it should be; as a pitcher, you want to demand that respect, so against him I had no clue, I didn't think that was part of his makeup."
Howie Kendrick agreed.
"He's very genuine, very caring for his teammates and has a real passion for the game," Kendrick said. "Last year, before I got here I saw on TV, he got tossed out of a game. And I was like, 'How did Clayton get tossed?' Now having played with him, he's all over the umpires, all over the other team. He's rooting for his team, always in the dugout, always paying attention to the game. He's got my respect for that."
None of that is news to Honeycutt, who has been Kershaw's pitching coach his entire Major League career.
"From the beginning, he's just very unique and unwavering," said Honeycutt. "Early this year, when everybody asked me what was wrong with Clayton, I just said talk to me at the end of the season, that if I had anything to worry about, I wasn't worried about him."
Ken Gurnick is a reporter for MLB.com. This story was not subject to the approval of Major League Baseball or its clubs.