Tale of the Tape: Arrieta vs. Cole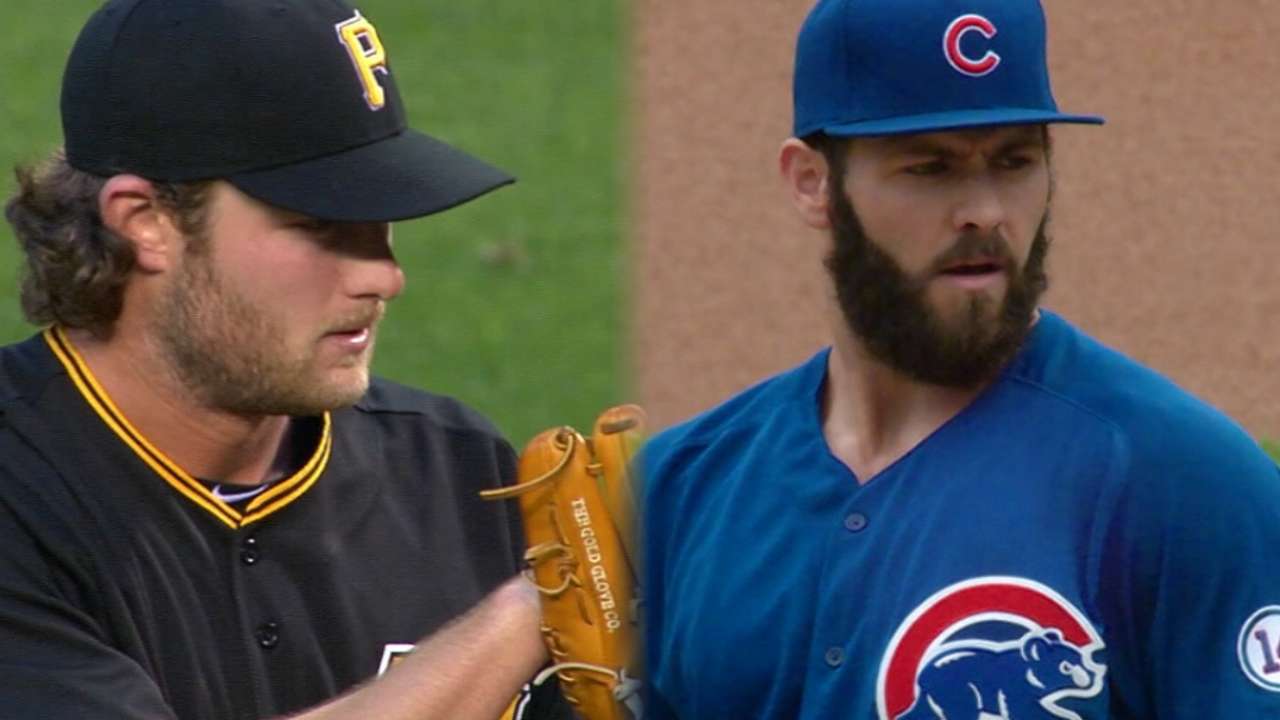 When it comes to postseason baseball, it doesn't get much better than tonight's pitching matchup at PNC Park.
Representing two of the Major Leagues' most historic franchises, the highly anticipated duel between the Cubs' Jake Arrieta and the Pirates' Gerrit Cole is one of the biggest reasons the baseball world is abuzz about the National League Wild Card Game presented by Budweiser at 8 ET/7 CT on TBS.
Let's take a look at how these two aces stack up in their first meeting:
Jake Arrieta, Cubs
Against the Opponent
2015: 5 GS, 3-1, 0.75 ERA
Career: 9 GS, 6-1, 1.68 ERA
Loves to face: Neil Walker, .160 (4-for-25), 6 K's; Francisco Cervelli, .154 (2-for-13), 5 K's
Hates to face: Andrew McCutchen, .348 (8-for-23), two doubles
Game breakdown
Why he'll win: Not only is Arrieta the hottest pitcher in baseball, he's arguably on a roll never before seen in MLB history. His 0.75 second-half ERA was an all-time low, and he's now neck-and-neck with Zack Greinke for the NL Cy Young Award and Best Starting Pitcher in Esurance MLB Awards balloting.
Pitcher beware: Arrieta allowed more than one run just once in his last nine starts of the season. His opponent? The Pirates, who managed to scrape together two runs against Arrieta on Sept. 16 (though one was unearned). The North Side faithful are surely thinking that this roll has to end some time, right?
Bottom line: No one wants to face Arrieta right now. No one.
Gerrit Cole, Pirates
Against the Opponent
2015: 4 GS, 2-1, 2.13 ERA
Career: 9 GS, 7-1, 2.88 ERA
Loves to face: Dexter Fowler, .214 (3-for-14), 4 K's
Hates to face: Anthony Rizzo, .353 (6-for-17); Starlin Castro, .353 (6-for-17)
Game breakdown
Why he'll win: Arrieta is the headliner, but Cole is no slouch. His 2.60 ERA ranked fifth in the NL, and he has great numbers against the Cubs, limiting them to just six earned runs across four starts this season, with 32 strikeouts in 25 1/3 innings. As recently as Sept. 25, Cole held the Cubs to one run over seven innings while fanning eight, beating Jon Lester in the process.
Pitcher beware: Starting pitchers say they don't care about the other starter, but Cole has to know he'll have to be nearly perfect to give the Pirates a shot against Arrieta.
Bottom line: Get your popcorn ready. This looks to be one heck of a pitching duel.
Cash Kruth is a reporter for MLB.com. This story was not subject to the approval of Major League Baseball or its clubs.