MLB.com Columnist
Bernie Pleskoff
Scouting profile: Christian Walker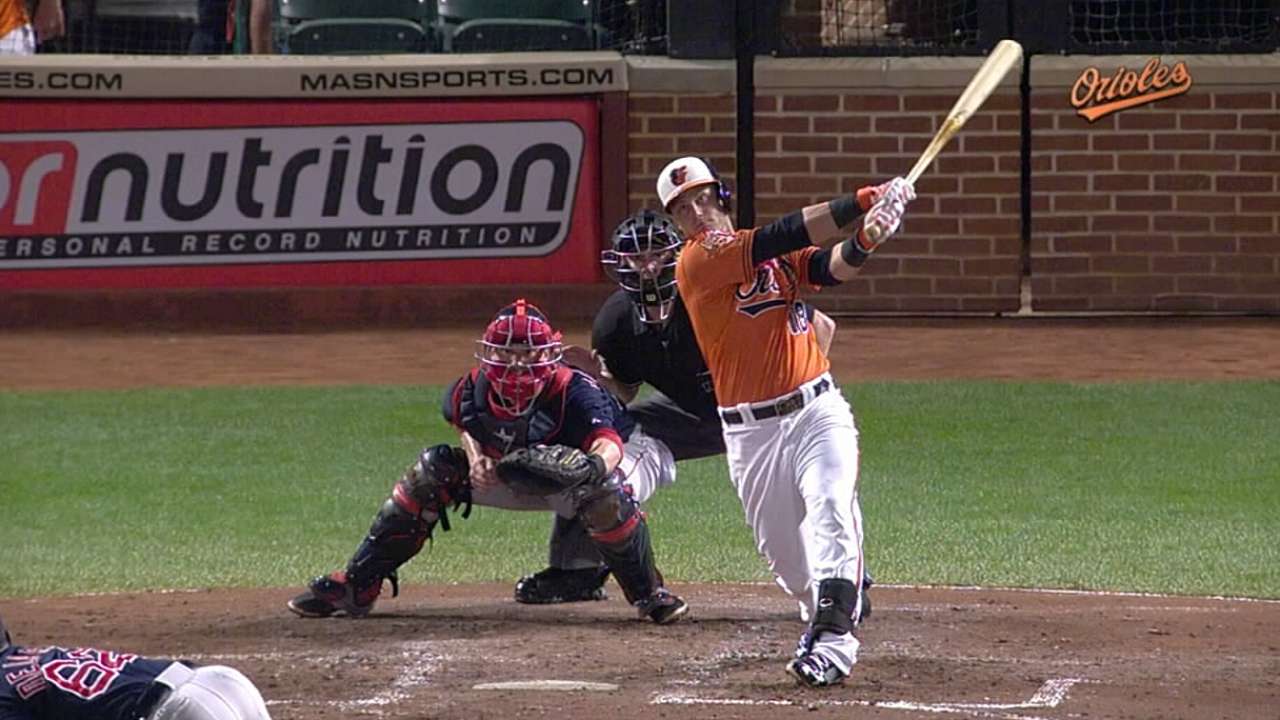 Background
Right-handed-hitting Christian Walker was a major force as a high school athlete at Kennedy-Kenrick Catholic High School in Norristown, Pa. He was an extremely hard-hitting third baseman and catcher. Walker spent considerable time at showcase and traveling team events, earning the attention of scouts with his loud and consistent bat.
After hitting .588 as a senior, the Los Angeles Dodgers selected Walker out of high school in the 2009 Draft. Instead of signing, he went to the University of South Carolina as a corner infielder for the Gamecocks. He played in three consecutive College World Series, helping South Carolina win titles in 2010 and 2011.
After compiling countless awards and accolades including first-team All-SEC honors, the Baltimore Orioles selected Walker in the fourth round of the 2012 Draft.
Walker established his presence as a power-hitting force early in his professional career. In parts of four Minor League seasons he has hit 57 home runs and has driven in 235 runs.
Walker moved quickly in the Orioles system. He received a Major League look in September 2014, after playing only two Minor League seasons. He hit 26 home runs last year at Double-A Bowie (20) and Triple-A Norfolk (6).
Walker was back on the Orioles roster again this September, after hitting .257 with 18 homers and 74 RBIs this year at Norfolk.
Walker is No. 5 on the Orioles' Top 30 Prospects list.
Hitting
Strong and athletic, the 6-foot, 220-pound Walker makes good barrel-of-the-bat contact. He drives the ball using quick hands that he keeps inside the ball very well.
A tough out, Walker is the type of hitter that can destroy a high velocity fastball. He recognizes pitches well, and his bat control allows him to use the entire field.
Using a short, compact swing, Walker takes advantage of his legs and trunk in getting as much power through the ball as possible. A disciplined hitter, Walker's hitting mechanics are sound and work very well for him.
Defense
While he can play both corner infield positions, Walker has spent his development time as a first baseman. That is likely his permanent home.
Walker has improved his agility and footwork around first base and his reaction time and reflexes are advanced enough to play the position well.
Walker's hands are sure, his arm is solid and, overall, he has the ability to be an average Major League quality defender.
Strengths
Walker's best tool is his raw power. Only 24, he is gaining strength and his power continues to emerge. Once he has seen Major League pitching on a more regular basis, he can become a middle-of-the-order force in the lineup.
If he remains true to his projections, Walker should be able to hit enough to remain in the lineup. His batting average may be inconsistent for a while, but eventually he could settle in as a .260/23/85 type hitter. Walker projects to be a solid hitter with a good on-base percentage.
Weaknesses
As disciplined and as focused as he is at the plate, there is some swing and miss in Walker's approach. If he tries to do too much, he can get himself out.
Walker has very little, if any, speed. He can't be counted upon to steal many bases.
I find this interesting
Walker once won the International High School Showcase Home Run Derby in St. Petersburg, Fla.
The future for Walker
Orioles first baseman Chris Davis will be a free agent following this season. If the Orioles do not sign him, it will leave a vacancy for which Walker may be considered.
If, indeed, Walker gets an opportunity to play every day, it will take him some time to adjust to a steady diet of breaking balls and off-speed pitches. However, he does have the upside to contribute a loud, powerful bat if patience is exercised with his progress. In short, he is still learning how to hit the highest quality pitching in the game of baseball.
Walker in a word
Progressing
Bernie Pleskoff has served as a professional scout for the Houston Astros and Seattle Mariners. Follow @BerniePleskoff on Twitter. This story was not subject to the approval of Major League Baseball or its clubs.