MLB.com Columnist
Anthony Castrovince
ALDS position-by-position: Astros-Royals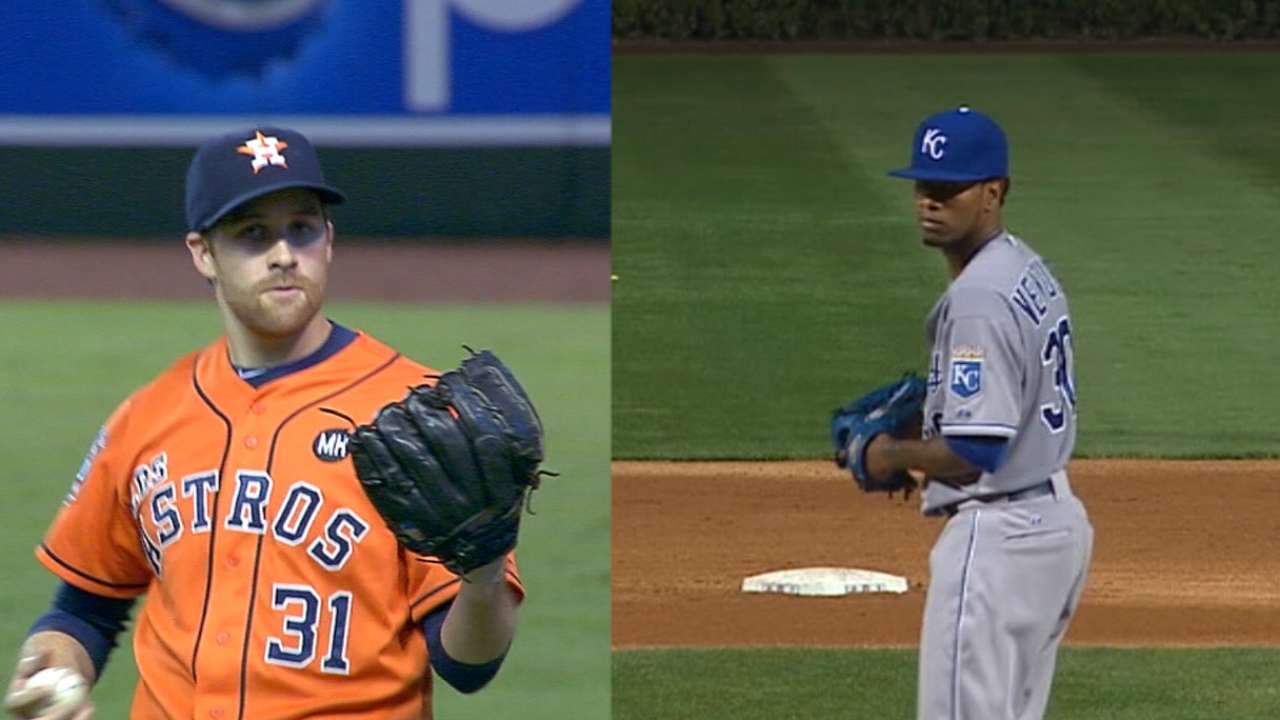 A young and exciting ballclub that rescued itself from the depths of losing seasons past by slowly building a potential power down on the farm and then watching it mature at the Major League level, the Astros have given themselves the opportunity for a postseason coming-out party.
If that description of the winner of the American League Wild Card Game presented by Budweiser sounds familiar to Royals fans, it should. And in this AL Division Series matchup that begins at 7:30 ET tonight at Kauffman Stadium and on FS1, the only thing standing in the way of the Astros continuing their wild rise and ride is a Royals team looking to build off 2014's triumphs.
Here's a position-by-position breakdown. The Astros won the season series, 4-2.
Catcher: When last we saw Salvador Perez on the postseason stage, he was making the last out of Game 7 of the 2014 World Series against the Giants. Perez looked worn out after catching 146 regular-season games last year. But this year, a big division lead allowed the Royals to rest Perez a bit down the stretch (he started 137 games), and he was swinging a hot bat (.851 OPS in his last 20 games) down the stretch. Perez (.260/.280/.426 season slash) had a 2.2 Wins Above Replacement mark (per Baseball Reference) this season, whereas Astros catchers Jason Castro (.211/.283/.365) and Hank Conger (.229/.311/.448) had a 1.7 mark combined. Advantage: Royals
First base: Chris Carter represents the Astros' offense as well as anybody -- they'll swallow the .199 average and 151 strikeouts if it comes with 24 homers. Carter was swinging the bat well at year's end, but the clear edge here goes to Eric Hosmer, who followed up his October onslaught (.966 OPS) with his most productive regular season yet -- a .297/.363/.459 slash with 18 homers, 33 doubles and five triples. Advantage: Royals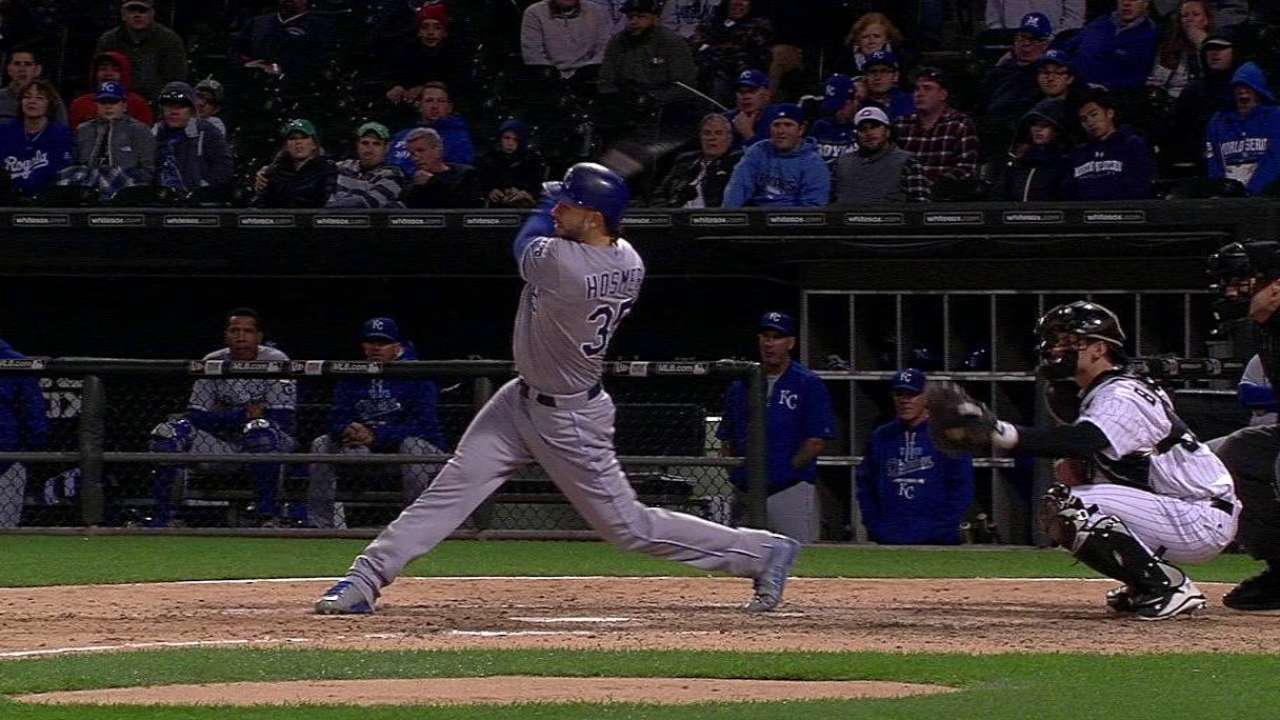 Second base: After initially filling in for the injured Alex Gordon after his arrival to Kansas City at the non-waiver Trade Deadline, Ben Zobrist basically replaced the light-hitting Omar Infante when Gordon returned. And in his Royals tenure, Zobrist posted a 121 OPS+ and 24 extra-base hits in just 59 games. He's awesome, but Jose Altuve is on the short list of best middle infielders in this sport. He just finished his second straight season of at least 200 hits, he had a 4.5 WAR, and he's the heart and soul of the Astros' lineup. Advantage: Astros
Shortstop: All it took was 432 plate appearances from Carlos Correa to vault the Astros to the top of the AL's WAR rankings at this position. Whether he beats out Francisco Lindor for AL Rookie of the Year Award honors, Correa could -- by virtue of his bat, glove and legs -- routinely vie for the AL MVP Award in the not-too-distant future. The 21-year-old exceeded his age in both homers and doubles (22 each), and he did it in just 99 games. The Royals love Alcides Escobar, and his return to the leadoff spot provided a late-season spark. But he's no Correa. Advantage: Astros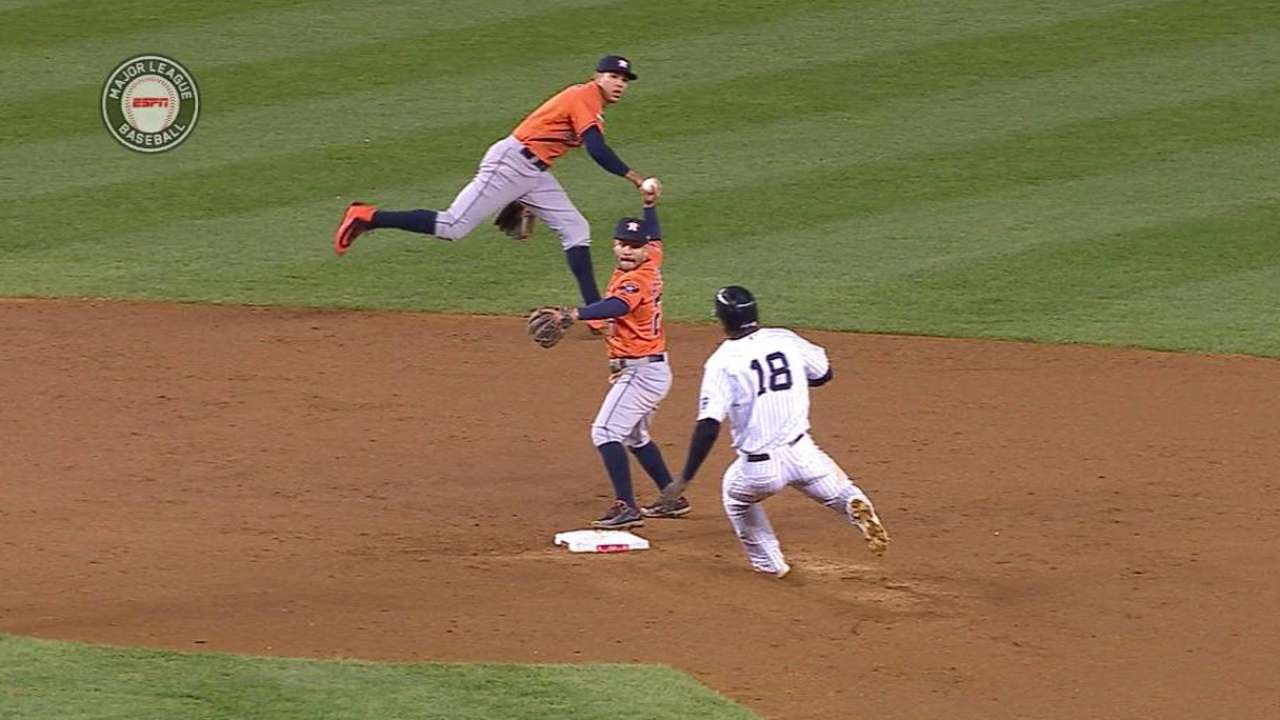 Third base: Jed Lowrie (.712 OPS, 1.0 WAR) had an injury-riddled first season with the Astros, while Luis Valbuena pounded out 25 homers with just a .224 average as the two formed a platoon at the hot corner for Houston. For the Royals, third base is a far steadier situation, with Mike Moustakas -- much like Hosmer -- building off a big October by posting a 120 OPS+ with 22 homers and 34 doubles. Advantage: Royals
Left field: This is actually a much tougher call than it might have been a few months ago, because Gordon suffered a severe groin strain in early July and hasn't been quite the dynamo of old since his Sept. 1 return. Colby Rasmus, meanwhile, is one of the Astros' hottest hands going into this Division Series. He posted a 1.000 OPS in the season's final month, and his homer in the AL Wild Card Game was his sixth since Sept. 20. Still, in the big picture, you take Gordon, a four-time Gold Glove winner and three-time All-Star, is one of the best corner outfielders in the sport. Advantage: Royals
• Postseason gear: Astros | Royals
Center field: Lorenzo Cain belongs on the fringes of the AL MVP Award discussion this year after a terrific season in which he had a .307/.361/.477 slash, 16 homers, 34 doubles, six triples, 28 stolen bases and the fourth-highest WAR (7.2) in the league. Manager A.J. Hinch put his faith in Carlos Gomez in the AL Wild Card Game despite Gomez's recent struggle with an intercostal injury, and Gomez rewarded that faith with a solo shot. Perhaps he can still be the sparkplug the Astros expected him to be when they acquired him, but his status will be taken day by day. Regardless of who mans center for Houston, Cain gets the edge here. Advantage: Royals
Right field: No active player has appeared in more games without a postseason appearance than Alex Rios (1,691), and that dubious distinction ends now. Rios probably earned the right to be the Royals' regular in right when he posted a .956 OPS in his first 15 September games following a bout with chicken pox. But the Astros counter with one of the more exciting young players in the sport in George Springer, who has played well since his September return from a broken right wrist and hit .481 (13-for-27) in the final week of the regular season. Advantage: Astros
Designated hitter: Evan Gattis hit 27 homers and logged a career-high in games played (153) with the move to Houston and the DH role, but his bat rated as league average (101 OPS+) overall. Kendrys Morales, meanwhile, had a resurgent season -- his best since 2009 with the Angels. He had a 128 OPS+ with 22 homers and 41 doubles to place himself in the AL Comeback Player of the Year Award conversation. Advantage: Royals
Rotation: The Astros can only start Dallas Keuchel once in this series (Game 3 in Houston, where he's been unbeatable). Collin McHugh (103 ERA+), Mike Fiers (122 ERA+ with Houston) and Scott Kazmir (97 ERA+ with Houston) are solid if not especially consistent options, and Lance McCullers, who just turned 22, has had an excellent (125 ERA+) rookie year. But you combine the Keuchel limitation with the way Yordano Ventura (2.38 ERA over his last 11 starts) has thrown the ball of late, the adjustment Johnny Cueto made in his last few starts and the year Edinson Volquez (117 ERA+) has had, and Kansas City probably deserves the slightest of edges here.Advantage: Royals
Bullpen: The Astros don't get to October without their rebuilt bullpen, in which Will Harris and Tony Sipp were especially excellent in setup situations and Pat Neshek and Chad Qualls are important veteran presences. And though the 'pen stepped up in relief of Keuchel in the AL Wild Card Game, it will be interesting to see how it fares in a larger sample, because it appeared to be running on fumes by season's end. Houston's 5.63 relief ERA in September/October was the highest in the game. The Royals also had some rare struggles from their 'pen down the stretch, but not to that degree. And in Kelvin Herrera, Ryan Madson, Luke Hochevar and even Danny Duffy (who can serve as a swingman or late-inning lefty matchup specialist), the Royals might have a 'pen that's even deeper than last year's unit that keyed the run to the World Series. Advantage: Royals
Closer: Luke Gregerson was a huge free-agent addition for the Astros, and he's delivered. He had a 0.951 WHIP, 31 saves and 59 strikeouts in 61 innings this season, and he shut the door on the Yankees on Tuesday night. But when the Royals lost closer Greg Holland to Tommy John surgery, they had an easy replacement in elite setup man Wade Davis. Over the last two years, Davis has allowed just 15 earned runs on 71 hits with 187 strikeouts in 139 1/3 innings. Utter dominance, and we saw him do it on the postseason stage last fall. Advantage: Royals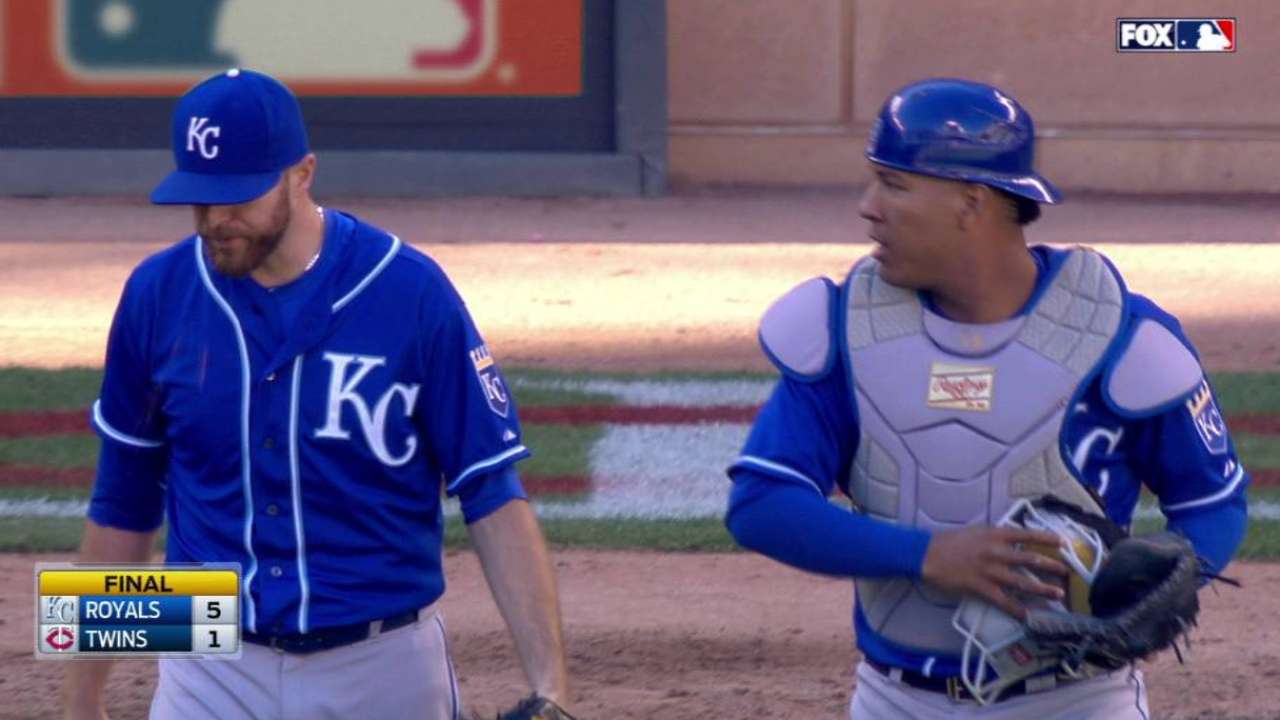 Bench: The Royals have one of the fastest men in baseball ready to cause havoc on the basepaths in Jarrod Dyson, and lefty killer Jonny Gomes is a possible late-inning option (or maybe even a starter against Keuchel or Kazmir). The Royals had the highest WAR from pinch-hitters of any team in baseball this season. But the Astros probably have more starting-worthy assets on their bench on a nightly basis. Jake Marisnick can provide defense in the late innings with a lead, Lowrie is an insurance policy in the infield and Marwin Gonzalez is impactful at just about any position. The Astros are very well-equipped. Advantage: Astros
Anthony Castrovince is a reporter for MLB.com. Read his columns and follow him on Twitter at @Castrovince. This story was not subject to the approval of Major League Baseball or its clubs.