Marlins will lower and move in fences in 2016
Miami ranked near bottom of big leagues in home-field doubles, homers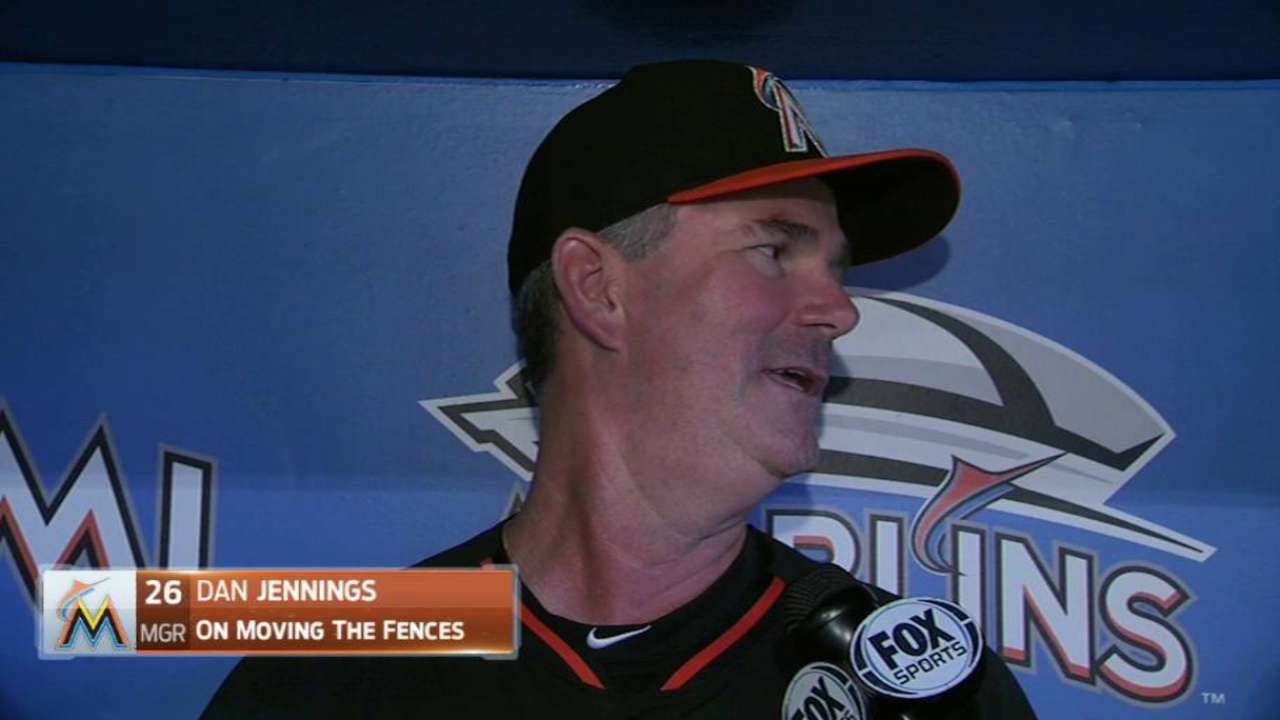 MIAMI -- Marlins Park is about to undergo a makeover. Before opening its doors for the 2016 season, the fences in one of MLB's most spacious stadiums will be moved in and lowered.
The dimensions have been a hot topic, especially among hitters, since the retractable-roof facility opened in 2012. After studying how the park played in its first four seasons, team president David Samson said changes are on the way.
"There will be changes to the dimensions of the field next year," Samson said. "We don't exactly know the scope of those changes yet. We're studying it right now. But we are doing it in an effort to get better."
The Kansas City-based firm Populous, which designed Marlins Park, has already sent architects to the park to explore various ways to move in and lower the walls.
One area that certainly will be addressed is center field, which juts out to 418 feet in the triangle portion near to the homer sculpture.
Construction is expected to begin around early December, and it is scheduled to be completed by Opening Day.
The current dimensions are 344 feet down the line in left, 386 in left-center, 418 in center, 392 in right-center and 335 down the line in right field.
The walls range from 11 1/2-13 feet high.
Ultimately, the organization would like for Marlins Park to play more fairly, but still lean toward being pitcher-friendly.
The issue of the dimensions became more prominent late in the season, as a number of players spoke to Samson about the need for changes. Their complaint was that they weren't rewarded for well-hit balls to the middle of the field.
Although Giancarlo Stanton was leading the Major Leagues with 27 home runs when he suffered a broken left hamate bone on June 26, the rest of the lineup struggled to generate power.
Christian Yelich, for instance, hit seven home runs total, with just one in Miami. In his career, Yelich has just three home runs at Marlins Park.
Since 2012, Marlins Park ranks 29th out of 30 stadiums in home runs, according to STATSPASS research. There have been 412 hit there -- one more than at AT&T Park in San Francisco.
As a team in 2015, the Marlins had 53 of their 120 home runs at home. Miami and the Giants were tied for next to last in home-field homers, with the Braves (48) at the bottom.
Not just the home runs have been down, so have doubles. Miami was last in the Majors in two-base hits, both overall (236) and at home (110).
"We believe we have a better chance to win more home games with adjustments," Samson said.
Joe Frisaro is a reporter for MLB.com. He writes a blog, called The Fish Pond. Follow him on Twitter @JoeFrisaro and listen to his podcast. This story was not subject to the approval of Major League Baseball or its clubs.