Statcast: Villar's steal helps put Yanks away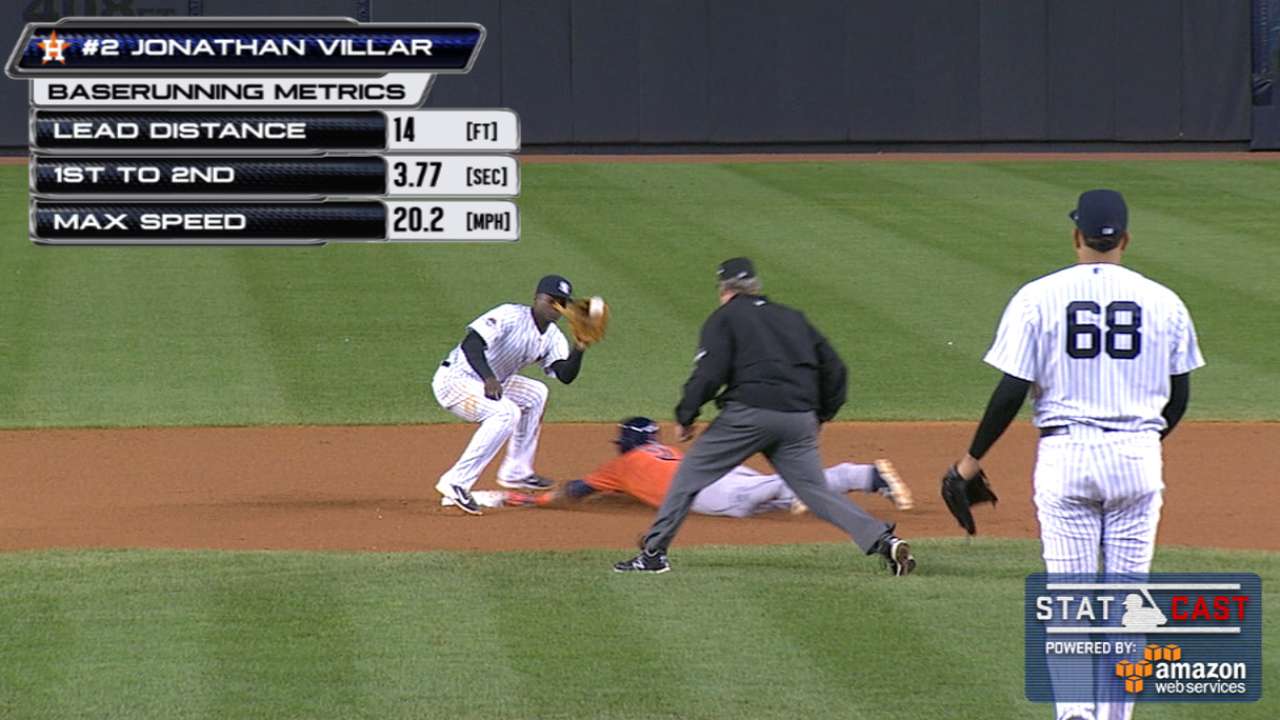 Astros ace Dallas Keuchel may have stolen the show in Tuesday's 3-0 victory over the Yankees in the American League Wild Card Game presented by Budweiser, but his teammates provided plenty of help in the field, at the plate and even on the basepaths.
It comes as little surprise that Houston, which led the AL in stolen bases and finished second in home runs during the regular season, relied on two homers and a late swipe for its offensive production on Tuesday. As it will continue to do throughout the postseason, Statcast™ tracked the in-depth details of all the key plays from the Astros' victory.
From a no-doubter home run that gave the Astros some breathing room to that critical steal to a trio of defensive gems, here's a closer look at five plays from Tuesday's game, courtesy of Statcast™.
Villar swipes second on McCann
Astros pinch-runner Jonathan Villar stole second base in the seventh inning and put himself in a position to score a crucial insurance run on Jose Altuve's ensuing base hit. Villar took a moderate lead of 13.6 feet off first base before reaching a max speed of 20.2 mph as he raced into second base in just 3.8 seconds. Catcher Brian McCann's pop time alone took 1.99 seconds, accounting for more than half the total time it took Villar to reach second base safely.
Gomez flashes speed, leather
Despite missing much of the last three weeks due to a mild strain of his left intercostal muscle, speedy center fielder Carlos Gomez certainly made his presence felt on Tuesday. After crushing a solo home run in the fourth inning (more on that in a moment), Gomez took a potential hit from Greg Bird with a running catch in the bottom of the fifth. Gomez took his first step just 0.18 seconds after the ball left Bird's bat, then reached a max speed of 19.8 mph as he sprinted in on the sinking liner. He ultimately covered 67.6 feet on the play, all while logging a route efficiency of 96.7 percent.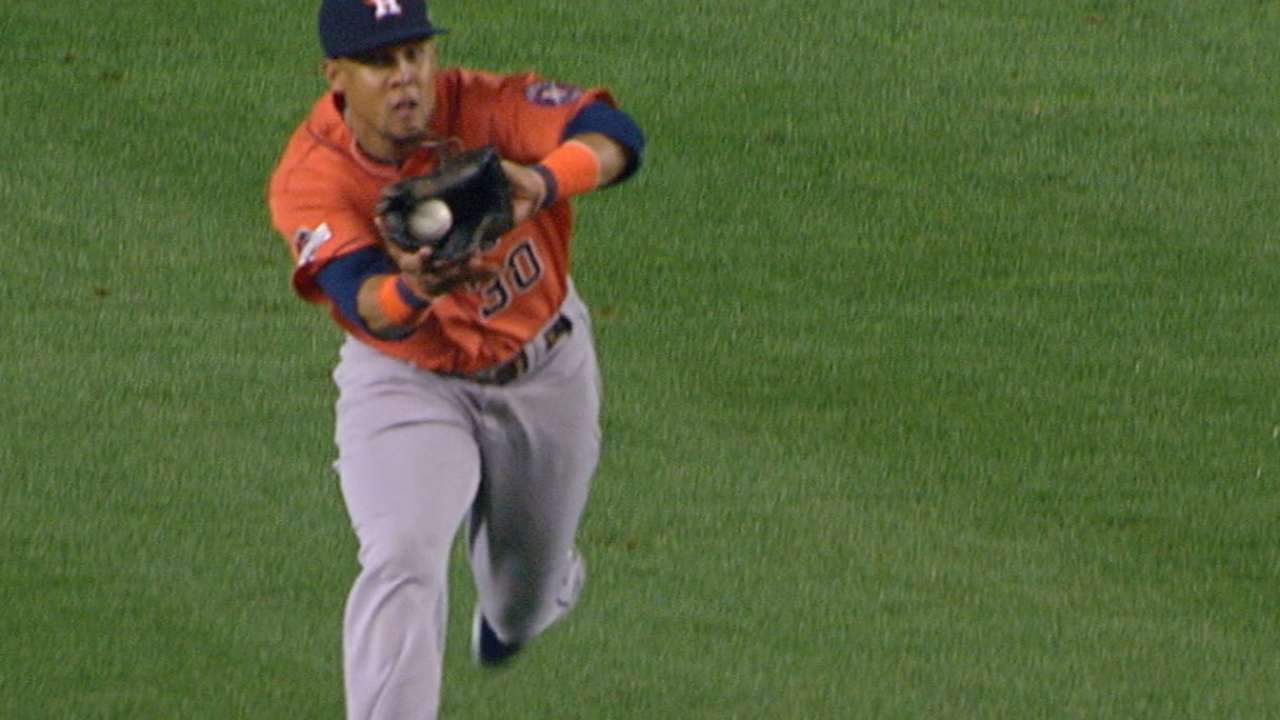 Gomez gets it done with the bat, too
As mentioned above, Gomez also made an impact at the plate. Batting in a 1-0 game in the top of the fourth, Gomez teed off on an 84-mph pitch from Yankees starter Masahiro Tanaka, turning it around at 104.5 mph. The absolute no-doubter traveled a projected distance of 406 feet into the Houston bullpen in left-center.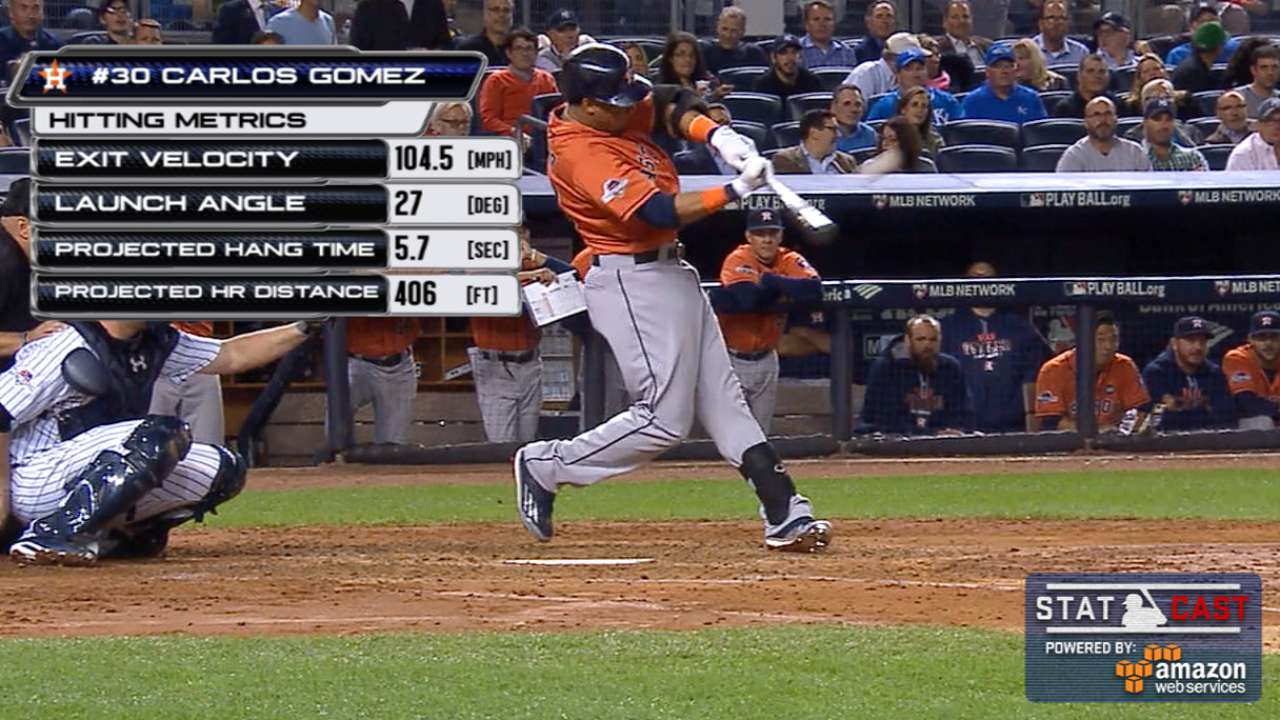 Gardner makes running, leaping grab
In one of the few bright spots for the Yankees, center fielder Brett Gardner covered a total distance of 102 feet on his way to making a highlight-reel catch in the second inning. Gardner recorded a near-perfect route efficiency of 99.5 percent as he raced deep into the gap, reaching a max speed of 18.2 mph before leaping into the wall to make the catch and take an extra-base hit from Evan Gattis. In doing so, Gardner became only the second player in 2015 to make a catch while covering at least 100 feet with a route efficiency of 99 percent or better, joining Detroit's Anthony Gose.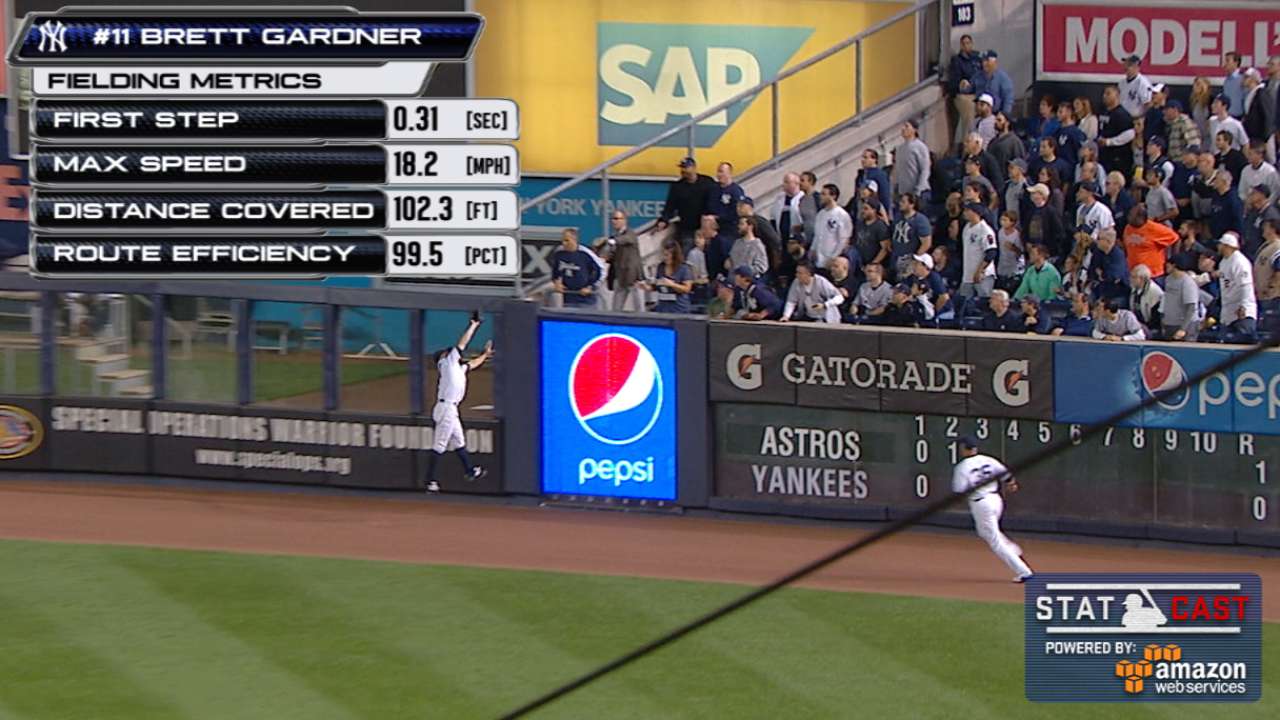 Springer's quick jump leads to running catch
Speaking of taking away extra-base hits, Astros outfielder George Springer robbed Alex Rodriguez of his own with a running grab into the right-field corner in the fourth inning. Springer took his first step just 0.08 seconds after the ball left Rodriguez's bat, then reached a max speed of 18.9 mph in tracking down the lined shot. Springer ultimately covered a total distance of 86 feet at a route efficiency of 98.4 percent on his way to making the leaping snag on the warning track.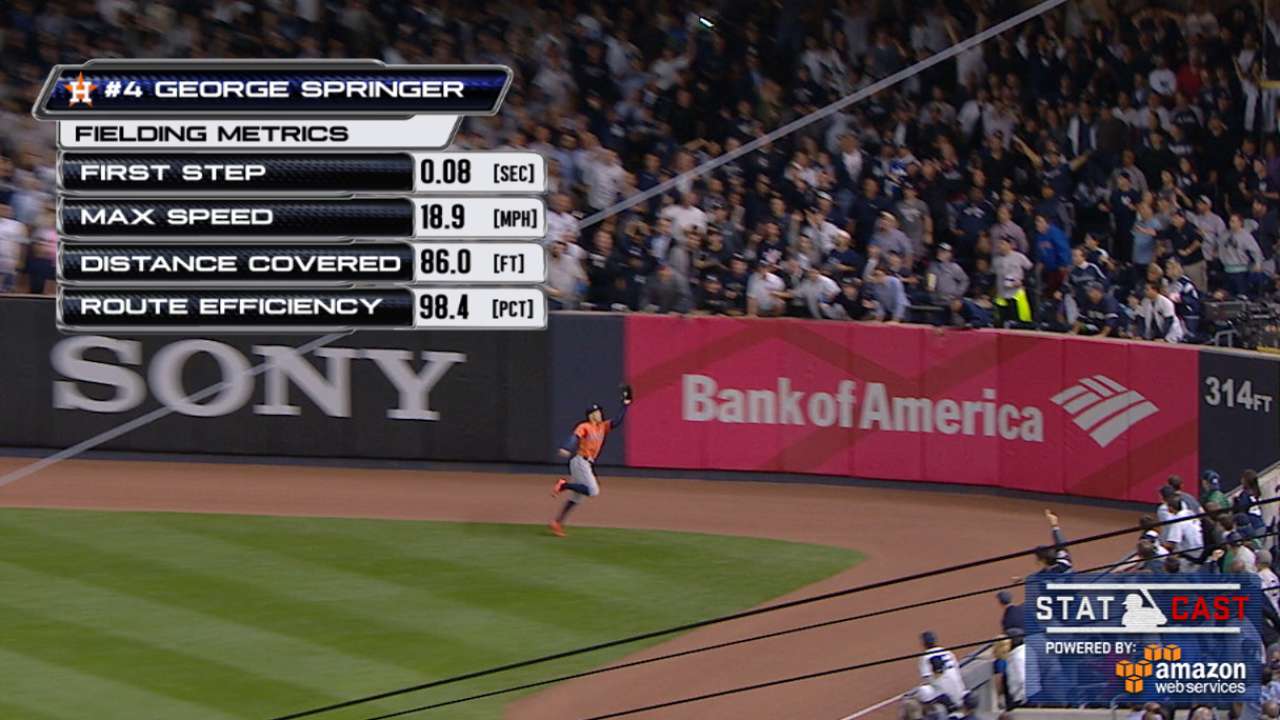 Paul Casella is a reporter for MLB.com. Follow him on Twitter @paul_casella. This story was not subject to the approval of Major League Baseball or its clubs.