MLB.com Columnist
Mike Petriello
Aggressive Astros thrive with first-pitch swings
Houston takes advantage of Tanaka's less-effective initial tosses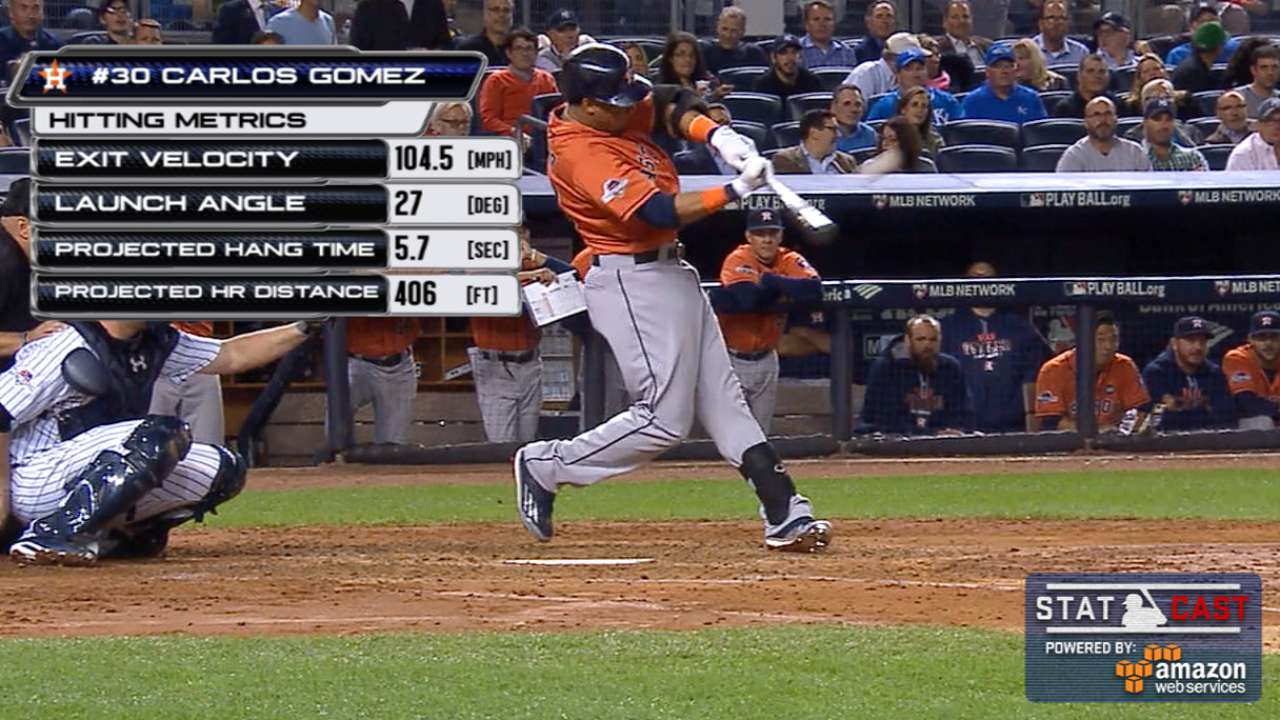 All season long, the Astros have been going against baseball tradition when it comes to working the count, which is to say, they don't. No team in baseball swings at the first pitch more often. Only one swings at more pitches in the strike zone.
On Tuesday night, when a pair of first-pitch home runs helped them beat Masahiro Tanaka and the Yankees, 3-0, in the American League Wild Card Game presented by Budweiser, that strategy paid off with a trip to the AL Division Series vs. the Royals (tonight, 7:30 ET, FOX Sports 1).
"Work the count," you've probably been hearing for years. "See some pitches, tire the starter, and get into the bullpen." If it sounds like a cliche, that's in part because it's become one. But as pitchers take the easy first strike to get ahead -- Major League Baseball's 60.9 percent first-pitch strike rate is the highest on record -- and tiring starters are increasingly backed up by dominating relievers when they hit their pitch count, it's perhaps the most underrated cause of declining offense for most of this century.
Though that trend has been reversed slightly this year, no team has gone against that grain more than the Astros, who offered at the first pitch 33.5 percent of the time, the highest in the Majors. (By comparison, the average is 28.9 percent; the Yanks do it just 24.5 percent of the time.) And why not? Houston put up a .346/.348/.551 line when swinging at the first pitch, good for an .899 OPS that's far superior to its overall .752 mark.
• Shop for Astros postseason gear
It made for a perfect match against Tanaka, who has allowed a .902 OPS on the first pitch in his two-year career in America, a much higher number than his .666 overall mark. After all, he's far less likely to throw his deadly splitter on the first pitch (approximately 10 percent of the time) than he is deeper in the count when he's ahead (nearly 40 percent), and it makes it more likely that his comparatively unimposing four-seam fastball will be available earlier on.
That's exactly how it unfolded for Colby Rasmus, who took the first pitch of the second inning -- a four-seamer -- into the right-field seats for the first run of the game. Tanaka's pitch left his hand at 93.4 mph, per Statcast™, somewhat harder than his season average of 92.8 mph. Unfortunately for him, that fastball has easily been the least effective of his seemingly endless arsenal, used mostly to set up breaking pitches later in the count. When throwing it on a 0-0 count this year, his slugging percentage allowed was .533.
Though it was placed low and therefore wasn't exactly a meatball, it also wasn't where Brian McCann was set up (watch how far his glove moves in the clip below), and Rasmus golfed it into the seats.
Two innings later, Carlos Gomez crushed the first pitch of the fourth, this time a slider, and 406.3 feet later, it was 2-0. Gomez is another hitter with a high rate of success when swinging at the first pitch -- .952 OPS vs. .723 overall for his career -- though the story on this one was more what kind of pitch Tanaka allowed him to attack.
While the misplaced location made it ideal for Gomez to crush, Statcast™ showed that nothing about it went the way Tanaka had hoped. An average slider for Tanaka spins at 1,178 RPM, while this one headed to the plate at only 1,155 RPM:
With the way that Dallas Keuchel and the three relievers that followed him pitched, the two solo shots were more than enough support. Had the Astros been following standard baseball protocol, letting hittable first pitches go by in the service of "working the count," they might have passed up the opportunities that led to runs. There's value in watching unhittable pitches go by, of course. But there's also considerable value in attacking what you can when you can, regardless of the count, and that's a big reason why Houston will be headed to Kansas City to begin the ALDS on Thursday.
Mike Petriello (@mike_petriello) is an analyst for MLB.com. This story was not subject to the approval of Major League Baseball or its clubs.