Castro's framing picture-perfect for Keuchel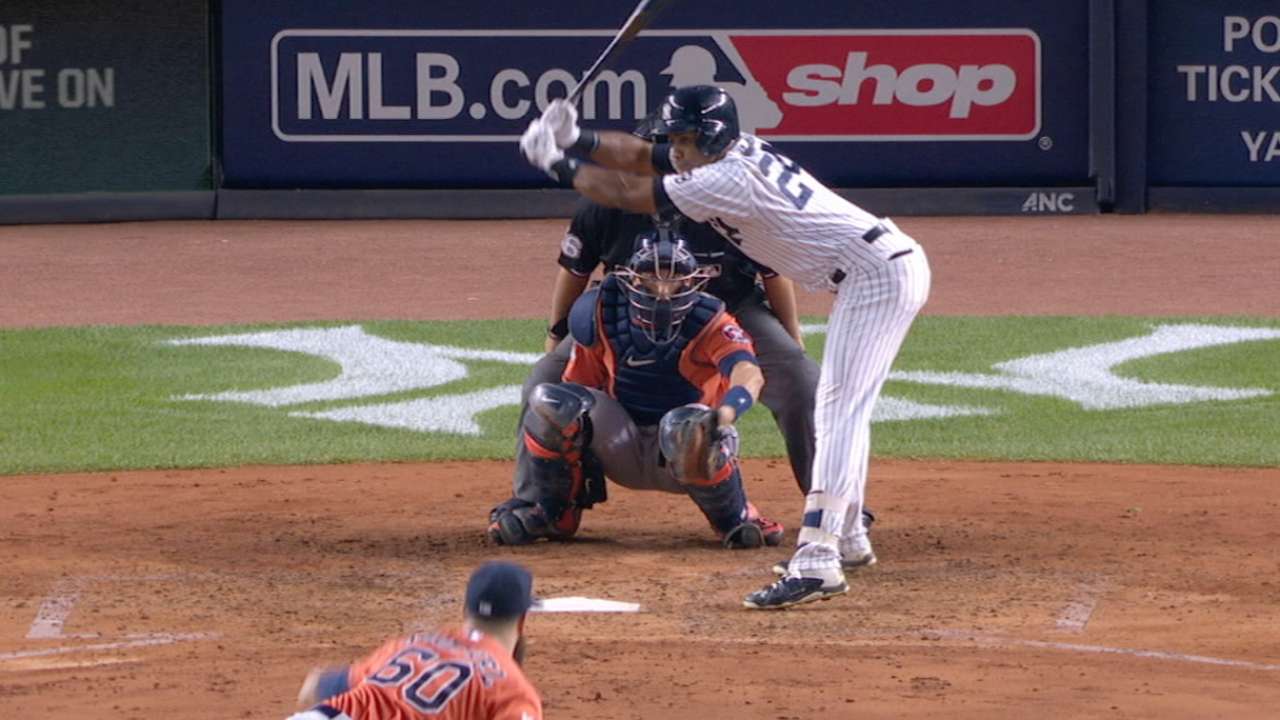 On short rest for the first time in his career, Astros ace Dallas Keuchel needed support. Run support, yes, but perhaps more importantly framing support behind the plate if his command suffered due to the extenuating circumstances surrounding his start.
Keuchel got both as the Astros earned a 3-0 win over the Yankees in the American League Wild Card Game presented by Budweiser to move on to the AL Division Series against the Royals. The run support was fast and fleeting in the form of two first-pitch home runs, but Jason Castro's pitch framing lasted throughout Keuchel's six-inning scoreless stint.
Castro ranked as the fifth-best pitch framer in the league this season, according to Baseball Prospectus, saving the Astros an estimated 12.6 runs based on framing alone, and that skill aided Keuchel's repertoire all evening. Known for keeping the ball low in the zone without an overpowering velocity, Keuchel nibbled on the corner of home-plate umpire Eric Cooper's strike zone and Castro presented the pitches admirably.
The veteran Astros catcher even drew rave reviews from ESPN analyst Buster Olney, who made a point to articulate Castro's "pitch presentation" during the broadcast, showing in slow motion how some of Keuchel's sliders and cutters finished just off the plate, but were framed in the zone.
• Shop for Astros postseason gear
"I think that's always the goal, just trying to present the best way I can," Castro said. "Dallas is always going to be right around the zone so he makes that job pretty easy."
Early on, the Yankees' game plan appeared to center around inflating Keuchel's pitch count, meaning he'd need to be pinpoint to get quick outs. Yankees hitters swung just 10 times in the first two innings, when Keuchel racked up three of his seven strikeouts -- all looking -- but he needed 39 pitches.
To end the first inning, Keuchel rung up Alex Rodriguez on a high cutter to strand Chris Young at second. Castro set up a bit lower than where the pitch arrived, but he framed it in the zone for a called strike three.
"Pretty big deal," Astros manager A.J. Hinch -- a former catcher -- said of Castro's performance. "I thought he did a good job of controlling the moments that were most important. The postseason is very different for pitchers. Every pitch matters, every pitch is very intense. He did a good job of controlling everything."
Castro's performance drew the ire of Yankees catcher Brian McCann, who was visibly frustrated with the strike zone in the second inning, yelling an audible obscenity after he grounded out to lead off. He got ahead in the count, 2-1, but took one of Keuchel's low fastballs -- framed just on the plate -- for strike two. He and Cooper exchanged calm words after the pitch before McCann eventually grounded out and voiced his frustration in the dugout.
Chandler Rome is an associate reporter for MLB.com. This story was not subject to the approval of Major League Baseball or its clubs.