Hinch stays with ace to retire A-Rod in big spot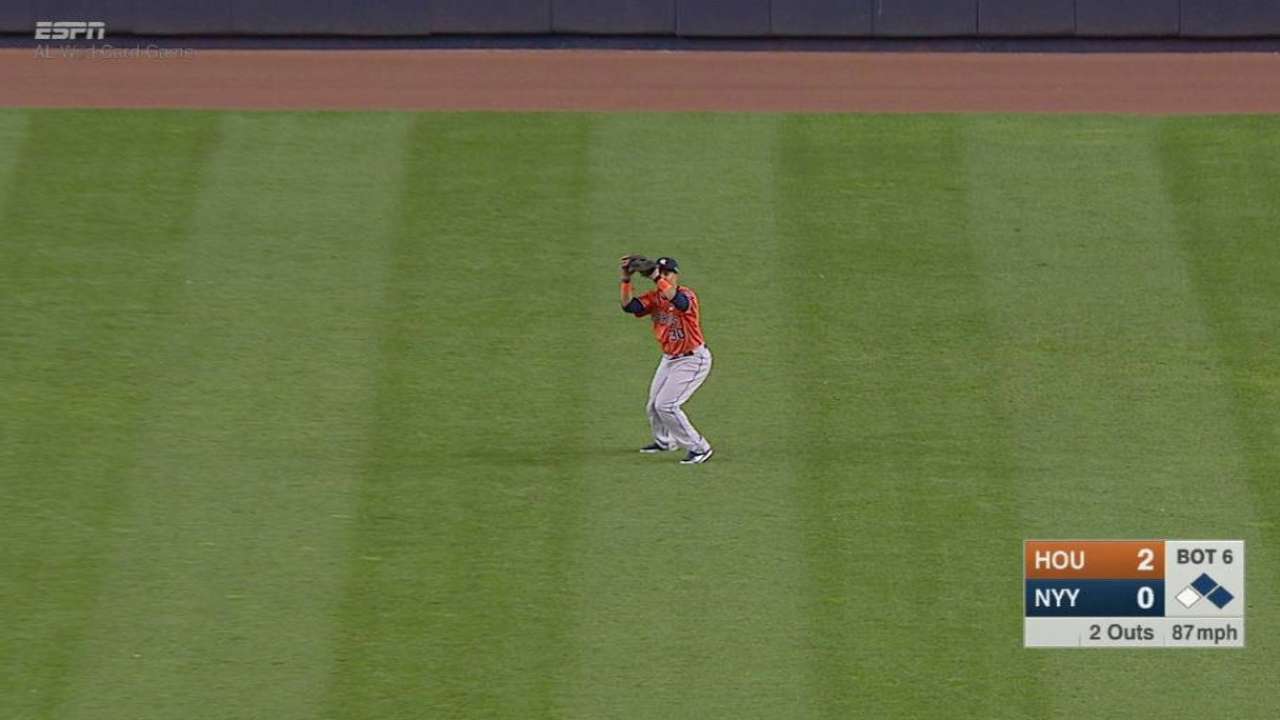 NEW YORK -- As Astros manager A.J. Hinch walked to the mound, his heart raced. "That's probably the most adrenaline I've had in my short managerial career," he said later after a 3-0 win over the Yankees on Tuesday night.
In the home dugout at Yankees Stadium, manager Joe Girardi felt more hopeful than he had all game. "I thought that was going to be the moment for us that turned it around," he reflected.
It was the bottom of the sixth inning in the American League Wild Card Game presented by Budweiser. The Astros, who two years ago lost 111 games, had a 2-0 lead over Yankees, a franchise with 27 World Series titles.
For the first time, though, Houston starter Dallas Keuchel was in a bit of a jam. The 20-game winner gave up a leadoff single to Didi Gregorius, just the second hit he'd allowed. A two-out hit by Carlos Beltran brought Yankees designated hitter Alex Rodriguez, the potential go-ahead run, to the plate.
Keuchel, a left-hander, was pitching on short rest. Rodriguez is a right-handed slugger. A lefty and a righty were warming up. For all of those reasons, it wouldn't have been a surprise to see Hinch congratulate his ace on a job well done and then turn the game over to his bullpen to get the final 10 outs.
• Shop for Astros postseason gear
Instead, Keuchel stayed in. A-Rod lifted a harmless fly to center on the first pitch, ending the threat. Tony Sipp, Will Harris and Luke Gregerson closed out the win that sends the Astros to the AL Division Series against the defending AL champion Royals beginning on Thursday at Kauffman Stadium.
"That was a tough one," Hinch admitted. "None of those [decisions] are easy. We could have gone a couple different ways, so I went out there for a couple reasons. One was to check his heartbeat, look into his eyes a little bit, gather a little bit of information."
When Hinch arrived, he liked what he saw. "It's never easy to take the ball away from him. You always feel like he's under control."
The next issue was whether Keuchel still had the stuff to get A-Rod out.
"As the game went on, he was getting better and better," Hinch said. "I thought early on, he was a little bit erratic. He made a bad pitch to Beltran and that was really it."
So the skipper decided to leave Keuchel in, fully recognizing that the result of the game, and by extension the entire season, could hang in the balance.
"That was the most important out, certainly up to that point," Hinch said. "Tough matchup against a good hitter. So when I went out there, I told him, you know, he was the best guy we have and he needed to end the inning. It was his guy to get and I wanted him to finish strong. I'm sure other managers will tell you, taking the ball out of your best guy's hand is one of the more challenging things in this job."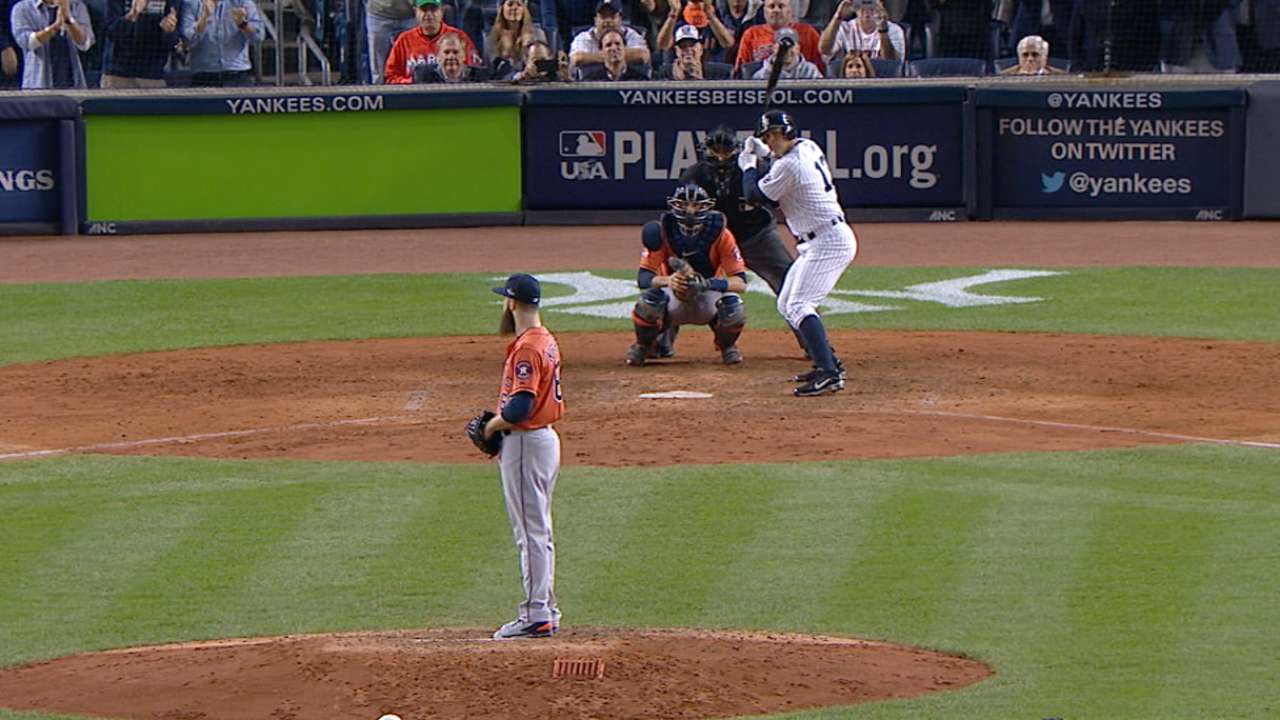 Keuchel, of course, didn't want to come out at that point.
"The stadium was rocking, that's for sure. A-Rod's coming up. Doesn't get any more exciting than that. I just tried to calm myself down and make as good a pitch as I could."
Based on Rodriguez' first-pitch swing in his second at bat, Keuchel decided to go with a cutter. He thought if he hit his spot, middle in and a little up, he could get a popup.
"Luckily, that's what he did. But I was playing blackjack there and it paid off," he said.
The A-Rod eye view: "You get a good pitch to hit, it's in that box, you get your swing off and you take your chances. Once you hit it, you can't control it."
Another part of Hinch's calculation was that the Yankees on-deck hitter was the lefty-swinging Brian McCann. As it turned out, he brought in the left-handed Sipp to face McCann leading off the seventh instead of letting Keuchel face at least one more batter.
"At that point, I felt like he had enough and did everything we would have asked on three days' rest with this much intensity in a game of this magnitude," Hinch said. Keuchel left the game having thrown 87 pitches.
When it was all over, when the Astros sprayed the champagne and the beer, and took the team photo, when Hinch was sitting on the dais in the interview room, he was able to reflect on how special that pivotal moment had been.
"Because you're at Yankee Stadium, it's the sixth inning and Alex Rodriguez is up," Hinch explained. "You have potentially the Cy Young Award winner on the mound. So what a great moment. And I'm really happy it turned out in our favor for everyone involved because those are the moments, the swing moments, when the players have to play.
"And Dallas stepped up big."
Paul Hagen is a reporter for MLB.com. This story was not subject to the approval of Major League Baseball or its clubs.