Posada honored by Buoniconti Fund
NEW YORK -- On Tuesday, exactly four years to the night after he said goodbye with his 125th postseason game for the Yankees, Jorge Posada attended a dinner at the Waldorf-Astoria, and he was following the Astros-Yankees American League Wild Card Game presented by Budweiser via his MLB.com At Bat app.
The five-time All-Star catcher sneaked a peek whenever he could as he was being honored during the 30th annual Great Sports Legends Dinner, which was to raise an expected $10 million or so for The Buoniconti Fund to Cure Paralysis.
"I'm excited to be here," Posada said. "A lot of people are asking how you see yourself as a legend. I don't see myself as a legend yet, but I'm happy that I'm able to be here and support the foundation."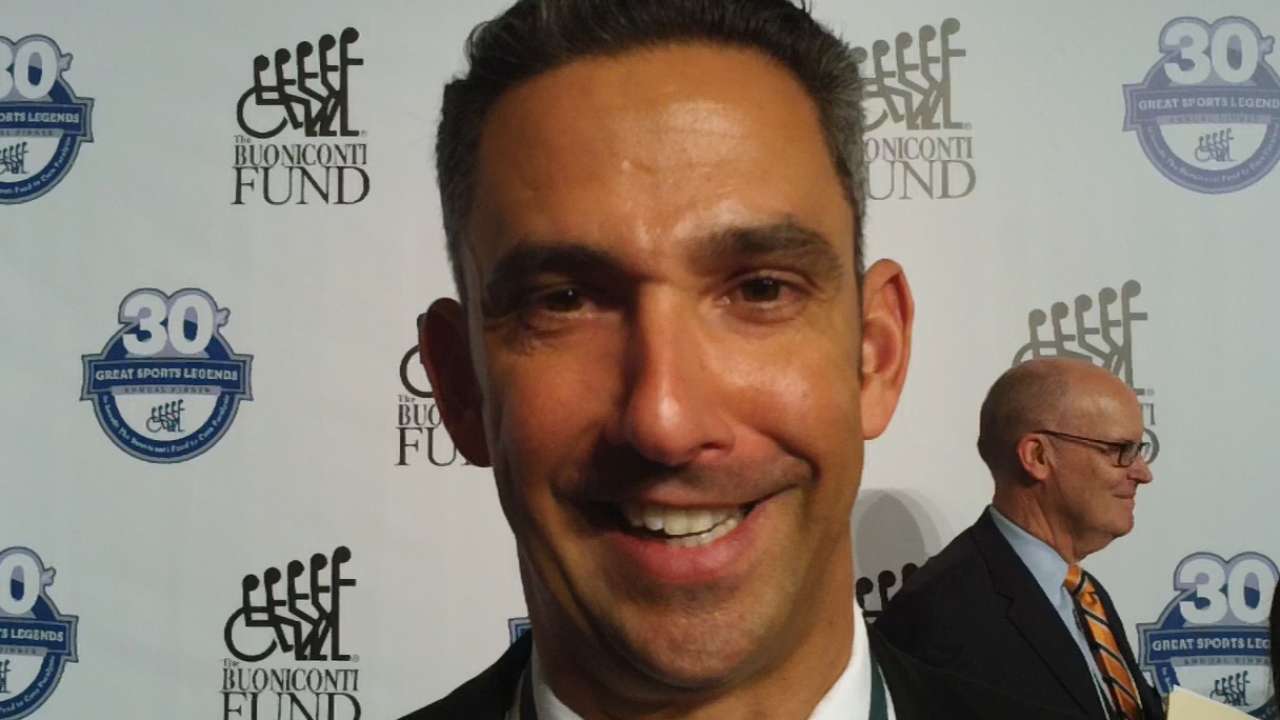 Posada, 44, is a Miami neighbor of Nick Buoniconti, the NFL Hall of Fame linebacker. In 1985, Buoniconti cofounded The Miami Project to Cure Paralysis after son Marc sustained a spinal-cord injury in a college football game. Today, The Miami Project is the world's most comprehensive research center for spinal-cord injuries, able to perform transplantations with paralyzed patients, and it has received more than $100 million in funding from this annual event.
"It's just great to see [Posada] here," said Buoniconti, who was on the red carpet along with Marc. "Tonight is the playoff game for the Yankees, and yet he's here. So I think it's a great honor that he's honoring us."
Posada not only wanted to be here for his neighbor but because of a parental bond. Posada is the founder of the Jorge Posada Foundation, which is involved with research for craniosynostosis, a disease that affects his son, Jorge Luis.
"This means a lot," Posada said. "I went through a little bit what he went through with his son, obviously not to that extent. I know what he's been through, and I'm here to support him."
On Oct. 6, 2011, Posada was the Yankees' designated hitter in a Game 5 3-2 loss to the Tigers in the AL Division Series at Yankee Stadium. He went 2-for-4 that night, finishing a prolific postseason resume with 11 home runs, 42 RBIs, 53 runs, a .248 average and five rings.
Now he was a fan, checking to see how the Yankees were faring against Astros ace Dallas Keuchel.
Asked for a best postseason memory, Posada said, "They're all very different. Five rings are very different, because you've got different teammates. I was a part of a very unique group. It looked easy, but it wasn't easy."
Posada texted CC Sabathia, his former batterymate, on Monday upon learning that the pitcher was checking into alcohol rehab.
"I'm supporting him 100 percent," Posada said. "I'm here if he needs me. I sent him a text yesterday, and he knows that we all love him. So hang in there, and I know he's going to be fine."
In addition to Posada, honorees at Tuesday's dinner included Gloria and Emilio Estefan, and Orianne Collins, a cofounder of the Little Dreams Foundation. Legends recognized along with Posada included Jennifer Capriati, Chip Ganassi, Ray Lewis, American Pharoah jockey Victor Espinoza, Michelle Kwan, and Utah Jazz teammates Karl Malone and John Stockton.
Said Malone of Posada: "I just remember how fiery he was. I can't remember when he missed a game. Just old school in the way he played the game. He never took days off. He took days off when the coach wanted him to take days off. I'm sure he's thinking about the Yankees playing the Astros tonight, but what a great guy."
Mark Newman is enterprise editor of MLB.com. Read and join other baseball fans on his MLB.com community blog. This story was not subject to the approval of Major League Baseball or its clubs.