ALDS: Blue Jays-Rangers position by position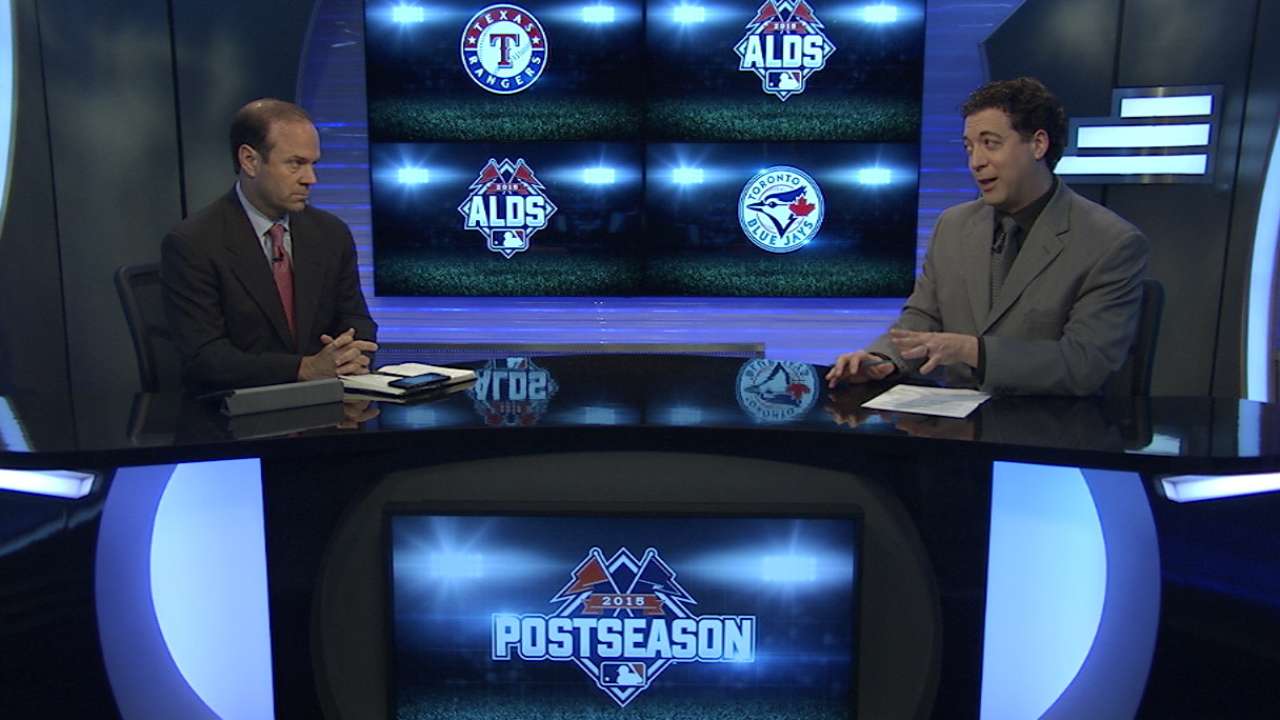 The Blue Jays and Rangers weren't exactly popular picks to win their respective divisions, yet here they are, meeting in the American League Division Series. Game 1 is set for Thursday afternoon (3:30 p.m. ET on FS1, Sportsnet) at Rogers Centre in Toronto.
The Blue Jays, who won the regular-season series, 4-2, ended the longest postseason drought in North America's four major professional sports by qualifying for the first time since winning the 1993 World Series. They went 40-18 from the beginning of August on, running away with the AL East by six games. The Rangers jumped from 67 to 88 wins in manager Jeff Banister's first season, rallying from eight games out in the AL West as late as Aug. 2 to clinch on the final day.
Here is a position-by-position breakdown of the two clubs.
Catcher: The Rangers have received solid production from Robinson Chirinos (.762 OPS) and Chris Gimenez (.820), who combined for 15 home runs in 331 at-bats. Still, Russell Martin finished the season as one of baseball's top three catchers, by FanGraphs' Wins Above Replacement (WAR), and now heads to the postseason for the eighth time in 11 years and fifth in a row. The veteran is lauded consistently for his work behind the plate and remains a threat at it, especially against lefties (.937 OPS this season). Dioner Navarro, a solid backup, figures to catch when Marco Estrada starts. Advantage: Blue Jays
First base: Mitch Moreland has given the Rangers his best season in 2015, with an .876 OPS against righties. Mike Napoli, who turned around his season after arriving in an August waiver deal, provides a dangerous alternative against Toronto ace David Price or any other southpaw. The Blue Jays are in a similar situation. Switch-hitter Justin Smoak, in his first year with the club, enjoyed a nice bounceback season and probably will start against righties. With the Rangers likely to include two lefties in their rotation, Chris Colabello should see some starts as well. Advantage: Rangers
Second base: Unfortunately for the Jays, Devon Travis was lost for the season in late July, putting an end to a strong rookie campaign and making Ryan Goins the primary second baseman for this series. Goins is a strong defender who also can handle shortstop, but he doesn't offer Travis' bat, despite a productive final two months. Meanwhile, this was a wild, up-and-down season for Texas' Rougned Odor. The 21-year-old was demoted to Triple-A about a month after he was the Opening Day second baseman, but he returned in mid-June and hit .292/.334/.527 with 15 homers the rest of the way. Advantage: Rangers
Third base: The Rangers' Adrian Beltre is a Hall-of-Fame-caliber player who has four Gold Glove Awards and 413 home runs. He remains a major contributor at age 36, and for good measure, his two best months with the bat this season were his last two. With all that said, Josh Donaldson finished third in the Majors in WAR, topping 40 homers and 120 RBIs while playing stellar defense. He should finish at worst second in the AL MVP race. Advantage: Blue Jays
Shortstop: After missing about three weeks with a cracked left shoulder blade, Troy Tulowitzki returned to the Toronto lineup on Friday and went an encouraging 3-for-8 with a pair of doubles over a two-game postseason tuneup. Having him back in the fold obviously is big for the Jays, even if he isn't quite at 100 percent. Texas' Elvis Andrus hit .258/.309/.357, and while he has stolen 52 bases over the past two seasons, he also has been caught 24 times. Advantage: Blue Jays
• Gear up for the posteason: Rangers shop | Blue Jays shop
Left field: The Jays solved their issues in left field by dealing at the Trade Deadline for Ben Revere, who hit a solid .319/.354/.381, taking over the leadoff spot in September. Revere offers excellent speed (31 steals), though advanced metrics are mixed about his defense, and he isn't known for a strong arm. The Rangers, on the other hand, started 10 different players in left, none more than 33 times. But Josh Hamilton, back from recent left knee surgery, manned the position for all four games of the final series against the Angels, going 4-for-15 with a double and two home runs. He has the ability to change the course of the series with his bat, as does the right-handed Napoli, who got 11 starts here down the stretch. Advantage: Rangers
Center field: The Rangers have to be thrilled with what they've gotten from Delino DeShields, a Rule 5 Draft pick who took over an everyday job in his age-22 season and hit .261/.344/.374 with 25 steals. But the Blue Jays possess a huge run-prevention asset in Kevin Pillar, who finished eighth in the Majors in FanGraphs' defensive value and third among center fielders in defensive runs saved. Pillar also more or less equaled DeShields with the bat (.278/.314/.399, 25 steals) but offers more power (12 homers; DeShields hit two). Advantage: Blue Jays
Right field: It's hard to pick against Texas' Shin-Soo Choo, considering his OPS of 1.016 in the second half, including 1.113 in September/October, with a .500 on-base percentage. Yet Jose Bautista nearly matched that production, with an OPS of .958 in the second half, including 1.044 in September/October. He also has been the more consistent hitter over time and doesn't have significant platoon split issues like Choo, who owns a .684 career OPS against lefties. Advantage: Blue Jays
Designated hitter: This is another position where the Rangers are strong, but perhaps not quite so strong as the Blue Jays. Prince Fielder enjoyed a successful comeback year, hitting .305/.378/.463 with 23 homers and 98 RBIs, though he slowed down considerably in the second half. Edwin Encarnacion finished in the top 10 in the AL in on-base percentage, slugging, home runs and RBIs and was 11th in WAR. Advantage: Blue Jays
Bench: Both clubs have solid backup catchers, an impact right-handed bat (Colabello and Napoli, if they aren't starting) and some good options for speed and outfield defense (Toronto's Dalton Pompey and Texas' Drew Stubbs, for example). The Rangers get the nod for the presence of either postseason veteran Napoli, or Moreland, who has a .798 OPS in his career as a pinch-hitter and went 5-for-12 in that role this year. Advantage: Rangers
Rotation: Both teams added a left-handed ace at the Trade Deadline, with David Price going to Toronto and Cole Hamels to Texas. Price was better for his new club (2.30 ERA), though Hamels came up big in Sunday's regular-season finale. Beyond those two, the Jays would seem to have the more reliable options. Estrada posted a 3.13 ERA, Marcus Stroman was excellent in four starts after returning from a season-long knee injury, and knuckleballer R.A. Dickey always presents a challenge. The Rangers, who finished 11th in the AL in starters' ERA, will need to pick from veteran righties Yovani Gallardo and Colby Lewis and lefties Derek Holland and Martin Perez, all of whom had an ERA of 4.46 or higher in the second half. Advantage: Blue Jays
Bullpen: The Blue Jays' bullpen had a 3.50 ERA and 1.14 WHIP this season, compared with 4.12 and 1.35 for the Rangers. Texas does have a trio of tough right-handers in closer Shawn Tolleson, Sam Dyson and Keone Kela, though the latter has been dealing with a sore arm. Lefty Jake Diekman, who came over with Hamels, has been stellar as well. But Toronto appears to have more depth behind closer Roberto Osuna. Lefty Brett Cecil didn't give up an earned run and struck out 44 over his final 31 2/3 innings. Righty Aaron Sanchez had a 2.39 ERA and .178 opponents' average as a reliever, Liam Hendriks shuts down right-handed batters (.499 OPS), and Mark Lowe and LaTroy Hawkins have been solid veteran reinforcements. Advantage: Blue Jays
Closer: Despite his age, the 20-year-old Osuna produced a 2.58 ERA for the Jays, striking out 75 and walking only 16 in 69 2/3 innings. He converted 20 of 22 save chances after taking over the closer role in late June. However, both of those blown saves came in September/October, when he allowed eight earned runs in 12 innings. Tolleson, also excellent as a first-year closer (35-for-37), has more experience but wasn't immune to down-the-stretch struggles. He pitched the final five days of the season and appeared fatigued on Sunday, when he allowed two homers. Advantage: Rangers
Andrew Simon is a reporter for MLB.com. Follow him on Twitter @AndrewSimonMLB. This story was not subject to the approval of Major League Baseball or its clubs.