Defense to likely dictate Cubs' WC lineup
Maddon relying on versatility in back of Arrieta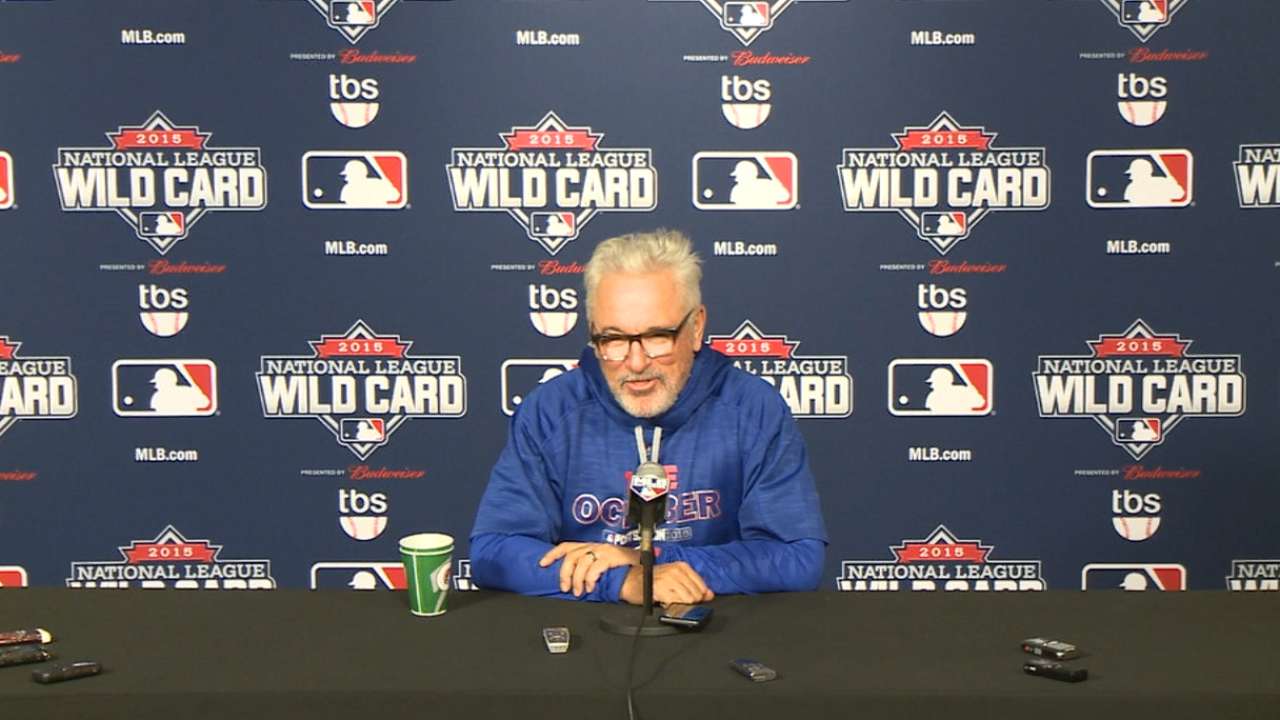 PITTSBURGH -- Cubs manager Joe Maddon didn't want to reveal his lineup for tonight's matchup against the Pirates because he didn't want to give Pittsburgh any edge. But judging by batting practice on Tuesday, the Cubs could have rookies Kris Bryant and Kyle Schwarber at the corner outfield spots.
Tommy La Stella worked out at third base, including some extra work after batting practice on Tuesday at PNC Park. Bryant was in left field during the workout.
"I can do it," Bryant said about playing the outfield. "I made a pretty good play here the last time I was in the outfield. [I'll play] wherever they need me. This is a game where it really doesn't matter where I play. I just want to help the team win any way I can. If that's in the outfield, then I'll play the heck out of the outfield."
In the last 10 days, Cubs manager Joe Maddon has moved players around in preparation for the postseason.
"I love the fact that we're so versatile," Maddon said Tuesday ahead of the NL Wild Card Game presented by Budweiser, airing live on TBS at 7 p.m. CT. "I love that young players are not stuck in one position, and if you move them, all of a sudden they freak out about it or it's going to hurt them in arbitration or whatever years from now because they don't have one position.
• Cubs' youth has grown up over breakout season
"Our guys don't think that way and I love it," he said. "All of this has been experimentation waiting to get to this moment."
Bryant has started 10 games in the outfield, including four in left, one in center and five in right. His only start in center was at PNC Park on April 23. In a doubleheader on Sept. 15, he started the first game at third, and was in right field for the second game.
"Right field is a little different because there's a chain-link fence," he said of PNC Park. "There's not the traditional padded wall. Left field is pretty big, left center is huge. I hit a couple balls to left center that I thought were homers and they were outs, so it's a pretty big left field."
The Cubs most likely would want La Stella in the lineup as the left-handed-hitting infielder is the only Cubs player with an extra-base hit off Pirates starter Gerrit Cole this season. Bryant is 3-for-9, striking out six times.
Schwarber has started 38 games in the outfield, primarily in left (36 games). With Bryant, Schwarber, and shortstop Addison Russell, the Cubs could have three rookies starting on Wednesday.
Maddon said he wanted to make sure the Cubs had the best defense behind starter Jake Arrieta as well.
"When Jake pitches, it presents differently on his abilities and what you think the hitters may do against him," Maddon said. "That's part of the equation [of putting together the lineup]. Again, not to get complicated, but that's something I would look at, too."
Carrie Muskat is a reporter for MLB.com. She writes a blog, Muskat Ramblings. You can follow her on Twitter @CarrieMuskat and listen to her podcast. This story was not subject to the approval of Major League Baseball or its clubs.