Turner surprises first grader with tickets
Eddie Mendez and family going to Dodgers' NLDS opener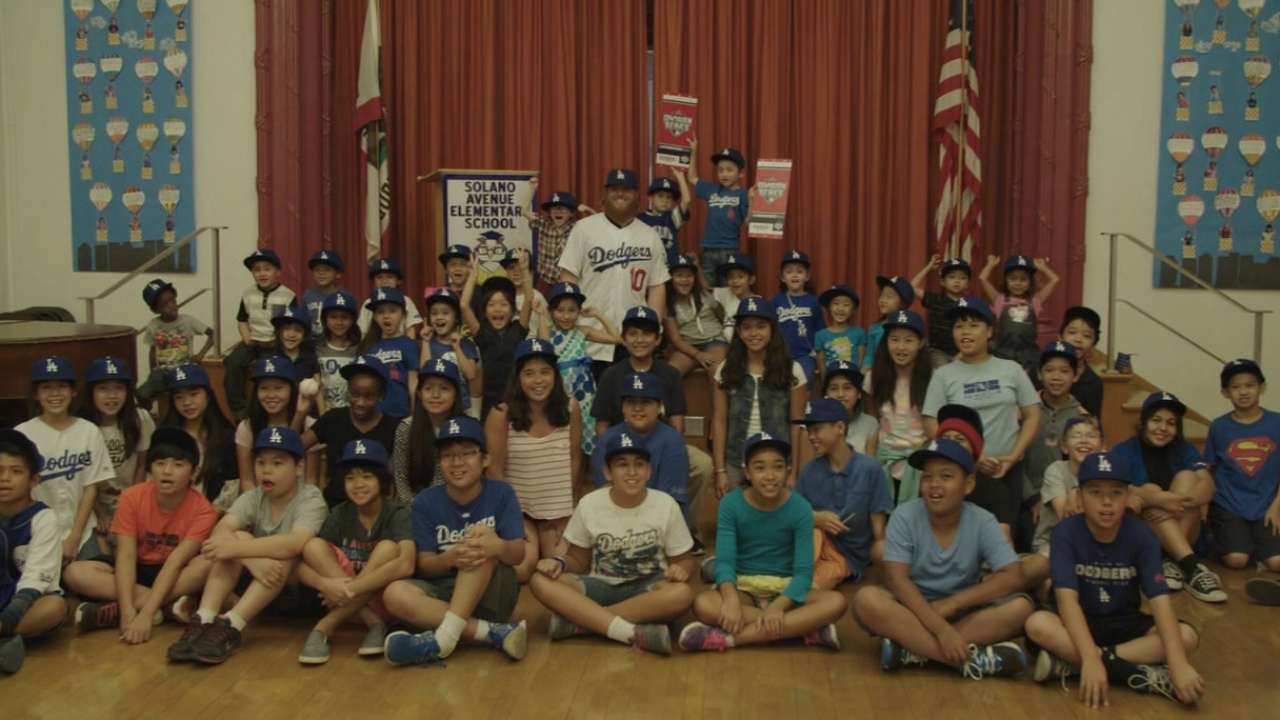 LOS ANGELES -- In the back of an SUV on its way to Solano Avenue Elementary School, Justin Turner sat holding a pair of oversized cardboard Dodgers playoff tickets, like a game show host about to present a winner with a novelty check.
In a way, he was. Turner was surprising Eddie Mendez, a first grader at Solano Avenue, with tickets to a Dodgers-Mets postseason game as a reward for good grades and perfect attendance. Eddie and his parents have never been to Dodger Stadium. Game 1 of the National League Division Series on Friday (6:30 p.m. PT, TBS) will be their first game.
"I've got four tickets to the first home game of the NLDS, and we're going to reward him for everything he's accomplished at his school this year," Turner said. "I hope the kids are excited, especially Eddie and his family. I'm assuming they're all Dodger fans."
They were, Turner was assured. The school is only a few minutes from Dodger Stadium, after all.
"It's right around the corner. I might be able to throw a baseball from the stadium to the school," Turner said. "It works out perfectly. It's in the neighborhood, it's in our community, it's actually in our backyard."
As Turner arrived at the school, a Solano Avenue staffer in a Fernando Valenzuela jersey gathered the students, Eddie included, in a small auditorium, where they were told they had a surprise guest. Then Turner made his entrance.
The Dodgers' third baseman called Eddie up to the front of the room to present him with the tickets. He shook Eddie's hand, gave him a high-five and took a photo with Eddie and his parents.
"To meet Justin Turner, a Dodger -- when do you get to do that?" Eddie's father said. "Thank you guys. We appreciate it. We're really happy."
Eddie's mother jumped in: "We couldn't believe it! When they gave us the news, we were like, 'Are you serious?'"
Turner took a group picture with all the students, with Eddie standing behind him holding the oversized playoff tickets aloft. Turner also signed autographs, chatting with everyone in line. For Eddie, he signed the tickets. Eddie, his sister and his parents will make the trip to Chavez Ravine on Friday.
Eddie's mother said her two children were so excited to come to school that day -- and Eddie didn't even have any idea that he had won the tickets. Why? Simple.
"Because I like the Dodgers," Eddie said.
Turner said he hoped the experience for Eddie and his family will last a lifetime.
"They grew up so close to the stadium, and for this to be their first opportunity to actually go to a game -- a pretty big playoff game against the Mets -- I hope they sincerely enjoy it," Turner said. "Hopefully we can win the game for them."
David Adler is an associate reporter for MLB.com. Follow him on Twitter @_dadler. This story was not subject to the approval of Major League Baseball or its clubs.