Tulo not pain-free, but ready to play in ALDS
Blue Jays shortstop's postseason experience a plus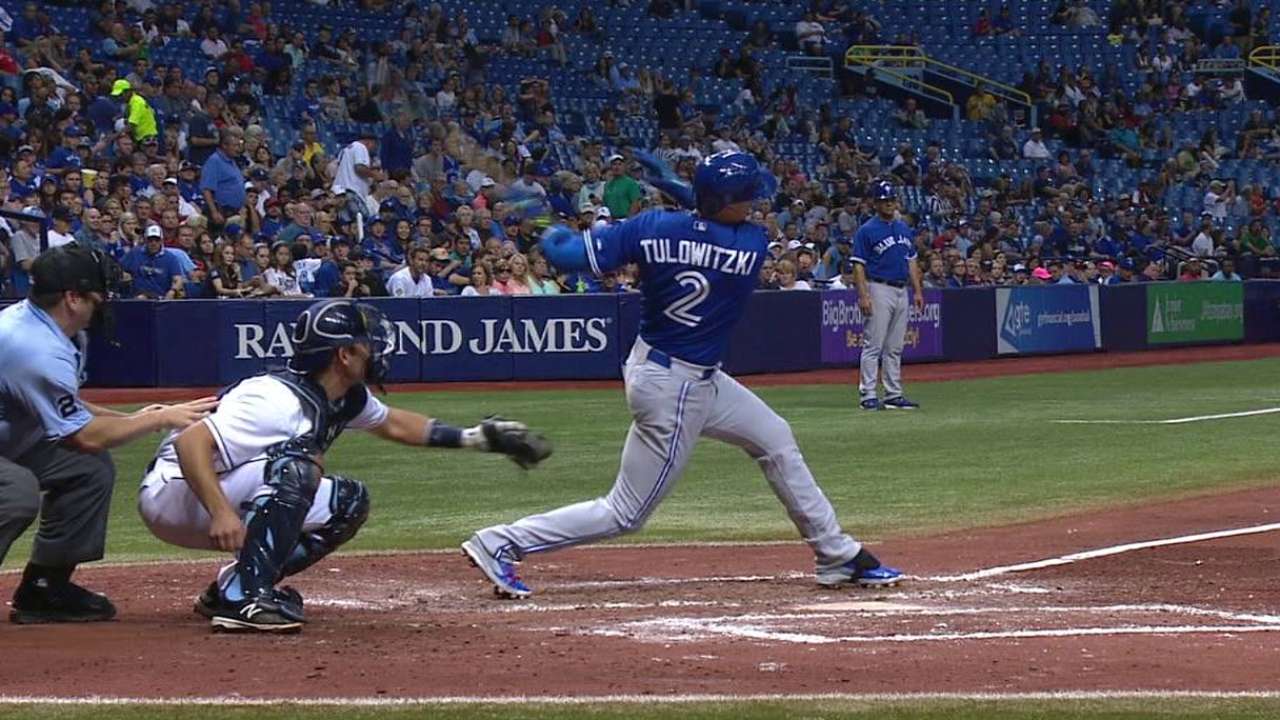 TORONTO -- Troy Tulowitzki isn't pain-free, but that won't stop him from taking the field for the Blue Jays' first playoff game in more than two decades. The All-Star shortstop said he's good to go for the team's American League Division Series opener against the Rangers.
"I feel good. It's nice to get out there, test out my shoulder, overall I felt good [lately]," Tulowitzki said before the team's workout Tuesday evening. The Blue Jays will practice again Wednesday afternoon.
Tulowitzki's return to health was the last piece of the puzzle as the Blue Jays squared up their roster ahead of Game 1 of the ALDS, which is scheduled for Thursday afternoon (3:30 p.m. ET on FS1, Sportsnet) at Rogers Centre.
The 30-year-old is coming off a cracked shoulder blade injury that sidelined him for three weeks in September and early October. He played in a pair of games before the end of the regular season and appeared to be his usual self defensively, while going 3-for-8 at the plate.
"I'm not pain-free," said Tulowitzki, who was acquired from the Rockies at the Trade Deadline. "Some soreness in there, as can be expected. But that doesn't mean I can't play."
A healthy Tulowitzki is a huge boost for the Blue Jays on both sides of the ball. Having him back at shortstop shores up Toronto's middle infield. Ryan Goins, who'd been standing in at short, will likely return to second base while Cliff Pennington is expected to move to the bench. It also lengthens out an already-dangerous Blue Jays batting order.
Tulowitzki, a career .297 hitter, said he hasn't been told where he'll be batting, but manager John Gibbons said he could slot in at the No. 5 spot -- where he'd been hitting prior to his injury -- after cleanup man Edwin Encarnacion.
"We're talking about it, really you want him back up to the fifth slot," Gibbons said. "He might be ready to do it, I don't know for sure yet."
Aside from the obvious benefit of having him on the field and at the plate, Tulowitzki brings the Blue Jays a veteran presence who's seen postseason action twice before as a member of the Rockies. His last playoff appearance was in 2009, and he went all the way to the World Series as a rookie in 2007.
"Now I'm a little bit older," said Tulowitzki, who's hitting .239 with five homers and 17 RBIs in 41 games with the Blue Jays. "I understand the game a little bit better, and I'm in a different uniform."
Jamie Ross is an associate reporter for MLB.com. This story was not subject to the approval of Major League Baseball or its clubs.