Statcast of characters in NL Wild Card Game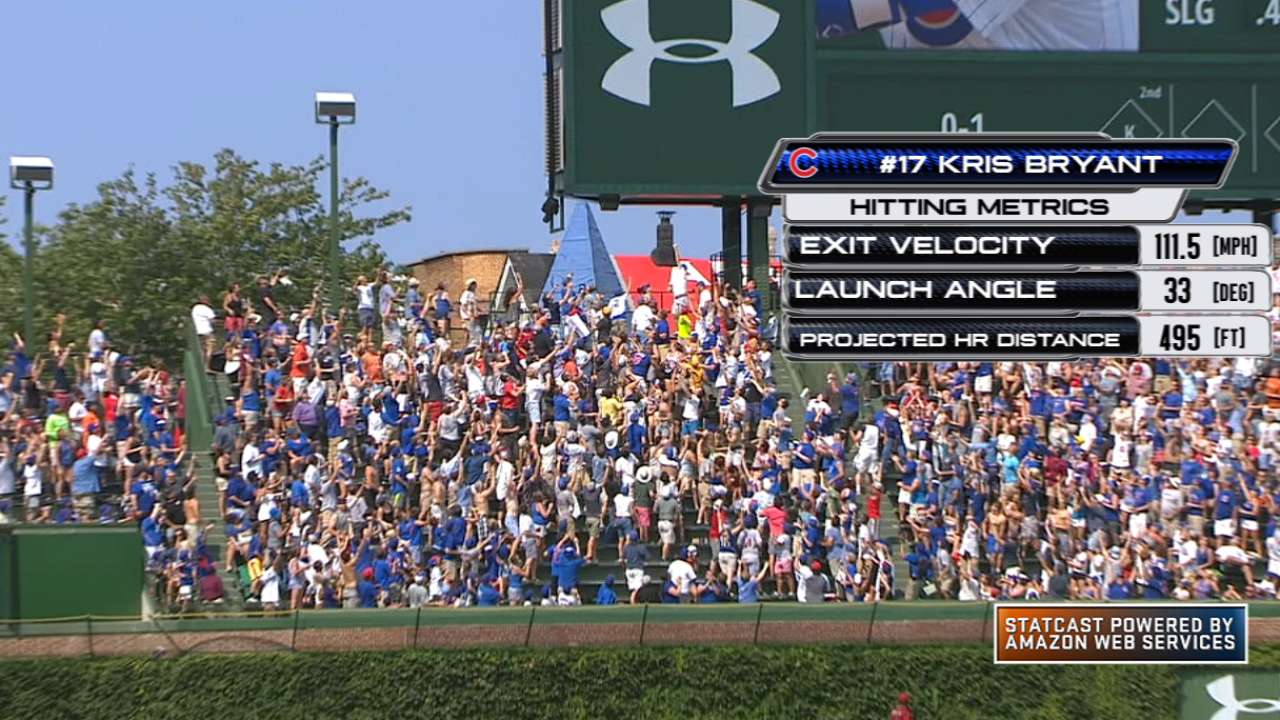 Only one win separated the Cubs and Pirates in the standings this year, providing little clarity as to which team has the upper hand entering tonight's winner-take-all clash.
By using Statcast™, however, the matchup in the National League Wild Card Game presented by Budweiser (8 p.m. ET on TBS) can be evaluated in a way like never before. The revolutionary technology not only provides a closer look at some of the Cubs' dangerous, young hitters, but it also lends some explanation to Jake Arrieta's historic dominance.
As for the Pirates, Statcast™ shows that Arrieta will have his hands full trying to slow down one of the game's best all-around outfield trios, as well as one of the hardest-hitting sluggers in the Majors. Here's a closer look at the players and metrics to keep a close eye on tonight, courtesy of Statcast™.
CUBS
Kris Bryant: Power
Though Bryant set the Cubs' franchise record for most home runs by a rookie, one certainly stood out above the rest. That fateful blast came on Sept. 6 when Bryant absolutely crushed a pitch from D-backs starter Rubby De La Rosa. The ball traveled a projected 495 feet -- the longest home run hit by any player this season -- as it crashed off the Wrigley Field scoreboard.
Bryant was not only responsible for the league's longest projected homer this season, but he also connected for the 11th-longest home run of 2015, a projected 477-foot shot off of Washington's Aaron Barrett on May 26. Bryant was one of just two players, along with Marlins slugger Giancarlo Stanton, to place multiple home runs within the top 20.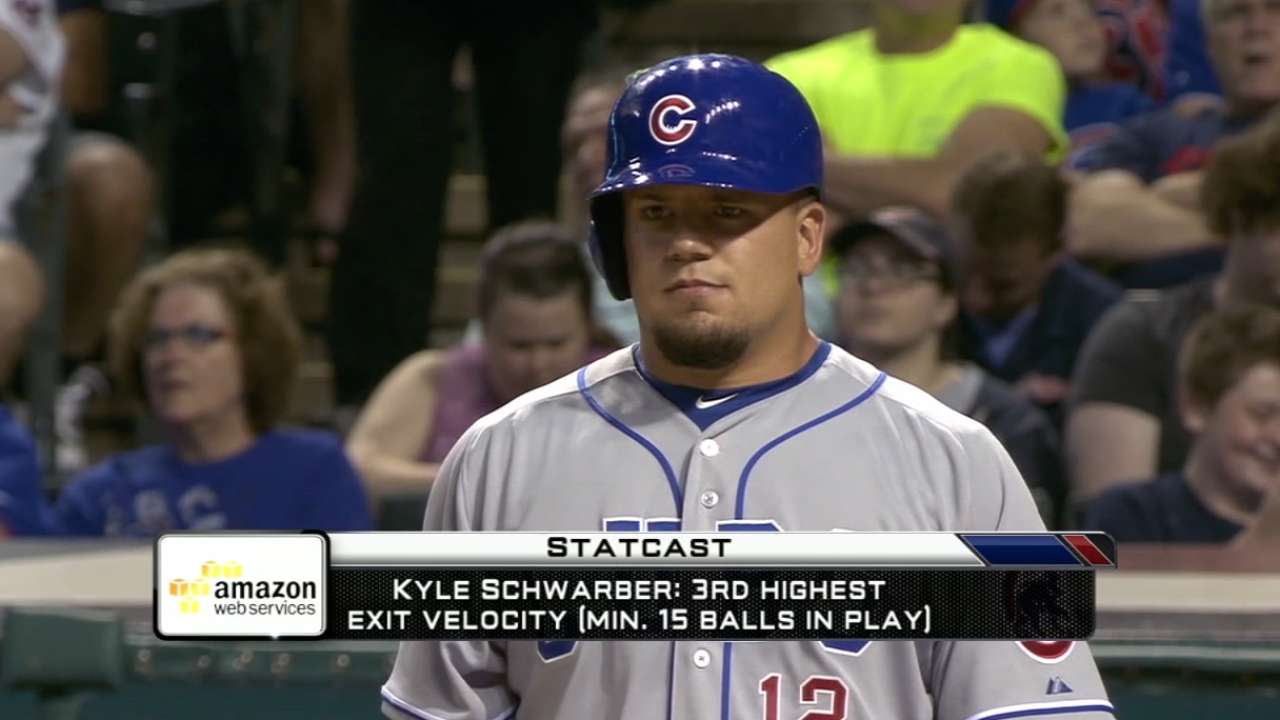 Kyle Schwarber: Exit velocity
Schwarber wasted no time living up to expectations, as the highly-touted Cubs prospect accumulated 16 homers in just 69 games after making his Major League debut on June 16. That stat is hardly surprising, however, considering few players hit the ball as hard as Schwarber on a regular basis. The 22-year-old slugger registered an average exit velocity of 94.3 mph this season. Only four players with at least 100 balls in play -- Stanton, Miguel Cabrera, Miguel Sano and Randal Grichuk -- averaged a higher exit velocity than the Cubs rookie.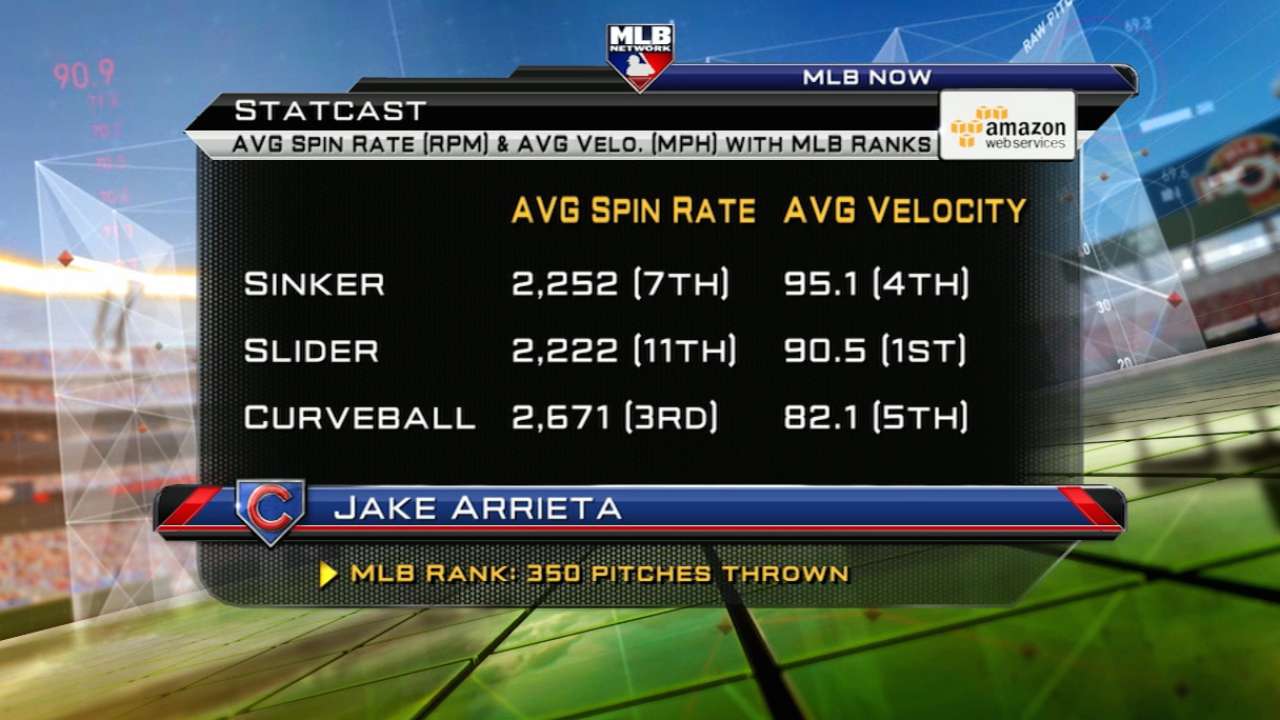 Jake Arrieta: Pitch speed, spin rate
Though Arrieta's historic numbers certainly speak for themselves, Statcast™ provides a glimpse of what helped make the Cubs' righty so dominant this season. For starters, no pitcher averaged a higher velocity on his slider (minimum 300 pitches) than Arrieta's average mark of 90.6 mph. Aside from his slider, he used a devastating combination of speed and spin rate to make his sinker nearly unhittable. As if his average sinker speed of 95.2 mph didn't make the pitch hard enough to hit on its own, Arrieta also managed a spin rate of 2,238 revolutions per minute (RPM) -- seventh-best in the Majors -- on his sinkers.
That's nothing compared to his curveball, however, as Arrieta ramps the average spin rate on that pitch all the way up to 2,666 RPM. Of the 42 pitchers to throw at least 300 curveballs tracked by Statcast™, only four registered a higher average spin rate.
PIRATES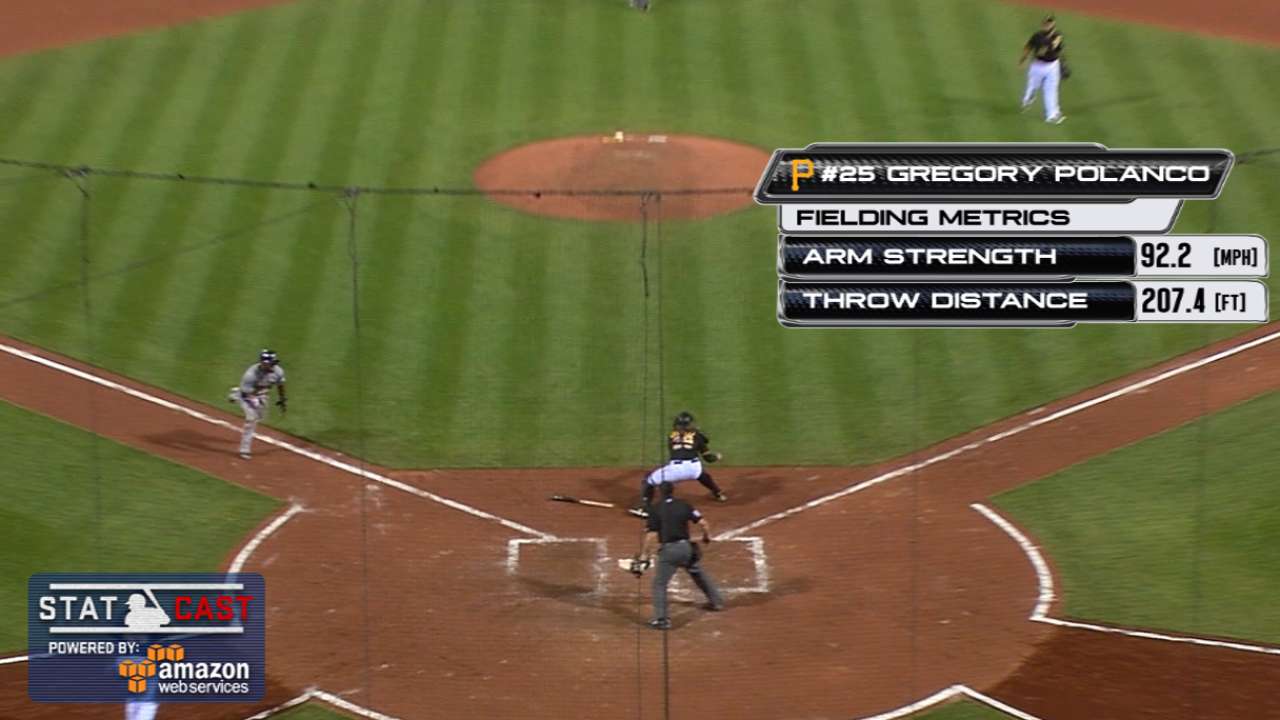 Starling Marte /Gregory Polanco: Arm strength
Only one National League player registered more outfield assists this season than Polanco -- and that player was Marte. The outfield duo posed a constant threat to opposing baserunners, with Marte cutting down an NL-best 16 runners and Polanco throwing out 13 of his own. Though Marte had more assists overall, Polanco had one of the more unique assists of the entire season. That came on Sept. 15 when Polanco charged a Trevor Cahill one-hopper then proceeded to throw out the Cubs pitcher at first base with an 88.7-mph strike to first base.
As for Marte, he averaged 88.5 mph on his throws this season when considering only throws above 75 mph in order to eliminate casual lobs back to the infield. Only five players logged as many such throws as Marte and finished with a higher average velocity, with Tampa Bay's Kevin Kiermaier leading the way at 90.1 mph.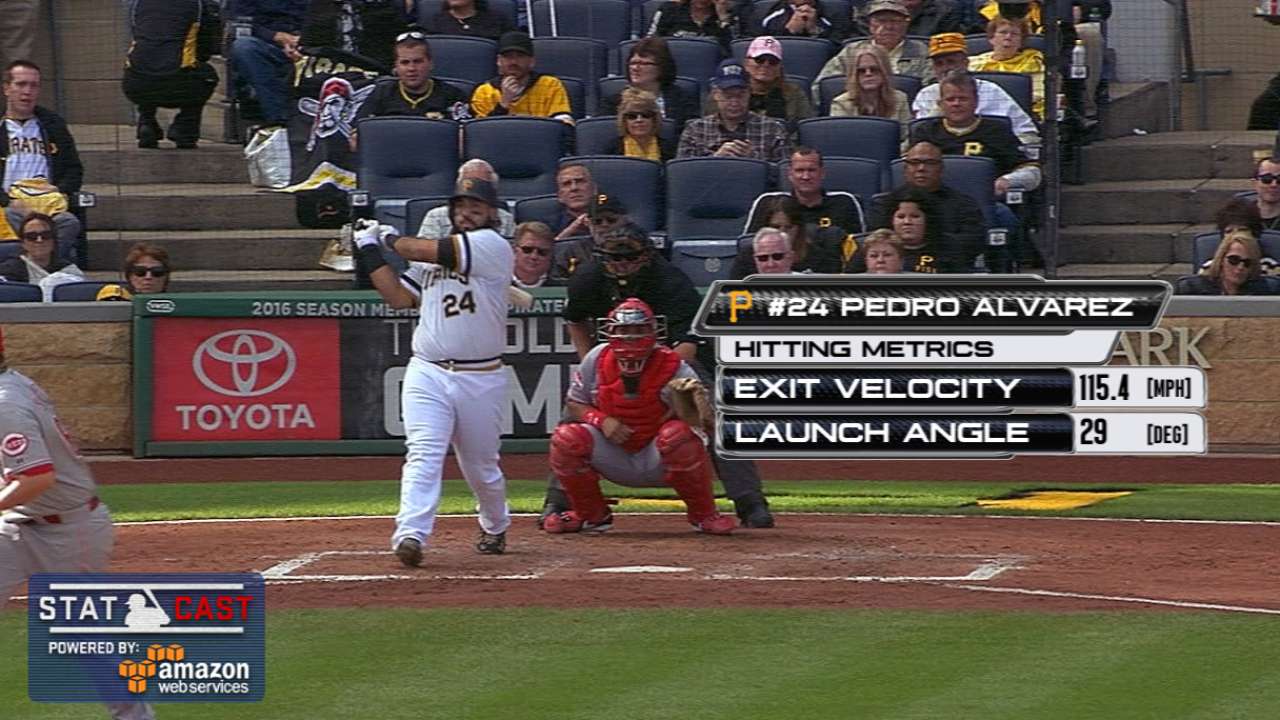 Pedro Alvarez: Power
Alvarez ended the season in style against the Reds on Sunday, clobbering a projected 479-foot home run -- the longest homer hit by any Pirates player this season and the seventh-longest hit in the Majors overall. It was also one of the hardest-hit homers league-wide this season, as Alvarez registered a 115.4-mph exit velocity on the towering drive, good for the third-highest mark on any home run this season. That part is nothing new for Alvarez, whose average exit velocity of 93.3 mph was tied for the 11th highest among all hitters to put at least 200 balls in play.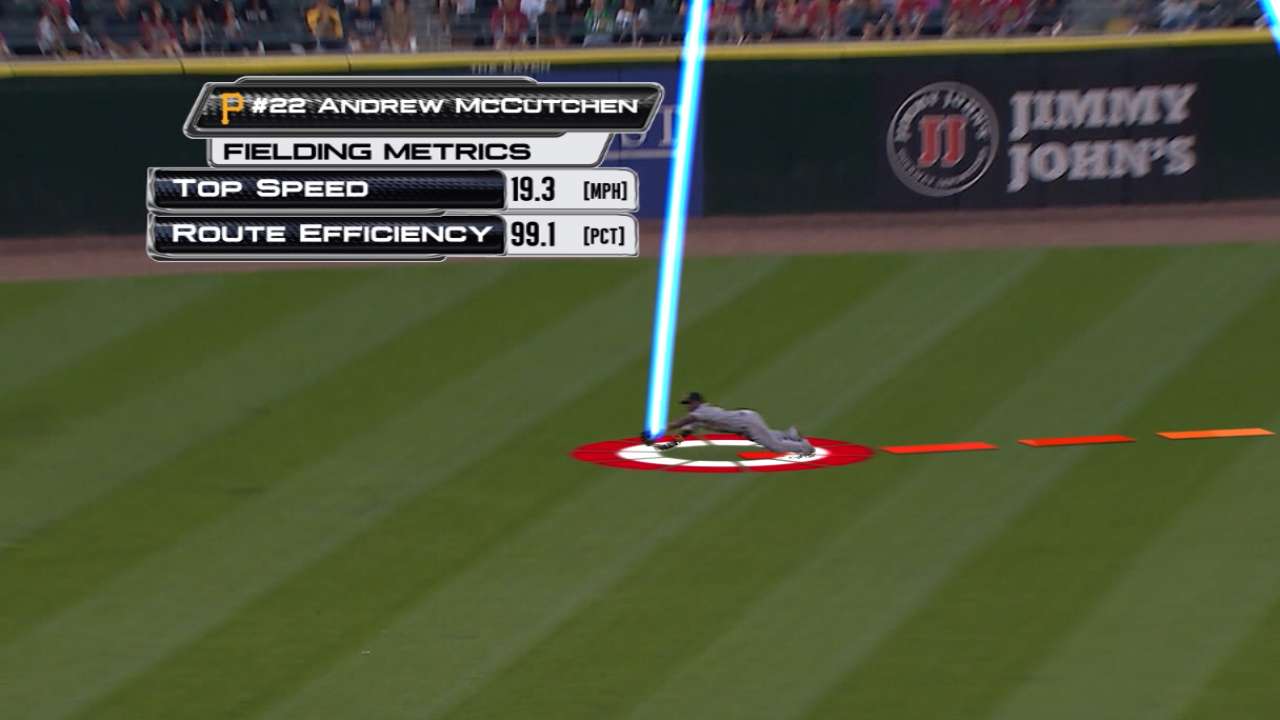 Andrew McCutchen: Fielding
Along with being a power and speed threat at the plate, McCutchen finished the year as one of the most efficient outfielders in the league. The former MVP logged an average route efficiency of 89.6 percent this year, the sixth-highest mark among all outfielders with at least 150 catches.
His most impressive path to the ball, however, came on June 18 when he robbed White Sox shortstop Alexei Ramirez of extra bases. On that particular play, McCutchen raced into the gap at a max speed of 19.3 mph, while logging a near-perfect route efficiency of 99.1 percent, before laying out to make a full-extension, diving grab just before the ball hit the grass.
Paul Casella is a reporter for MLB.com. This story was not subject to the approval of Major League Baseball or its clubs.