MLB.com Columnist
Barry M. Bloom
Yanks' loss ends A-Rod's redemption season
Slugger, Cashman reflect on 40-year-old's return to action for NY
NEW YORK -- The tumult of 2014 notwithstanding, the Yankees decided to make a commitment to Alex Rodriguez this past offseason despite the fact he was coming off a season-long suspension and had undergone surgery on both hips.
Rodriguez, 40, had three years and $61 million remaining on a $275 million contract, and no one, not even A-Rod, knew what he had left.
"We were committed to the money, so [letting him go] wasn't a choice," general manager Brian Cashman said after the Yankees were eliminated from the playoffs by the Astros, 3-0, in the American League Wild Card Game presented by Budweiser at Yankee Stadium on Tuesday night.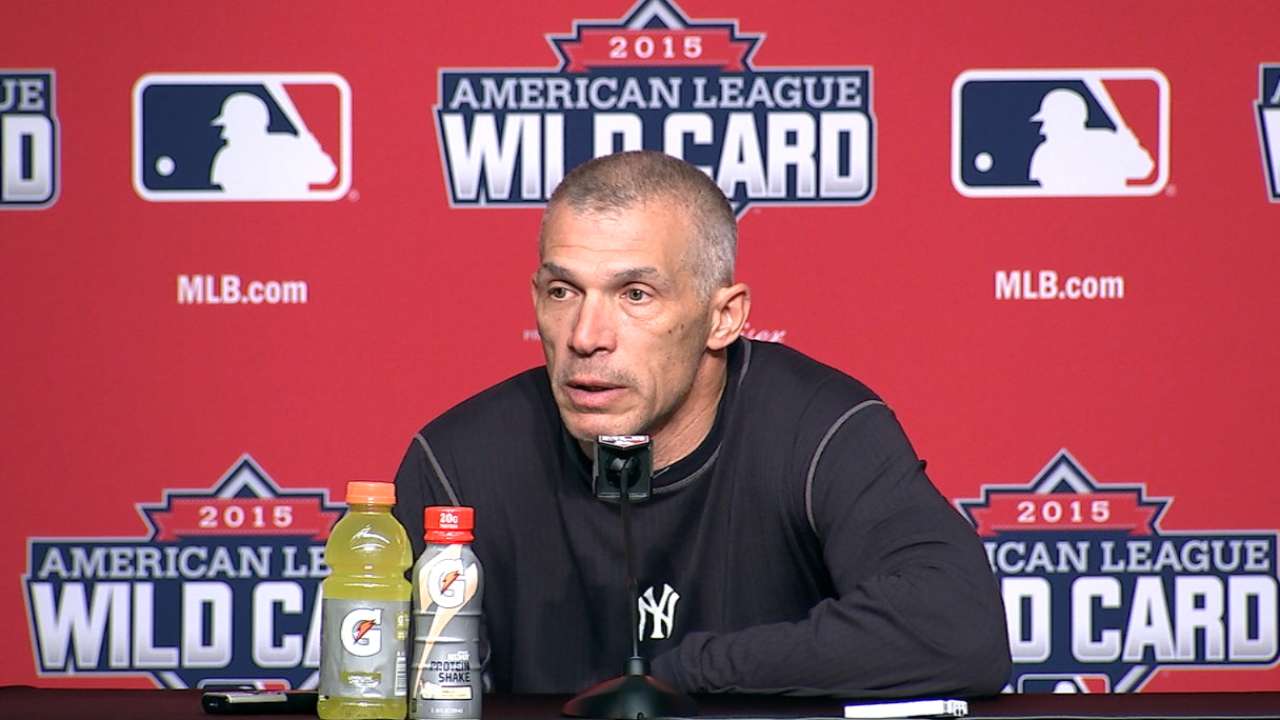 "It made more sense to see what we had," said Cashman.
The decision paid huge dividends for the Yanks, who made the postseason for the first time since 2012, even if it was for just one game.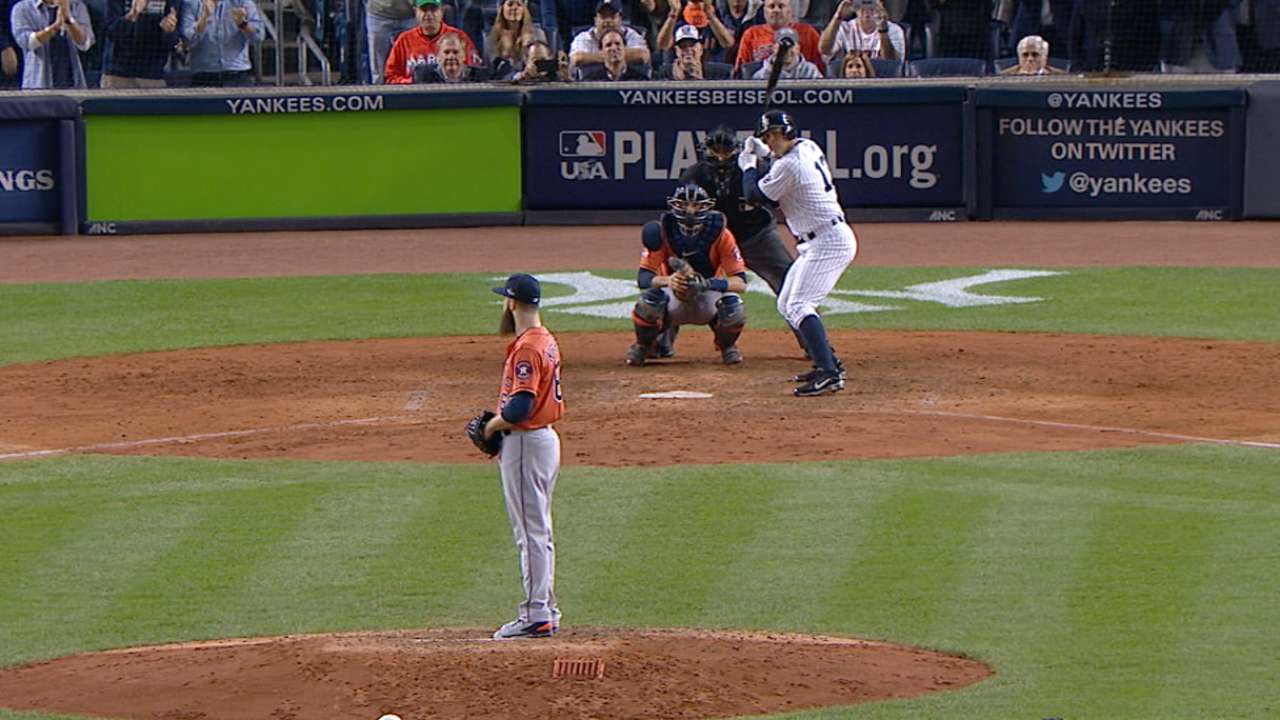 And even more so for Rodriguez, who enjoyed a stellar season, hitting 33 homers and driving home 83 runs in what Rodriguez himself said was a mind-boggling 153 games.
"I felt pretty good. I played in a lot of games," Rodriguez said in the din of the losing clubhouse Tuesday. "I think that was the biggest surprise of the whole year, for me and for everyone. I certainly didn't think during Spring Training I'd post up over 150 times. I'm grateful for that. I'm grateful for the opportunity."
Rodriguez did it as a full-time designated hitter for the first time in his career. And that was the plan, as manager Joe Girardi gave him the space to work off the rust of nearly two seasons on the shelf during Spring Training down in Tampa, Fla. Get in shape, both physically and mentally, to hit.
Along the way, Rodriguez surpassed 3,000 career hits, 2,000 career RBIs and, in the last few weeks, 2,000 career runs scored. Heading into next season, he's 13 homers away from becoming the fourth player to hit 700 homers, and Babe Ruth's 714 mark is not too far away.
"It's hard to think about that right now, but this has been incredibly gratifying," Rodriguez said. "I've just been humbled by the whole season. I've had a lot of fun, and this is a special group of guys. I can't tell you how many key guys have been hurt and have just kept coming, just kept playing every day."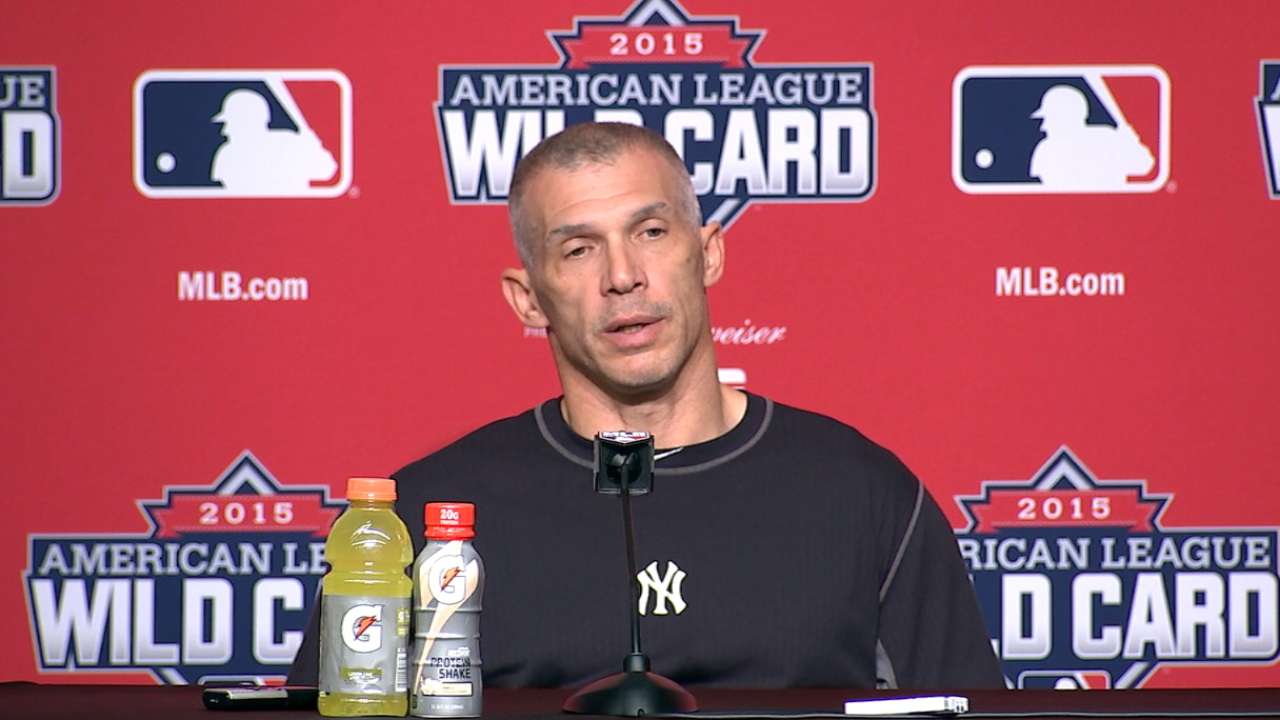 If there was any doubt about the matter, Rodriguez was asked about his status for 2016.
"I'll be back," Rodriguez said.
And without the trepidation of a year ago, the Yankees will be glad to have him back.
"He's a professional hitter, and he's got a great mind for the game," Cashman said about Rodriguez. "Intellectually, he's learned from experience to have that kind of success and be a guess hitter at times. He doesn't move as well as he used to, but he certainly knows when to attack. And for the most part this year, he was a real weapon for us."
No one ever knows how these kind of things are going to turn out. Coming into Spring Training, Rodriguez was filled with self-doubt. He spent a few days last offseason in the Bay Area picking the mind of Barry Bonds. He went to Seattle to discuss the mindset of being a DH with former Mariners teammate and DH par excellence Edgar Martinez.
"From the first day of [Spring Training], we told him he was going to earn his playing time, and he did," Cashman said. "It was as simple as that. If he didn't, he would have lost his playing time. We felt that he needed a long rope in the spring, because of knocking the rust off.
"He was going to be in the middle of the lineup until it was obvious he shouldn't be there. But he never gave us that opportunity. He stayed."
Rodriguez's redemption was one of the more satisfying storylines of the Yanks' season.
"It starts and ends with our fans," Rodriguez said. "From Day 1, they welcomed me back. I'm very grateful for that. I'm also grateful to the Steinbrenners and Major League Baseball, my manager, all the guys in here, the clubhouse kids, everyone. I never thought I'd be able to come back and play baseball and have so much fun.
"And sometimes, it's like being a little kid. You try to do all the right things. You work your butt off. You work as hard as you can and still you come up a little short. And that was our year."
The year might have been shorter than anyone in Yankees pinstripes wanted, but it was certainly one for A-Rod to remember.
Barry M. Bloom is a national reporter for MLB.com and writes an MLBlog, Boomskie on Baseball. Follow @boomskie on Twitter. This story was not subject to the approval of Major League Baseball or its clubs.