Cubs' youth has grown up over breakout season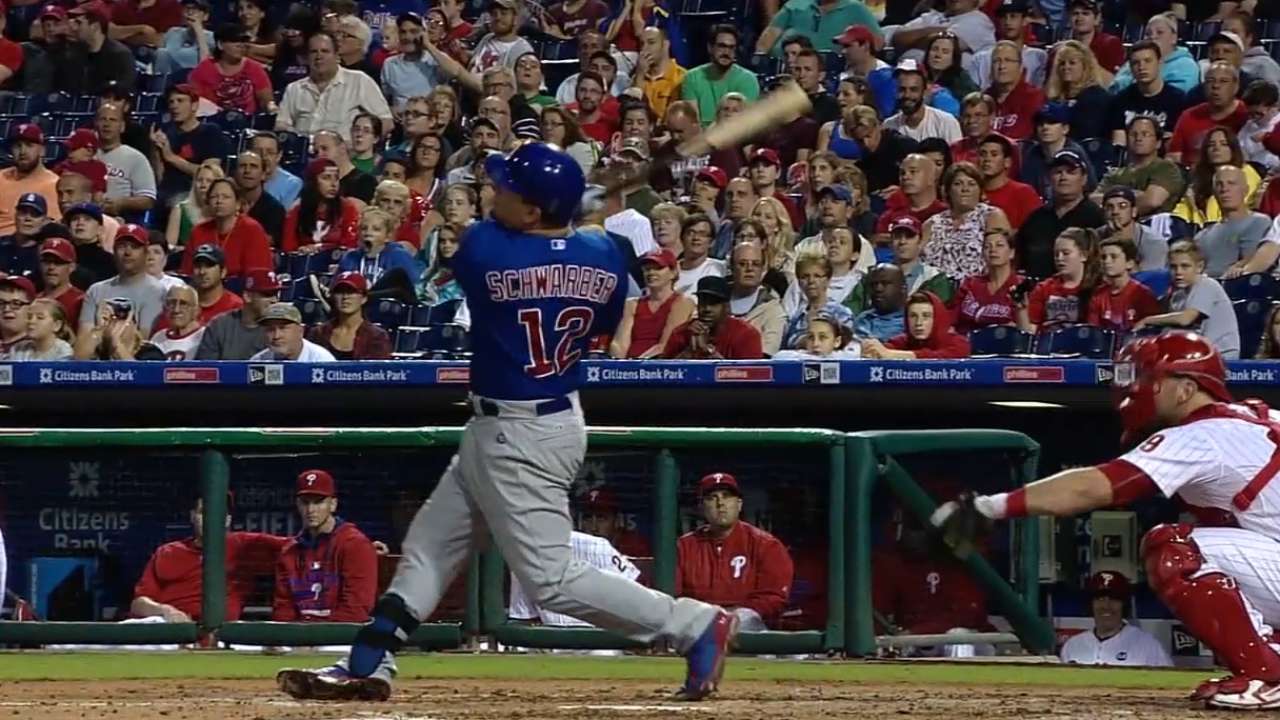 PITTSBURGH -- Cubs rookie Addison Russell proudly wore a blue T-shirt with "We Are Good" in gold lettering on the front. That's a message catcher Miguel Montero started this season. It's a message Cubs veterans have emphasized to the youngsters on the roster.
"Every single time we put one of these shirts on, it means something," Russell said Tuesday. "People didn't think we'd be in this situation so early. ... We do believe that we are good."
The young Cubs are in the postseason, and will face the Pirates tonight in the National League Wild Card Game presented by Budweiser, live on TBS at 7 p.m. CT. Russell said the only situation he's been in that's similar was state high school baseball tournaments, but the shortstop and others felt as if every day were a playoff game in the last month of the regular season.
"Just being around crowds like the crowd that will be here [tonight] -- I don't think I'll see a bigger crowd," Russell said of the crowd expected at PNC Park. "Being in St. Louis, playing these big-name ballclubs that have a lot of fans, I'll try to pull [experience] from that."
From Kris Bryant dealing with not making the Opening Day roster to Russell having to learn second base at the big league level, the kids have done all right.
"These guys have had to deal with expectations and new things and adversity all year long, so this should be a walk in the park for them," Cubs catcher David Ross said. "It's a real mature group for how young they are. They've come up in the spotlight more than a guy like me. ... They're young heroes in Chicago already, I think they're going to be fine."
• Russell turning heads in the field since young age
Will Russell have butterflies?
"It'll be like my debut, but it's one and done," Russell said of the Wild Card Game format. "It's going to be interesting. I'm excited and happy."
Worth noting
• The Cubs will release their playoff roster today. Cubs president of baseball operations Theo Epstein, general manager Jed Hoyer and others from the front office were in Pittsburgh to discuss their options.
• Jason Motte joined the Cubs in Pittsburgh after going to Arizona to rehab. He's been sidelined since late August with a strained right shoulder, and won't be ready tonight, but he could be available if the Cubs advance in the postseason.
• Infielder Jonathan Herrera had a new helmet on Tuesday with a pair of hands attached to it. See, whenever a Cubs player gets a hit, he is supposed to look to the dugout, and then rub his hands on his helmet, which his teammates do in response. Even Cubs fans have joined in the fun. It's similar to the Rangers' antler-and-claw signals in 2010.
Herrera started the Cubs' acknowledgement this year, which was something he did with the Rockies.
Carrie Muskat is a reporter for MLB.com. She writes a blog, Muskat Ramblings. You can follow her on Twitter @CarrieMuskat and listen to her podcast. This story was not subject to the approval of Major League Baseball or its clubs.