Highlights from Indians' front office Q&A
Antonetti, Chernoff and Francona discuss the 2015 season and beyond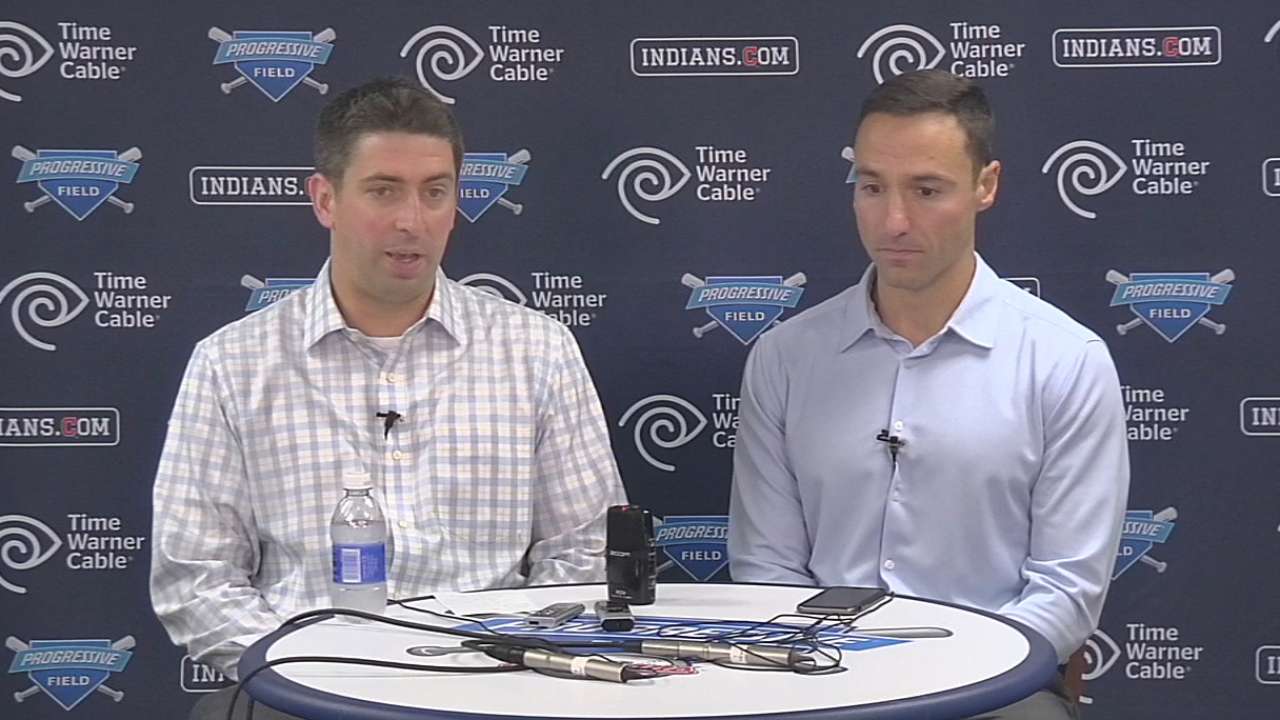 CLEVELAND -- It goes without saying that the Indians fell short of preseason expectations this season. That said, Cleveland was pleased by the strides it made in the second half this year, following an incredibly frustrating start to the campaign.
On Tuesday afternoon, Indians president of baseball operations Chris Antonetti, general manager Mike Chernoff and manager Terry Francona met with reporters in Cleveland to discuss the highs and lows of the 2015 season for the Tribe.
"Obviously, the fact that we're sitting here today is a disappointment," Antonetti said. "We set out at the start of the season to be playing postseason baseball, with the goal of ultimately winning the World Series. We're not doing that, so in some respects that's disappointing. I think we've had some time, and we'll have time over the next few weeks to reflect further back on the season, because I do think there are a lot of very positive stories. We've grown a lot as an organization and as a Major League team, too."
Here are some highlights of Tuesday's question-and-answer session:
• The Indians have yet to make a decision on the one-year, $3-million team option for 2016 for veteran utility man Ryan Raburn. The 34-year-old Raburn hit .301 with a .936 OPS while serving as a weapon against left-handed pitching. Cleveland has to decide between the option or a $100,000 buyout three days after the conclusion of the World Series.
"We have not made a decision on that," Antonetti said. "But, in terms of Ryan's year, he did a phenomenal job. He got back to being the player that was a game-changer for us in 2013. ... He has been an incredibly valuable member of the team in the role that he was in."
• Antonetti noted that the Indians have met with right-hander Gavin Floyd and utility man Mike Aviles, who are both eligible to be free agents this winter. While Cleveland might have interest in retaining both players, the club plans on waiting to see how the offseason plays out.
"We'll stay in touch with both guys," Antonetti said, "as they have an understanding of what alternatives they may have and we develop a better understanding of what our needs and opportunities might be."
• Both Antonetti and Francona said a key moment in the season was the mid-season meeting with core players such as Corey Kluber, Michael Brantley, Jason Kipnis and Yan Gomes. That meeting helped the core group feel more comfortable to step forward as leaders and helped the team form more of an identity for its second-half turnaround.
"It was clear at [that] point that that group was going to lead us forward," Antonetti said, "and how they led us forward would have a big impact on how we played in the second half and what our identity would be, not only for the balance of 2015, but moving forward."
• Antonetti said the Indians need "to be open-minded in how we build our team" this winter. That could mean trading from the team's strength (starting pitching) in order to address a weakness (most notably, the middle of the lineup). Antonetti was not willing to be specific about the team's areas of need, saying only that "we will look to upgrade every area we can."
• Antonetti indicated that the Indians "envision [outfielder Abraham Almonte] having a very meaningful role on our team next year," but offseason moves will dictate the extent of that role. Francona noted that, while Brantley is willing to play center or left field, Cleveland continues to feel he is best suited to remain in left.
• Antonetti said the "expecation" is that the Indians will retain their entire coaching staff for 2016, barring a development with another team hiring someone away. Antonetti also indicated that no players were scheduled to have surgeries for any baseball-related health issues.
Jordan Bastian is a reporter for MLB.com. Read his blog, Major League Bastian, follow him on Twitter @MLBastian and listen to his podcast. This story was not subject to the approval of Major League Baseball or its clubs.