Morse, Ishikawa excited to hear loud Bucs fans
After being the visitor at PNC Park in '14, veterans happy to be on home side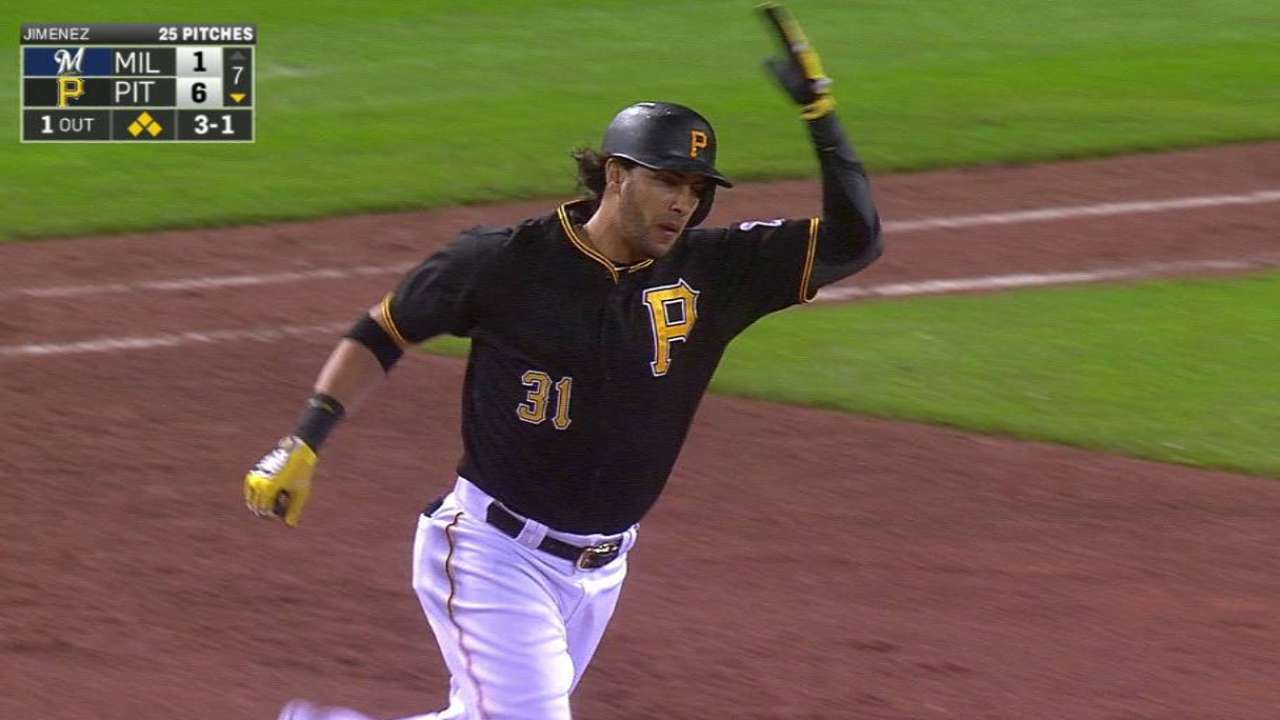 PITTSBURGH -- Michael Morse has heard all about how loud PNC Park will be tonight. He got a taste of it in last year's National League Wild Card Game, but his team quickly silenced the crowd of 40,629.
Morse and Travis Ishikawa will find themselves on the other side of the field tonight at 8 p.m. ET on TBS. Last October, they watched as Madison Bumgarner led the Giants to an 8-0 win over the Pirates at PNC Park, ending the Bucs' season and starting San Francisco's run to the World Series.
"I remember hearing a lot of stories about how loud it was [in 2013], and the fans definitely backed it up," Ishikawa said Tuesday. "They brought it, and there definitely was a bit of an intimidation factor."
It didn't last long, though. In the fourth inning, Giants shortstop Brandon Crawford crushed a grand slam off Pirates starter Edinson Volquez. With Bumgarner on the mound, that essentially put the game out of reach.
This year, Morse hopes to hear the PNC Park roar a little longer.
• Shop for Pirates postseason gear
"It's going to be fun being on the side of the noise," Morse said. "We didn't really experience it [with the Giants last year], because we got the lead so early in the game, it was quiet."
Around the horn
• Andrew McCutchen won the 2015 Roberto Clemente Award for the fourth straight year and the fifth time overall, the Pittsburgh chapter of the Baseball Writers Association of America announced Tuesday. The award is given annually to the Pirate who best exemplifies the standard of excellence set by Clemente. Runners-up included Francisco Cervelli and Gerrit Cole.
Cole was named the winner of the Steve Blass Award, given to the Pirates' most outstanding pitcher. Reliever Jared Hughes received the Chuck Tanner Award, given to the player who is most cooperative with the local media.
• The Pirates are planning to carry three catchers on their NL Wild Card Game presented by Budweiser roster for the third straight year, manager Clint Hurdle said Tuesday, which means Elias Diaz will serve as their emergency catcher behind Francisco Cervelli and Chris Stewart.
"We've carried a third catcher the past two years, so I don't anticipate any changes along those lines," Hurdle said.
• Hurdle declined to reveal his lineup on Tuesday, but it sounds as if Josh Harrison could be in it at third base. Harrison has hit .378 with a .952 OPS over his last 22 games.
"He's our hottest hitter, so how does that play?" Hurdle said. "You'll all find out real soon."
• Tonight's pregame ceremony is scheduled to begin at 7:30 p.m. ET. Former Pirates right-hander and current broadcaster Bob Walk will throw out the ceremonial first pitch. Petrina McCutchen, mother of Andrew, will sing the national anthem.
• The City of Pittsburgh and Allegheny County officially declared today "Buctober Black Out Day," encouraging fans to wear black clothing.
Adam Berry is a reporter for MLB.com. Follow him on Twitter at @adamdberry. This story was not subject to the approval of Major League Baseball or its clubs.