Arrieta embraces being black hat on road
Right-hander confident heading into NL Wild Card Game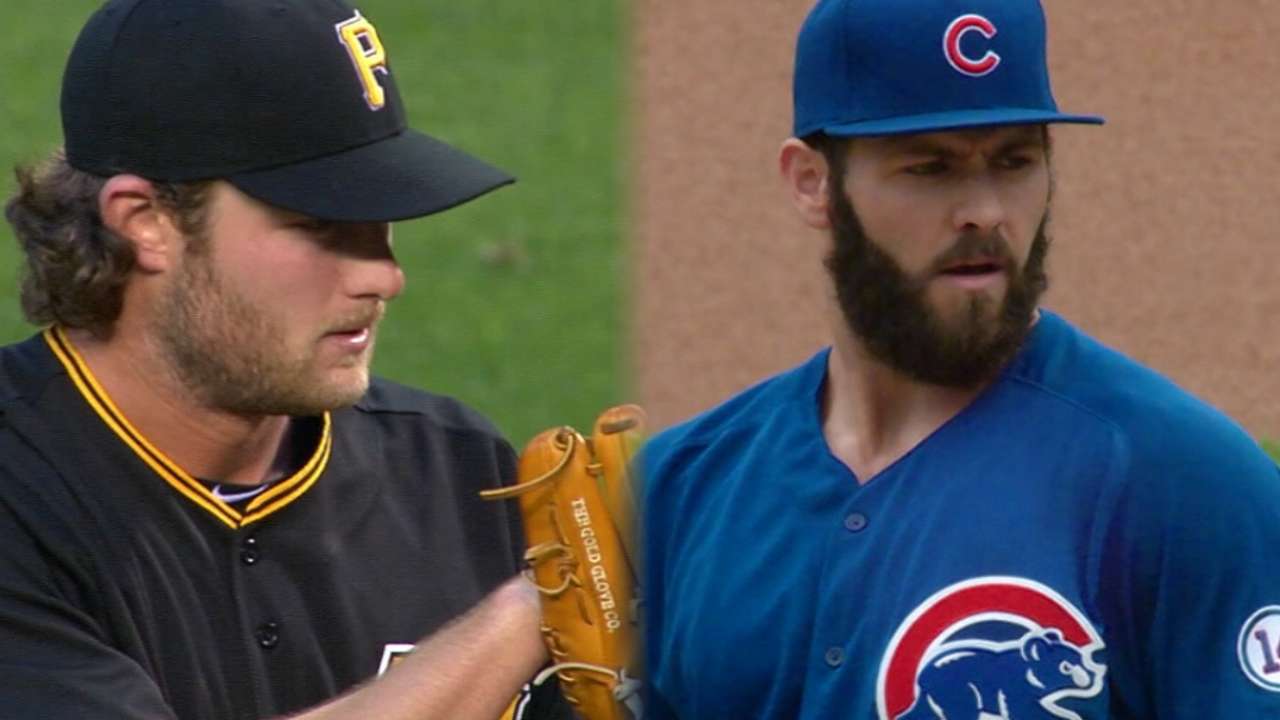 PITTSBURGH -- Jake Arrieta is so confident, he'll probably wear black tonight.
The Pirates are encouraging their fans to wear black for the National League Wild Card Game presented by Budweiser. Arrieta, who will start for the Cubs at 7 p.m. CT on TBS, already has had some fun with Pittsburgh fans on Twitter regarding their team colors.
@Pirates_Parrot_ told Arrieta to "Be ready for the sea of black #BlackOut #BUCN #crowdisGoingToEatYoualive #walkTheplank @JArrieta34." Arrieta's response?
"Whatever helps keep your hope alive, just know, it doesn't matter. @Cubs," he wrote.
Whatever helps keep your hope alive, just know, it doesn't matter. @Cubs https://t.co/bJDN1wP0tS

— Jake Arrieta (@JArrieta34) October 4, 2015
"It's all in good fun," Arrieta said Tuesday. "I think it's just kind of a unique way to start interaction within the fan bases or with the players and fans. It's something I like to do."
He also likes to pitch, and heads into the Wild Card Game on a roll, having posted 20 consecutive quality starts. He's 12-1 with a 0.75 ERA in 15 second-half starts, including three games against the Pirates.
The key this season has been fastball command, although all anyone talks about with the right-hander is his other pitches and how he likes to vary his pitch sequences. When Arrieta was pitching for the Orioles, manager Joe Maddon said, teams could get the right-hander's pitch count up if they battled against him enough.
"Now, you just can't do that," Maddon said. "He's a strike-thrower. I think the true definition of a really good Major League starting pitcher is the fact he can throw a strike with his fastball when he wants to, and [Arrieta] has arrived at that point."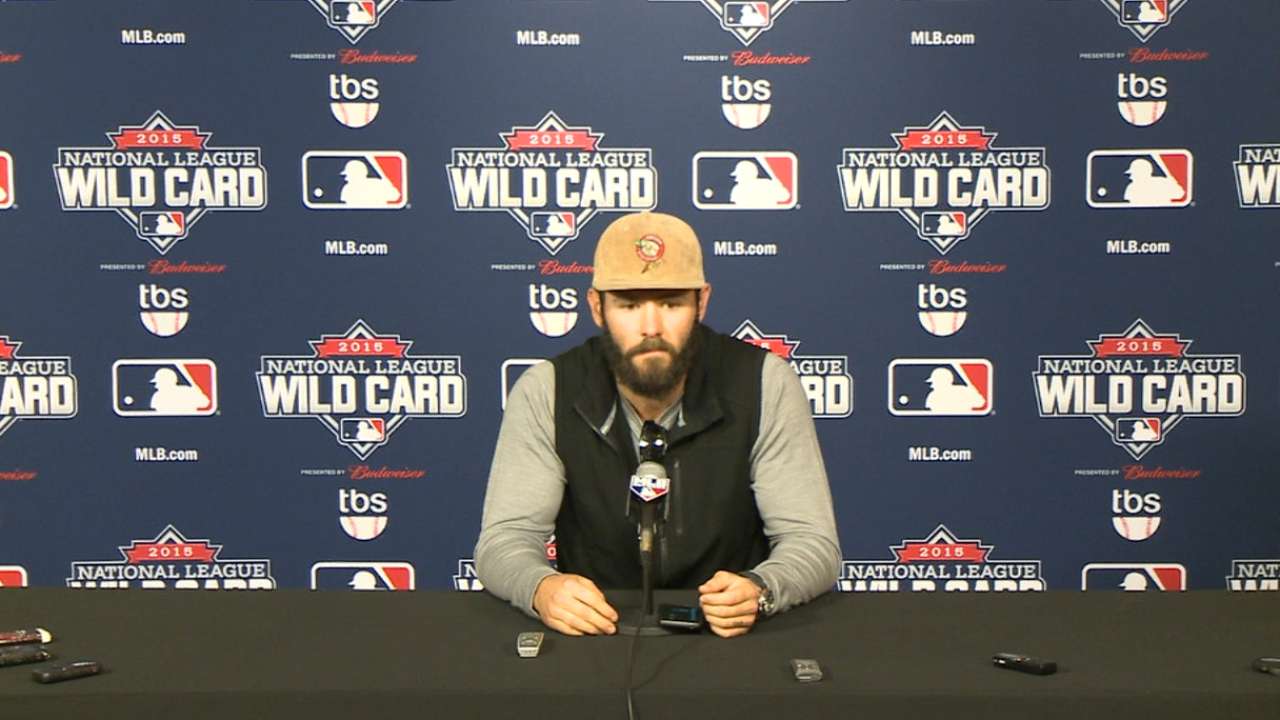 It isn't as if Arrieta hasn't pitched in big games before. He was the Orioles' Opening Day starter in 2012. He helped Team USA beat China in the 2008 Olympics. And he threw a no-hitter on Aug. 30 at Dodger Stadium, one of his Major League-leading 22 wins.
Can Arrieta prep for the nerves of a postseason game?
"There's going to be a lot of adrenaline, that's really the only thing that changes," said the Cubs' Jon Lester, who has pitched in World Series games. "The game doesn't change. The fastball down and away that you locate works just the same as it does in the postseason or Game 7 of the World Series as it does on April 15. That doesn't change.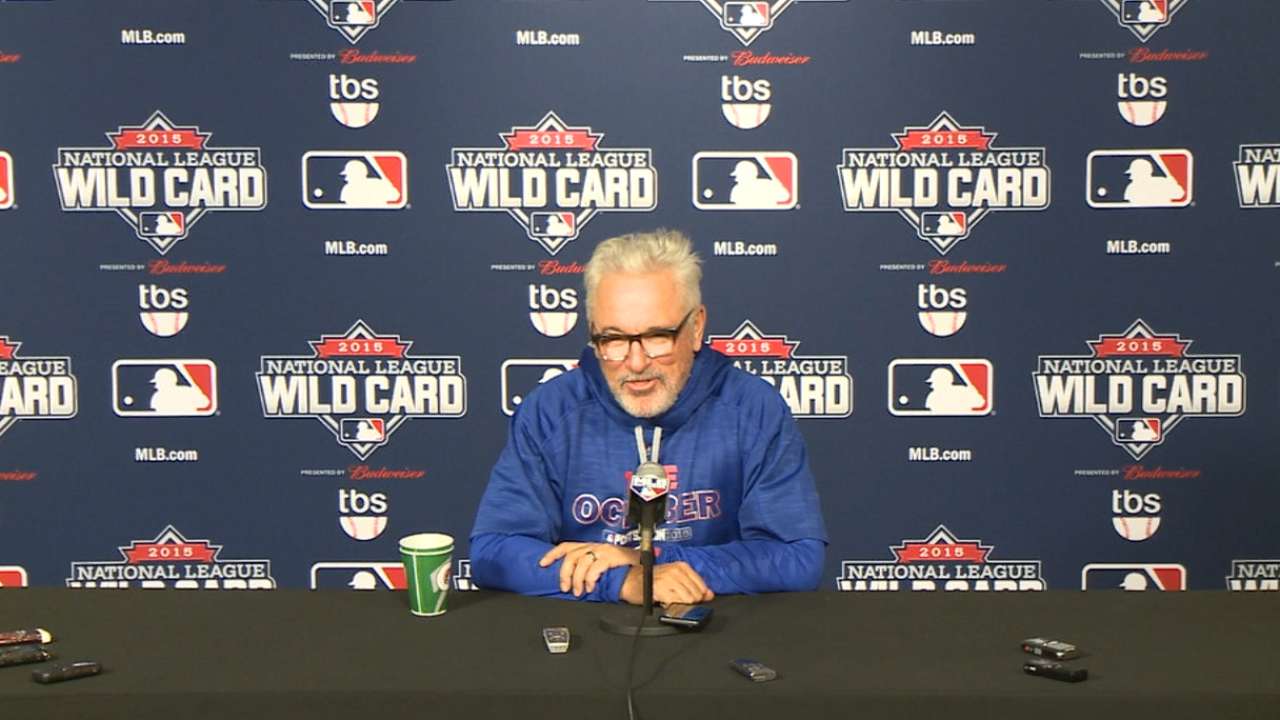 "Now, you've got a little more adrenaline, the buzz of the crowd is a little louder, the ramifications for bad pitches matter more," Lester said. "Your heart rate will be higher that first inning. After that, you should be able to settle right back in and just go about your business."
The sudden-death element of the Wild Card Game is something Lester experienced last year with the Athletics. He started against the Royals, and gave up six runs over 7 1/3 innings in the A's loss.
"Tomorrow's going to be different," Lester said of Wednesday's game. "I've been fortunate enough to pitch in some other postseason games, and that one [last year] was different than all those other games. It's just something you have to do, you have to go through. It's like a guy's first Opening Day or All-Star Game.
"No matter what you say, or what you do, tomorrow is a different animal," Lester said. "This one game thing is so unique that I don't think you can describe it to anybody."
Arrieta says he'll do his homework the same way he has all season.
"It's a team I'm comfortable with analyzing, scouting and pitching against," he said of the Pirates. "It's an extremely balanced group of guys in that order who can make a lot of things happen. And I feel confident I can neutralize a lot of their power, a lot of their speed guys with different sequences. You know, I intend to have some pretty good success tomorrow."
Said Anthony Rizzo: "He's obviously really excited to go. So are we. We still have to go out and play."
Carrie Muskat is a reporter for MLB.com. She writes a blog, Muskat Ramblings. You can follow her on Twitter @CarrieMuskat and listen to her podcast. This story was not subject to the approval of Major League Baseball or its clubs.