Francona on Lindor: 'This kid is Rookie of the Year'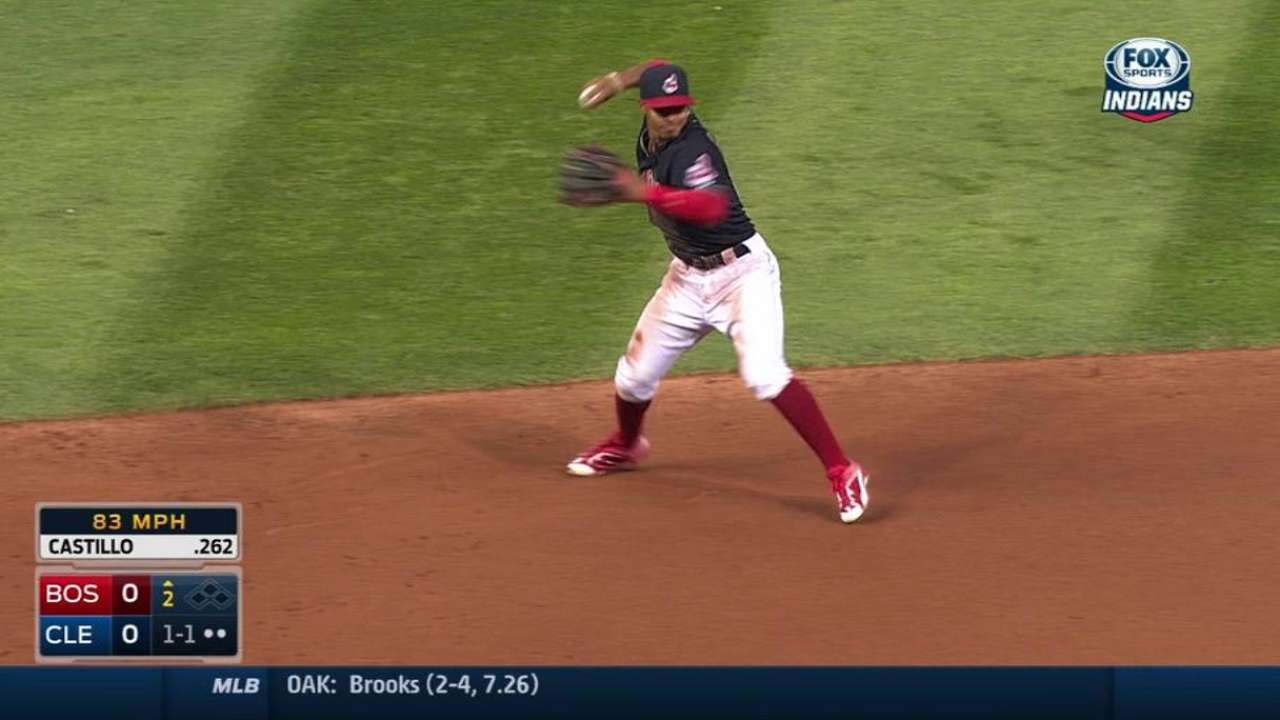 CLEVELAND -- Terry Francona has not decided whether he will tune in when the announcement is made for the American League's Rookie of the Year. The Indians manager might be too nervous to hear the outcome, especially given some of the season-end articles he has been reading of late.
Francona believes -- without a shred of doubt -- that Indians rookie shortstop Francisco Lindor should take home the annual accolade.
"Some of the things I'm reading are starting to aggravate me so much," Francona said during a sit-down with reporters on Tuesday at Progressive Field. "This kid is Rookie of the Year. I'm missing something somewhere and I'm afraid if I keep watching I'm going to get mad."
With apologies to standout AL rookies like Minnesota's Miguel Sano, Oakland's Billy Burns, Houston's Lance McCullers and Toronto's Roberto Osuna, among others, the Rookie of the Year debate is centered around Lindor and Astros shortstop Carlos Correa. Both hail from Puerto Rico, both were promoted within days of one another and both excelled for their respective teams this year.
The Indians haven't had a Rookie of the Year winner since 1990 (Sandy Alomar Jr.), while Houston's last rookie to win the honor came in '91 (Jeff Bagwell).
The balloting for the Rookie of the Year in the AL will likely come down to which statistics the specific voters value the most. In the case of the 21-year-old Lindor, he boasts a higher average (.313 to Correa's .279) and stronger defense (10 defensive runs saved to Correa's zero). Correa has the edge in power (22 homers to Lindor's 12), slugging percentage (.512 to Lindor's .482) and weighted runs created plus (133 to Lindor's 128).
This looks like a case where there is no wrong answer.
Following Cleveland's final game of the season on Sunday, Lindor said he would rather be playing in the postseason than winning an award.
"It would be an honor," Lindor said. "It would be an amazing feeling, not only for me, but for my family, for Puerto Rico, for the organization, the Cleveland Indians, for the fans here. I thank them for all the support they've been giving me. It made it a lot [more fun] for me throughout the year. However, like I've been saying, I'm not here for [Rookie of the Year]."
The Indians promoted Lindor on June 14, when the Tribe was 29-32 and in fourth place in the AL Central. He hit .313/.353/.482 with 12 homers, 22 doubles, four triples, 51 RBIs, 50 runs, 12 stolen bases and 122 hits for Cleveland, which went 52-48 after he joined the team. Among all AL shortstops with at least 800 innings, Lindor ranked first in DRS and UZR/150 (18.9) defensively.
Correa joined the Astros on June 8 and Houston went 52-52 after his promotion, slipping out of the AL West race on the final weekend, but claiming the second AL Wild Card spot.
While Lindor made an assortment of jaw-dropping plays in the field, Francona said he never had a "wow" moment while watching the young shortstop.
"Guys that gifted make those plays," Francona said. "What's really important is that he makes the routine play all the time, because he is going to make those [highlight-reel] plays. And then, when that happens, and you're making both, that's when you get really special."
Understandably, Lindor's teammates are pulling for him to take home the end-of-season hardware.
"Absolutely," Indians outfielder Michael Brantley said. "He had a phenomenal year and ... still has more work to do. At the same time, the transition and what he came into and how well he played, I hope he does win it. He deserves it."
Jordan Bastian is a reporter for MLB.com. Read his blog, Major League Bastian, follow him on Twitter @MLBastian and listen to his podcast. This story was not subject to the approval of Major League Baseball or its clubs.