Rangers visit school before heading to Toronto
Ohlendorf, Bass take part in fitness rally at Blanton Elementary School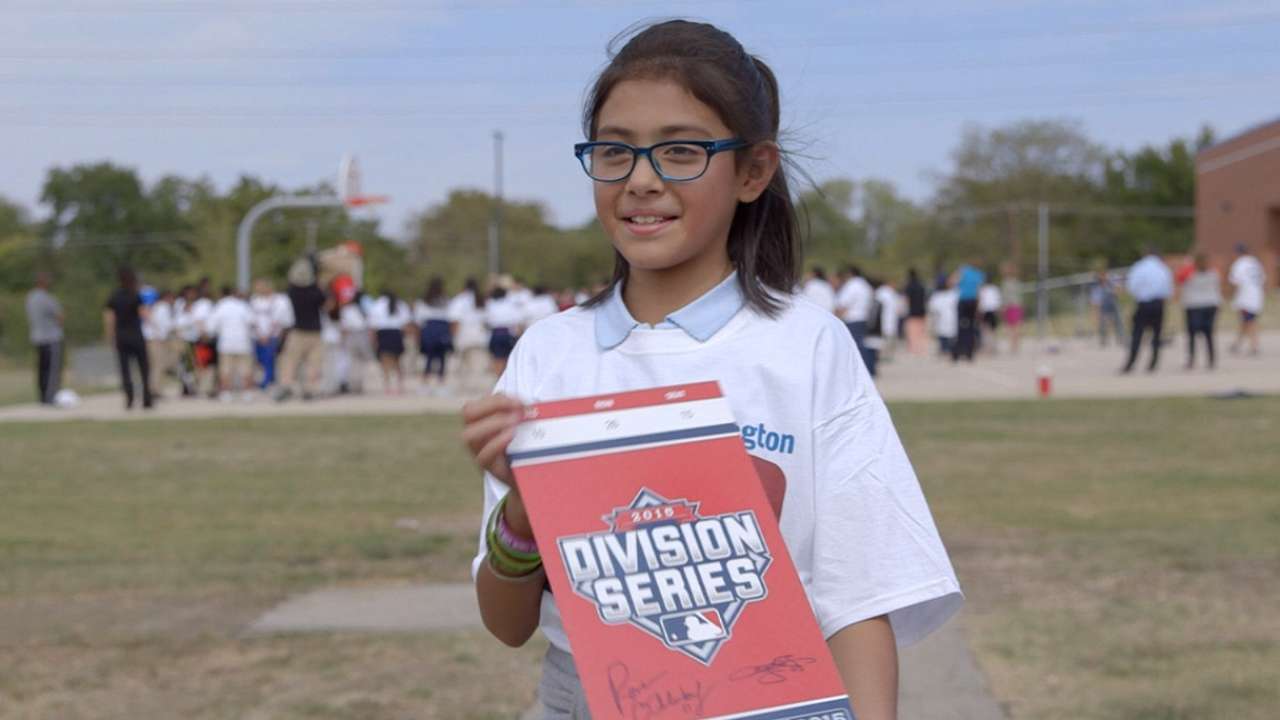 As a crowd of about 90 students sat on the pavement outside Blanton Elementary School in Arlington, Texas, anxious chatter permeated among them. That chatter quickly turned to cheers as Rangers Captain and pitchers Ross Ohlendorf and Anthony Bass appeared in front of the kids.
Sunday, the Rangers clinched the American League West for the first time since 2011. Monday, Ohlendorf and Bass were doing their best to ensure a group of young kids were Rangers fans for life. The Medical Center Arlington Rangers Fitness Rally, held outside the school, focused on the importance of youth health and fitness. But for many of the kids, the highlight was seeing the pair of Rangers.
And for Mykaela Aguilar, the Fitness All-Star of the Month, it was an unforgettable experience. Aguilar, who was singled out for staying healthy and watching her fitness, was presented with two playoff tickets from Ohlendorf and Bass.
"We're really proud of all you've done this year and staying healthy, so our team wants to present you with tickets to our first playoff game this weekend," Ohlendorf said as the players handed her two oversized cardboard tickets.
• Shop Rangers postseason gear
Aguilar jumped up and down and let out three "yeses," before posing for pictures and getting autographs from the two players.
Game 1 of the American League Division Series will take place Thursday at 2:30 pm. CT (FS1/Sportsnet). Aguilar will take in Game 3 of the ALDS against the Toronto Blue Jays on Sunday night. The game, which will be the Rangers' first of the ALDS at Globe Life Park in Arlington, will also be a first for Aguilar.
"I've never been to a Rangers game," Aguilar said. "[The] Rangers are my favorite baseball team. It's just pretty exciting."
The kids participated in games and activities aimed at promoting a healthy lifestyle. They watched Rangers Captain strike out on a foul tip while trying to hit a head of lettuce with a corn dog, demonstrating the importance of choosing healthy meals over convenient ones and drawing giggles from the group.
But the highlight of the rally was the visit from the hometown Rangers before they head off to Toronto for the ALDS.
"It's always fun to get a chance to interact with kids," Ohlendorf said. "I feel like that's one of the great things about us getting to play baseball, is the opportunity we have to make a difference for them, and to see her get so excited is really cool."
Betsy Helfand is an associate reporter for MLB.com. This story was not subject to the approval of Major League Baseball or its clubs.