Puig, Van Slyke working on return to form
Mattingly says Puig still 'rusty' while Van Slyke was limited in BP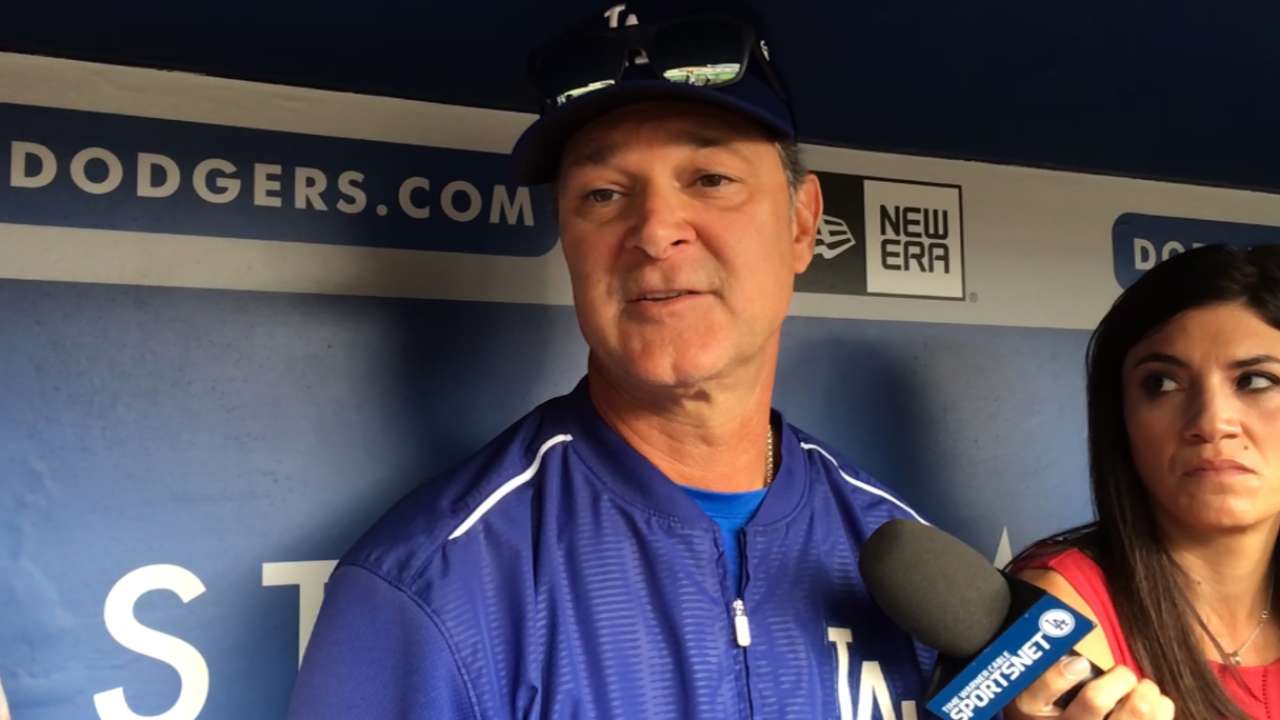 LOS ANGELES -- Scott Van Slyke was "not as good" as manager Don Mattingly was hoping for on Tuesday as he works out his injured right wrist, while outfielder Yasiel Puig is still rusty as he returns from a hamstring injury.
Puig, who returned to game action on Saturday, still looks rusty according to Mattingly. Puig was in the batting cage and took part in a simulated game on Tuesday against a few different Dodgers pitchers, including Brett Anderson and Juan Nicasio. He appeared in the final two games of the regular season -- making one start -- after missing over a month with a strained right hamstring.
"He looks like a guy that hasn't played in a while," Mattingly said. "He's a bit rusty, but that doesn't mean anything. It doesn't mean the thing doesn't turn and the bright lights come on and something good happens, you never know."
Puig never got to running full speed in either game. He had a bloop single on Saturday against the Padres and was never forced to sprint either out of the batter's box or in the field.
"Ultimately, it was just a game and a half of Major League action," GM Farhan Zaidi said. "We also have a lot of information from the live BPs and he got to full speed, even though he didn't get the chance to go jailbreak speed here. So we have that information."
Puig's 2015 season never got off the ground as he was limited to 79 games and set career-lows in all categories of his .255/.322/.436 slash line. But after more than a month being on the shelf, the Dodgers are confident the outfielder is healthy based on his time in live action, as well as simulated games at the Dodgers' extended spring training facility in Arizona.
"He's 100 percent from what we saw in Arizona and from not having any complications here," Zaidi said. "The big questions for all of us was his health and if he's had enough reps. We've tried to put ourselves in the best position with that."
• Shop for Dodgers postseason gear
Van Slyke, who hasn't appeared in a game since Sept. 29, tried taking batting practice Tuesday morning, but was still limited. While the Dodgers have yet to announce their 25-man playoff roster, both Van Slyke and Puig fill similar roles on the team as right-handed bats in the outfield to match up with left-handed pitching.
"It didn't go as good as I would like. He's doing better, but it's still not where it needs to be," Mattingly said. "He got to working today and he felt better, but he still has some restrictions, so that answers some questions."
Steve Bourbon is an associate reporter for MLB.com. This story was not subject to the approval of Major League Baseball or its clubs.