Granderson surprises student with tickets
Sabrina Maysonet, a junior at Flushing High School, going to Game 3 of NLDS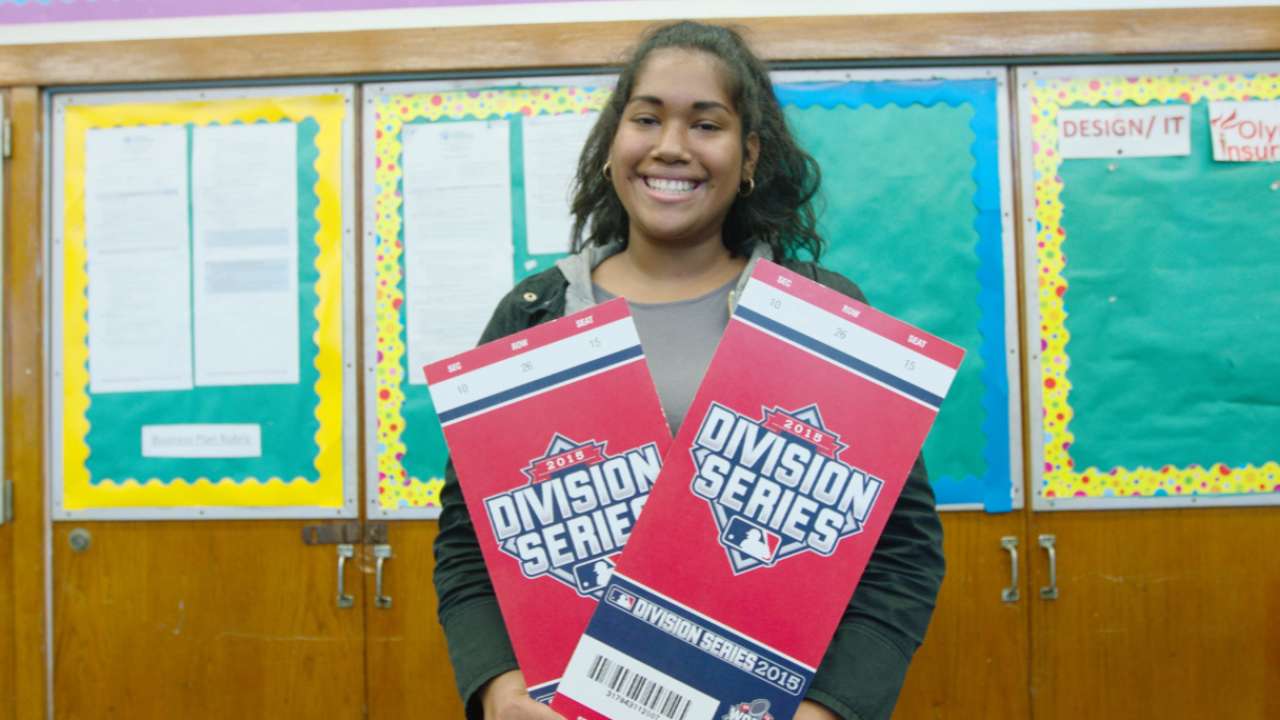 NEW YORK -- It's a good thing Sabrina Maysonet didn't play hooky, not that she ever considered it.
That's because Mets representatives arrived at a local school late last week to give away a four-pack of National League Division Series tickets to a lucky, overachieving student.
Curtis Granderson and Mr. Met descended upon Flushing High School in Queens to deliver four tickets for Game 3 to Maysonet, a junior who is involved in several community outreach programs.
Game 1 and Game 2 will be played in Los Angeles after the Dodgers edged the Mets for home-field advantage. Jacob deGrom will oppose either Zack Greinke or Clayton Kershaw in the opener, while Noah Syndergaard will match up against Greinke or Kershaw in Game 2.
Matt Harvey is projected to oppose Brett Anderson in Game 3 at Citi Field on Monday. It'll be the Mets first postseason game since Oct. 19, 2006, when they dropped Game 7 of the 2006 NL Championship Series.
"I'm the luckiest person in the school right now," Maysonet said after receiving her tickets.
Granderson tried to trick her first, taking to the loudspeaker to call Maysonet to the principal's office.
• Shop for Mets postseason gear
"I honestly was scared because I had never been called to the principal's office," Maysonet said. "I thought I was in trouble."
Granderson surprised Maysonet with tickets, then spoke with her about the benefits of continuing education.
"Education has always been very important to me," Granderson said. "Mom and dad were educators. And my sister currently teaches at the university level."
Maysonet was chosen because of her recent academic improvement and continued charitable involvement.
Joe Trezza is an associate reporter for MLB.com. This story was not subject to the approval of Major League Baseball or its clubs.