Bond formed by Wong, Garcia rooted on island
Stomping Grounds: Univ. of Hawaii teammates living out big league dreams
ST. LOUIS -- Greg Garcia arrived on the University of Hawaii campus by way of Southern California, where, as a junior, he received a mailing from a Hawaii baseball program that he didn't even know existed. Curiosity led him to do an Internet search, at which time he discovered that not only was there a program, but a thriving one. The team had just enjoyed a 45-win season in 2006 that featured an NCAA Regional invite and a swell of local support.
Kolten Wong knew all of that already, having long followed the team that played just an island hop away from his home on Hawaii's Big Island. And he was known, too.
Once Garcia enrolled at Hawaii, it didn't take him long to start hearing the legend of the high-school star from Hilo who had given his verbal commitment to join the Hawaii baseball team a year later. Before actually meeting his future college, Minor League and Major League teammate, Garcia saw the gaudy numbers Wong put up in his senior season and heard what he could do on the football field.
Wong's decision to bypass pro ball after high school led him to become teammates -- and as he describes it, "fast friends" -- with Garcia. They played alongside each other for the first time in 2009, the first of now six seasons in which they have been on the same team.
It is a journey that wasn't lost on either infielder last week amid the Cardinals' National League Central clinching celebration.
"Unbelievable," said Garcia, who has played 49 games with the Cards this season. "We just looked at each other and said, 'Dude did you ever think we'd be in the same Major League clubhouse and celebrating like this?' You dream about it, but you know the chances of that happening are pretty slim."
The odds are especially long for a pair of undersized infielders out of a Hawaii baseball program that isn't exactly known for producing a bevy of big league talent.
"Those are two great ambassadors and representatives for our program, not just because they are playing on the highest stage of baseball, but because, if you spend five minutes with them, you realize what quality people they are," said Mike Trapasso, a St. Louis native who has been Hawaii's head coach since 2002.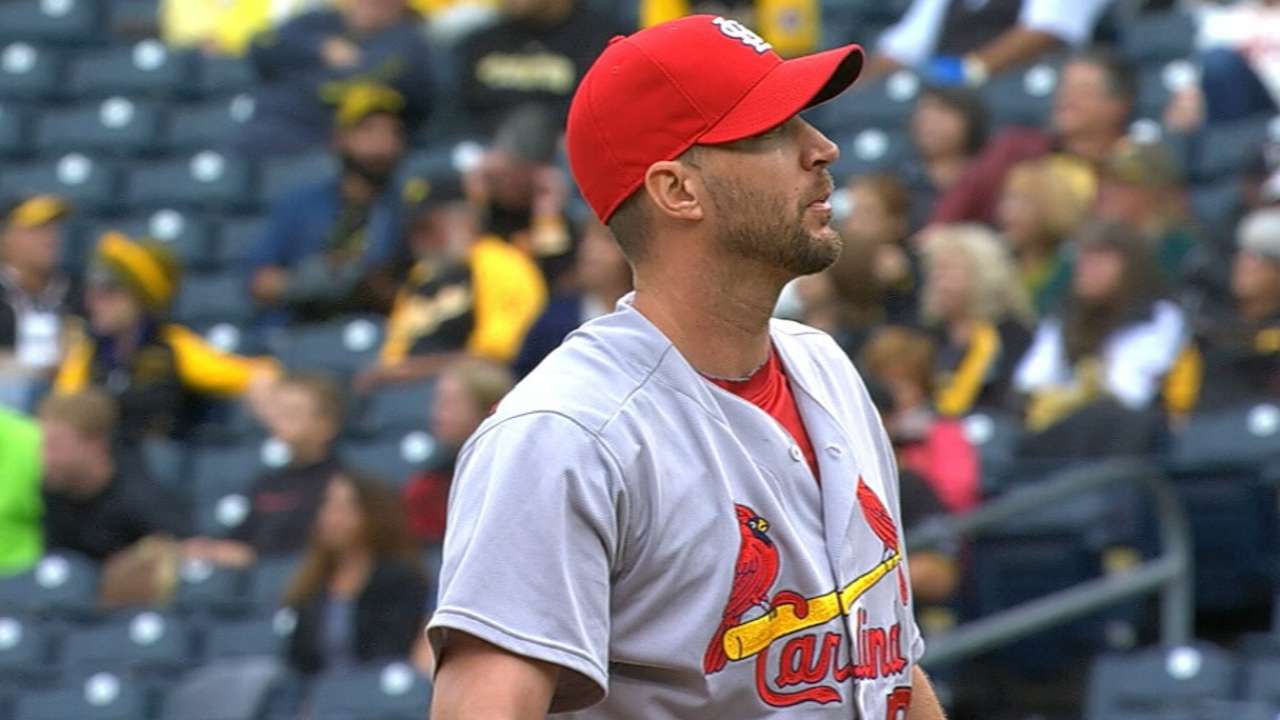 Wong described Garcia as "like my big brother" when he arrived on campus. Garcia helped Wong assimilate to college life, and Wong returned the favor by showing Garcia some hidden spots and swimming holes around the island.
They became instantly close off the field and admirers of each other's' game on it.
"[He was a] super high-intensity guy who loved trying to get a team going no matter what the circumstances were," Wong said of Garcia, who played primarily at short during college. "He was a good all-around player."
"He was special from Day 1," Garcia said of Wong, who filled a void in center field his freshman year. "He had that aura about him and that aggressive swing. Everybody knew that he could hit and would be a great player. But he also came in ready to work. That was also pretty cool because a guy that talented, sometimes they just come in and think they already know everything."
Wong and Garcia became middle-infield partners in 2010 and were then split up when Garcia was drafted by the Cardinals in the seventh round of the First-Year Player Draft. During his first year in the Cardinals' system, he started being asked about the 5-foot-9 second baseman he had played with in college.
It was part of the pre-Draft prep work the Cardinals did before making Wong their first-round selection in 2011.
Knowing each other better than most Major League teammates do, Wong and Garcia have a constant exchange of ideas. They know what to look for in each other's swing and approach, understand what to say or not say when things aren't going well and value each other's perspective on the mental part of the game.
The trust between the two is true and unique.
"You know that we're there for each other for the right reasons," said Wong, just seconds after Garcia walked by and jokingly implored his friend to say nice things about him.
"It's been just a really, really good friendship," added Garcia. "It's kind of come full circle. Oh, and I'm glad I was nice to him in college because he really takes good care of me now."
If Garcia earns a bench spot on the Cardinals' postseason roster, it will be the latest in a growing list of experiences the two friends will have together.
"You could definitely see that those two guys, being the double-play combo and strength up the middle, were close friends," Trapasso said. "I've always felt that Greg is one of those grinder kids with a great baseball IQ. Kolten, you combine the talent with the makeup and you have a potential All-Star. In all honesty, it hasn't surprised me to see both make it."
Jenifer Langosch is a reporter for MLB.com. Read her blog, By Gosh, It's Langosch, follow her on Twitter @LangoschMLB, like her Facebook page Jenifer Langosch for Cardinals.com and listen to her podcast. This story was not subject to the approval of Major League Baseball or its clubs.