A look at the Royals' likely roster for ALDS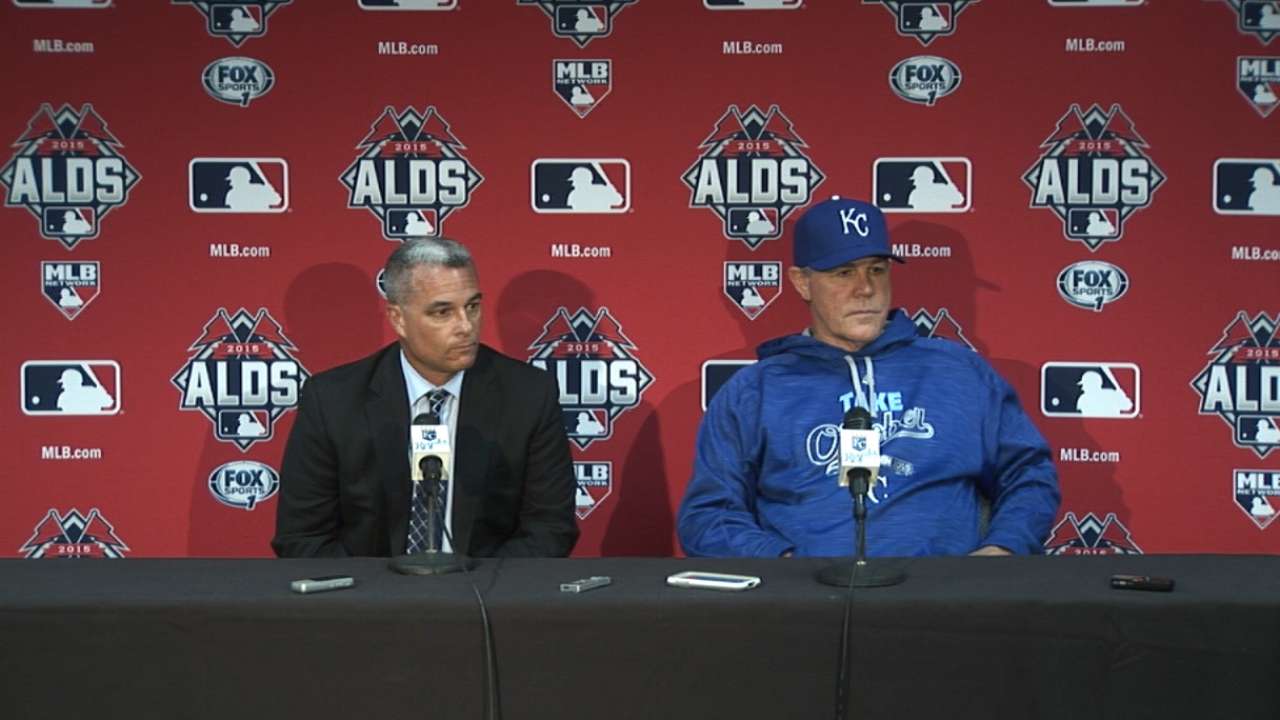 KANSAS CITY -- The Royals won't have to set their roster for the American League Division Series until Thursday. But almost all of the positions seem set it stone.
One of the key decisions will be who general manager Dayton Moore and manager Ned Yost will keep on the bench, specifically either Jonny Gomes or speedster Terrance Gore.
"Dayton and I are still going over the final roster," Yost said. "We like the speed aspect. We'd like the extra bat, too. But sometimes you have to choose between one or the other. We'll make a final decision on that tomorrow."
With Game 1 set for Thursday at 6:30 p.m. CT (watch on FS1), here's a look at what likely will be the 25-man roster:
LINEUP
Shortstop Alcides Escobar: Escobar was put back into the leadoff spot in the lineup last week and the team promptly went 5-0. The Royals are 44 games over .500 with Escobar in the top spot since last year (including the postseason). "I'm just more comfortable hitting leadoff," he said. "Ned said I can swing at anything no matter the count."
Second baseman Ben Zobrist: A big acquisition before the Trade Deadline who has been solid offensively.
Center fielder Lorenzo Cain: Playing through a deep bone bruise in his right knee but says he will be fine for the postseason. "I played through it last year," he said. "I'll be fine."
First baseman Eric Hosmer: Slumped in September but had a big October last year. "We had a big series to end it with Minnesota," he said. "I think that atmosphere will help us going into the playoffs."
Designated hitter Kendrys Morales: Definite candidate for the AL Comeback Player of the Year Award. What a signing.
Third baseman Mike Moustakas: Learned how to consistently go the other way and had a breakthrough season.
Catcher Salvador Perez: Should be much more rested this postseason than in 2014, when he clearly was fatigued.
Left fielder Alex Gordon: Dropped to the No. 8 spot and makes the order so much deeper.
Right fielder Alex Rios: Caught fire in the middle of August. Could be a sleeper weapon in his first career postseason. "I'm so proud to be able to get there with this group of guys," he said.
BENCH
Catcher Drew Butera: Was with the Dodgers last season but not on postseason roster. This will be his first postseason experience.
Utility infielder Christian Colon: One of last year's AL Wild Card Game heroes.
Outfielder Jarrod Dyson: Could be a late-inning defensive replacement for Rios and, of course, a pinch-running threat. "I'll do whatever I can when they ask me," he said.
Outfielder Paulo Orlando: One of the pleasant surprises in 2015. Nice skill set as he can hit for power and has speed.
Outfielder Gore: Should get the nod because he is a magnificent weapon as a pinch-runner late in games. Simply doesn't get thrown out, so if Yost is down by a run, he's a game-changer. No real spot for Gomes with Rios hitting as well as he did. "No one has told me anything," Gore said. "I hope I can make it and help them when they need me."
STARTERS
Right-hander Yordano Ventura: He's the man now. The ace. And he might go in Game 4 if there is one.
Right-hander Johnny Cueto: He was acquired to be an ace but Ventura stole the role. Cueto has been much better his last few outings after a rough patch.
Right-hander Edinson Volquez: The wild card here. Was solid most of the year, but can he produce in the postseason?
RELIEVERS
Right-hander Wade Davis: Arguably the best in baseball, and soothes the loss of Greg Holland, who was in the clubhouse with his arm in a cast after last week's Tommy John surgery. "We hugged," Davis said. "I know he'd like to be playing."
Right-hander Kelvin Herrera: Brings some swagger along with that 100-mph fastball.
Right-hander Ryan Madson: Another candidate for the AL Comeback Player of the Year Award. What a season he had.
Left-hander Danny Duffy: Dropped from the rotation, Duffy has been a force in the bullpen. "Like I said when I went to the bullpen: I'm pumped," he said.
Left-hander Franklin Morales: Struggled down the stretch.
Right-hander Luke Hochevar: Has been up and down lately, so Yost may not use him in high-leverage spots.
Right-hander Kris Medlen: Another nice comeback story who can throw strikes.
Right-hander Chris Young: He was lights-out in his last two starts after learning his father had passed away. A veteran who knows how to get outs.
Jeffrey Flanagan is a reporter for MLB.com. Follow him on Twitter at @FlannyMLB. This story was not subject to the approval of Major League Baseball or its clubs.