Authentic, transparent Hurdle leads Pirates
'It starts with him,' says All-Star outfielder McCutchen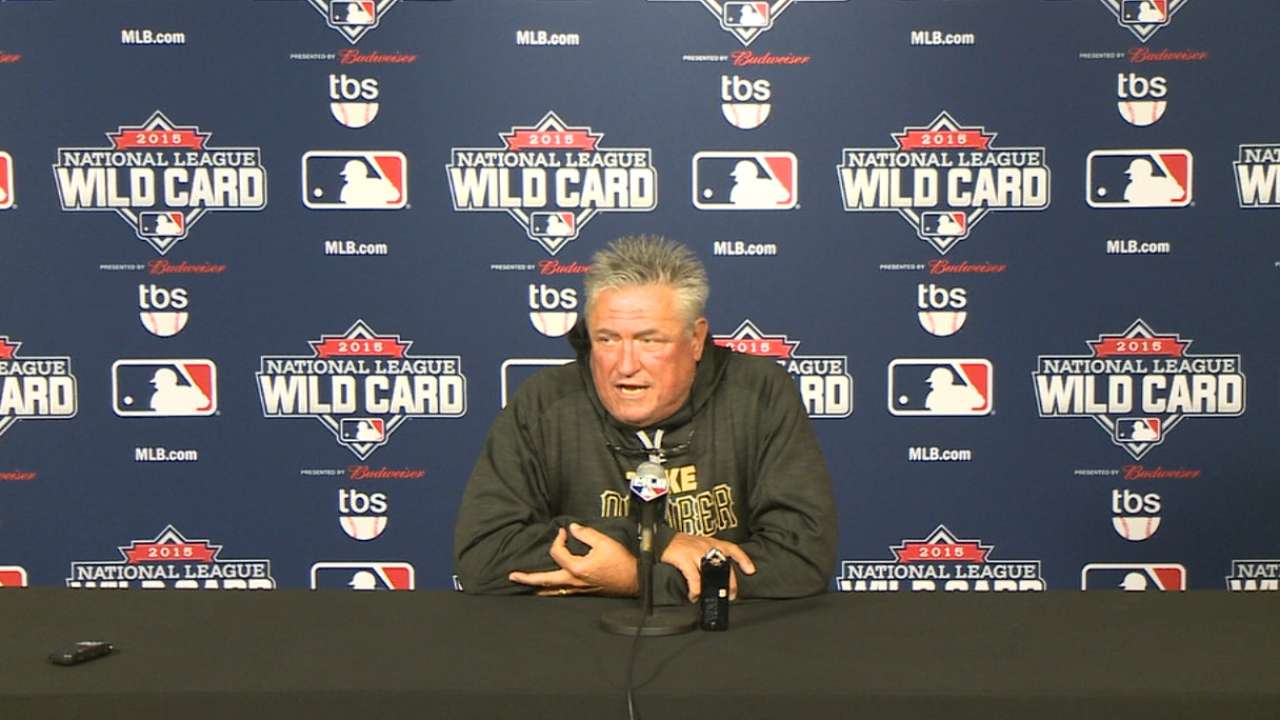 PITTSBURGH -- Clint Hurdle had just taken over as Rockies manager, and he was trying to create cohesion. He wanted everyone in the organization to feel like they were all a part of something bigger.
The Rockies were looking to open and promote formal lines of communication. They already had one such system in place, a common practice throughout the Minor Leagues: the managers' daily game reports. Hurdle left those daily phone messages during his time as a manager in the Mets' Minor League system, and he heard them from Colorado's affiliates after becoming big league manager in 2002.
That was when the idea struck Hurdle: Why not do the same thing himself? So each night, after every game, he would leave a message detailing everything -- the good, bad and ugly -- for everyone in the organization to hear.
Former Rockies general manager Dan O'Dowd called the messages "powerful," because they made everyone -- from the front office in Denver to Minor League managers and scouts in far-flung cities -- connected to the Major League club, united as one group.
Hurdle, who will lead the Pirates into their third straight National League Wild Card Game presented by Budweiser tonight at PNC Park (8 p.m. ET, TBS), no longer leaves those nightly voicemails. But they were indicative of the philosophy that still guides him in Pittsburgh.
"For me, always, the best way to build trust is through transparency," Hurdle said.
Trust through transparency
"You can't have authentic relationships with people unless you're authentic yourself. He is transparently authentic." -- O'Dowd
Hurdle took the Rockies to the World Series in 2007. Less than two years later, he was fired. The disappointment was nothing new for Hurdle, once a top prospect with the Royals who never lived up to the hype.
A first-round Draft pick in 1975, Hurdle made it to the World Series as a player (with the 1980 Royals), a hitting coach (2010 Rangers) and as Rockies manager. He was on the cover of Sports Illustrated in 1978, billed as "This Year's Phenom," but his disappointing playing career ended in 1987.
Hurdle has seen similar highs and lows away from the ballpark. Twice divorced, Hurdle is now happily married to his wife, Karla. They have two children: 10-year-old son Christian and 13-year-old daughter Madison, who was born with Prader-Willi Syndrome, a complex genetic disorder.
As he often says, "You're prepared for your future through your past -- if you pay attention." Rather than shy away from his past struggles, Hurdle openly embraces them.
"I've been blessed with so many life experiences that there's not much a guy can come in here with that I can't draw a connection to in some way, shape or form," Hurdle said. "I share more often than not my failures, because that's easier for them to relate to."
His honesty and humility have gone a long way in the Pirates' clubhouse.
"He's the type of person that, if there's something that you're battling with personally, you can go to him and talk about it," Andrew McCutchen said. "He can address it. He's able to relate to it."
Sitting back in his desk chair last week, Hurdle explained his belief that, as a leader, he needs to be at his best when things are at their worst. Players seldom need their manager's advice when they're doing well.
Hurdle keeps his office door open so players are comfortable approaching him about their playing time, slumps, strategy or anything else related to the game. But more often than not, their topics of conversation reach far beyond baseball.
"You would think performance would be at the top, but honestly, it's more about our personal lives. It's more about how we're doing off the field," McCutchen said. "It's him actually caring. I think that develops trust."
"Go learn things!"
"I owe it to everybody else to be the best I can be. If I'm not learning, I'm not so sure I'm being the best I can be." -- Hurdle
Hurdle fits the mold of a "traditional" manager. He's a former player. He talks about the importance of grit and staying stubborn in your approach. His deep voice booms out of his office and all around PNC Park. At 58 years old, even after two hip surgeries, he is still physically imposing.
But to classify Hurdle as traditional would be a mistake. Six stacks of books -- most of them about leadership -- sit on the left side of his desk at PNC Park. He is constantly reading, always learning. A daily email to everyone in the organization has replaced his nightly game report, though it's more about inspiration than baseball.
Hurdle mostly shed the "traditional" label in 2013. After back-to-back collapses in 2011 and '12, he met with Pirates general manager Neal Huntington and agreed to adopt a more data-driven approach, blending the front office's analytical information with his coaching staff's knowledge.
"I remind my players all the time to go learn things. It's a line off a TV show, "NCIS: New Orleans" -- 'Go learn things!'" Hurdle said. "I need to be the guy also that goes out there and learns things. If you're done learning, that means you know it all. And nobody likes a know-it-all."
This offseason, Hurdle took a deep dive into the work of legendary UCLA basketball coach John Wooden. He keeps one of Wooden's books on his desk, within reach, at all times. His biggest takeaway from Wooden was the idea of self-improvement, focusing on getting better every day.
He didn't simply leave behind the "old school" for the new. He has continued to evolve as a manager through his relationship with the front office, digging into defensive shifts, advanced metrics and, this season, the effect of player usage and rest.
"There's people in this organization smarter than me in a lot of different areas," Hurdle said, specifically pointing to director of baseball systems development Dan Fox and quantitative analyst Mike Fitzgerald. "I need to use that intelligence and parlay that into organizational excellence and make sure that people know they get the credit."
There are times, however, when a manager needs more than just information. Managing a room full of diverse people and personalities often requires a more nuanced approach. Take the introduction of South Korean infielder Jung Ho Kang, for instance.
Hurdle played a vital role in helping Kang acclimate to life in the Major Leagues. His guiding philosophy? The Golden Rule: "Do unto others as you would have them do unto you."
"That's one of his many, many strengths and many, many impacts on this organization," Huntington said. "His big-picture vision and his ability to connect with people."
Leadership through trust
"If something matters to one person, it matters. Everybody matters." -- Hurdle
Hurdle's door is always open, but he doesn't often walk through it himself. If he knows something specific needs to be addressed, he might go out and talk to a player or coach in the clubhouse. Otherwise, Hurdle said, he tries to trust them with the freedom they need to do their jobs.
"He knows that this is our clubhouse," McCutchen said. "He tries to keep it our clubhouse."
With the Pirates, Hurdle has found other ways to seek input from his players. He established a "leadership council," a small group of players who meet bi-monthly with Hurdle to discuss the state of the team.
One question Hurdle often asks during those meetings: "Is there anything I can do to make your job easier?"
"I want to know what they saw from their lens and what they felt in their heart," Hurdle said, "what made them happy, what complicated things for them."
Those relationships, built on that trust through transparency, have become the foundation of Pittsburgh's success, three straight winning seasons and, they hope, a deep run into the postseason.
"Honestly, a lot of people think that starts with us. It starts with him," McCutchen said. "It starts with what he believes in, then us buying into what he believes in, then us being a whole as a team -- all one family -- then going out there and performing."
Adam Berry is a reporter for MLB.com. Follow him on Twitter at @adamdberry. This story was not subject to the approval of Major League Baseball or its clubs.